We have waited, and here it is ... CM7 (Alpha) for the HP Touchpad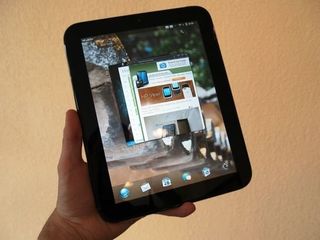 The long-awaited day has come, many of you searched, and hunted and well probably some other bad stuff to get your hands on the HP Touchpad during the fire sale in hopes of it getting an Android port. We have been teased a number of times with various videos of the progress, but now you -- yes you -- can get your grubby little hands on an Alpha release of CM7 for the HP Touchpad. Keep in mind, there will be bugs, probably a bunch of them, and things aren't going to work, but if you don't want to wait any longer, start downloading, reading and installing now!
Source: Rootzwiki
Jared started off writing about mobile phones back when BlackBerry ruled the market, and Windows Mobile was kinda cool. Now, with a family, mortgage and other responsibilities he has no choice but to look for the best deals, and he's here to share them with you.
Awesome, will be doing this when I get home.

Is this Dual Booting webOS and Android or is this replacing webOS all together?

dual boot but will set the default to CM7

Awesome. I wish I had a TouchPad. :(

I've downloaded all the components and will be doing this tonight.

i think i am about to... http://www.youtube.com/watch?v=4pXfHLUlZf4

Knew that's what the YouTube link was! =]

haha it was that obvious huh?... i am really excited about this. i was a big WebOS fan back when i had a Sprint Pre and i defended its awesomeness all day everyday. i have since moved onto Android (EVO 3D). android really has surpassed WebOS in many ways and there is no way HP can catch up to it in features and usability, which i why they dropped it i am sure... WebOS works just fine on the TP, however, it has dismal dev support. its time to put that Adreno 220 to good use!! the one in my EVO has been ;)

Now who knows where I can get one for $150 or less.

Video needs subtitles..
That said, I'll be running this on two of mine by days end!

I feel sorry for the guy who is developing cm7 for touchpad because he probably spends more than half of the time taking 'calls' from people asking when it is finished.

I'm sure that was staged...

lol... no blaming if breaking, and I get to keep both pieces. Love it! I'm half tempted to install the Alpha this weekend, but I need my Touchpad on the weekends to keep track of my Fantasy Football Leauges. I think I'll wait for at least a Beta. Thanks CM7! Looking forward to running Android on my Touchpad....

I've got my 32 Gig touchpad and I'm gonna have to try this!
I'm PSYCHED!

Anyone notice the video jumps 4 minutes into the future when Netflix is starting?... I'll be attempting this tonight anyway. I'm tired having to use terminal commands for half the stuff I want WebOS to do. CM7 was solid on my Evo, I'm sure it will mature nicely on the TP.

I have it installed and it runs FANTASTIC. Calling it an "alpha" build is almost a detriment to how stable it really is. It still has a few bugs that need worked out but, if you're on the fence, I highly recommend you install it. Installation is a breeze and when you boot up the TouchPad, you get a nice little menu that asks you if you want to boot WebOS, CyanogenMod, or into recovery. The whole thing is just...slick.

I work for HP and they just had an employee only sale for touchpads (limit 1 unfortunately) - just bought a 32 gig for $149 a week ago. I will be doing this over the weekend!

installed Alpha2, left it over night. in the morning would wont boot up, had to do (power+home+volume) then usb, then reboot. is there a way to fix the problem so it would work normally, instead of doing all this.
Android Central Newsletter
Thank you for signing up to Android Central. You will receive a verification email shortly.
There was a problem. Please refresh the page and try again.