Verizon outage? Here's what you need to do!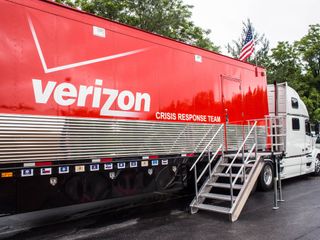 (Image credit: Android Central)
If you're with Verizon in the U.S., then you know it's one of the nation's largest networks, so when there's an outage, for whatever reason, it affects a lot of people in a given area.
If your Verizon service isn't working as it should, whether it's LTE, phone calls, texts, or whatever, then here's what you can do to relieve it or at least figure out what's going on.
First off, sign up for outage alerts
By signing into your Verizon account (opens in new tab) you can change preferences for various notifications, including service outage alerts for your area. Depending on what the outage is, you'll receive SMS notifications or email notifications.
Have your tried turning it off and on again?
Always check the device that's acting up first. Whatever it happens to be, power it down, wait a few seconds, and turn it back on again. If you're experience outage issues on multiple devices, then you know something's up with your network (though it could still be isolated to your home's connection).
Try using Wi-Fi calling
Many modern phones support calling and texting over Wi-Fi which can be a great help for temporary outages or signal dead zones. You'll need to be connected to an active and working Wi-Fi connection for this to work. If you normally use a hotspot from Verizon for Wi-Fi you'll need to find something else until the issue is resolved. We generally recommend using a secure VPN when connecting to public Wi-Fi but if the connection is coming from a trusted source, there isn't too much to worry about.
Check Verizon's 'Help with a Service Outage' page
Verizon's own resource for service outages is one of the first stops your should make in your research, since it can also help with potential troubleshooting tips, just in case it's not a service outage for your area and it's actually an issue that's affecting your specific device or connection.
There are then links to resources that can help you diagnose your problem and then decide whether you need an in-home technician's help or if simple online troubleshooting can help you out (if your area isn't actually experiencing an outage).
Verizon also has an FAQ page (opens in new tab) that can help you with various troubleshooting tips and any questions you might have.
Get help with a Verizon service outage (opens in new tab)
Check out an outage website
There are many websites that will report carrier outages and where you can report an outage if you think you're facing one in your area. Outage.Report is a great service because it shows you an outage map for the entire U.S., so you can see where the outage hotspots might be and whether or not a reported outage is affecting your area.
You can also check out downdetector.com, which will show you instances of outages over the last 24 hours, so you can see if problems you're having have been reported or are residual from an earlier outage.
Contact Verizon
If you can't figure out what's going on and your service outage persists, contact Verizon directly. Besides calling, you can also try social media such as tweeting @VZWSupport.
Call 1-800-922-0204 or dial *611 from your Verizon phone (unless of course calls aren't working on your mobile network).
Contact Verizon online (opens in new tab)
Our pick
(opens in new tab)
Pure Android experience
With one of the best cameras and pure Android, this phone is excellent for nearly any carrier, meaning you can easily switch if you find a carrier isn't working for you.
Android Central Newsletter
Get instant access to breaking news, the hottest reviews, great deals and helpful tips
When Samuel is not writing about networking or 5G at Android Central, he spends most of his time researching computer components and obsessing over what CPU goes into the ultimate Windows 98 computer. It's the Pentium 3.
Yeah because.. you know.. the other guys never have outages :P

Haven't used VZW since like 2000 and agree, it happens to all carriers. Oddly in the past there was some roaming agreement with Sprint, which I'm sure has expired, that at least would allow phone calls, and dial up speeds for data. Better than nothing.

"By signing into your Verizon account you can change preferences for various notifications, including service outage alerts for your area. " So, can you walk me through where I'd find that in my Verizon account? Because I'm not seeing service outage alerts anywhere on my Verizon account page....

It should be under your Communication Preferences in My Verizon.

Not for wireless. This writer may have gotten confused between residential & wireless services.

Just saw you're the writer 😂

Leave CDMA in the past where it belongs

Verizon hasn't relied on CDMA in years. It's still there for a backup and for legacy devices, but all of the newer devices are operating on LTE only.

How will I get an alert during an outage?

BEST ADVICE if you live in AZ switch carriers. Not only is there no signal I have to make every call using WiFi as soon as I walk out my door the only way to connect is CDMA. LTE in Arizona what's that worst mistake I ever made going with Verizon.
Although I call them so frequently with problems that I get pretty good deductions off my bills for things that don't work that's about its only Advantage. Try making calls with outside our houses, or the cell tower that is coming anyday now, 3+ years later, I think the CS reps just play a tape when they see 480/602 area codes

So instead of switching (like you tell others to do). You stay with a carrier that has no service in your area. L O L...

This used to occur with Sprint c.2005. It shook my faith in them enough to move to...Verizon(!) in late-2006. No problems here in southeastern Pennsylvania as of 9:30 PM ET.

If I have an outage, I just put the phone down go do something else and try again later.
Android Central Newsletter
Get instant access to breaking news, the hottest reviews, great deals and helpful tips
Thank you for signing up to Android Central. You will receive a verification email shortly.
There was a problem. Please refresh the page and try again.