Verizon Motorola XOOM ICS update has begun rolling out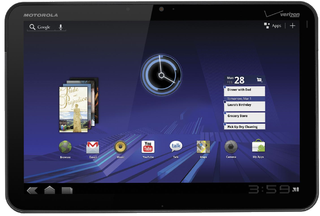 Update: When we said "Has begun rolling out," that should be pronounced "Coming June 4," as just stated by Verizon (opens in new tab). Let the beatings begin.
If you're a Motorola XOOM owner on Verizon, we've got great news: The 4.0.4 (Ice Cream Sandwich) update has begun rolling out is nigh. We saw the Verizon update roadmap a couple weeks ago, suggesting that the ICS update could drop at any time, so it's nice to see it hit not too long afterwards.
There are a lot of enhancements that come with this update. The four features that Verizon is taking the most time to point out are:
The Launch Bar, which allows you to drop applications, shortcuts and folders into and access from any homescreen
Usage Center, which Verizon has been highly touting as of late. It lets you keep track of your data usage
Notification Pop Up Box, which contains all of your inboxes and notifications in one streamlined box
Folders, you've all seen ICS folders by now, so you'll get to create and use them on the XOOM screen as well
There are many other benefits from the update though. Here is a list:
4G LTE upgrade issues resolved
Exchange/Activesync policy improvements
EAS security and sync fixed
Email search
Updated browser with faster rendering
Updated People application
Improved text input
Improved stability
App launcher has been redesigned to allow app dragging to uninstall or disable
Launch camera from lockscreen option
Single mode panorama mode
Photo editor added in Gallery application
New font (Roboto)
There is lots to like about this update, so if you have a XOOM, keep an eye out. If you haven't received it yet, sit tight, it's rolling out gradually. It is an OTA update, so all you have to do is go to Settings -> About Tablet -> System Update to check to see if you can get it.
If you have it and want to brag about the new features or just want to see how others are liking the update, sing out in our Motorola XOOM Forum.
Source: Verizon Wireless
Android Central Newsletter
Get instant access to breaking news, the hottest reviews, great deals and helpful tips
Is the update available for manual download... if yes link plzzzzzz

Who says it is "rolling out"? I've seen no one say they have received it on the forums. Did I miss something? Or should the title of this article be "Xoom update is coming soon"?

Congrats gang! I've had ICS on my wifi Xoom for a few months now -- you're gonna love what it does for the tablet... seriously, it was like going from a Ford to a Ferrari.
Xoom on ICS is a beast!

Looks like AC jumped the gun a bit. Coming June 4: http://news.verizonwireless.com/news/2012/06/motorola-xoom-updated-to-ic...

So anybody find this new "Launch Bar" after the update? I don't see it or any way to get to it. Thanks!
Android Central Newsletter
Get instant access to breaking news, the hottest reviews, great deals and helpful tips
Thank you for signing up to Android Central. You will receive a verification email shortly.
There was a problem. Please refresh the page and try again.