Verizon finally releases Nougat for the Galaxy S7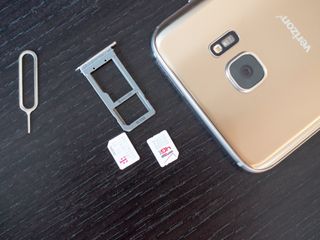 The Nougat update for your Verizon Galaxy S7 and Galaxy S7 edge is available for downloading. If you haven't received a notification about its availability yet, you can manually check through the device settings and you should be good to go. For a refresher on what to expect with Nougat on the S7, we've got a handy video!
Verizon reminds us that to update (the new software version is NRD90M.G930VVRU4BQA2) you'll need to have a charged battery and you should either be connected to Wi-Fi or have a "strong connection to the Verizon network." For more details hit the Verizon update page (opens in new tab) and have a gander.
Now we wait to see when the unlocked model gets a turn.
Get the Android Central Newsletter
Instant access to breaking news, the hottest reviews, great deals and helpful tips.
Senior Editor — Google Ecosystem
Jerry is an amateur woodworker and struggling shade tree mechanic. There's nothing he can't take apart, but many things he can't reassemble. You'll find him writing and speaking his loud opinion on Android Central and occasionally on Twitter.
If you go to the update page it has the Moto z play droid edition's last update as 3/7/2017, if you click on it it talks about the last update where they fixed the notification volume, but maybe we're getting nougat tomorrow, crossing my fingers

Let's hope so! I've been getting antsy lol 😁

It's very good, but there are a few bugs.

Loaded it this morning and haven't noticed any problems. What bugs have you found?

Yeah, what "bugs"? One thing I have noticed is my S7 is now more sluggish... and I am in High Performance mode. and the Optimizated Performance mode messes with my SwiftKey keyboard and makes it unusable (makes font too small... and no decent way to change it in the Phone Settings while also being acceptable for non-SwiftKey uses.)

Congrats...only took 7 months after release.

S7 and S7 edge were released in March 11 2016

I believe he is talking about the Nougat release which was August 22nd.. Not the phones.

Still no update for my sprint HTC One M9,very disappointing

I can see where you made 2 mistakes lol.

My M9 is running perfect on Marshmallow and Sprint so no complaints from me.

Where is my Note 5 update, verizon? Enjoy it on my LG G3 (RR) and can't wait to see it on my "normal" phone!

What is "RR"? You have Nougat on your LG G3?

i got s6 edge plus, i'm sure Verzion will released in March.... Of 2018.

You guys are a bit late in regards to this news, downloaded the update hours ago.

Right? Droid life was on this almost a day ago haha

Yes, AC is almost always slow on these sorts of Android software updates announcements. I personally told them about some Verizon updates to other phones in the past... then 3 days later, AC posts about it and gave me no credit for informing them. I honestly think they only post about such updates when one of their staff gets an OTA notification about it on their personal phone.

Anyone having problems getting their Internet icon to work? Mine will not work at all.

What Browser do you use? Chrome is working OK for me with Nova Launcher. I think Samsung's browser is still in beta on Nougat.

I was using Samsung Internet. I uninstalled it and it's incompatible with nougat. Enabled chrome, and it's working

Samsung internet works just fine for me.

I will go back and try again. Thanks!

Samsung Internet says it's not compatible. However, Samsung Internet beta works. Is that the one? Samsung Internet worked before 7.0 update.

Samsung browser works fantastic, I don't use Chrome browser with my S7. I also use the add block extension for the Samsung browser which helps make it blazing fast.

After the Nougat update, I was prompted to update Samsung Internet and 2 other Samsung apps through Galaxy Apps. You may need to do the same

I also had to update Galaxy Apps. That setting is kind of hidden. You have to open Galaxy Apps, click the menu at the top right, choose Settings, and then About, and it will tell you if there's an update. The only reason I was looking was because the app icon had disappeared since I installed the beta. The only way in was through a link in my Gear app. Updating restored the icon to my app drawer.

Nowwww the wait for the unlocked version. Tick tock.

I have the Verizon version, but I think it's ridiculous that the unlocked version has to wait. It should be first every single time in my opinion. That's why I continue to get the carrier version.

I'm giving it one more week then I'm just going to flash the T-Mobile firmware and be done with it. I'm thinking I won't be giving Samsung a second chance at this unlocked experiment they tried and have failed at. :/

Samsung told someone on the Samsung Community pages that it would be this week. I guess we will see.

Agree completely... After having Nexus devices for the last 5 years, I made the switch to the S7 Unlocked because of the hardware, and I thought the unlocked version would get updates faster. I don't give a **** how great the S8 is. Sammy is dead to me.

The background picture looks fine when you are on the home screen or swipe left or right screens. When you select apps, they become blurry. Crazy!

So happy I ditched V for Project Fi.

So this means your are now overpaying for your data.

OK who thought that using 2 pt fonts was a good idea for the notifications. Is samsung trying to force me to wear my bifocals

Just go into the display settings and resize the interface or fonts to your liking...

And yet the unlocked S7 remains on Marshmallow...

Yup. Guess unlocked models will literally be the last to get it? I have a feeling I'll have the S8 before I get Nougat.

Who cares? What is it with people telling strangers that they afe downloading? Good for you. Btw, I am eating lunch in Minnesota. .. at least I gave a location.

Upgraded my S7 this evening and now my Wi-Fi will not stay on. Toggles from on to off and I can't get it to connect. Tried resetting network settings and then settings altogether. Wi-Fi continues to not stay on. Less than thrilled with this update.

Did you wipe the cache partition?

had the same issue on my wife's phone had to do a factory reset and that fixed the issue

I love it ! The new UI is great. In my opinion, the new notification system is the best feature. Also, the new display/battery optimization settings are a nice addition. Battery and overall performance is fantastic. Verizon, it's about time.

I'm liking nougat but I no longer can see the alarm time with night clock. There isn't an option to uninstall any update either.

Not all: AT&T has blown off the Galaxy S7 Active.

Man, my parents love their phones for the most part but boy they're going to hate this update. Just like they hate every update.

As one of those other parents, yes I hate this update, also anyone with OCD. The puke depressing colors, the lines removed / not very visable from calanders, emails, contacts, etc. The personal settings interferences. I guess I just want to know why? None of these have anything to do with security or Wi-Fi connectivity, by the way mine still sucks, my Wi-Fi is through one of verizon sub companies too. I don't want to spend my personal time having to screw with thoughtless crap, in polite words. Some people have a life outside their phone, we took our time to set it up our way, than some special peole have to come and think they know more about the user and screw with our PERSONAL SETTING. Why offer personal setting if they don't amount to JACK *$#@? WHY?

Finally eh.. folks in Canada are still waiting. Honestly what's the point of a major OS update if it's going to take a year to get on everyone's phone. This is one thing Apple will always do better.

Just squeezed in before Android Orange-Toffee's announcement tomorrow.

Maybe now the SM-G935U sitting next to me will finally get the priority support directly from Samsung that was promised .. oh yeah .. priority means before the carriers and in spite of the carrier interference. heh. Maybe the U version will get Android 7.0 the same day the S8 goes up for pre-orders or something else daffy like that. heh.

So does that mean the unlocked version is next? Or do we have to wait for every other carrier to get it 1st? Oh wait- Nope, everyone in North, Central, and South America with carrier versions will get updated first then- oh, wait- Nope, there are still some island nations that are before us. Oh wait-........

Happy with MM, have no intentions on upgrading unless forced to.

No issues here with the 7.0 software update, everything works fine, no factory reset needed.

Seems to be working ok. I haven't had a lot of time to explore new features. only weird issue is the album art in google play music is all messed up now. most songs show the wrong album art. when I browse to the files using the file manager, the correct album art shows up.

Feels like a downgrade to me. Dislike a few of the menu changes and absolutely hate the new notification drop down, especially that I need to swipe twice to get to screen brightness now. Oh well, more unnecessary appearance changes. I'm experiencing no bugs or problems.

You can set the Brightness bar to always be visible.. there is a down arrow to the right of the Brightness bar...it has the option

There is an option to out the brightness bar on the top.

They really should have gotten the Note 5 updated sooner. I can see previous Note fans just getting the S8 now.....thus cannibalizing would be Note 8 sales. I am already questioning my loyalty to the Note line.

I'm having great success with this update! Very smooth, lots of features, new look, and I like the feel. After update clear your cache partition to make sure it runs smooth. Clear the partition regularly as well to maintain performance.

My Verizon S7 is now super sluggish. Have rebooted multiple times. Also battery life is far worse than before (using same settings as before.) Have tried letting battery die all the way and then recharging to full.... still worse battery life after the upgrade.

Updated late March 12th and battery life has definitely taken a hit. Will take more time to determine if I have a misbehaving app, but using same apps as prior to update, will see.

Only thing I've noticed and don't like that I haven't been able to figure out is why when I tap on a notification on the lock screen it now asks me to "Swipe screen to open." It used to just open the app of whichever notification I opened. It's just an extra step and I'd rather not have it.