Air Fryers became super popular last year, and for good reason. They allow you to enjoy your favorite fried foods without consuming a ton of oil and dealing with the mess that deep-frying can make. This limited-time deal on the Cosori Smart Wi-Fi Air Fryer might be your best chance to score a saving on it before its price inevitably rises back up. It's down to $99.98 from its usual $120 going rate. It has only dropped from that price once before which was a one-day sale prior to the holidays. Outside of that, it hasn't gone on sale until now.
Crispy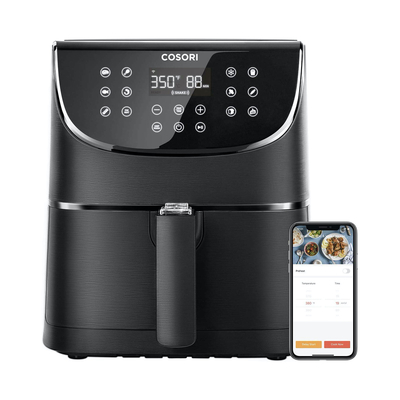 If you don't have one of these popular kitchen appliances yet, now's a great time to make the purchase as this Cosori model very rarely goes on sale. The 5.8-quart device has Wi-Fi smarts so you can control and monitor from your phone.
$99.98 $119.99 $20 off
The Cosori air fryer can cook all kinds of foods. There are 11 presets for steak, poultry, French fries, vegetables, and more and you can use the built-in LED touchscreen to switch between them easily. In many cases, the Cosori fryer will cook foods faster than a conventional over and with crispier results and 85% less fat than traditional deep frying. The 5.8-quart basket is non-stick, removable and dishwasher-safe so cleanup is easy.
One of the best features of this air fryer is its smart functionality. You can connect it to your Wi-Fi in order to monitor and control it from the accompanying smartphone app. It also works with Alexa devices. That means you can cook, schedule, adjust and monitor the progress of your meals from outside the kitchen. The app also has a bunch of recipes and inspiration for things to do with your new kitchen toy.
This air fryer has been on the market since the summer and the early reviews have been positive with an average rating of 4.5 out of 5 stars. If the Cosori smart air fryer isn't for you, be sure to take a look at our list of the best air fryers out there.
We may earn a commission for purchases using our links. Learn more.