Top 10 things to know about the Moto G5 and G5 Plus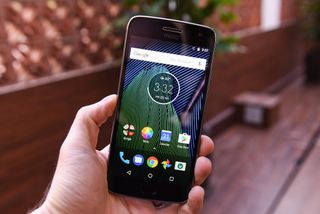 With the smartphone segment getting increasingly competitive, Lenovo is turning to the Moto G series to solidify its footing. The Moto G4 and G4 Plus sold in huge numbers in Latin America and India last year, and going into 2017, Lenovo is offering faster processors, more storage and memory, and a premium design with the Moto G5 and G5 Plus.
Unlike last year, there are several spec differences between the standard Moto G5 and the larger G5 Plus. That said, the fingerprint sensor is now available on all models, a much-needed inclusion. Here's what you need to know about the Moto G5 and G5 Plus.
Full HD display
Like last year, both the Moto G5 and G5 Plus offer Full HD displays, but Motorola has brought the size down to 5.0 inches and 5.2 inches respectively following customer feedback. Although both phones have the same resolution, the 1080p panel on the G5 Plus is better than the one on the standard version.
Moto Display is back, allowing you to preview notifications without unlocking your screen. Motorola has added a new widget, support for additional colors, and the ability to jump into a particular email or a conversation thread directly from the lock screen.
However, a point of contention is the scratch protection, or lack thereof. The Moto G5 doesn't offer any, whereas the G5 Plus comes with Gorilla Glass 3.
Premium design
The Moto G5 and G5 Plus finally sport a metal chassis that looks a far sight better than the plastic designs of previous years. There's still a fair amount of plastic, particularly around the frame, but at least the fingerprint sensor doesn't look like an afterthought anymore.
Google Assistant
Google announced at MWC that all Android phones running Marshmallow and above will receive the Google Assistant, with new phones featuring the AI assistant out of the box. We've seen that with the LG G6, and the Moto G5 and G5 Plus also include Assistant.
Although the AI assistant is still in its infancy, Google has improved its functionality in the four months since its debut. Google hasn't changed a whole lot with its implementation of the Assistant on other phones, offering similar features to what we've seen on the Pixel. That includes the ability to view calendar entries, set reminders, check weather alerts, control the smart lighting in your house, and so much more. The virtual assistant pulls data from your Google account and the knowledge graph to provide you with relevant answers to your questions.
Camera
Motorola finally included a decent camera with last year's Moto G4 Plus, and the camera on the G5 Plus is increasingly looking like its standout feature. The 12MP camera comes with an f/1.7 aperture, 1.4 micron pixels, dual autofocus pixels, and PDAF, and the housing itself is very similar to that of last year's Moto Z series.
The Moto G5, meanwhile, has a 13MP camera with an f/2.0 lens that may turn out to be the same sensor from last year's Moto G4. Both phones have the same 5MP camera up front.
Internal hardware
The Moto G5 is powered by a Snapdragon 430, a capable budget SoC with eight Cortex A53 cores clocked at 1.4GHz, while the G5 Plus features the beefier Snapdragon 625, the same SoC that was used in last year's Moto Z Play.
Both chipsets are more powerful than the Snapdragon 617 that was used in last year's handsets, and should make the Moto G5 and G5 Plus hold up well to the competition in this segment.
Battery and charging
The Moto G5 has a removable 2800mAh battery, whereas the 3000mAh battery on the G5 Plus is sealed in. Both phones support fast charging, with the Moto G5 coming with a 10W TurboCharge charger out of the box, and the G5 Plus with a 15W TurboCharge adapter.
Talking about charging, the phone still features Micro-USB and not the newer USB-C standard. Motorola is citing convenience as the main factor behind the move, stating that its customers would want to use their existing Micro-USB cables with its latest phones. That argument doesn't hold water in 2017.
One Button Nav
The Moto G5 and G5 Plus will run Android 7.0 Nougat out of the box, and Motorola continues to offer a software experience that's close to "pure" Android. You do get a lot of customization options with Moto Actions, and a new feature Motorola is rolling out is called One Button Nav.
The feature offers a gesture-based navigation system that relies on the fingerprint sensor in lieu of the traditional navigation keys. The feature debuted last year on Lenovo's Z2 Plus, and following positive feedback from consumers, Lenovo is introducing it in the Moto G5 and G5 Plus.
With One Button Nav, you can swipe left across the fingerprint sensor to go back, swipe right to access the multitasking menu, and use a long press to invoke Google Assistant. The gestures can be customized, and while it takes some getting used to, the system is quite fun to use. You can always switch back to the on-screen nav keys if you don't like the feature.
Memory and storage
There are six variants of the Moto G5 Plus, each tailored for a different region. Motorola is looking to maximize profits from the Moto G series, and the result is a dizzying array of options for global markets. Essentially, you'll get either 2GB, 3GB, or 4GB of RAM, along with storage configurations of 16GB, 32GB, and 64GB. You get a microSD card with all models. Availability is going to vary across regions, and not all versions will be sold in all markets.
Regional availability
Motorola has already announced that the Moto G5 Plus will be launching in India on March 15, and availability in other countries will be detailed shortly. The company isn't launching both variants in all markets, and has stated that the U.S. will receive the Moto G5 Plus, and not the Moto G5.
The Moto G5 will cost €199 for the model with 2GB of RAM and 16GB storage across Europe and Latin America, and €279 for the version with 3GB of RAM and 32GB storage. In the U.S., the Moto G5 Plus will retail for $229 for the model with 2GB of RAM and 32GB storage, and $279 for 4GB of RAM and 64GB storage. The phone will work on all four major carriers — T-Mobile, Sprint, Verizon, and AT&T — and will be sold unlocked direct from Motorola.
NFC
Oddly enough, the Moto G5 Plus that will be sold in the U.S. will not have NFC, but the global variant will include the feature. The move doesn't make much sense considering the U.S. is one of the few markets that has the infrastructure in place for contactless payments. If you're looking to buy the Moto G5 Plus in the U.S., know that you won't be able to use Android Pay or any other form of NFC-based payments system.
That's a quick look at Motorola's latest handsets aimed at the budget segment. Are you looking to pick up the Moto G5 or G5 Plus once it goes on sale in your country? Let us know in the comments.
Harish Jonnalagadda is a Senior Editor overseeing Asia at Android Central. He leads the site's coverage of Chinese phone brands, contributing to reviews, features, and buying guides. He also writes about storage servers, audio products, and the semiconductor industry. Contact him on Twitter at @chunkynerd.
So the standard G5 over the standard G4 then? Saying the SD430 is more capable than the 617 is encouraging, but there seems a bigger gap to the Plus versions. I nearly bought a G4 last weekend.
199 euros shouldn't be much more than the £149 I nearly spent.
I don't care about the better build quality or feel. I had a preference for a 5.5 or 5.2 inch screen.

You get the Android Nougat from g5. My g4 UK version still running marshmallow

The year of the regional hardware lockout. Nice.

Yep, why cant they all be like Apple and make one device that has all the bands and features to work anywhere?

Personally, I'm fine with the G5 Plus not having nfc, considering that I don't use it.

These look like great devices but the real comparison i would like to see is the nokia 3/5/6 and these new phones. Very similar specs and build quality it seems. Plus nokia is working close with google on them... i really want to try that nokia 5 out. for about $200 and stock android it looks like a great backup device for me.

Will the Global G5+ w/NFC work in the US?

Bad move removing NFC for US variants...I was all in until I read that. I'm also not convinced the Lenovo phones are built as well as the original Motos either from the experiences friends have had with them. Oh well..

I rarely use NFC but no Gorilla Glass on smaller model is a bad move. I wonder if it has some unknown glass type??

Although Gorilla Glass would have been nice, I put a tempered glass screen protector on my phone anyway, so doesn't make that much difference to me.

Ok come from the UK but i got to ask what is up with phone brands dropping features just because they are going to sell it America?

I want to test a different cellular network, and I'm considering the G5 Plus. I'm fine without NFC; I don't really use it that often now.

Sounds like the G5+ would be a solid choice for you. Good luck with your trials! I'm looking at one too to try out.

So when you enable "one button nav" the on screen navigation keys disappear ?

Nvm, I found it. It does indeed hide software nav buttons. Awesome.

G5 Plus probably has the same IMX260 sensor as the Galaxy S7.

They should've made the battery removable for both models.

I agree. Wish both models had removable batteries.

It should have been 11 things to know about the Moto G5 11. Motorola's commitment or lack thereof when It comes to updating its phones.

Keeping micro-USB for convenience is an argument that absolutely DOES hold water.

It did for a budget phone because I suspect people buying this phone might not be able to buy a second C cable. But really people should adapt to new standards. Pretty much every mid to high end phone will use C type connection.
Is similar to not buying a DVD player simply because you have a lot of VHS tapes.

No it's actually like having a bunch of CDs and someone tells you, you should get a mini disc player, because it's the new hotness, and you can fit more songs on a mini disc player at higher quality. Yeah it's technically better, but good luck dealing with the fact that there's not a ton of support for minidiscs. Now imagine your wife is going to stick with CDs while you move to minidiscs. You all are really going to appreciate being on 2 different standards. Awesome! Not to mention all the dongles. Dongles everywhere! I guess she'll be slightly less annoyed that ONE TIME when her phone is pretty much dead, and you charge her phone with yours using the dongles, and then quick charge your phone, and then she thanks you as she rolls her eyes for the ONE freaking time it came in handy, when she could have just charged it in the car later. So yeah not quite DVD V VHS.

I'm probably the only one who isn't feeling their designs.

I'm not feeling it either. Still looks cheap.

I dig their designs a lot tbh

Well am in the UK and I did say that the Moto g 4 was going to be my last Moto but when I saw the g5 plus I thought darn what a phone so yea am hoping to get the 3gb 64gb ROM Moto g5 plus fingers crossed 🤣😁😂

In a month or two, when the regular G5 becomes more widely available, on say eBay. Does that variant have the antenna bands, to work in the U.S?

Looks like a good phone choice and with Prime, can get it a little cheaper. I'm comparing this to the Honor 6X and keep going back and forth on them. Moto G5+ seems to be in the lead for me.
Android Central Newsletter
Thank you for signing up to Android Central. You will receive a verification email shortly.
There was a problem. Please refresh the page and try again.