Pay just $40 a month for Verizon's 100/100 Mbps FiOS plan and get a $50 prepaid gift card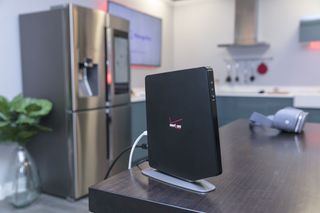 Do you play games online? Stream high definition content from sites like Netflix or Hulu? Have several different devices, like your phone and laptop and tablet, that access the internet all at once? Create content for sites like YouTube or Twitch? Then you need something better than DSL or Cable. You need fiber optics. Stay away from lesser Internet Service Providers (ISP). Verizon is offering new customers who sign up for its 100/100 Mbps plan a $50 prepaid gift card, and the service is reduced to just $39.99 a month if you sign up for auto pay. This offer is exclusive to those signing up for service online, so if you try calling in you won't be able to get the pricing down this low. This deal expires April 30.
The 100/100 plan comes with a one-year price guarantee, meaning that you'll only pay the $39.99 plus taxes and applicable fees for the first year, though after that the price is subject to change. If you need faster speeds, or want to lock into a guaranteed price for a longer period of time, Verizon is also offering a 300/300 plan for $59.99 which comes with 6 months of Netflix service and locks you into that price for two years, or opt for the Gigabit plan which has a three-year price guarantee and comes in at $79.99 a month. The Gigabit plan also offers 1 year of Netflix from Verizon as well as a free router rental for the full three-year term. These deals will only be good through May 8.
Locked into a contract with your current ISP? Don't worry, Verizon is also offering up to a $500 credit to help you get out of your current contract so you can make the switch. The online offer also includes a waiver of the standard setup charge, which is another $99 value.
Having a fast and reliable internet plan is even more important these days than ever before. From keeping your smart thermostat and plugs connected to being able to handle all of your streaming needs, if you don't have an Internet connection you can rely on, you're going to find yourself frustrated about something that is avoidable. Be sure to consider all of the options that Verizon has to offer with this limited-time promotion, and don't forget to sign up online so that you can get the absolute best value.
Jared started off writing about mobile phones back when BlackBerry ruled the market, and Windows Mobile was kinda cool. Now, with a family, mortgage and other responsibilities he has no choice but to look for the best deals, and he's here to share them with you.
It would be an amazing deal to have but unfortunately not everyone get to enjoy this offers for example I've been trying to get a decent internet provider for about a year and a half but on the area I live there's no such thing and I am a fan of fios internet I would love to have this internet in the area I live but they don't offered the services there, I would give my left testicle to have this internet there cause the only other internet there it's way too expensive and sucks nutters.

"These services are not available in your area." Figures

I'm far from a person who nit picks at grammar and spelling mistakes. But, how do you guys blow the title of the article? Gbps?? Really? Docsis 3.1 modems can hit 10Gbps. So what magic modem do I need to get 100? Come on guys, there's nothing that could even utilize speed like that clearly it's Mbps. Not to mention even if Verizon could do that oh, you know there's no way big red's only charging 40 for it. Lol, more like $400 It just kind of blows my mind that the title is wrong. Click bait or mistake??

Mistake. We are all humans :D

And after 1 year they will charge 100 bucks? Xfinity 60mbps deal is $35 by the way, and normal price is $50

Not in my area. $75 for 60mbps after I just upgraded to 150mbps for $85 last week.

If anyone wants to save even more use my FiOS refer a friend code: FURMA012VZ $50 MasterCard on Gigabit
$75 on Double Play
$100 on Triple Play Works on DSL bundles too.

Available in just a very few cities in 8 states, weak...

OK, sign me up! I'll be waiting on them to build out the infrastructure to my house because broadband access outside of metro areas is abysmal. But now that net neutrality has been removed, that is sure to improve. /s

Yeah, it is just like Google Fiber. Not in your area. These services that provide great deals are just in very small portions of the country.

Yeah, would be great if Fios had better coverage. I live in a very affluent, tech-forward city right outside washington DC and our only ISP is Comcast. Years ago, our city begged Verizon to install Fios and they said "nah, we're done expanding". We begged Google to install google fiber and they ignored us. Now we pay $90/mo for JUST INTERNET because there is zero competition. But my parents have Fios in the middle of the woods. Not really sure what their mindset is.

Read the t&c, no where did it mention a data cap. Is there one?

I've been trying to but they up the price significantly after the first year and this is owning the hardware as well or else it's even more money per month! I simply want the $40 price for a few years. Is that too much to ask for?!?

I don't see this plan anywhere when I go to the link posted.
Android Central Newsletter
Get the best of Android Central in in your inbox, every day!
Thank you for signing up to Android Central. You will receive a verification email shortly.
There was a problem. Please refresh the page and try again.