Making your home smart can be affordable with this sale on Echo Dot bundles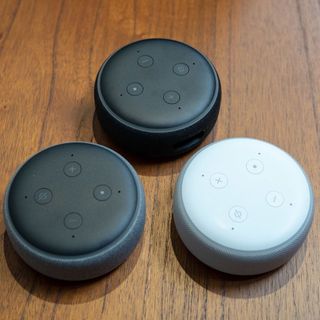 The Echo Dot (opens in new tab) is basically the smart home starter kit. It's easy to use, seamless to set up, always getting smarter, and thanks to these Amazon Bundles, extremely affordable right now.
First up, we have the Echo Dot 3rd-Generation Smart Speaker (opens in new tab) available for $29.99. That price is stellar compared to the usual $50 price tag, and even better when you consider how rarely these go on sale. On Black Friday, they were selling for $25, so paying just $5 more in May is a pretty sweet deal in and of itself. The Echo Dot gives you voice control over music, compatible smart products, and essentially, your entire life. I have one in my kitchen, and I'm constantly asking Alexa to set a timer, tell me the weather, update me on the Blackhawks score, play music via Spotify or Pandora, or use one of her Skills to relax my cats (opens in new tab) during spring thunderstorms. (Yes, it works, in case you're wondering.) Alexa can even read you books or play Skyrim (opens in new tab), and all you have to do is ask.
Alexa, Do The Things
(opens in new tab)

Whether you want a single Echo Dot, or a bundle with Smart Bulbs or Smart Plugs, these prices get you close to the best deals we've seen.
From $30
If you want even more for even less, pair your discounted Dot with a TP-Link Smart Plug (opens in new tab) for $15 more or a Sengled Smart Lighting Kit (opens in new tab) for $20 more. Those deals save you tons of money compared to buying the products separately, and each is compatible with your new smart speaker. Use the Smart Plug (opens in new tab) to add smarts to older tech, and do things like voice-control your box fan or turn on your TV. The lighting kit (opens in new tab) is awesome, too. Turn on the lights, adjust brightness, or randomize the bulbs so it looks like you're home when you're not.
The only downside? Once you buy an Echo Dot, you're hooked. Don't say I didn't warn you. When you're ready for your next home automation fix, check out additional colorful smart bulbs (opens in new tab), smart power strips (opens in new tab), or smart thermostats (opens in new tab). You smarty pants, you.
Louryn saves money on everything she buys (which is a lot.) In between waiting for Amazon deliveries, she pines for the next Elder Scrolls installment and checks Reddit for gaming rumors. She also loves Hearthstone, makeup, and beer. Find her on Twitter: @lourynstrampe
Android Central Newsletter
Get the best of Android Central in in your inbox, every day!
Thank you for signing up to Android Central. You will receive a verification email shortly.
There was a problem. Please refresh the page and try again.