These are all the Android devices updated to fix KRACK Wi-Fi vulnerability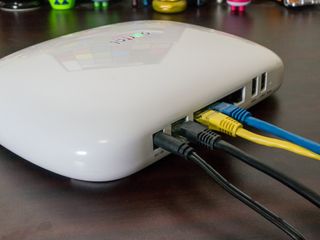 In October 2017, a big vulnerability with the WPA2 Wi-Fi standard was discovered. Referred to as KRACK, this is a vulnerability that essentially makes open season on all your personal data when connected to a Wi-Fi network using WPA2.
You can find all of the information about KRACK in Jerry's guide here, but when talking about newer Android devices specifically, it's important to note the following:
Attackers can't necessarily use KRACK to steal your bank account information or passwords, but it's still something that you want to protect yourself from as much as possible. Both Wi-Fi routers and devices connected to them need to receive a software update in order to be free form potential attacks, but at least in the case of Android phones and tablets, these are the gadgets that are safe to use.
BlackBerry DTEK50
BlackBerry DTEK60
BlackBerry KEYone
BlackBerry Motion
BlackBerry Priv
Essential Phone
LG G6 (AT&T)
Moto Z Play (Verizon)
Moto Z2 Force (Verizon)
Moto Z2 Play (Verizon)
Nexus 5X
Nexus 6P
Nexus Player
Nokia 5
Nokia 6
Nokia 8
NVIDIA Shield Android TV
NVIDIA Shield Tablet
NVIDIA Shield Tablet K1
OnePlus 2
OnePlus 3/3T
OnePlus 5/5T
Pixel/Pixel XL
Pixel 2/Pixel 2 XL
Pixel C
Samsung Galaxy Note 5 (Verizon)
Samsung Galaxy Note 8 (AT&T, T-Mobile, Verizon, International model)
Samsung Galaxy S6 (Verizon)
Samsung Galaxy S6 Edge (Verizon)
Samsung Galaxy S6 Edge+ (Verizon)
Samsung Galaxy S7/S7 Edge (AT&T, Sprint, Verizon)
Samsung Galaxy S8/S8+ (AT&T, Sprint, T-Mobile, Verizon)
Samsung Galaxy S8 Active (AT&T)
Sony Xperia L1
Sony Xperia X
Sony Xperia X Performance
Sony Xperia X Compact
Sony Xperia XZ
Sony Xperia XZ Premium
Sony Xperia XZs
Sony Xperia XZ1
Sony Xperia XZ1 Compact
Sony Xperia XA1
Sony Xperia XA1 Plus
Sony Xperia XA1 Ultra
Update, December 29, 2017: Added AT&T Galaxy S8/S8+, additional Note 8 variants, and S7/S7 Edge models, and more. This list will continually be updated with new devices as they're updated.
Android Central Newsletter
Get instant access to breaking news, the hottest reviews, great deals and helpful tips
Joe Maring was a Senior Editor for Android Central between 2017 and 2021. You can reach him on Twitter at @JoeMaring1.
Thank you for this list! Is it possible to indicate how a user knows they have the update. For example, for Pixel/Nexus users could you include the Android Version and/or Security patch level with this fix so we know we have it? Thanks!

I think the Nokias are fine too. My personal Nokia 5 has Android 7.1.2 and 6th November patches which I believe is enough to fix it

Any idea on MI A1. It has November 6th patch.

Patch level of Samsung note 8 is poor. No security patch on my unlocked AU since 1 August. Good hardware but poor software support. 😲

I'm on November patch on mine. Sorry to hear...

Unlocked Note 8 here too, JUST did a manual check after reading your post, turns out a new update has been pushed (337mb here). Dont know if it fixes it though, but chances are it does.

Just did another manual check nothing for me, is yours an Australian model too?

Nah, I live in Cyprus and bought it here. Security firmware is now updated to Nov 17.

Nexus 6P absent that day?

No Moto phones? That can't be right, can it?

You are correct that isn't right. For example, the Moto X Pure (2015) is patched to fix KRACK.

Yes. I concur. Only 2 security updates in one year.

Got November patch on Note8 in Canada on Rogers today. Not sure though if this closes KRACK.

Noticed the 7 Edge on AT&T is still not on that list - glad I went with the Pixel 2...

Wonder where the LG G6 is?

Seems like no LG products are on there

at&t's LG G6 is patched. https://www.androidcentral.com/e?link=https2F2Fcli...

Where is the att s8 active update. Maybe today?

Not sure about the Active, but the November update for the AT&T S8 and S8+ does include KRACK fixes : https://www.androidcentral.com/e?link=https2F2Fcli...

That I am aware of Nexus 6 never got the patch as this post, unless it comes with December image/ota...Its still on October release
https://developers.google.com/android/ota#shamu

I think Nexus 6 is done with security update support

T mobile's Note 5 security update is out Dec 1. Not sure if it fixes KRACK

Hoping to see the Verizon Galaxy S5 get this patch. Still one of the most popular handsets in use. Be a shame to have to replace right now, just popped a fresh battery in mine; but, you know, Verizon.

AT&T Note 8 just received an updated today to Baseband N950USQS2BQK2. That's the same as the Verizon release that addressed KRACK. There doesn't appear to be an AT&T changelog yet to confirm this though.

Based on info I've read around the web, the Moto Z and Moto Z Force now have the November 2017 security update. Here is a link to the AC forms: https://forums.androidcentral.com/moto-z-force/851778-just-got-update.html

Wileyfox Swift (and 2 series) got the patch already with the november patch. https://twitter.com/Wileyfox/status/937716934186909696

Where does the information about Nexus 9 comes from? Currently latest (and last?) security update is from October 5th.

"Both Wi-Fi routers and devices connected to them need to receive a software update in order to be free form potential attacks" - No, only clients do Patched client + patched router: safe
Patched client + unpatched router: safe
Unpatched client + patched router: not safe
Unpatched client + unpatched router: not safe

Basically you say it doesn't matter at all if the router is patched or not. That is not true.

It's true.
There isn't anything related to routers however if router itself be a wi-fi client (for ex. Repeaters or something like that) need patch. If router itself not being a client there is nothing to patch in routers. If you want to be certain, go in official KRACK blog and read about it. Regards.

No love for the Note 4. Doesn't surprise me though.

Add "Sansui Horizon 2" in the list.

Is it bad that I had a dream my LG G6 got the update, but woke up to it not having any update?

It's not bad. More like sad

Google have released patches for Android system, the device included the patches if the security level over November 6th.
I have downloaded Wi-Fi Alliance tool and tested NVIDIA Shield, Nexus player, HTC phone, some Android STB..., The security level is November.
But no one can all pass, actually the wpa2 krack issue still exist with most android device, the means that Google patches not really solve this issue.

U can add Honor 6x too - received December security patch

The Fairphone 2 is missing on the list. It got the fix very early.

BlackBerry and Google are the only two that are on the ball with security updates. Koodos to BlackBerry.

not hard to do when you only have 100 total units out in the wild

Essential have been updating within 1-2 days of Google the past couple of months.
PH-1 got the December security updates *before* the Pixels.

Most Huawei devices should be patched now. We have received the November 6 security patch on all our devices, a P10 Plus, a Honor 8 and a MediaPad T3.

I see that none of Samsung or Amazon's tablets are on the list yet. It would be much appreciated if if Androidcentral used their contacts to press those two companies on the plans and status of their wifi dependent tablets.

What about Galaxy S6 international version?

Any way to check it on the device? I have S6 and there was security update week ago. Not really sure if it was for this though.

Im a bit confused. Does the Nov 6 security patch address this or does it require something more?

Nov 6 contained the patch to the best of my knowledge

I have a Dtek60 and Dtek50. The 50 is on Dec, but the my 60 is always late. It's still on Nov. I know it was released weeks ago for the 60, but I still don't have it.
Unlocked from B&H. BB9000>Q10>Z10>Z30>Z30>Classic>Dtek50>Dtek60

For those who don't know, Samsung just released the KRACK Wi-Fi vulnerability fix for the Galaxy S 5, the Note 4 and the Note Edge. If still have those phones, check to see if you were sent the update or update the phone manually.
Android Central Newsletter
Get instant access to breaking news, the hottest reviews, great deals and helpful tips
Thank you for signing up to Android Central. You will receive a verification email shortly.
There was a problem. Please refresh the page and try again.