The Moto X was one of the best Android phones — it's time to bring it back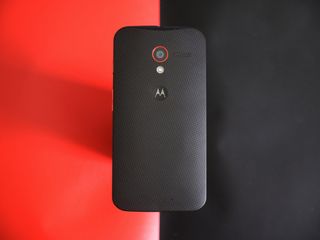 (Image credit: Joe Maring / Android Central)
As with any Android fan, there are a few different handsets that have a special place in my heart. The Galaxy S Fascinate (Verizon's variant of the original Galaxy S) was my first Android phone, Google's Nexus 5 was the first device I ever rooted and loaded a custom ROM on, and I remember being on cloud nine when I finally got an invite to buy the OnePlus One.
Another Android phone that I'll always cherish is the Moto X, which continues to be unlike any other smartphone to this very day.
The Moto X was a unicorn in the smartphone space when it first launched in 2013. It didn't have the sharpest display, best camera, or expandable storage, and it came with those technical compromises at a relatively high price —$199 with a two-year contract, the same price of an iPhone 5 and Galaxy S4 at the time.
Even so, the Moto X was instantly recognized as something special. Its design was fully customizable thanks to the Moto Maker creation software, your handset was constructed (by hand) at a factory in Texas, and the customization options were endless. The Moto X's hardware is what made it instantly recognizable, but it went a step further with its software, too.
It was the first phone to support hands-free "OK Google Now" voice commands, and it introduced the idea of an always-on display in which you could see and interact with notifications without waking the entire screen — two features we take for granted in 2020. There was also the excellent Motorola Assist app, which would announce incoming calls when it detected you were driving. The best part? All of these features worked seamlessly without you having to think too hard about them.
The Moto X was gifted to us from a Google-owned Motorola, which is a very different Motorola from the one we have today that's managed by Lenovo. This change in ownership happened in 2014 for a little under $3 billion, and the company hasn't been the same ever since.
Instead of genuinely exciting and fascinating smartphone releases, Motorola's bread and butter now lies with generic budget phones — which it releases too damn many of. Looking at just the current lineup of Moto G phones in the various countries Motorola operates in, we have:
Moto G Fast
Moto G Power
Moto G Stylus
Moto G Pro
Moto G8
Moto G8 Plus
Moto G8 Power
Moto G8 Power Lite
This is very much so an approach of throwing everything at the wall and seeing what sticks, and while it must be a smart financial decision for Motorola given how long it's been doing this for, it removes any sense of brand identity or originality from the company.
I thought things would be turning around this year when rumors began of Motorola returning to the flagship space, but it didn't pan out as I was hoping. The Edge+ is a fine device, but its Verizon exclusivity, bland design, and $1000 price tag make it the most un-Moto X device I can think of. Motorola's also releasing a regular Edge to go alongside it, with there now being rumors of an Edge Lite in the works, too (because why wouldn't there be?).
Almost all of Motorola's phones range between good and great, but none of them stand out from one another. It's an endless sea of very similar phones thrown at our faces that Motorola barely supports after they're released, and it's made the company feel hollow and soulless compared to what it used to be.
So, what's the solution? Bring back the Moto X — and for real this time. The Moto X4 back in 2017 delivered a great user experience, but at the expense of an interesting design. It may have been a Moto X by name, but it wasn't fully representative of what the brand used to stand for.
As for what a 2020 Moto X should look like, I think the solution is pretty simple. For one thing, bring back Moto Maker and create a device that's fully customizable by the user. High-quality plastic, wood, and leather backs may not be the norm in a world filled with glass slabs, but that's precisely what made the Moto X so unique back in the day. Being able to make a phone that perfectly represented your style and personality was amazing, and there's since been no other phone to offer anything on that same level.
I'd also love to see Motorola continue innovating on the software front. Android is a lot more mature and feature-rich today than it was seven years ago, but after ushering in things like Moto Display and Moto Actions years ago, Motorola's simply ridden on the coattails of their success and hasn't innovated since then. Sure, we've gotten Moto Gametime and the Personalize suite for tweaking certain UI elements, but these are things that we've seen in countless other Android interfaces.
The Moto X wasn't just another smartphone — it was designed to make your life genuinely easier thanks to its unique feature-set. I'm not asking Motorola to reinvent the wheel entirely, but I'd love to see that spark of creativity shine once more.
Part of me knows we'll never get a perfect recreation of what the Moto X was and meant to so many people, but at the very least, I'd love for that same Motorola ingenuity to make a return. I don't feel that same spark when using the Moto G Power or Edge+ that I did with the Moto X, and I long for the day when Motorola can recapture that energy and passion all over again.
Get the Android Central Newsletter
Instant access to breaking news, the hottest reviews, great deals and helpful tips.
Joe Maring was a Senior Editor for Android Central between 2017 and 2021. You can reach him on Twitter at @JoeMaring1.
As much I as liked the OG Moro X the Moro X 2014 is probably my favorite Android phone of all time. It didn't have the best camera or screen but Moto Actions and the Moto Display were incredible.

You are not wrong, waving my hand in front of the screen to wake it up made me feel like a wizard and I miss it.

I also miss the small premium flagship Android phones. It seems like the Pixel regular size is the last small flagship phone. The OnePlus 8 is too big for me. The Galaxy S20 Ultra is massive and if you get the S20 regular you compromise on features. If you want a flagship sub 6inch Android phone the Pixel is the only option.

This! I truly miss the time when small Android Flagships were plentiful. I have the 1+6T and while I enjoy it the size is too unmanageable for my liking. I really don't want to but the smaller size options are making me lean towards Apple in my purchase. :-/

Yeah Moto x 2014 was the of them all. Moto needs to get back to that style

I've recently been looking at new phones but instead opted to replace the battery in my 2nd gen Moto X. There's just something about this phone that I absolutely love and it's obviously not because other phones now are not 'better' because technically they are but it's the experience when using it. It's just so easy and intuitive and while things like chopping for the flashlight and twisting for the camera and waving your hand above the phone to see the time and notifications may seem like gimmicks on paper, well ask anyone who's used them just how hard it is to live without them. You can't appreciate the Moto X on paper you have to use it to realise just what an awesome phone it was/is so yeah come on Motorola give us a true Moto X successor please.

Tbe Moto X was a interesting and stylish phone at a time when Motorola had a soul and crucially were still owned by Google.

If half of the people who today claim undying love for the OG Moto X had actually bought the thing in 2013, it would have been the best selling phone of all time.

I waited three months and bought mine on the Black Friday sale they had, trading in my first ever Android phone so I could get the 32GB Motomaker model for $100.

Does the Nexus 6 count? After all it was a jumbo sized Moto X (2014) and I was quite fond of the phone and the design. But it wasn't perfect though, the camera was very meh along with the poor quality AMOLED display but it's software once it got updated to Android 6.0 Marshmallow, the phone because much more enjoyable to use after the buggy Android Lollipop which was awful and almost put me off Android phones but I'm glad I stuck waited to get the Marshmallow update.

I bought that phone during the weekend Verizon had a glitch in their system that let users with their grandfathered unlimited data plan upgrade their phone and keep their plan. Worked out perfectly for me.

Unfortunately I was a dead broke college student in 2013 so I couldn't afford it.

I agree, but first you have to bring Motorola back to Texas. (Bypassing Google on the way back)

You are 100 % correct. When Motorola went away to Lenovo, it was actually the end of Moto phones, maybe they keep calling them Moto but the actual "Motorola" / "Moto" phones are just something in the history books now. Lenovo is not and will never be the company Motorola was.

Bypassing Google? Wait why? The Motorola that people loved was with Google.

Google was the reason I bought my Nexus 6 back in 2015, because by then Lenovo has enough time to start destroying Motorola from the within with Motorola updates already bad and I knew with the Nexus 6 I'd get updates regularly.

The Moto X was clearly in the works before the Google takeover. They only grabbed the company for the patent portfolio, and then dumped them. They had no interest in supporting the division then, and don't need to get them back.

Prob my favorite was my old Moto Droid Turbo 2 custom via Motomaker. Did it Ironman style: Red Balistic Nylon with Champaign Gold frame and trim. Soulless slabs for miles nowadays....

My favs were the Nexus 6 and the X PE. Now if thy brought those back with updated processors and larger batteries...

I ordered a Moto X Pure Edition with wood back. I think it was bamboo? Nickname on it. It took great pictures for sure.

Oh yes, the Moto X Pure was a great phone! Had the BEST EVER vibration motor. You never needed any ringtone because you could feel that vibration through a snow suit! It would rattle your teeth. The only thing it didn't have was a fingerprint reader, otherwise I loved it! Mine had a wood back...can't remember the exact wood though it was a darker color. Those were the days!

the Moto X was my favorite Android phone ever but part of the reason for that was the Moto software that was on it.
if they made that exact phone with new parts inside, it still wouldn't be the same without that same Moto software.

I loved the OG Moto X, and loved even more the Moto X Force. I sadly had to make a turn to a Samsung A50 recently (I'm not displeased, btw), but that didn't give me the feeling the X Force had.
I'd love for Lenovo to make a comeback, but I'm thinking those days are over.

I mean Motorola is finally not losing money for Lenovo so ¯\_(ツ)_/¯

I had he OG Moto X, customized and bought direct from them. Was it the best at the time? No but what Google and Moto did with android and the hardware made it the Android iPhone of it's time. Pure android running great on it's hardware. Something not really known at the time. Add in the moto extras and it was a sweet ride. Then that dark day happened and they were sold off to Lenovo. At first I was hopeful. That was quickly replaced with dread. One of the big pushes Google did was Support the X like it did with the Nexus line and now Pixel. So near automatic software upgrades as they were announced. Too put it frankly when Lenovo tried to do updates they made Samsung look like geniuses. Late by months and soo buggy It nearly ruined my earpiece. It got so bad I had to root and rom it use to get it functional again. From what i've seen over the years it hasn't gotten much better. As much as i'd love a new Moto X. First Lenovo has to be jettisoned from control of the company and have it brought back to the states. I know there's a snowball's chance in H3LL of that happening. I'm resigned to the fact that Moto as we knew it is no more and this is just a label slapped on a Lenovo POS. Sad just Sad.

"One of the big pushes Google did was Support the X like it did with the Nexus line and now Pixel." I will NEVER forget when the OG Moto X got the KitKat update before the Nexus 5. It broke the internet back then. Was unheard of and still is 7 years later. Amazing times, feel sad that we won't get days like that again.

Lenovo should just sell Motorola to a company that would allow Motorola to get back to what made me interested in owning a Moto phone back in 2015 when I got my Nexus 6 before we knew that Lenovo would destroy the Moto brand. Because right now Motorola are like HMD Global in that they release so many phones, without HMD Global's great software support thanks to HMD Global's Nokia phones being on the Android One program. I think as long as Lenovo owns Motorola I'll never buy their phones again and that's a shame because under Google I quite liked Motorola under Google but Lenovo has destroyed Motorola as we know it so as much as I would love to see a Moto X in 2020, that won't happen under Lenovo along with Moto unlikely to be brought back to the US.

Bottom line, Lenovo is no Moto, never will be. Really, they should just label it a Lenovo Phone and be done with it, leave the Moto thing alone, they're not fooling anyone.

Call me crazy but the spiritual successors to the Moto X and Moto G are the Pixel and Pixel a. 😇

That's a interesting take, never thought of it like that.

People make a big deal about all of the HTC engineers that Google acquired but in terms of leadership, it seems like it was mostly past Motorola folks that are in charge of the Pixel phone.

Moto X brought "stock plus well thought out features". That's essentially what Pixel is. Pixel isn't "stock Android" especially if Nexus was "stock Android"

Yeah these new phones are good but not really incredible. The Moto X n HTC 10 really stood out to me.

HTC 10 was criminally underrated.

Point to be noted
"and it introduced the idea of an always-on display in which you could see and interact with notifications without waking the entire screen"
The idea of interaction with notifications without waking the entire screen is the only thing introduced with Moto X, not the idea of always-on-display. This Glance Screen feature aka Always-On-Display has been introduced by Nokia years ago with its E, N, C, X series of phones running Symbian and also available on Lumia lineups.

Yeah had a Nokia N8 which was brilliant and that had an AOD then after that a Lumia 820 which had an AOD too both great phones sadly killed off by dying ecosystems. Loved both symbian and Windows phones but the Moto X with Android and the play store with all the apps was and still is my favourite phone and happy to still use it in 2020.

So, the customization is what you loved? Aside from the Moto Display, which can be installed on other phones, what else was there? I did think the rubber back was very functional though, and the customization was another level. Fun times.

I think maybe the saying 'more than the sum of its parts' best reflects the Moto X. It didn't have the best of anything, camera, battery, screen and even the processor had been surpassed with the 805 chip but all together they just made for a great experience and that is something no spec sheet can give you. Put simply it just feels right. I think it's probably why some people love pixel phones even though many other phones have way superior specs. I personally can't stand Samsung phones, not because they are bad devices but even with the newest software I just can't get along with it. Phones like everything else are a personal choice and what suits one person may not suit another. That's why folks bashing each others choice of manufacturer or OS is pointless. I tried an iPhone and didn't like it, I tried a Samsung and didn't like it but the moment I got the original Moto g I loved it, hence making the choice to buy the Moto X relatively easy and have not regretted it one bit. My next phone hopefully will be all screen, no notches or holes and stock android. Whoever comes out with this phone first can take my money. Not interested in folding phones either.

Ahh, thanks for the perspective. I get it now. I can say that a work buddy had the similar Nexus 6, and he held onto it for a long time. I wouldn't be surprised if he still had it.

Thanks buddy, I'm sure you get it coz if I'm not mistaken you've had a similar experience with a HTC u 11 or 12?, a phone which I also looked closely at buying and also because it had an LCD screen which despite everyone saying amoled is better, for my eyes I actually prefer LCD screens.

I was late to the smartphone game. The Moto X 2013 was my first. I left Sprint for Verizon and the rep recommended this phone. It was 199.00, and I loved it. The perfect phone for a beginner. That was a Google made 📱. 🤔 When they sold out to Lenovo the brand has not been the same since. What the should do is copy a phone like the 2014 Moto X, which was a great 📱 for what was offered!

I had the Moto X and its successor. I've had several good phone since (OG Pixel XL and OnePlus 7 Pro) but the OG Moto X is my favorite. It just did everything so well. Moto actions, ambient display, overall smoothness and reliability. Terrible shame that Moto nose dived after that. I actually bought he Moto X4 and was disappointed. I would still be buying them today if they had continued the line the way it was before.

I totally 👍 with you, damn Lenovo, bring it back!

I had 3 renditions of X starting with the Original and ending with X4. I loved all 3 phones and was so disappointed when I began looking for a replacement for the X4 and Motorola had nothing comparable. I opted for the G7 Power due to price and battery life. It's nothing like an X but it's still Motorola which I believe still has the highest quality builds. BRING BACK THE MOTO X!

Yes, yes, heck yes! I had an ebony wood back, front black, with red camera & ring colored accents 2013 Moto X. Oh the love. ☺️ Then I have a bamboo wood back, white front, with yellow accents Moto X Pure Edition. But some how the original remained my favorite. It stood out amongst all the phones that came out that year and years after. 🥺 R.I.P. Motorola of days past.