The Moto X was one of the best Android phones — it's time to bring it back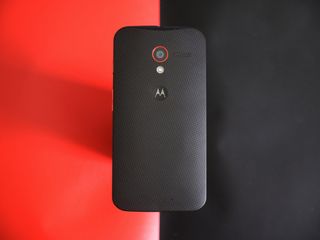 (Image credit: Joe Maring / Android Central)
As with any Android fan, there are a few different handsets that have a special place in my heart. The Galaxy S Fascinate (Verizon's variant of the original Galaxy S) was my first Android phone, Google's Nexus 5 was the first device I ever rooted and loaded a custom ROM on, and I remember being on cloud nine when I finally got an invite to buy the OnePlus One.
Another Android phone that I'll always cherish is the Moto X, which continues to be unlike any other smartphone to this very day.
The Moto X was a unicorn in the smartphone space when it first launched in 2013. It didn't have the sharpest display, best camera, or expandable storage, and it came with those technical compromises at a relatively high price —$199 with a two-year contract, the same price of an iPhone 5 and Galaxy S4 at the time.
Even so, the Moto X was instantly recognized as something special. Its design was fully customizable thanks to the Moto Maker creation software, your handset was constructed (by hand) at a factory in Texas, and the customization options were endless. The Moto X's hardware is what made it instantly recognizable, but it went a step further with its software, too.
It was the first phone to support hands-free "OK Google Now" voice commands, and it introduced the idea of an always-on display in which you could see and interact with notifications without waking the entire screen — two features we take for granted in 2020. There was also the excellent Motorola Assist app, which would announce incoming calls when it detected you were driving. The best part? All of these features worked seamlessly without you having to think too hard about them.
The Moto X was gifted to us from a Google-owned Motorola, which is a very different Motorola from the one we have today that's managed by Lenovo. This change in ownership happened in 2014 for a little under $3 billion, and the company hasn't been the same ever since.
Instead of genuinely exciting and fascinating smartphone releases, Motorola's bread and butter now lies with generic budget phones — which it releases too damn many of. Looking at just the current lineup of Moto G phones in the various countries Motorola operates in, we have:
Moto G Fast
Moto G Power
Moto G Stylus
Moto G Pro
Moto G8
Moto G8 Plus
Moto G8 Power
Moto G8 Power Lite
This is very much so an approach of throwing everything at the wall and seeing what sticks, and while it must be a smart financial decision for Motorola given how long it's been doing this for, it removes any sense of brand identity or originality from the company.
I thought things would be turning around this year when rumors began of Motorola returning to the flagship space, but it didn't pan out as I was hoping. The Edge+ is a fine device, but its Verizon exclusivity, bland design, and $1000 price tag make it the most un-Moto X device I can think of. Motorola's also releasing a regular Edge to go alongside it, with there now being rumors of an Edge Lite in the works, too (because why wouldn't there be?).
Almost all of Motorola's phones range between good and great, but none of them stand out from one another. It's an endless sea of very similar phones thrown at our faces that Motorola barely supports after they're released, and it's made the company feel hollow and soulless compared to what it used to be.
So, what's the solution? Bring back the Moto X — and for real this time. The Moto X4 back in 2017 delivered a great user experience, but at the expense of an interesting design. It may have been a Moto X by name, but it wasn't fully representative of what the brand used to stand for.
As for what a 2020 Moto X should look like, I think the solution is pretty simple. For one thing, bring back Moto Maker and create a device that's fully customizable by the user. High-quality plastic, wood, and leather backs may not be the norm in a world filled with glass slabs, but that's precisely what made the Moto X so unique back in the day. Being able to make a phone that perfectly represented your style and personality was amazing, and there's since been no other phone to offer anything on that same level.
I'd also love to see Motorola continue innovating on the software front. Android is a lot more mature and feature-rich today than it was seven years ago, but after ushering in things like Moto Display and Moto Actions years ago, Motorola's simply ridden on the coattails of their success and hasn't innovated since then. Sure, we've gotten Moto Gametime and the Personalize suite for tweaking certain UI elements, but these are things that we've seen in countless other Android interfaces.
The Moto X wasn't just another smartphone — it was designed to make your life genuinely easier thanks to its unique feature-set. I'm not asking Motorola to reinvent the wheel entirely, but I'd love to see that spark of creativity shine once more.
Part of me knows we'll never get a perfect recreation of what the Moto X was and meant to so many people, but at the very least, I'd love for that same Motorola ingenuity to make a return. I don't feel that same spark when using the Moto G Power or Edge+ that I did with the Moto X, and I long for the day when Motorola can recapture that energy and passion all over again.
Get the Android Central Newsletter
Instant access to breaking news, the hottest reviews, great deals and helpful tips.
Joe Maring was a Senior Editor for Android Central between 2017 and 2021. You can reach him on Twitter at @JoeMaring1.