Motorola needs to simplify its confusing Android phone lineup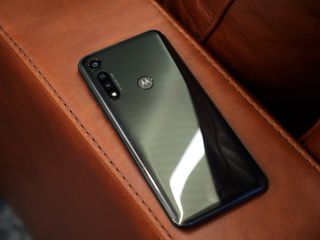 (Image credit: Joe Maring / Android Central)
Of all the Android manufacturers out there, the one that I find the most interesting to watch is Motorola. This is a company that's gone through a lot of change over the years, starting its Android journey with the whole DROID phase in the 2000s, then its operation under Google ownership, and now being managed by Lenovo since 2014.
Just like any company, Motorola has had its fair share of highs and lows throughout all of this time. Specifically as a Lenovo-owned entity, one of my ongoing gripes with Motorola has been its crowded lineup of available smartphones. What used to be a laser-focused brand that put meaning and weight behind its releases has turned into something that seems to churn out a new phone every couple of months.
Having lots of choices is never a bad thing, but the way Motorola is going about things is both confusing and ultimately damning to its customers.
On the note of confusion, Motorola currently has six distinct families of Android phones for the United States — Moto E, Moto G, Moto Z, Motorola One, Edge, and RAZR. Even if we don't count the RAZR since it's a distinctly different form factor, that's still a lot to keep up with. Furthermore, each of those families represents a multitude of devices. As of June 2020, here are all of the Motorola phones that you can buy in the U.S.:
Moto E (2020)
Moto E6
Moto G Stylus
Moto G Power
Moto G Fast
Moto G7
Moto G7 Power
Moto G7 Play
Moto Z4
Motorola One Zoom
Motorola One Action
Motorola One Hyper
Motorola Edge+
Motorola Edge (coming this summer)
Each of those families is supposed to be representative of a distinct type of device, but the lines separating them continue to get blurrier and blurrier. Motorola One phones are now used to highlight Moto handsets with unique camera features, but their mid-range specs and prices make them look like Moto G offshoots. There's also the fact that Motorola One was initially used to highlight the company's involvement in the Android One program for fast and reliable software updates, but that's no longer the case (at least in the U.S.).
Moto G continues to be the go-to for reliable, low-cost Android options, and while it looked like Motorola was on the right track to simplifying the series this year, I'm no longer certain of that.
In place of multiple Moto G8 variants for its mid-range offerings, we instead got the Moto G Stylus and Moto G Power — two phones with very similar DNA that stand out for two distinct reasons. The Moto G Stylus has a stylus and the G Power has a huge battery, with the rest of the spec sheet and features being mostly the same.
This past Friday, however, Motorola threw more phones at us with the Moto G Fast and the new Moto E. With a name like "Moto G Fast," you'd expect the standout feature of the phone to be its great performance, right? It turns out the Moto G Fast not only has the exact same Snapdragon 665 processor as the Stylus and Power, but it actually has less RAM. In other words, the Fast is technically the slowest of the three Moto G phones.
Then there's the new Moto E. On its own, the Moto E looks kind of great. It offers a lot of considerable upgrades compared to 2019's Moto E6, in addition to the simplified naming. However, the Moto G Fast basically cannibalizes the phone. The G Fast costs just $50 more and has a faster processor, more RAM, a much sharper display, better cameras, and a larger battery.
In that same breath, however, the Moto G Power still stands out as arguably the best entry in the current G family. The G Fast comes with 3GB of RAM and 32GB of storage, which is hard to defend in 2020. For another $50 for the Power, you step up to 4GB of RAM, 64GB of storage, and that huge 5,000 mAh battery. On top of all that, now having the G Fast and G Power makes the $300 Moto G Stylus look even more ridiculous.
And on the subject of price, the introduction of the Moto G Fast and Moto E now means that Motorola has phones that cost $150, $200, $250, and $300. Competition is one thing, but over-releasing phones that don't seamlessly coexist with each other is something else entirely.
Do you see how confusing this all is?
This overabundance of hardware can certainly make the initial purchase confusing, but it has repercussions beyond that. Managing and supporting so many different phones is no easy task, and in the case of Motorola, this has resulted in the company only committing to one Android update for its Moto G phones. However, with the introduction of the Moto G Fast and the Moto E, things are somehow getting even worse.
The Moto E is confirmed to not get any major software updates, meaning it will never see anything beyond Android 10 that it ships with out of the box. Motorola wasn't initially committing to anything for the Moto G Fast, but the company now says that the phone is "expected" to get one OS update.
I already aired my grievances regarding Motorola and software updates, but this new release only confirms that worry. Motorola is so intent on releasing phone after phone that it can't be bothered to take a step back and stand behind what it's putting out there for people to buy.
All of this goes without even mentioning the five other Moto G8 phones that are sold in markets outside of North America, further muddying Motorola's portfolio, branding, and ability to properly support its customers.
There's a beauty to be found in simplicity and having the ability to show restraint. It's something Motorola doesn't appear to be aware of, and I really hope that changes soon. Motorola used to be one of the most interesting players in the Android market, and it pains me to see that it's lost the magic it once had.
Dear Motorola — it's time to start caring about software updates
The best one
(opens in new tab)
Confused by the new Moto G lineup? Just get this
It can be difficult to keep up with Motorola's current smartphone lineup, but you can keep things simple and just buy the Moto G Power. It offers the best blend of specs and features while retaining a very reasonable price, and it's at least guaranteed an update to Android 11.
Android Central Newsletter
Get instant access to breaking news, the hottest reviews, great deals and helpful tips
Joe Maring was a Senior Editor for Android Central between 2017 and 2021. You can reach him on Twitter at @JoeMaring1.
What company is doing it right? Samsung and Apple are about it right now.

how many models does Samsung have?

Likes like about 15 across model types, https://www.androidcentral.com/e?link=https2F2Flink...

Apple has less than 1/2 of the phones compared to Moto and all their phones has timely updates. Samsung has about the same number of phones as Motorola, but at least Samsung is committed for software updates for their more expensive models. I understand Motorola don't want to update the software for their lower priced models, but if they want to sell their premium phones, at last give timely software updates or put their phones in the Android one program.

Apple only has one phone with variations on size and features. However, that technique works well for them.

No they don't know what they're doing, Motorola haven't done so since they were sold to Lenovo and their updates policy also suck even for their more expensive phones. It's time for Motorola to throw in the towel they can't compete anymore.

I have bought two Moto G over the years. The hardware is decent but I won't buy another of their phones until Motorola decide to support updates for longer. The first Moto G I bought had a number of custom roms for it but my moto g 6 doesn't have nearly the community and so I'm done depending on fans to give the support the manufacturer should be giving. I can't wait for the Pixel 4a to be up for sale.

Motorola is like: "we won't update the devices anyway so let's push out as many as we can to try and get users to forget that we will never update their devices."

Covering price points $50 apart is overkill. $150 Moto E
$250 Moto G
$400 Moto X
$500 Moto One (or Moto Z)
$650 Moto Edge
$1200 Moto RAZR

I bought the Moto G Power for several reasons. The $250 price tag for a snappy phone, the humongous battery, almost stock Android, three decent cameras, fingerprint scanner on the back, headphone jack and expandable storage. I used to worry about them not doing timely updates until I realized that the updates are really not necessary if you are already running near stock Android. Plus they are incremental and not even noticeable of change.

But do you get regular security updates? That is a major point for me as to why I avoid Motorola.

In my experience on my Moto G7 Power, security updates are quarterly. Mine is currently on April's update. I suspect it will receive the July update in August.

When I first started using Android 5 years ago (I had just sold my iPhone 5s), I had the Moto G (second Gen) and it was a lousy experience for me which put me off their phones, in hindsight, Android Lollipop 5.0.2, which my Moto G shipped with didn't receive a single update along with being a buggy mess and at the time Motorola had not long been bought by Lenovo so I found out the hard way just how bad they are with updates and only bought the Nexus 6 because it was Google's pure Android which meant I knew my Nexus 6 would get timely updates and after selling my Moto G I vowed never to buy a Motorola phone again.

And AC says that there are no cheap Android phones out there that can do as much as the new iPhone se...

They keep churning out samey budget phones with cheap glossy plastic. Motorola has gone off the boil sadly. My last favourite phone by them was X4

The truth is if your device is not offered by a mobile carrier, you really don't exist as an option for most consumers In Canada amongst the three big carriers, one offers the razr, another the one vision, g7 play & moto e6, the third offers the g7 and moto e6. All three carriers push the latest flagships from Samsung & Apple first and foremost. Interesting that the Galaxy lineup is the first offered on all three networks... They, being the latest flagships (the new Apple product will be pushed hard when the 12 lineup is released this winter).... And also due to poor sales. Off topic, but I live in a wealthy city, and nobody is willing to pay the high prices on the latest phones. People might buy last year's phones if they have been discounted. Three year and older phones is the norm. 2020 will be a year to forget for discretionary spending on stuff like new phones.

Moto has increasingly become a mess with each years launch. Now I don't know if it's a Moto thing or that Lenovo is forcing it upon Moto but they really need to stop, catch their breath and think. They run the risk of confusing their customer base as well as competing against themselves as much as the other brands (something the likes of GM had trouble with in Chevy, Oldsmobile, Pontiac and Saturn in losing sales to itself as much as GM was competing against other auto manufacturers). Moto needs to return to the old days of turning out a small number of handsets, one for each tier. Think of the good reputation Moto has with the G line, update that with a series 8 packing the latest mid-range tech, a stylus and a high battery and they'd really have a powerhouse of a mid-range device to attract consumers.

This was predictable once Lenovo bought them. It's NOT the Motorola we all knew and loved, they should just stop ruining the name and call it a Lenovo phone.

This article is so inaccurate, as it's listing 2019 Devices Motorola G7
$300
Motorola G7 Power
$250
Motorola G7 Play
$199 and these will eventually leave the market 2020 Devices Motorola G Stylus
$300
Motorola G Power
$250 (You can buy either unlocked, or the Stylus at discount from Metro by TMobile, or at discount via Best Buy if you commit to a Carrier) Coming Soon in 2020 (and we know what these will replace from 2019) Motorola G Fast
$199 Motorola E (2020)
$150 New 5G devices for 2020 (no mods needed) Motorola Edge +
(Verizon exclusive) Motorola Edge
(Online, coming soon, price not available) Please feel free to resubmit an article that's not "click bait" (it's already been mentioned regarding the various Samsung Galaxy A's available globally! Nobody had a crap attack over all of the different devices, because - like Motorola - they sold well globally). Will certain models return in 2021? If they sell - yep - if they don't - nope. No argument regarding Updates (my Motorola G7 Power got the April OS Security update 1st week of May, I can trade in for a G Stylus at 1/2 price from Metro if I want Android OS 10 now).
Android Central Newsletter
Get instant access to breaking news, the hottest reviews, great deals and helpful tips
Thank you for signing up to Android Central. You will receive a verification email shortly.
There was a problem. Please refresh the page and try again.