Dear Motorola — it's time to start caring about software updates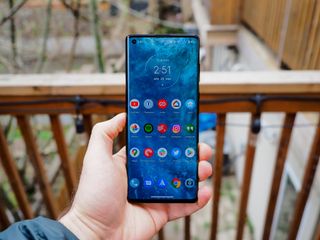 (Image credit: Daniel Bader / Android Central)
Updated May 12: Well, folks — it looks like complaining (sometimes) works. Just a day after this editorial was published, Motorola announced that it's now promising at least two major Android updates for the Edge+. Good job, Moto 👏.
Motorola will always have a soft spot in my nerdy heart. It's a company that's been fundamental for consumer technology, creating the world's first true cell phone back in 1983 and continuing to exist in the mobile tech space all these years later. In regards to Android, specifically, I think back to the days of the Moto X in 2013 and 2014 and how much dang fun those phones were.
The Motorola we know today under Lenovo ownership is clearly a lot different from the ghost of Motorola's past, but even so, there's no denying that the company still has what it takes to create damn good products. Whether it be low-cost phones like the Moto G series or the company's recent return to flagships with the Motorola Edge+, Motorola consistently delivers really good handsets no matter how you slice them.
That's why the company's dumbfounding software update policy is so enraging.
If you go out and buy a Motorola phone right now, you're guaranteed one major software update and two years of bi-monthly security patches. This is the policy that we have for Moto G phones, Motorola One phones, and the new Edge+.
For a while, weak software updates were just a given with cheap Android phones. You bought a phone because it performed well and didn't break the bank, with reliable software updates not being a privilege you had. In 2020, that's no longer the case.
Look at any Nokia phone that's available right now. Whether it be the $350 Nokia 7.2 (opens in new tab) or even the $129 Nokia 2.3 (opens in new tab), you're guaranteed two years of major software updates and three years of monthly security updates. With a phone like the Pixel 3a (opens in new tab), you get three years of major OS updates.
Buying a cheap phone no longer means having to settle for lackluster updates, but this is a mindset Motorola seems to be stuck in. The new Moto G Stylus and G Power are excellent mid-range handsets, but you aren't promised any big software updates beyond Android 11. That sucks.
This outdated policy is made even worse when you consider that it's the same one you get with the $1,000 Edge+. I don't think you should have to ever spend more money just to ensure your phone gets the latest software features and security patches for a reasonable amount of time, but with a flagship, it's expected that it'll hold its own for at least two years. How Motorola can sell a phone this expensive and not even guarantee customers will see Android 12 is beyond me.
Motorola has tried to justify this policy, reassuring that you still get regular updates to its apps and services through the Google Play Store. Except, you know, other companies also do that while still managing to deliver more than one system update.
What makes this so much more irritating is the fact that Motorola seems to have a genuine passion for Android. The software experience on a Moto phone is excellent, as it features a super clean build of Android with a few smart customizations here and there that make the OS legitimately better. Motorola even touts this with marketing copy on its website, with some text for its Edge+ product page reading as follows:
When you buy a Motorola phone, you're treated to an excellent software experience right out of the box — arguably every bit as good (if not better) as Google's Pixel phones. Fast forward a couple of years though when you're running an outdated build of Android with no path forward, and things aren't quite as cheery.
Does Motorola deserve 100% of the blame for all of this? Probably not. Parent-company Lenovo likely has a big say in how much time/resources go into supporting older phones, with Motorola needing to abide by what the Mothership says. If that's the case, Motorola and Lenovo need to communicate with each other and find a way past this.
I still thoroughly enjoy current Moto phones and can't wait to see what the company does next, but as someone that loves Android as much as Motorola claims it does, I long for the day when the company backs its phones with an update policy that makes sense.
Mighty mid-ranger
(opens in new tab)
An excellent value, even with its poor update support
Even considering the fact that it's only guaranteed to get updated to Android 11, the Moto G Power still manages to stand out as one of the best Android values around. It has a 6.4-inch FUll HD+ display, good performance, and a battery that lasts up to three days on a single charge. For the price, it's an easy recommendation.
Android Central Newsletter
Get instant access to breaking news, the hottest reviews, great deals and helpful tips
Joe Maring was a Senior Editor for Android Central between 2017 and 2021. You can reach him on Twitter at @JoeMaring1.
Since Lenovo took over Motorola, they are slow to update their phones. Some phones they stop updating after a 1 year. The Moto G7 will get Android 10, (if it hasn't already), but is not likely to get Android 11 especially since the Moto G8 is out.

People always say this... The lack of updates since the Lenovo purchase isn't something new, it's a return to form. There was a couple of years when they were owned by Google when they were good at updates, but that was a short aberration, not the norm for Motorola.

This is true. It's like Motorola didn't exist prior to being owned by Google. 🤣

They need to maybe go the Nokia route with Android One. I love the Moto G Power but I can't imagine having this phone for two years especially with lack of updates. Came from a Pixel. Don't regret it from a performance/battery life standpoint just the updates

They went android one with a few devices and even those took forever for updates.

Yeah, the slowness of updates was what finally got me off of Motorola. I do legit miss my Turbo (Loved the insane durability and battery life), , but the fact that it was ages behind everyone else for Android updates really soured me to Moto. I wandered through various brands (HTC, LG, haven't touched Samsung since the colossal durability issues of the S3) and didn't find something I was actually happy with overall until my OP7 Pro. Realistically, I figure I'll be sticking with OnePlus for a while.

I do think that Motorola got Lazy. The only 2 other overpriced competitors in the US are Samsung and Apple. That leaves LG which is barely selling their phones and then there's Motorola.

Moto and LG are terrible with software updates. Samsung has 10x the amount of phones and does a much better job with software updates, even on their mid range phones.

That's why I left both LG and Moto for that reason they suck on that regard

It is a shame too because at least in regards to LG, they make some nice devices, just rarely update them.

How well have the non-S and non-Note Samsung devices been supported with OS and security updates?

If they haven't cared by now, they're never going to care. Let the sales numbers speak for themselves.

Best thing about Android is there are plenty of options out there. Although my options are getting more and more limited as I move away from the upgrade addiction. Learning that buying new phones every 6 months to a year is just wasting my money and keeping my phones at least 2 years has placed a heavy importance of long term support. My Note 9 will probably be my last Samsung and now I will be looking at Pixels.
I am even considering, dare I say it, Apple :( The broken Android update and support game is getting old.

You got that right!! I own a Moto X4 that got 1 update to Android 9. I'm sick and tired of the update game myself. Hardware wise, the Moto G Power would be perfect for me but I'm hesitant in pulling the trigger. If the iPhone was more customizable I would have been on it forever!!

My Moto X4 was even an Android 1 device. It didn't fair much better.

The lack of updates is the major reason why I will continue to avoid Moto phones and while OnePlus are much better than Motorola with updates, the security patch is always a month behind the Pixels along with being only bimonthly and I'm fed up with the situation with Android being so fragmented and is one of a number of reasons why I'm heading back to iPhone as my daily driver for good and Android phones will only be a secondary phone.

Android and updates don't go hand in hand.

Sadly you're right and that's one of of a few reasons why I'm switching back iPhone because iOS and updates go together like peas in a pod.

I have a moto G 5plus with Android 8.1.0. It works great and I don't need it to be 'updated'. Really, what 'more' can a phone be than what it is already? 3 or 4 camera lenses? Who cares?

Something I have witnessed many times on many phones is that in most cases the default, out of the box, OS installed at the factory is the BEST! I personally have not had any major issues with the major updates/upgrades on my phones...but go to ANY forum for ANY phone and you will see that after an OS upgrade there are all sorts of complaints about all sorts of things. Of course this could be related to 3rd party apps, allowing bad backups back into the new mix, end users not understanding much about tech, etc., etc. So unless there is an overwhelming need to upgrade the OS from one version to another on your phone...I recommend that you stick to security updates as these rarely cause as many issues as a major OS upgrade.

How can I downgrade? This update installed by itself.

I have love Love for motorola. My first smart phone was the Droid Bionic in 2011 then Moto Z play with 3 mods and finally Moto Z3. Updates are slow, average camera and no FLAGSHIP phone for 2 years at Motorola. I left Moto and dont recommend anybody to buy their phones.

I could use some clarification on this analysis. Does "major Android update" refer to annual releases by Google, or every other year? In other words, are other mid-range and flagship phones reliably receiving one annual Android update, or two, in addition to the version they ship with pre-installed? And as a further thought across all phones, I would prefer manufacturers commit two security update years not from the phone's launch date, but rather from its successors' date, so effectively three years. Reason being, purchasers of brand new, current model phones should be able to count on 2 years of security updates, whether they bought at launch or 9-12 months later.

Don't be silly, when new vulnerabilities are being discovered all the time on Android so 2 security updates in 2 years won't work OS updates about be for 4-5 years like Apple does.

Moto uses the promise of a new OS upgrade as its way to drum up demand for their new devices. That why new models are introduced with the newest OS while older/existing models usually receive that same OS upgrade after the introduction of a a new model. Its because phones are becoming more and more dispensable with carrier upgrade promos, cheap financing and branding devices for specific users, lifestyles and the like. I like the moto stuff b/c its as close as you can get to a pure android experience combined with descent features at that low a price point. Lastly i have yet to have any moto device ive owned lose its stability , reliability b/c its not running on the lastest OS. This latest greatest crud is just to drum up consumer anxiety

The actual fix is for Moto go back to having less phones (1 E, 1 G, 1 One) instead of 6 variants each. 😬 "That's why the company's dumbfounding software update policy is so enraging." To the enthusiast, it is. To the general consumer, probably not so much. In all honesty, I wouldn't mind if it was no OS updates but three or four years of security patch updates. But until Google mandates OS updates as part of a GMS agreement, there is barely any incentive for OEMs to keep Android devices updated in the way that bloggers would like them to be.

Motorola has always been horrible with updates dating all the way back to the cliq xt. Haven't owned another Motorola since.

My first ever Android phone was a Moto G (second Generation) in 2015 and at first it was great but then it becomes really buggy and laggy after I put in a 32GB SD card and didn't get a single update and i said I would never get another Motorola phone again (I only got the Nexus 6 because it was Google doing the updates) and even their Android One phones don't get updates like they promised with only Nokia being good with updates there as my Nokia 8.1 has the April 2020 security patch and should get the May update soon now this is how you to do updates and my Nokia 8.1 has been rocking Android 10 since October.

My Moto X 2014 running Android 6 marshmallow is honestly running as good now as when I bought the phone. I've used it everyday since purchase and as far as I can tell it hasn't slowed down at all. I'm sure newer phones with newer processors run faster and have newer features but to say you need the very latest version of Android is honestly in my opinion not what most folks care about. I know security and updates are a big thing for some folks but if a phone works and does the basics I think most people are happy. Also can someone give me an honest answer on which modern chip would be comparable to the Snapdragon 801 found in the Moto X? I would imagine something like the 632 onwards maybe?
As you can tell I'm not a tech expert but I do use my phone everyday and don't want something that doesn't perform reasonably well thanks

Your phone is vulnerable to malware so if you download apps from outside the Play Store as your OS is outdated. Personally I'm fed up of the fragmentation of Android and switching to iPhone as my daily driver.

I absolutely loved my Moto Z Play and Z2 Play. The Z Play received its 2 updates, but the Z2 Play only received its update to Oreo. Oh sure- Moto went public and said the Z2 Play is at Pie, but buried deep in the finest small print- it says pending partner support Z2 Play will go to Pie. I have a US unlocked version purchased direct through Motorola - no updates available.
I going Google.

Honestly this a major issue with Android phones in general. Timely feature upgrades that continue for years is the most important thing for me when buying a smartphone or any tech device, for that matter, as I found it to be the best predictor of a device's lifetime. This is why while I carry both an Android phone and an iPhone at all times, the iPhone is my main smartphone. I install every single iOS update day one, every Windows update day one (even using Release Preview Insider Ring to get them beforehand), every macOS update day one but I can't do the same on Android. I had to enroll to the beta of Android 10 in order to get it relatively timely on my Galaxy S10e. I honestly don't care having to enroll into beta programs especially as even the first beta build was super stable on my S10e but Samsung's beta program is extremely restrictive, requiring you to be in a compatible country, on a compatible phone and on a compatible carrier or unlocked model. I can only pray I'll also be able to enroll in an Android 11 beta program on my Galaxy S20+ 5G.
All in all, this makes Android phones extremely bad value, especially in the flagship market, considering you'll get at most 2 years of late software updates.
One thing that is also a shame is something even Google falls for and that is staged rollout, which makes it so that there can be months between the same devices getting an upgrade depending on carrier/country. Even Microsoft does this, though they fortunately offer ways to get around it.
Sorry that was a bit of a rant, but this is how I feel about the current state of updates on Android.

This is one of a few reasons why iPhone will be my main phone in August over Android because updates are slow, even OnePlus (I'm using q OnePlus 7T) is slacking with updates and it's only thanks to this app called Oxygen Updater that I've been getting the OnePlus updates on time.

Per Kellen at Droid-Life, Motorola is now promising 2 OS updates for the Motorola Moto Edge+. Looks like the shaming worked, but I mean we can't really tell until later. https://www.droid-life.com/2020/05/12/we-did-it-yall-motorola-now-promis...

I'll believe it when I see it.
Android Central Newsletter
Get instant access to breaking news, the hottest reviews, great deals and helpful tips
Thank you for signing up to Android Central. You will receive a verification email shortly.
There was a problem. Please refresh the page and try again.