Dear Motorola — it's time to start caring about software updates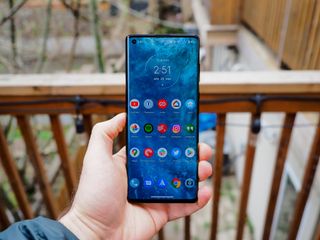 (Image credit: Daniel Bader / Android Central)
Updated May 12: Well, folks — it looks like complaining (sometimes) works. Just a day after this editorial was published, Motorola announced that it's now promising at least two major Android updates for the Edge+. Good job, Moto 👏.
Motorola will always have a soft spot in my nerdy heart. It's a company that's been fundamental for consumer technology, creating the world's first true cell phone back in 1983 and continuing to exist in the mobile tech space all these years later. In regards to Android, specifically, I think back to the days of the Moto X in 2013 and 2014 and how much dang fun those phones were.
The Motorola we know today under Lenovo ownership is clearly a lot different from the ghost of Motorola's past, but even so, there's no denying that the company still has what it takes to create damn good products. Whether it be low-cost phones like the Moto G series or the company's recent return to flagships with the Motorola Edge+, Motorola consistently delivers really good handsets no matter how you slice them.
That's why the company's dumbfounding software update policy is so enraging.
If you go out and buy a Motorola phone right now, you're guaranteed one major software update and two years of bi-monthly security patches. This is the policy that we have for Moto G phones, Motorola One phones, and the new Edge+.
For a while, weak software updates were just a given with cheap Android phones. You bought a phone because it performed well and didn't break the bank, with reliable software updates not being a privilege you had. In 2020, that's no longer the case.
Look at any Nokia phone that's available right now. Whether it be the $350 Nokia 7.2 or even the $129 Nokia 2.3, you're guaranteed two years of major software updates and three years of monthly security updates. With a phone like the Pixel 3a, you get three years of major OS updates.
Buying a cheap phone no longer means having to settle for lackluster updates, but this is a mindset Motorola seems to be stuck in. The new Moto G Stylus and G Power are excellent mid-range handsets, but you aren't promised any big software updates beyond Android 11. That sucks.
This outdated policy is made even worse when you consider that it's the same one you get with the $1,000 Edge+. I don't think you should have to ever spend more money just to ensure your phone gets the latest software features and security patches for a reasonable amount of time, but with a flagship, it's expected that it'll hold its own for at least two years. How Motorola can sell a phone this expensive and not even guarantee customers will see Android 12 is beyond me.
Motorola has tried to justify this policy, reassuring that you still get regular updates to its apps and services through the Google Play Store. Except, you know, other companies also do that while still managing to deliver more than one system update.
What makes this so much more irritating is the fact that Motorola seems to have a genuine passion for Android. The software experience on a Moto phone is excellent, as it features a super clean build of Android with a few smart customizations here and there that make the OS legitimately better. Motorola even touts this with marketing copy on its website, with some text for its Edge+ product page reading as follows:
When you buy a Motorola phone, you're treated to an excellent software experience right out of the box — arguably every bit as good (if not better) as Google's Pixel phones. Fast forward a couple of years though when you're running an outdated build of Android with no path forward, and things aren't quite as cheery.
Does Motorola deserve 100% of the blame for all of this? Probably not. Parent-company Lenovo likely has a big say in how much time/resources go into supporting older phones, with Motorola needing to abide by what the Mothership says. If that's the case, Motorola and Lenovo need to communicate with each other and find a way past this.
I still thoroughly enjoy current Moto phones and can't wait to see what the company does next, but as someone that loves Android as much as Motorola claims it does, I long for the day when the company backs its phones with an update policy that makes sense.
Mighty mid-ranger
An excellent value, even with its poor update support
Even considering the fact that it's only guaranteed to get updated to Android 11, the Moto G Power still manages to stand out as one of the best Android values around. It has a 6.4-inch FUll HD+ display, good performance, and a battery that lasts up to three days on a single charge. For the price, it's an easy recommendation.
Get the Android Central Newsletter
Instant access to breaking news, the hottest reviews, great deals and helpful tips.
Joe Maring was a Senior Editor for Android Central between 2017 and 2021. You can reach him on Twitter at @JoeMaring1.