Thanks, Nokia, for continuing to focus on secure, affordable entry-level phones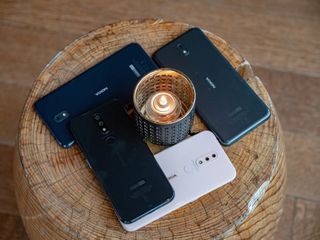 (Image credit: Android Central)
I'm happy to drool over a delicious new flagship like the Samsung Galaxy S10 — I have so many cases lined up to test with mine when it arrives this week — but when I was watching the livestreams and the hype from Mobile World Congress last month, what caught my eye wasn't the folding screens or the in-screen fingerprint sensors. What caught my eye was Nokia, continuing to save the budget market and offer some of the more interesting — and more importantly the more secure — phones I've seen in 2019.
In fact, they're the phones I'd recommend to everyone, if only they were coming to the U.S.
Bleeding edge is rife with buzzwords and razzle-dazzle, but Nokia got it right focusing on the 2.5G and "the next billion" rather than trying to compete on the 5G stage with Samsung, LG, Xiaomi, and every other freaking tech company in the world. 5G will be wonderful when it gets here, but 5G is going to be in less than 50 cities in the U.S. before the end of the year — and the international rollout isn't looking much better.
For now, 5G is a shiny toy that no one can really play with yet. Nokia knows that better than anyone: its network division has been prepping 5G deployment for carriers worldwide for years.
For the millions coming online every day in developing countries, 5G won't mean much of anything for five to ten years. What will matter is finding a reliable phone that won't break the bank and won't compromise its user with outdated software and undelivered security patches.
That's why Nokia's commitment to Android One and Android Go is far more important than its not-insignificant steps towards 5G.
Meet the Nokia 4.2 (opens in new tab), the $200 phone I want to play with more than anything else that debuted in Barcelona. This phone sports a 5.7-inch screen, a Snapdragon 439, 2GB/16GB or 3GB/32GB storage with microSD expansion, 3,000mAh battery, a traditional rear-mounted fingerprint sensor, and some of the most interesting buttons I've seen on a phone in years. On the left side, we have a Google Assistant button, which allows you to have a walkie-talkie push-to-talk dialog with Assistant or double-click for a look at your day ahead with Visual Snapshot, but on the right side, we have something far more fun.
The power button for the Nokia 4.2 (and 3.2) (opens in new tab) houses the notification LED, allowing the LED to pinpoint where your finger needs to press to turn on your phone and see what's up. This is a seemingly simple idea that I now want on every phone ever, and Nokia phonemaker HMD patented this feature because I think they realize how useful this solution is as manufacturers look for new places to hide the notification LED in their quest for MOAR SCREEN, LESS BEZELS.
It's the kind of thing we'd be raving about if it debuted on the Nokia 9 PureView — and seriously, HMD, how do you now bring this kind of genius to your flagship?!? — but on budget phones like the 4.2, it's overlooked with the rest of the device. It's a damn shame, too, because between the clever, almost-cute design and Android One, these are the phones I want to shove into my friends/family/far-flung acquaintances faces when they come ask "Hey, what phone should I get under $200/$300?"
Android One phones get two years of OS updates guaranteed, and while the "three years of monthly security updates" has been scrubbed from the Android One website, Nokia is still promising three years of security patches for the Nokia 4.2. Android One requires manufacturers to adhere to strict rules in regards to the look and performance of the software. You can't go skinning it out or bloating it up like a balloon, which means that Android One phones are slicker phone with a so-called "stock" look and less initial software to slow and bog down the phone as you spend time with it.
While Android One was originally made for budget phones developing markets — making it the perfect match for Nokia — Android One phones can be made and sold at any price point in any market, but they're still damn hard to come by in the United States. While Nokia's expanding presence here gave me hope, there's no hint that any of the budget phones Nokia announced last month are coming to the US.
Wherever Nokia's new phones wind up, they're going to be the budget phones to beat in those markets because between Android One's strict software guarantees and HMD's hardware home-run, this looks like the best phone for your aunt, uncle, and grandmother, whether they live in Britain, Bangladesh, or Boston. Thank you for your safe and sensible phones, Nokia, and whenever you decide to bring them to America I'll be waiting, cute cases in hand.
Ara Wagoner was a staff writer at Android Central. She themes phones and pokes YouTube Music with a stick. When she's not writing about cases, Chromebooks, or customization, she's wandering around Walt Disney World. If you see her without headphones, RUN. You can follow her on Twitter at @arawagco.
They need something between the Nokia 7 and Nokia 9 in U.S. Heard some have had performance issues with the 7. My Nokia 9 pureview is smooth as butter

Wow that light up power button does sound great. Id still rather have knock on but no reason we couldn't have both. The one feature that I miss most after switching from LG to Moto is the double tap to wake. Kudos to Nokia and Lenovo too. They deserve it. I have the Nokia 2.1 (2v) as my backup phone on Verizon prepaid.

How does a power button light turn on when there's no power? Not such a great idea then, is it? 😜

They are doing a job developing phones but the promise of the monthly security patches sometimes is not kept. With the Nokia 7 Plus TA-1055 they have often missed security patches or have been late with them. There are a number of bugs on this phone which have been reported and HMD Nokia have admitted to some users that HMD Nokia development are aware of, but nothing has happened.

Nokia FTW (For The Win) !!!

The N7.1 has worked well for me. Likely good enough for most people who buy flagships. The Pixel 3a could disrupt Moto/Nokia depending on how google prices it.

I like Nokia phones and are priced well. However, if you are willing to get used/refurbished then you can get last year's flagship(s) for basically the same price and will be miles ahead of a new Nokia. Also, there are reports about Nokia sending info to China (which doesn't surprise many) so that is concerning.

That looks like some China-only software got left on international versions of the phone — which is absolutely concerning and I look forward to hearing how HMD let that happen — but "last year's flagships" aren't getting security updates the way they need to, and I dunno how poorly your flagships depreciate in value after a year, but the Nokia 4.2 is $200 for the 3/32 version, and I don't think any 2018 flagships are that cheap right now.

I love that they're doing this, too, but from US perspective, it's all "meh" until you get at least some into the carrier channels. It's becoming a bit of a "broken record" mantra for me, but without these phones being in those channels, you get squat for support in terms of network features, data issues, etc. Coming from the AT&T side, if you're using an IMEI from a range they don't recognize, at any given time you can lose things like VoLTE support or even LTE itself and certain features like HDVoice, Wifi calling, and their implementation of RCS (Advanced Messaging) just flat don't work. I'd love to be able to grab one of these every 1-2 years for the less demanding users in my family, drop in the SIM, and avoid the carrier song & dance altogether. I'm beginning to think that's never going to happen here, though.

Secure? https://www.androidcentral.com/nokia-7-plus-was-accidentally-sending-use...

I want to see the Nokia 2.1 in the USA because it has stereo speakers in a budget phone. I haven't seen that since the Moto G 2nd gen.

Well you can get a Nokia 2.1 on Verizon prepaid. They rebranded it the 2v but it's the same phone. It's Android Go so it's mostly good as a backup but I suppose it could be used for audio entertainment. I got mine at Walmart for $39.99.

I am extremely happy with the performance of my 6.1 here in the UK, but if you want to go behind the scenes I would suggest reading this....
https://medium.com/@roundedeverett/who-is-nokia-cb24ecbc52a9 P.S. Also have a check through com.evenwell on your system apps.

Still hoping to see Nokia marry #AndroidOne & #5G at their very reasonable price. I feel with 5G many will abandon their home broadband.

LTE is already fast enough to replace most people's home broadband. But it hasn't because the data caps (even on "unlimited" plans) are too small. That's probably not going to change with 5G mobile plans.
A couple providers have said they're going to offer "no data cap" 5G plans, but those aren't for mobile devices. They will be "Home 5G" that only work with a router at your house. So it's not really any different than cable or DSL. People will still have to have a home broadband plan and a mobile wireless plan.

They have been impressed me. I wished for a smaller phone that is like the 7.1 but I give many props to their effort.

What is their reason for treating the U.S. market like garbage? What is wrong with my money?
Android Central Newsletter
Get the best of Android Central in in your inbox, every day!
Thank you for signing up to Android Central. You will receive a verification email shortly.
There was a problem. Please refresh the page and try again.