Photos of a Samsung Galaxy A5 with metal-like materials leak out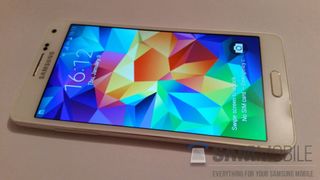 Now that the Samsung Galaxy Alpha is available, the company is working on the next wave of hardware, which is believed to be the A family. SamMobile has been able to take a quick peek at what Samsung may have up its sleeve with the SM-A500 as the first of three smartphones in the new A series. This device (pictured above) is said to launch as the Samsung Galaxy A5, a mid-range handset.
It's clear that Samsung would take its Alpha design further, especially given that the new aesthetics were well-received by consumers. The Galaxy A5 is not going to be full-body plastic, nor metal. According to SamMobile's source, Samsung is set to use a material that mimics the cold touch of metal, but maintains a low production cost and a somewhat premium feel.
Specifications are believed to include a 5-inch HD Super AMOLED display, 13-MP shooter, latest version of TouchWiz (check the Galaxy Note 4), Snapdragon 400 CPU, 2,330 mAh battery, 16GB of internal storage (expandable through MicroSD) and a 5-MP front-facing selfie machine.
What are your thoughts on the smartphone? Check out the source for more images.
Source: SamMobile
Get the Android Central Newsletter
Instant access to breaking news, the hottest reviews, great deals and helpful tips.
Piss or get off the pot. Make a flagship a-series or forget it Posted by my soon to be retired Note 3

+1 looks a little thick in that picture Posted via Nexus 7 2013 or Galaxy S5

+1 Gotta agree with you,. samsung can make all metal phones and still keep removable Backplate/swappable battery. Anybody remember the Samsung wave from about 4 or 5 years ago? . All metal design that looked really nice and felt really premium. OK it was running BADA, and Samsung abandoned it but the hardware was great. Posted via the Android Central App

Definitely better than any silly iphone or Moto X that's for sure. From my Galaxy Note 3 on T-Mobile via Android Central App

IPhone maybe moto x not a chance Posted via Nexus 7 2013 or Galaxy S5

I think I would take this over a 2014 x, but not a 2013. I haven't touched either but that is my first impression Posted by my soon to be retired Note 3

NoNexus, I couldn't of said it any better. They need to produce the phones that they announce first (i.e. 32GB S5 anounced 6 months ago) before anything, They tend to announce everything under the sun and it leaves customers confused, just look at their tables. I wanted to switch to SS for my mobile phone but unless the 32GB S5 is produced soon, I'll be sticking with their competition again.

Samsung can't make these phones flagships.. because it would be like slapping their own faces... HAHA

Let's see the s6 Posted by my soon to be retired Note 3

Not for 6 months. You consistently change the subject, also known as "diversion", when it doesn't suit your agenda! What deepseadiver is asking: where is the promised 32 GB S5?

+1 Better off saving a bunch of money and getting a Moto G(2013 or 2014) with similar specs and a hell of a lot less bloat. Posted via Android Central App

Samsung Needs New Build-Design and Front Facing Stereo speakers and get rid of touch-wiz Thats it!! it'll lead Android...:) Not to forget those Super Amoled Displays are Killer ones

Samsung is already leading Android! Posted via Android Central App

Leading android but loosing money, and posting less than expected earnings, They are to fragmented with their offerings, and it takes months to get what they announce to market or it never actually makes it. I love their product but they need to get it together.

Losing money They lost profit, not money. The bottom line is still positive unlike... Everyone Posted by my soon to be retired Note 3

Everybody else that makes Android phones. All other are still in the black ... including Nokia and Blackberry.

Yea, this looks good. I think, Samsung is going to mess around with the A series in design & build quality until they bring to their flagships (Galaxy S & Note line). But Samsung is moving in the right direction, no doubt.

Does a real metal strip around the edge make a difference? Well . . . I like it :-)

Looks nice but I have no real interest in Samdung currently. I like where Moto is taking their phones. However I bet the device will be a nice one!

Too bad that everyone is leaving Moto and Lenovo is taking over. next year could be tough for Moto fans

What do you like best about the new Moto X? The crappy camera? Or the crappy battery life? Posted via Android Central App

Both are yet to be seen... Don't troll, your not good at it Posted by my soon to be retired Note 3

Back to Galaxy S2 design it is. Posted via Android Central App

They just don't want to stop vomiting phones out of their factory Posted via Android Central App

Seriously 16gb storage? I'm so tired of seeing that option anymore when the os almost always take up half of that. Android needs to move the standard of storage to 32 and remove 16gb completely. Posted via the Android Central App

+1 Posted by my soon to be retired Note 3

+1 thats why I can't believe the s5 only comes in 16gb in north america what a pain. Posted via Android Central App

Does the metal casing cause the battery to be embedded? Posted via the Android Central App

I don't need metal...in fact, is there some sort of metal fetish in phones I am not aware of? I'll take a phone of lightweight, durable plastic over something heavy any day.

Are you new here? Posted by my soon to be retired Note 3

I'd like less metal-like and leather-like from Samsung, personally. I think the Alpha's design is a step in the right direction, though.

Why don't they just call it Galaxy A Posted via the Android Central App

16GB? Since this device is considered a premium line (despite mid-range specs), it needs to have more onboard storage. I don't see this being any cheaper than the Alpha. Might as well make 32GB the standard.

Another report suggests that Samsung Galaxy A5 will not feature metal-body structure but will be build in-plastic. The Samsung galaxy A5 will not feature the same body as Galaxy Alpha. You may check the report, http://www.mistrecja.com/2014/09/samsung-galaxy-a5-sm-a500f-leaked.html

Failure on the int storage. Will NEVER buy a phone with a pathetic 16gb of int storage sd-card or not. Just ruined the phone.