Building up your digital movie library can be a pretty expensive process, but iTunes is making things a bit easier this weekend with a myriad of stellar deals on a wide variety of films. With prices starting at just $4.99, this sale is worth scoping out to see if your favorites are included, as you never know when they might switch streaming services or become unavailable; having your own copy ensures you can watch whenever you want.
Binge With Me!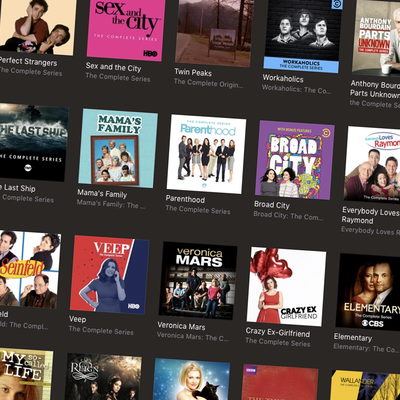 Complete TV Series Digital HD sale
With picks like all five seasons of You're the Worst for $9.99 or the complete series of Weeds for $19.99, this TV series sale at iTunes offers some of the best prices yet on a number of shows in digital HD and SD.
Starting at $10
Now that the Apple TV app is available on a myriad of devices, you can watch the TV shows you purchase on iTunes today on much more than just Apple devices. You could use the Amazon Fire TV Stick or a Roku Streaming Device, and those are just two of the most popular options.
These iTunes movie sales offer the perfect opportunity to stay entertained on a night in. You'll save quite a bit too by purchasing your movie for $5 on iTunes rather than catching a film at the theater for nearly $20 per ticket — and that's before we even start considering concessions.
Today's sale includes a wide variety of films, including a selection of adaptations of books written by female authors. This includes movies such as The Hunger Games: Catching Fire, Twilight, and The Lovely Bones. There are a ton of other films which don't fit in this category though, such as Kill Bill Volume 1 and Volume 2.
Further down the sale page, you can find movies at slightly higher prices, though even these deals are pretty great compared to what you'd pay to see a film at the theater. Be sure to take a look through the selection and grab any movies you want to add to your collection before prices rise back to normal in a few days.
We may earn a commission for purchases using our links. Learn more.