Stable Nougat OTA now hitting Galaxy S7 and S7 edge, starting with beta users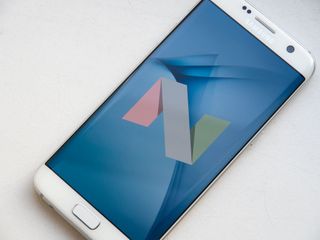 After concluding the beta program last week, Samsung announced that it would roll out the stable Android 7.0 Nougat update to the Galaxy S7 and the S7 edge later this month. The company is now kicking off its rollout, with the update making its way initially to those enrolled in the Galaxy Beta Programme.
Those that have best tested the Nougat update will be transitioned to the stable build via a forced OTA update that is rolling out gradually. If you're a beta user and see the system update message, you'll have 30 seconds until the phone reboots and starts installing the update.
The changelog for the update details several UX and performance fixes, including improvements to notifications, multi-window mode, always-on display, and enhancements to the system upgrade and app installation process. If you're using the Gear IconX earbuds, you should update their firmware to the latest version before installing the Nougat update.
With the stable OTA rollout now officially underway, it shouldn't be too long until carrier-specific variants receive the update. We'll keep you posted as and when the update makes its way to S7 and S7 edge units around the world.
Get the Android Central Newsletter
Instant access to breaking news, the hottest reviews, great deals and helpful tips.
Harish Jonnalagadda is a Senior Editor overseeing Asia at Android Central. He leads the site's coverage of Chinese phone brands, contributing to reviews, features, and buying guides. He also writes about storage servers, audio products, and the semiconductor industry. Contact him on Twitter at @chunkynerd.
Good move from Samsung. I'm already running it on my s7 edge.

I'm a beta tester but no update for me yet.

Later this month? I thought you said "It's here!"

Only for unlock or everyone including carriers

Good, now I hope Nougat for the GS6 isn't far behind.

Feeling so bad going for Huawei P9 instead S7... Still waiting for Nougat with 1st September security patch... Would not recommend this OEM even to my enemy. Sammy did a good job this year, but still can't beat LG... :)

Seriously? A Spetember 1 security patch? Huawei is terrible lol. Got nougat 7.0 and November 1 security patch on my dual sim unlocked X Performance and I thought Sony was slow......

Sony did it pretty good this year. :) Huawei is ridiculous. Isn't X perf on 7.1.1 already?

7.0 beta and December security patch on my T-Mobile S7

Just downloaded the update. All seems fine. UK unlocked GS7 Edge.

You were in beta program?

Yeah, I was. I think the update for non beta folks is arriving next week.

I have an unlocked S7 but is still set for UAE region. I may switch if over to UK if I see them getting the update sooner

In your Dreams. Carriers will take months to get it to run with their Bloatware especially AT&T. Maybe by April for AT&T customers

Sometime this year. Maybe.

AT&T phones weren't allowed access to the beta, so who knows when I'll get my update.

so glad I FINALLY dumped AT&T...

Lol useless carriers and Samsung still bends over back to them. They should copy how Apple treats carriers.

This is why I'm starting to get fed up with buying phones from the carriers, it makes no sense for the carriers to now sell you a phone at full price with all of their adware on it, now that OEMs are starting to add payment plans I see no reason to buy a bloated version of the phone vs the direct from the OEM at the same price.

They don't support them. I have the unlocked s7 edge and was told by Samsung no unlocked phones for beta

The S7 edge Duos (the dual-SIM version of the S7 edge) always gets updates last and is still locked out of other Samsung features like Samsung Pay and Members. It is tiring, almost like the company is punishing you for buying a variant...

Tell me about it! It takes a month for any new update to roll in.

Aren't all s7 edge with dual sim option? How does it make a difference.. I have an s7 edge from dubai and my dad's is from singapore, both have dual sims.

There are several versions of Samsung phones. The S6 and S6 edge both have the (regular) single SIM and the dual-SIM versions (known as Duos). Same goes for the S7 and S7 edge. I may be wrong, but the regular versions are usually sold in Europe and America while the Duos go to Asia, Middle East and Africa. They also have different processors and varying frequency bands, depending on target market/location of manufacture. Because of these variations, the regular models usually get updates first while in my personal experience, the Asian Duos get updates last which is somewhat ironic considering Samsung is a Korean company...

SM-G935F is 1 SIM, 1 microSD. Not dual-SIM.

The SM-G935FD has one tray that holds either two SIMs OR one SIM and one micro-SD card, depending on how you choose to use it. A little research helps. The SM-G935F isn't the only model in the world...

It's really annoying, you're not alone facing such

UK EE locked phone, downloaded and currently installing 292MB update - fingers crossed this is it :)

I'm kinda ticked off that this isn't 7.1. Why not update it to 7.1? Though I guess I have noticed that Samsung tends to not update to the latest base. IIRC we were on 6.0 before, not 6.1. I could be wrong about that though.

There was no version 6.1 of Android.

So how long until my att s7 edge gets it? If this doesn't stop the lag and overheating I'm selling it and getting the new Nokia.

Seriously? I heavily use my phone, it never heats up, even during charging, the only it gets a little hot is when I'm using gear VR. Also I have my phone since the launch day.
(Also by overheating you mean it shuts down because of the heat? Of so, there must be a problem with your unit).
The only lag I've seen is when I press the close all in the multitasking menu.

No lag or heat with mine either. This thing flys. Could be some app causing you trouble or might want to consider a factory reset then slowly add apps. Att won't rush it out. I'll rather they get it right first anyways.

Hell, I'm running adoptive storage with a 256 GB card and have no heat or lag. Can't understand anyone saying these phones even get warm much less hot.

As another poster mentioned, this phone doesn't over heat except some 3d games and especially gear vr games.

What about the international unlocked versions??

It will depend on your region, but I bet we all start getting it at the same time. Easy fix...if they start pushing it out in the UK or wherever...just switch your region to that

ACs coverage of this is very confusing..
"The company is now kicking off its rollout, with the update making its way initially to those enrolled in the Galaxy Beta Programme."
"With the stable OTA rollout now officially underway, it shouldn't be too long until carrier-specific variants receive the update." I'm using a carrier-specific variant (Sprint) but am also part of the Galaxy Beta Program... see the confusion? Also, in previous reports, AC has stated the S7's stable Nougat would be based on 7.1.1, even though all the betas were based on 7.0.
Here's the link: http://www.androidcentral.com/samsung-reportedly-issue-android-70-update... However, in this article it says 7.0 and makes no mention of the previous 7.1.1 reports.

Agreed. This article is confusing AF.

It's really not confusing at all ... Samsung controls the updates for non carrier branded phones and can push it when ready, IE now, where as they do NOT control the updates for carrier branded phones and those users have to wait regardless of their status in the Beta program ... A to B to C.

Thank God. I'm having the worst issue with the beta build lately. Ghost scrolling ONLY when I open the "settings" app

My Bluetooth started randomly shutting itself off the other day. Still doing it after reboots. Hopefully the final Nougat release fixes that.

The crazy thing is that us 930u and 935u customers (USA unlocked) were told that we are on a quarterly update schedule… and they just updated us this week to the december marshmallow update this week… meaning that we probably wont get nougat until april… I would definitely hope that samsung proves this wrong but I really doubt it… I paid full price for an unlocked device for quarterly updates while the carrier locked versions which are many times subsidized are getting monthly updates. If this holds true Samsung has lost all my future purchases and those that ask me… Those that buy unlocked versions are more of the geeky nerdy types who friends always ask what phone they should get next… be sure that not only my next choice or my friends will not be samsung.

When I applied for the beta Samsung directly told me it was for carrier locked phones... I have learned my lesson with "unlocked phones" they are also "unsupported phones" Last time for me too. Running back to google

Thought s7 was jumping straight to 7.1.1? Beta program was ridiculous. Let anyone test the beta that wants it. This should have the crap tested out of it already so just roll out the update.

Make sure to do a factory reset after the phone restarts from the update.

I'm not factory resetting my S7. I've had this phone 10 months. There's a lot of important info on mines

That's just a stupid comment. There are so many bits and pieces that don't get backed up or restored. Besides, restoring from a backup after a factory reset can undermine what you were trying to accomplish with the factory reset. Update, and let it run. if there are major or minor issues, then consider doing a factory reset.

Agreed. It's too much of a pain in the ass to re-download apps and go through settings again. Backup is basically my SD card. Don't jump the gun and assume that your phone will act up. It sometimes does but it should settle out.

What exactly is the benefit of factory resetting your phone after an update?

None whatsoever. Normally updates work fine. Only if you have major issues should you consider the factory reset as a LAST RESORT.

My 7 Edge is the international version, still no update.

Didn't Samsung say earlier they were skipping 7.0, and going to 7.1.1? Not that there is a world of difference between the two versions, but I thought Samsung had mentioned this.

For Beta users, does Gear VR works now?

Being a beta tester I can't wait for the update?

How much space does the system take??

Not updating until I get a comprehensive list of the changes and some reviews on the update.
Not interested in losing double tap to sleep just for cosmetic changes.

Unfortunately they didn't bring back voLTE for unbranded handsets like we had on an earlier beta. Seems to be carrier locked software only for that feature on EE

How long would it take to get Nougat from Galaxy S7 that I bought from Boost Mobile unlocked? I'm hoping no later than Valentine's day.

Any word on when Nougat will come to the LG G4?

I just temporarily unlocked my S7 in hopes that I can update the phone soon but depending on my luck very doubtful so I'll be waiting 6 months.

The supposed date when everybody can start getting the 7.0 update. :)

In case nobody knew, AT&T didn't take part in the beta. So no updates on AT&T variants of s7 and edge. Bummer to me... I got the S7 on AT&T...oh well. Let us know how it looks!

It's now Friday and still no Nougat goodness! Bummer AT&T isn't getting Nougat!

You must not have been with AT&T very long or you would know that they are almost always Last with big updates. I say it will be March or even April before we see it at AT&T. Verizon is usually first out of U.S. carriers and they let customers do the Samsung Beta Program but not AT&T customers.

So not yet for T-Mobile, not on beta . . Goes looking for something actually informative