Sprint outs the Motorola Admiral in Youtube video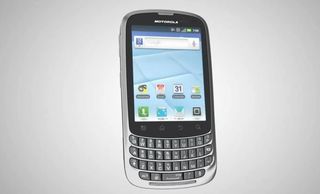 We've yet to have an official announcement regarding the Motorola Admiral on Sprint, but that hasn't stopped the SprintNow Youtube channel from doing it anyway. Dubbed a "productivity powerhouse," you get clear shots of the 3.1-inch touchscreen, four-row QWERTY keyboard, 5MP camera, direct connect button and all the other usual smartphone sundries. There's also a mute button and camera button, if you're into that sort of thing. It'll also have 5-device mobile hotspot, and Sprint TV.
Check out the full video, and a handful of screen captures, after the break.
Via AndroidGuys
It may be a low end phone but you will still pay nearly $2000 for it over the next 2 years. Oh well.

Is this still that crappy iDen poop?

As far as qwerty non slider phones go this one is pretty nice. I could see myself with one of these if I was on sprint.

Sprint just needed another phone besides a Blackberry with a keypad.

Can you say....verizons failed Droid pro !!!

This device its pretty neat. Way to go moto

Please not another iDEN phone? I'm a child of the 90s. iDEN was awesome in 1991. Still awesome in 1999. But it needs to be sold to some carrier in sub Saharan Africa today. Sprint needs to keep its word and shut iDEN down in 2013.

Are we sure it's iden? I thought Sprint was creating a cdma push to talk service. Looks kinda nice to me since I need to switch from a Palm Pre. I need a keyboard.

First of all, it's not iDEN, it's Sprint's new CDMA-based Direct Connect (see http://www.engadget.com/2011/09/22/sprint-to-launch-direct-connect-octob... ) Second, with the portrait keyboard and mute switch, this looks like a 2011 version of the Treo. Besides, with a 1.2GHz processor powering a screen that's only 640x480, this thing should be blazing fast. The 1,860mAh battery and 4GB of memory are just icing on the cake.

Where is the motorola pax?

Though the full specs haven't been released on the Admiral, thought the Pax was the follow up to XPRT and the Admiral is a separate phone. On the phonearea site the motorola xt603 due to be released on Oct 2nd, also the Admiral is listed as a separate phone. Thought I read somewhere the Pax is suppose to have a dual core cpu, the Admiral single core.

Yes Yes Yes!!! Ahecht, you're dead-on that this looks like a new Treo- it's the reason I love it so much and can't wait to get it. I've never gotten over my love for my Treo and can't find a suitable replacement. This looks like it will do the trick. As much as I love the candybar style of Blackberry, I've been afraid to commit to that OS. This could be the perfect compromise between Android function and candybar style. Nice job, Motorola!!!
Android Central Newsletter
Thank you for signing up to Android Central. You will receive a verification email shortly.
There was a problem. Please refresh the page and try again.