Sony releases motiongraph animated .GIF creator app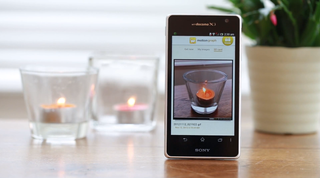 Sony has many divisions, one of them being Sony Digital Network Applications (SDNA), that are always working on cool projects. Today Sony released one of these projects, an animated .GIF creator called motiongraph, into the Play Store. The basic premise of this app is to create animated pictures, but ones that may not have the entire image in motion. You can take a short video of a subject, then select a certain portion to be animated while the rest stays put.
Pricing will vary by location, but here in the U.S. we're looking at $0.99, and Sony has quoted the U.K. price at £0.83. Stick around after the break to see a demo video of the app in action as well as the full press release.
Motiongraph brings precision to partially animated .GIFs
App designed to take 'creativity' to the next level
12 December, 2012 – London – Sony Digital Network Applications (SDNA) today announced motiongraph, an app that capitalises on the growing interest in partially animated .GIFs, bringing precision and enhancing the creative process.
Motiongraph enables users to precisely select which areas of image to animate and which to remain still by rubbing the relevant areas (see demo video). Designed for the Android market, it is available now. Prices vary according to the market: $0.99, £0.83, €0.93-0.97 (depending on the VAT)*.
"Partially animated .GIFs have caught the attention of so many consumers in a short space of time. We want to ignite their creativity by giving them greater precision through the creative process. With Sony technology, consumers can rub the area they would like to move and select the smoothness and roughness of the animation," said Masato Kuninori, senior application producer, Sony Digital Network Applications.
The app records a short video in the form of a series of still images. The images are instantly captured and subsequently the users can select which elements to move. The image is stored as an animated .GIF which makes it instantly viewable online unlike a movie (see examples on PC or on mobile). Compared to similar apps, consumers can select the exact area to move by rubbing the area and selecting whether to make it move or remain still. Consumers can trim the photo, and select the speed and roughness of playback.
*Equivalent price for other countries.
About Sony Digital Network Applications
Sony Digital Network applications (SDNA) is an group of innovative app developers with a Sony heritage that looks at app development in a different way by focusing on the needs of consumers. Utilising the benefits of Sony technologies, SDNA has introduced a portfolio of imaging apps. With a focus on app testing, SDNA's apps are available to as many consumers as possible across Android and the app store. For full details, please visit www.sonydna.com.
Get the Android Central Newsletter
Instant access to breaking news, the hottest reviews, great deals and helpful tips.
Andrew was an Executive Editor, U.S. at Android Central between 2012 and 2020.
hmm tempted to try it, how about a review?

very interesting... Although, I feel like something as technologically simple as a .gif (it's just a series of pictures!) already has some apps in the marketplace that are probably free, and most people probably don't care that much about .gifs to pay a dollar for it

How times have changed... "most people probably don't care that much about .gifs to pay a dollar for it" People are so spoiled these days by software costing a dollar or less, as opposed to tens or hundreds of dollars.

Doesn't Nokia already have a free version of this?

It's called Cinemagraph, but it's on Windows Phone and is a Nokia exclusive.

Today I learned that Sony has 12 apps on Play that I've never heard of in the Play Store.... You'd think Sony would have a better advertising budget.

Still neat.....doing it manually is a huge pain with Photoshop. Just seen Cinemagram is the competitor, going to look at it now....

would have downloaded it and recommended it if it was free :D

This app is complete crap. The instant that you hit the record button is what the "still" portion of the image will look like. How good are you at hitting a screen button without making the phone shake even a little tiny bit? Also doesn't support front cameras. Also wastes your bandwidth downloading crap that other people have created and shows it to you. Refund. Go away, Sony.

Good point.. Sony should have a code word you can say.. like "RECORD" kind of like how the Optimus G can let you say "Cheese" to take a photo.

it`s like ,,fotodanz,, (free on Google Play)...Motiongraph not available in Romania at the momment.

You can create your own animated gif and share it on facebook and twitter with GifTMi
i think it will be the best about GIF. its simple and fast.
GooglePlay : https://www.androidcentral.com/e?link=https2F2F...