Should you buy a Moto Z4 for 5G?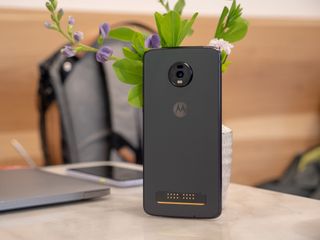 (Image credit: Hayato Huseman / Android Central)
Best answer: The Moto Z4 is an affordable way to gain access to Verizon's 5G network, but if you already have an older Moto Z device, you might be able to just buy the 5G Moto Mod instead. If you're a new Verizon customer, however, the Z4 is available at a fantastic price.
5G is surprisingly affordable
If you live in Chicago or Minneapolis, Verizon's 5G network is quickly becoming more and more viable. What started off as an unreliable mess at the start of April became dramatically faster and more consistent just five weeks later, and even if you're not based in the Midwest, Verizon is planning on expanding to 20 other cities by the end of the year.
That's still a far cry from being able to call 5G ubiquitous just yet, but if you like to be on the cutting edge of technology, the good news is that it doesn't have to cost you an arm and a leg. The Moto Z4 is a midrange device with the ability to connect to Motorola's 5G Moto Mod, which features Qualcomm's 5G-compatible X50 modem, along with a 2000mAh battery to offset the additional power draw associated with connecting to the network.
For $500 retail, the Moto Z4 is largely unremarkable device, but in an effort to make 5G as accessible as possible, Verizon is offering the Z4 for just $10 a month, or $240 retail. The catch? That offer is only valid for new customers who port their phone number from another carrier — in other words, unless you're opening a new account or joining someone else's plan as a new line, you'll be paying more than twice as much for the phone itself.
On the bright side, the 5G Moto Mod is also seeing a steep discount to kickstart Verizon's 5G launch. Whether you're a new or existing customer, you can get the Mod for just $50, down from its usual price of $350. Even better, the 5G Moto Mod isn't just compatible with the Moto Z4; it also works with the Moto Z3, Z3 Play, and even the Moto Z2 Force.
This means that if you already have an older Moto Z device on Verizon, you can connect to 5G without having to replace your phone. In that situation, there's no real need to buy the Moto Z4 unless you're looking for an upgrade anyway — though if you're looking for a major upgrade (and don't mind taking on a much higher monthly payment), the Galaxy S10 5G is another great option.
Pricing aside, there are still some trade-offs to be aware of before buying into 5G. Even within the two initial test cities, 5G nodes are only available in small, busy areas, and at the moment only downloads are enabled — uploads still revert back to LTE for now, meaning you still can't get the full 5G experience just yet.
The Moto Z4 also becomes considerably bulkier with the 5G Moto Mod attached, as opposed to the S10 5G, which houses the necessary hardware internally in a slim industrial design — though that comes with the trade off of a much higher price tag.
There's no one-size-its-all answer here, but generally speaking, you should only buy the Moto Z4 if you're a new Verizon customer who's able to take advantage of the $10 per month promotional pricing, or a 5G enthusiast who wants to be at the forefront of wireless technologies. If you're still unsold on 5G in general, your money might be better spent on a different Verizon phone like the Pixel 3a.
5G gateway
The most affordable way to gain access to Verizon's 5G network.
If you can take advantage of Verizon's promotional pricing, the Moto Z4 is a great deal that allows users in Chicago and Minneapolis to experience 5G for less than $300. It features slim bezels, a 48MP camera, and an in-display fingerprint sensor.
Sign up for Black Friday email alerts!
Get the hottest deals available in your inbox plus news, reviews, opinion, analysis and more from the Android Central team.
Hayato was a product reviewer and video editor for Android Central.