Samsung to show off the S10 Lite and Note 10 Lite at CES 2020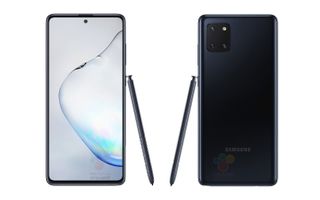 (Image credit: WinFuture)
What you need to know
Samsung's Galaxy S10 Lite and Note 10 Lite have been making the waves in the tech community for a while now.
The phones were previously expected to be revealed by the end of the year, but a report suggests the phones' launch has been delayed to January.
The two phones will reportedly join OnePlus' Concept One at CES 2020.
Samsung's planning on refreshing its 2019 flagships at a lower asking price next year, thanks to the Galaxy S10 Lite and Galaxy Note 10 Lite. The devices bearing the 'lite' moniker will feature many similarities to their 'regular' counterparts.
However, their task will be to keep budget-conscious buyers who can't afford the next generation of the Korean giant's latest and greatest — the Galaxy S11 and the Note 11 — within the company's ecosystem.
While the phones were previously said to in line for a launch before the year's end, December is nearly over, and we haven't heard much about either phone from Samsung officially, despite the company already populating its support website with pages dedicated to the handsets. As the Korea Herald reports, that might be because the phones won't be arriving till CES 2020 next year:
One of the biggest tech shows in the year, CES will take place in the second week of January. At the event, OnePlus is also going to show off its Concept One smartphone, widely believed to be the Chinese company's take on a foldable phone.
Going back to Samsung's phones, while we may not yet know the phones' launch window, we do know almost everything else about them. We've seen what both the S10 Lite and the Note 10 Lite will look like thanks to leaked renders, as well as the specs of both phones. All that remains is for Samsung to pull the curtain.
Don't **** with note line Samsung

Would be much more interested in an S10 mini or compact. As it stands, I haven't given Samsung the time of day in years. The Fold sounds promising though, but obviously insanely too expensive.

That's disappointing. I was hoping to get one of these before the new year.

'Lite' probably means a crappier SoC, Snapdragon 7xx or Exynos 7xxx. It might cannibalize the sales of S10e, or S11e.
Android Central Newsletter
Thank you for signing up to Android Central. You will receive a verification email shortly.
There was a problem. Please refresh the page and try again.