Samsung may kill the Galaxy Note series to focus on foldables next year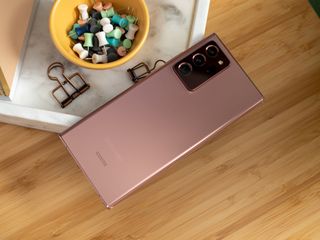 (Image credit: Android Central)
What you need to know
A new rumor claims Samsung may not launch new Galaxy Note series phones next year.
The company will apparently focus solely on foldable phones in the second half of 2021.
Samsung's Galaxy S21 Ultra and Galaxy Z Fold 3 are both rumored to have S Pen support.
Last week, Samsung leaker Ice Universe claimed that the company's upcoming Galaxy S21 Ultra will have S Pen support. The leaker has now posted a new tweet saying, "there is currently no information on the development of the Galaxy Note 21 series."
Max Weinbach, who also has an impressive track record when it comes to Samsung leaks, has posted a list of flagship phones that the company is expected to launch in 2021. Interestingly, the list doesn't include the successors to the Galaxy Note 20 and Galaxy Note 20 Ultra, two of the best Android phones in Samsung's current lineup. He also adds that three of the seven flagship Samsung phones launching next year will have S Pen support.
Samsung flagships to expect this year:

S21 FE
S21
S21+
S21 Ultra
Z Fold 3
Z Flip 3
Z Fold FESamsung flagships to expect this year:

S21 FE
S21
S21+
S21 Ultra
Z Fold 3
Z Flip 3
Z Fold FE— Max Weinbach (@MaxWinebach) November 15, 2020November 15, 2020
Aside from the Galaxy S21 Ultra, the Galaxy Z Fold 3 has also been rumored to feature S Pen support. Unlike the Galaxy Note series devices, however, rumors suggest the Galaxy S21 Ultra may not be bundled with an S Pen in the box. It isn't expected to have a dedicated S Pen slot, either.
If Samsung has indeed made up its mind and is finally ditching the Note series next year, the company will likely shift its focus to foldable phones in the second half of the year. The Galaxy S20 FE successor is also expected to debut sometime in the second half of 2021.
Get the Android Central Newsletter
Instant access to breaking news, the hottest reviews, great deals and helpful tips.
Samsung rapidly backing me into a corner. No Note means I'm unlikely to by Samsung anymore. #NotHappy

The S line will get pen support. I'm curious what else you'd be missing from an S21 Ultra.

It won't be the same. No silo to charge the pen. No bluetooth features. No pen included.

The S-pen is going to the foldables

But it won't be the same. It will have support for an s pen. But no silo to charge it or bluetooth features...and the pen won't be included!

That's still a Note in my mind.. When or if the S-Pen goes bye bye for good, I'll probably be open to trying other manufacturers.. Foldables are fun, but not practical for me. I won't have one forced on me if it ever becomes the only device with an S-Pen option

So we might be losing the pen, lost keyboard phones, lost the headphone jack, losing sd cards, lost the choice of having an lcd screen on flagships, lost privacy only to get a bendy screen? Are that many people buying these delicate folding things? They're nice to look at but they're even more delicate than the oled screens that we have now.

Yeah I'm likely out if they ditch the Note series, I don't like the S Series don't know why but always preferred the squarer note than the rounded s range. It's all well and good saying the S series will be s pen compatible? but is it going to house the s pen like the note currently does or just work with it? They won't be pushing me to foldables either with their £2k price point!

The Weinbach lineup actually makes sense to me. Looks good. Also, I think Samsung stumbled on something with the FE line.

Bad idea...period. sure...add support in the foldable. But please include the pen in the box with built in silo in the device for safe keeping and charging, and keep bluetooth features!

There should be nothing positive to write about any rumour that there will be no more Note series phones. The article should be slating the idea. Quite apart from competition and choice being a good thing for the consumer, the Note is near unique, not only because of the stylus, but because the stylus fits into the body of the phone. That means it is always available and yet is very hard to lose. Some kludge with a case is utterly unappealing. And I could not care less about a bit less battery. My Note 10 lasts fine as I have QI charging everywhere. The reason that I bought a Samsung at all is because of the Note series. Unless they want to lose customers they will scotch an unwelcome rumour. As should you - as an influencer. Or maybe the rather incoherent article was just clickbait.