Samsung Galaxy S9+ vs. Google Pixel 2 XL: Which should you buy?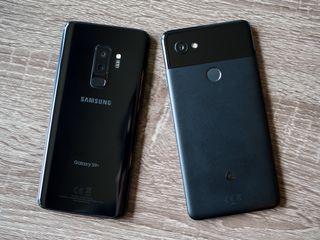 We've already put the smaller versions of these phones, the Galaxy S9 and Pixel 2, head to head — but now, we look at the big ones. In many ways, comparing the Galaxy S9+ to the Google Pixel 2 XL is far more interesting, as they match more closely regarding size, specs, capabilities, and price. Being more expensive and bigger, people have much higher expectations that these are the true flagships from Samsung and Google — so, which one is best for you? We have all of the information you need to decide.
What's the same
Image 1 of 3
In many ways, Samsung and Google have made very similar flagships. Size-wise, the phones are nearly identical. The Galaxy S9+ has a bit smaller bezels, and its curved display makes it a tad narrower, but the Pixel 2 XL's slightly smaller screen averages things out, so both phones have a very similar footprint. They're big, and give you lots of screen to use, but aren't particularly unwieldy — and in most cases, you can get things done with one hand.
They're both curvy phones, limiting the number of times your hand finds a sharp edge in use. I'll discuss the merits of glass versus metal below, but both are constructed extremely well and give you the feeling that you got your money's worth spending $850.
Samsung Galaxy S9 vs. Google Pixel 2: Which should you buy?
Both phones are water-resistant and have dual speakers that give stereo separation and sound pretty good. Inside the Galaxy S9+ has a slight spec advantage with its newer Snapdragon 845 processor and 6GB of RAM, but you'll see I have this mentioned in the "same" category because the Pixel 2 XL simply feels just as fast as, or faster than, the Galaxy S9+ in daily use. Chasing specs in this case isn't a great idea, even though I'll recognize that a couple years in the future that extra processing power and RAM could make a difference.
Outside of that processor and RAM, things are about the same. Both phones have high-resolution displays, and all of the supporting radios and random little specs you expect to see on a high-end phone. Their batteries are almost the same size, and in my experience they offer about the same battery life from day to day — the only real difference being the Galaxy S9+'s inability to settle down and just sip power when in standby, where it just continues to drain at a faster rate than the Pixel 2 XL will if it's just sitting on a table ostensibly not doing much.
What's different
Image 1 of 4
Let's continue the hardware discussion with the parts that differentiate these phones. Whether you like a glass-backed or metal-backed phone is mostly personal choice — and in this case, even the Pixel has a pretty large pane of glass on its back. The Galaxy S9+'s glass enables wireless charging, and it sure looks stunning out of the box. But the glass isn't nearly as durable as the Pixel 2 XL's metal, and the number of fingerprints and scratches the Galaxy S9+ picks up over time can be a major disappointment.
With the potential durability concerns, the Galaxy S9+ gives you hardware benefits. You get a headphone jack (and headphones in the box as a bonus), as well as an SD card slot for adding up to 400GB of storage at a whim. The latter may not be a huge deal, but I'll still argue the headphone jack is an incredibly useful port to have. The Galaxy S9+'s display is also a big step up in overall quality from the Pixel 2 XL's, with better brightness, colors and off-axis viewing — Samsung still wins the screen fight, hands-down.
Where things swing back in the Pixel 2 XL's favor is in software. The Galaxy S9+'s sheer number of features could be perceived as an advantage, but I'll argue all day that Google's simplicity wins overall. You can always add capabilities and features through tweaking settings and installing apps, but you can never get away from Samsung's duplicate apps and immense changes to Android that are regularly getting in your way. It's never a good feeling to have to fight with the phone to get it working cleanly and efficiently.
Advanced users can manage, and normal people will be able to put up with the cruft, but they shouldn't have to — and the Pixel 2 XL offers a more enjoyable daily software experience because of what it doesn't have. Add in Google's commitment to two years of major software updates and three years of monthly security patches, and the Pixel 2 XL offers a simpler overall package that doesn't require so much maintenance or worry. You can just enjoy using the phone, with Google's apps and services, plus the key apps you want to use, and you'll quickly forget about the other fringe features you thought would be useful on the Samsung phone.
The final important factor here is the cameras. I'll say it right from the start that I think both of these phones have excellent overall camera experiences, and they both take great photos every time you press the shutter button. Everything else about the phones aside, anyone would be happy with these phones. But there's some nuance to how they get there.
The Pixel 2 XL takes all of the work out of taking photos. Its extremely simple camera interface just lets you press the shutter and watch magic happen, as HDR+ processes your photo and gives you a wonderful recreation of the scene. It gives you bursts of color and crazy-wide dynamic range, and that's super-appealing to the eye. The Galaxy S9+ makes you work for it a little more — it'll take a fundamentally great photo with fine details and low noise even in a dark room, but you may have to adjust exposure or tap to focus to get just the right shot sometimes. The GS9+ then goes above and beyond with a great Pro camera mode, 960 fps slow-motion and lots of little tweaks that just give you more options for taking a variety of photos with the camera.
Again, both phones can do wonderful things with their rear cameras. Whether you want the super-simple route or one that gives you more tools and a little more work to do is up to you.
Bottom line: Which should you buy?
This is the big question. At the highest level, which phone is "best" for you lands primarily on your feelings about the software. Do you want Google's clean, sleek experience that is lacking a bit in terms of raw features? Or do you want the power, options and customization potential of Samsung's software, at the cost of usability and some added frustration? Both are valid choices, and the average customer probably won't be as upset with Samsung's software as I may be, but I still feel Google is doing things the right way with its Pixel software — now, and two years on when it's still getting updates.
If you're indifferent on the software front, Samsung offers a compelling total package with the Galaxy S9+. It straight-up offers a better display, newer internal specs, more hardware features and some nice value-adds — and aside from its glass back being a bit more fragile, it doesn't do anything worse than the Pixel 2 XL. The Pixel 2 XL's hardware is a bit more robust and has a nice understated design, but in most people's eyes, this hardware isn't as enticing as what Samsung has.
Some will hang onto the differences in camera quality to make a decision, but once again I feel the software experience is on a higher priority level. Both phones take great photos, but simply do things a little differently. If you're fine with Samsung's approach to software, you'll be plenty happy with how it handles photography — likewise for Google and the Pixel 2 XL. So pick which software you like, come to terms with the hardware differences, and when you pick you'll know that either phone will take great photos.
Get the Android Central Newsletter
Instant access to breaking news, the hottest reviews, great deals and helpful tips.
Andrew was an Executive Editor, U.S. at Android Central between 2012 and 2020.