Samsung Galaxy S9 vs. Google Pixel 2: Which should you buy?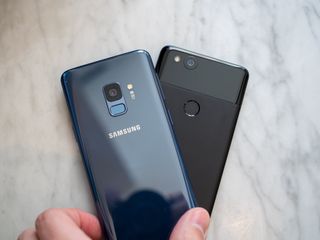 Samsung's flagships may outsell Google's in massive numbers, but that definitely doesn't stop many of us from thinking that the Pixel phones are the absolute best expression of Android on a smartphone. The Google Pixel 2 launched into a world where the Galaxy S8 was already over six months old, and now the roles are reversed: we have the brand-new Galaxy S9 to compare to.
The Galaxy S9 shares a lot with its predecessor, but there are strategic improvements that help it match the Pixel 2 — and in some areas it continues to best Google's little flagship. Here's how the new Galaxy S9 compares to the Pixel 2 in hardware, software and value.
What's the same
Image 1 of 3
Despite dramatic differences in initial appearances, there's a lot shared between these phones. Sure the materials and designs differ, but they're actually nearly the same overall size. The Pixel 2 is a tad shorter and lighter, but both phones are pretty compact and easy enough to manage in one hand — especially compared to the ever-growing competition in the 6-inch (and-above) smartphone space.
Throughout the hardware you'll find matching spec and features. The Galaxy S9's new fingerprint sensor placement on the back matches the Pixel 2, as does its water resistance, stereo speakers, 64GB base storage and relatively small battery capacity — though the Galaxy S9 does edge out the Pixel 2 by 300mAh there, real-world use of the Pixel 2 shows it can do great things with what it has.
For all of the design similarities between the Galaxy S8 and S9, one thing that took a big upgrade was the camera — and it's exciting enough to have it up here in the "same" section to be mentioned alongside the Pixel 2. The Galaxy S9's new camera sensor is doing a lot of the same multi-frame advanced processing of images that we hear Google talk about with HDR+ on the Pixel 2. These phones take different types of photos and often come to notably different results in the same scenes, but seeing each one on its own will show you they're both great. The Galaxy S9 is often a bit truer to the scene and more simple, while the Pixel 2 takes photos that have more color, contrast and drama to them.
Add in its adjustable aperture up to f/1.5 and we see low-light performance that takes a considerable jump up to challenge the Pixel 2 as well. Right now this is still the Pixel 2's crown, but I'm glad the Galaxy S9 didn't stick with an iterative setup from the Galaxy S8 — the GS9 has extremely low noise and accurate colors at night. At the same time, the Galaxy S9 adds in 4K 60 fps video, as well as 960 fps slow-motion — both of which best the Pixel 2's video capabilities in terms of raw numbers, but we know the Pixel 2's video stabilization is still king.
What's different
Image 1 of 3
Remember our comparison of the Galaxy S8 and Pixel 2? Well, for the most part, you can just press replay on that. It only takes a glance to tell these phones have completely different identities, with the Galaxy S9's primarily glass build and glistening curves contrasting with the Pixel 2's monolithic metal and subtlety. Both execute their designs well, but it's easy to see why so many people prefer the flashy head-turning design of modern Samsung phones — even if the glass back is a bit more fragile. Not everyone is attracted to the subtle approach of the Pixel 2, even if its metal body may age better.
Then, of course, there's the difference in usable screen space for the size of the phone. In the same overall hardware package, the Galaxy S9 has a 5.8-inch 18.5:9 display, versus the Pixel 2's 5-inch 16:9 display. Put another way, over 83% of the front of the Galaxy S9 is screen, whereas under 70% of the Pixel 2 is screen. That's a startling difference in usable screen space for the same size of phone. Sure the immediate sides of the Galaxy S9 are curved and therefore not all that usable, and full-screen content doesn't always utilize the space, but it's tough to shake the feeling that the Pixel 2 "wastes" space on the front of the phone.
What's inarguable is the difference in screen quality. The Galaxy S9 took the Galaxy S8's display and made it 15% brighter, adding more brightness to what was already a bright, vibrant and just generally wonderful display. The Pixel 2 also has an OLED panel, but it's just on a lower level in terms of colors and brightness, not to mention its 1920x1080 resolution is a bit lower as well. The Pixel 2's display is certainly good enough, but it's not an industry leader like the Galaxy S9.
Samsung is always going to win the "number of features" game, and that's clear again here with its inclusion of extras like a headphone jack, wireless charging, and an SD card slot. You can argue that having an option of 128GB internal storage on the Pixel 2 negates some of the SD card value, and you could also say the wireless charging is more of a niche feature. But you can't say that having a headphone jack isn't a huge benefit — particularly when you don't have to give up anything else in the hardware to get it. Samsung even adds a really nice pair of earbuds in the box; Google gives you a USB-C headphone dongle.
Now, here's where things swing in the other direction: the Pixel 2's software experience. This is a place where Samsung's approach of "more features" can get in the way of having enjoyable and useful software for many people. Android 8.1 Oreo on the Pixel 2 is smooth, clean, consistent, and great to use. The Galaxy S9 has far more features, but so many of them are set up to be left unused and just sit in your way when you're trying to do other things. Convoluted processes for doing so many things just seem unnecessary when you see how simple it all is on the Pixel 2. It's a difference in philosophy and perhaps Samsung's approach doesn't bother you, but people who use Pixels know what I'm talking about here — using Google's take on Android is fantastic, and it stays that way over time with three years of guaranteed software updates.
Bottom line: Which should you buy?
There's a lot to digest in this comparison. Much of the core experience and features are shared between the Galaxy S9 and Pixel 2, but the exterior designs, screen and additional features differ widely. There are two clearly different approaches to a high-end smartphone at play here.
The Galaxy S9 is the features king, with hardware that bests the Pixel 2 with extras like wireless charging, a headphone jack, newer processor, bigger battery, and a larger (and nicer) display. The hardware is flashy, which is appealing to many people, even if it's a bit more fragile. The Pixel 2 is much more subtle in its hardware and simple to use in its software. It has the core features you need, and little extra. There aren't many headline-grabbing things you can point to, but just use one for a few days, and you'll see what all the talk is about. It also has a proven great camera, and the track record of software support direct from Google.
Finally, we have to remember pricing. As high-end smartphone prices continue to rise, the Pixel 2 held its ground down at a relatively affordable $649. The Galaxy S9, on the other hand, is roughly $100 more depending which carrier you buy from — which I think is enough of a gap to matter to people when they're cross-shopping these two phones. If you're really keeping the budget tight, the Google Pixel 2 is obviously a better choice. If you're willing to pay more money for more features, regardless of whether the overall experience may be better, you're likely to go with the Galaxy S9.
Update July 2018: Refreshed with a new perspective based on the age and price of the Pixel 2.
Be an expert in 5 minutes
Get the latest news from Android Central, your trusted companion in the world of Android
Andrew was an Executive Editor, U.S. at Android Central between 2012 and 2020.