Google Pixel 2 vs. Samsung Galaxy S8: Which should you buy?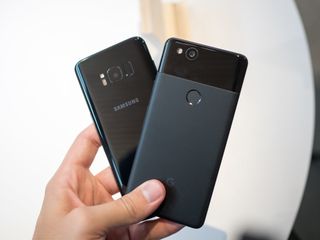 When it comes to phone comparisons that people love to get passionate about, looking at the latest offerings from Google and Samsung is about as good as it gets. Google just announced the new Pixel 2, a proper flagship phone with a smaller-than-most display. The Galaxy S8 may have been announced earlier on in 2017, but it's a the go-to flagship phone, and with price drops over the course of the year it's become even more enticing.
Let's take a look at the Pixel 2 and Galaxy S8 to see where they're matched, where they differentiate and which one is best for you.
What's the same
Image 1 of 3
There's more shared between these phones than you might think at first glance. Set them side-by-side and you'll notice they're actually roughly the same dimensions. The Pixel 2 is a tad shorter, wider and lighter — but when you hold these two together you won't notice a difference in those terms.
Going inside, these two tick many of the same basic boxes when it comes to the specs. You get a Snapdragon 835 and 4GB of RAM running the show, and for most people getting 64GB of storage with an SD card slot in the Galaxy S8 is about a wash with the 64 or 128GB available out of the box with the Pixel 2. They both have OLED displays, which is definitely a "thing" some people look for because they just don't like LCDs — and though their resolutions aren't the same (Pixel 2 at 1920x1080 vs. Galaxy S8 at 2960x1440), they both have plenty high pixel densities. The Pixel 2's 10% smaller 2700mAh battery is a concern, for sure, but with its lighter software and lower resolution it seems to closely match the Galaxy S8's longevity.
Both phones are water- and dust-resistant, which is something Google is just now getting to in this generation but any Samsung owner will tell you is a wonderful to have feature. You'll be able to use either one in the rain and not immediately panic if you drop it in the sink or splash it when you're at the beach.
With so much of the industry going toward dual cameras (including Samsung on the Note 8), these phones are notably the same when it comes to the overall approach to photography. You'll find a ~12MP sensor on both, with familiar "dual pixel" auto focus and a fast aperture — f/1.7 for the Galaxy S8, and f/1.8 for the Pixel 2. Google now has OIS as well, matching Samsung, and while the Galaxy's electronic stabilization in videos isn't as good as Google's it's there helping smooth things out. Google's image processing is once again top-notch, and there are many situations where it just can't be matched — even by the consistently great Galaxy S8.
What's different
Image 1 of 3
Take a look at the Pixel 2 and Galaxy S8 from the front, and you get a real discussion starter. It's all about the screen bezels here, folks. As noted these phones are almost the same size overall, but the Galaxy S8's 18.5:9 5.8-inch display is much larger than the Pixel 2's 16:9 5-incher. Credit to Google keeping the side bezels small ... but the top and bottom bezels are quite massive. Functionally, it doesn't really create many problems on a phone that's still relatively compact — but people are all but screaming over the aesthetics of the whole thing.
Given there's no real functional detriment to having larger bezels on the top and bottom, it's mostly just the optics of the whole setup that rub people the wrong way. The Pixel 2, releasing at the end of 2017, has a "conventional smartphone" look — and aside from front-facing stereo speakers, there isn't a whole lot extra to show for it. The Galaxy S8 has all of the same hardware capabilities, plus a headphone jack, all while offering more screen real estate in the same basic overall size. Google showed it could even split the difference nicely with the Pixel 2 XL, which has the same sort of layout as the Galaxy S8 (well, the S8+ at least) but with stereo speakers.
But for many Google phone lovers, there's a reason to put up with the bezels and somewhat bland design: the software experience. Even with improvements in the past couple generations of the "Samsung Experience," it just doesn't match the Pixel 2 when it comes to smooth, consistent and clean daily use. Google's apps and services are on the whole better than Samsung's options, and they work even better on a Pixel when they aren't competing for space with duplicates and imitations. You also get three years of guaranteed updates, which is dramatically better than what you can expect from a Samsung phone — even a flagship such as this.
Bottom line
Landing at about the same price, and well underneath their top-end counterparts, both the Pixel 2 and Galaxy S8 will be on the radar for late-2017 phone buyers. And the great part about this decision is how much they share: the base specs, overall size and core features can be found in both. Which one is right for you comes down to just a few decisions on aesthetics, specific hardware features and feelings about software.
The Galaxy S8 is probably the default choice for so many people who are familiar with Samsung phones or are simply drawn in by its beautiful design. There are also legitimate spec and feature reasons to buy the GS8: a larger (and higher resolution) screen in a compact size, a larger battery, wireless charging and an increasingly rare headphone jack.
Anyone drawn to a Pixel 2 from the start probably has a relationship with Google's software experience and services — and these people won't be disappointed. There are fewer hardware and spec compromises in this phone than its predecessor, and Google has stepped up its game with things like water resistance, an even better camera, a better display and more base storage at the same starting price. The choice to go with a Pixel 2 starts and ends with how much you value the clean, simple and hassle-free experience of a phone with one brand on the box: Google.
Sign up for Black Friday email alerts!
Get the hottest deals available in your inbox plus news, reviews, opinion, analysis and more from the Android Central team.
Andrew was an Executive Editor, U.S. at Android Central between 2012 and 2020.