Samsung Galaxy S3 is the third most searched piece of technology on Bing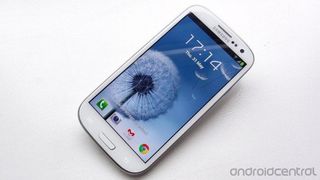 It's getting to be that time of year where we everyone starts looking back at the year that was 2012. Microsoft's Bing is no exception to this, and already they've posted their "Bing Top Searches of 2012" list. Coupled in that list is a category for technology and consumer electronics. Unsurprisingly Samsung has found their way into that consumer electronics section with the Samsung Galaxy S3 being the third most searched piece of technology on Bing. Guess that's what happens when you push over 30 million devices worldwide. And just in case you were wondering, the iPhone 5 (opens in new tab) and iPad (opens in new tab) captured the first and second spots respectively.
Source: Bing
Android Central Newsletter
Get instant access to breaking news, the hottest reviews, great deals and helpful tips
It must be the first searched piece of technology on Google. Bing is soft who uses Bing anyway. .

I agree, who uses Bing???
This is Earth! And we on Earth use Google.
You use anything else, your not from Earth. Lol!!!

Seriously Bing is only used when you buy a new piece of equipment and you're having difficulty making Google your home page. Once you find out how then it's Google but just the first few times you're stuck with the thing called Bing.

The most searched for is iPhone 5 and iPad, the third being the Samsung Galaxy SIII is the most purchased of the three. I mean, after finding out how crappy Apple products are, wouldn't you buy something else?!

Bing is a decent search engine, though I prefer Google as my first choice. Bing is what I use after I can't find what I'm looking for after searching through 4 pages of Google Search results.

I always find what I am looking for on Google.

Since I have to carry two phones I have both the S3 and iPhone 5. Got S3 day it launched on Verizon and have absolutely loved it from day one and first Android phone (and I love Android phones) that I have not become bored with and works perfectly without flaw. I got 5 a week ago and sold my 4S and the 5 already has very small place where the paint is coming off. Scratching a chipping suppose to be an issue with 5 according to Apple. Had many phones and take care of them and have never had one where paint coming off. Within time period to return still and may do that and go back to the 4S which appeared to be a sturdy phone because Verizon stated was not something they would replace for and I don't expect them to since it was shipped from Apple direct although ordered from Verizon. Apple said take to a Apple Store which is 45 miles away from me. Heck I might even get the Note 2. The S3 absolutely no issues and no scratches or paint coming off. S3 way superior and customizable.

The topic is all about samsung gs3 being the top 3 searched piece of technology. But some people here are talking non sense like how gs3 is better than iphone, or how apple sucks. Maybe you're butthurt because apple hit the 1st and 2nd spot? I am currently using gs3 and ipod touch 5g and i found this cult boys amusing.

What the heck is an iPod Touch 5G?

I wonder if this means there are a lot of windows phone users researching s3's...
Not trying to sound like a fanboy or anything. I just wonder who the heck is using bing besides people on windows phones, where it's the default.

Bing has 28% marketshare when you combine it with Yahoo since it uses the same engine. Why do people pretend that NO ONE is using it?
Android Central Newsletter
Get instant access to breaking news, the hottest reviews, great deals and helpful tips
Thank you for signing up to Android Central. You will receive a verification email shortly.
There was a problem. Please refresh the page and try again.