Samsung Galaxy Note, myTouch and myTouch Q all available from T-Mobile today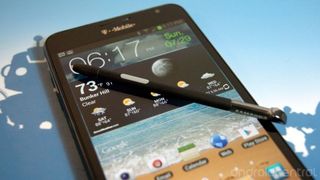 Great news for all of you T-Mobile customers as the Samsung Galaxy Note (see our review), myTouch and myTouch Q are all available starting today.
If you've anxiously been awaiting the Galaxy Note, you can purchase it a couple of different ways. It will cost you $249.99 after a $50 mail-in rebate with a 2-year contract. If you choose instead to go with one of T-Mobile's Value Plans, it will be $199.99 up front with $20 installments thereafter. Keep in mind also, that the Note is set to receive a minor update out of the box, so be on the lookout.
The newest additions to T-Mobile's myTouch family are both manufactured by Huawei. They represent low to mid range devices and sport near identical specs (including Gingerbread), the only difference being that the myTouch Q has a QWERTY keyboard. They will each cost you $49.99, also after a $50 mail rebate and with a 2-year contract.
More phones on T-Mobile and more choices for consumers are always a good sign. We know lots of you have been anticipating the Galaxy Note, so if you plan to pick one up, let us know in the T-Mobile Samsung Galaxy Note Forum.
Android Central Newsletter
Get instant access to breaking news, the hottest reviews, great deals and helpful tips
Great. I can get the Galaxy Note just before the Galaxy Note 2 drops in the next few weeks.

And you think the Note 2 will be available (subsidized) on T-Mobile in a few weeks?

Not at all. But the fact that its out while T Mobile will still be pushing the Nite 1 should be annoying as hell to T Mobile customers.

At T-Mobile no. Month or two it will be at att and maybe vzw. What do say about that!. Or you can just buy it from car phonewarehouse for the same retail price.
Slap your SIM card in and your good to go. While you just bought old but New Note. Pitty you just wasted an upgrade on a year old phone and your stuck for another 2 years. Bummer for you!!.

Just a heads up to those interested. The note is actually free on Walmart wireless with a 2 year contract and $350 off contract. At that price it's definitely is not a bad deal at all. Even at a year old.

Actually TMO does not have it in stock. I was told it would take two more weeks before they get it in the Los Angeles area. Could they be holding out for the Note 2?
Android Central Newsletter
Get instant access to breaking news, the hottest reviews, great deals and helpful tips
Thank you for signing up to Android Central. You will receive a verification email shortly.
There was a problem. Please refresh the page and try again.