Samsung Galaxy Note 9 vs. Galaxy Note 5: Should I upgrade?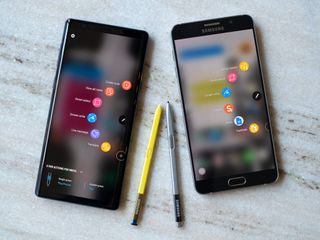 The Galaxy Note 5 was the biggest and best Samsung had to offer in 2015, with its hardware design in particular being a massive upgrade from the Note 4. But it's three years old now, and if you were willing to hold off from an upgrade to the Note 8 last year you're probably really getting the itch to check out the new Note 9 now.
If you've liked using a Note 5 for three years, you're probably thinking that a move to the latest Note makes sense — but a lot has changed in the last three years, and there are other phones out there worthy of your attention if you're willing to break away from the S Pen. Here's what you need to keep in mind when you're getting ready to take the leap.
Reasons to upgrade to the Galaxy Note 9
Image 1 of 4
When you're looking at upgrading from a three-year-old phone, even a high-end one like the Note 5, there are some easy wins to be had. The Galaxy Note 9 hasn't dramatically changed the game in any specific area, but three years of further development on all the components that make up a high-end smartphone make it a better device in every way. The Snapdragon 845 processor and 6GB of RAM are dramatically faster than the Exynos 7420 and 4GB — you may not think the Note 5 is slow or lacking for performance, but just wait until you get the Note 9 in your hands. Even more important for a Note power user is the battery, which has jumped a full 1000mAh, up to 4000mAh, and when paired with the new processor offers dramatically better longevity.
Most Note 5s came with just 32GB of internal storage, which was a lot for 2015 — but now, the base Note 9 has four times as much storage. And some may forget that the Note 5 came from that dreaded time when Samsung removed the microSD card slot. It came back in the next generation, and is still here today on the Note 9.
The cameras, too, have made a massive improvement since 2015. The Note 9's pair of cameras may not be dramatically better at first glance, but daylight photos are much crisper with a wider dynamic range and less forced-looking post-processing. Low light is an entirely different league altogether, with the larger sensor and f/1.5 aperture running circles around what was already a fantastic camera three years ago. The secondary camera also gives you lossless 2X zoom, which is actually a unique way to shoot.
But much of these upgrades can be found in any 2018 phone you may be looking at. The real reason why you're going to be looking at a Note 9 is that it's the latest and greatest Galaxy Note. It's familiar in terms of build quality and software, but it's also the only smartphone you can buy today that has the same S Pen stylus you probably bought the Note 5 for in the first place. The S Pen has added new wireless functionality to keep things interesting, but the core experience remains — that means you won't skip a beat with taking notes, drawing and annotating. Familiarity is incredibly important, and that's extremely true when it comes to having a stylus or not.
One thing to keep in mind in all of this is the future of the Note 5 itself. The Note 5 finally received an Oreo update in 2018, but this is the last platform update you can expect on the phone. If you want to get any of the newest features Samsung is working on, while keeping your S Pen, you'll have to move up to the Note 9.
It's time to upgrade, but there are reasons to look elsewhere
This whole discussion has been predicated on the idea that you're in love with your Note 5. That you think the big screen is great, Samsung's software fits your needs, and you use the stylus all of the time. But perhaps you've simply held onto your Note 5 because it continues to work and you haven't wanted to drop the money on an upgrade. And, well, when you look at the $1000+ price of the Note 9, you start to think maybe you don't want the latest Note after all. Fear not, there are other options that are less expensive and may fit your needs.
The Galaxy Note 5 probably felt pretty huge when you first got it. But take a look at the photos here — the Note 9 wider, taller and over 15% heavier than the Note 5. Yes the screen has gotten bigger as a result, but the Note 9 is tougher to hold and manage in one hand. Every other top-end phone out there today is smaller, much closer to the Note 5 you're used to. If you haven't been keeping up with phones over the past couple years, it may be worth going to a store to see how big they've gotten.
One of the other reasons to look elsewhere at the Note 9's competition is if you haven't stayed in love with the S Pen or Samsung's software. Not everyone requires a stylus in their phone — which is clear when you look at the higher sales of Galaxy S phones than Notes over the years. If you're not using your S Pen on a regular basis, you could save a lot of money by getting a Galaxy S9+ instead. If another Samsung phone is out of the question entirely, there are other great options that offers the same sort of high-end components, specs and features as the Note 9 but again for less money and without the same software you've been looking at for three years.
It's a big world out there. Even though the Note 9 is a fantastic phone, and an easy-to-recommend upgrade for Note 5 owners, it isn't the only phone that is a worthy replacement.
Get the Android Central Newsletter
Instant access to breaking news, the hottest reviews, great deals and helpful tips.
Andrew was an Executive Editor, U.S. at Android Central between 2012 and 2020.