Samsung Galaxy Note 9 vs. Galaxy Note 5: Should I upgrade?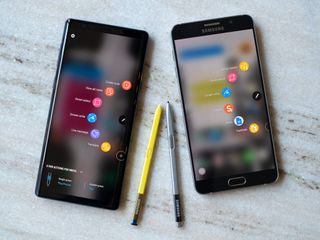 The Galaxy Note 5 was the biggest and best Samsung had to offer in 2015, with its hardware design in particular being a massive upgrade from the Note 4. But it's three years old now, and if you were willing to hold off from an upgrade to the Note 8 last year you're probably really getting the itch to check out the new Note 9 now.
If you've liked using a Note 5 for three years, you're probably thinking that a move to the latest Note makes sense — but a lot has changed in the last three years, and there are other phones out there worthy of your attention if you're willing to break away from the S Pen. Here's what you need to keep in mind when you're getting ready to take the leap.
Reasons to upgrade to the Galaxy Note 9
When you're looking at upgrading from a three-year-old phone, even a high-end one like the Note 5, there are some easy wins to be had. The Galaxy Note 9 hasn't dramatically changed the game in any specific area, but three years of further development on all the components that make up a high-end smartphone make it a better device in every way. The Snapdragon 845 processor and 6GB of RAM are dramatically faster than the Exynos 7420 and 4GB — you may not think the Note 5 is slow or lacking for performance, but just wait until you get the Note 9 in your hands. Even more important for a Note power user is the battery, which has jumped a full 1000mAh, up to 4000mAh, and when paired with the new processor offers dramatically better longevity.
Most Note 5s came with just 32GB of internal storage, which was a lot for 2015 — but now, the base Note 9 has four times as much storage. And some may forget that the Note 5 came from that dreaded time when Samsung removed the microSD card slot. It came back in the next generation, and is still here today on the Note 9.
The cameras, too, have made a massive improvement since 2015. The Note 9's pair of cameras may not be dramatically better at first glance, but daylight photos are much crisper with a wider dynamic range and less forced-looking post-processing. Low light is an entirely different league altogether, with the larger sensor and f/1.5 aperture running circles around what was already a fantastic camera three years ago. The secondary camera also gives you lossless 2X zoom, which is actually a unique way to shoot.
But much of these upgrades can be found in any 2018 phone you may be looking at. The real reason why you're going to be looking at a Note 9 is that it's the latest and greatest Galaxy Note. It's familiar in terms of build quality and software, but it's also the only smartphone you can buy today that has the same S Pen stylus you probably bought the Note 5 for in the first place. The S Pen has added new wireless functionality to keep things interesting, but the core experience remains — that means you won't skip a beat with taking notes, drawing and annotating. Familiarity is incredibly important, and that's extremely true when it comes to having a stylus or not.
One thing to keep in mind in all of this is the future of the Note 5 itself. The Note 5 finally received an Oreo update in 2018, but this is the last platform update you can expect on the phone. If you want to get any of the newest features Samsung is working on, while keeping your S Pen, you'll have to move up to the Note 9.
See at Samsung (opens in new tab)
It's time to upgrade, but there are reasons to look elsewhere
This whole discussion has been predicated on the idea that you're in love with your Note 5. That you think the big screen is great, Samsung's software fits your needs, and you use the stylus all of the time. But perhaps you've simply held onto your Note 5 because it continues to work and you haven't wanted to drop the money on an upgrade. And, well, when you look at the $1000+ price of the Note 9, you start to think maybe you don't want the latest Note after all. Fear not, there are other options that are less expensive and may fit your needs.
The Galaxy Note 5 probably felt pretty huge when you first got it. But take a look at the photos here — the Note 9 wider, taller and over 15% heavier than the Note 5. Yes the screen has gotten bigger as a result, but the Note 9 is tougher to hold and manage in one hand. Every other top-end phone out there today is smaller, much closer to the Note 5 you're used to. If you haven't been keeping up with phones over the past couple years, it may be worth going to a store to see how big they've gotten.
One of the other reasons to look elsewhere at the Note 9's competition is if you haven't stayed in love with the S Pen or Samsung's software. Not everyone requires a stylus in their phone — which is clear when you look at the higher sales of Galaxy S phones than Notes over the years. If you're not using your S Pen on a regular basis, you could save a lot of money by getting a Galaxy S9+ instead (opens in new tab). If another Samsung phone is out of the question entirely, there are other great options that offers the same sort of high-end components, specs and features as the Note 9 but again for less money and without the same software you've been looking at for three years.
It's a big world out there. Even though the Note 9 is a fantastic phone, and an easy-to-recommend upgrade for Note 5 owners, it isn't the only phone that is a worthy replacement.
Andrew was an Executive Editor, U.S. at Android Central between 2012 and 2020.
Biggest problem is price. I hope Samsung doesn't kill the Active line. I love my S8 Active. Best phone on the market imo.

https://www.google.com/amp/s/www.forbes.com/sites/gordonkelly/2018/08/19...

I'm getting $400 from Samsung on trade in for mine. I hope I don't regret it. I won't buy another phone without a min of 4000mah lol.

I would recommend to a Note 8, has almost all major features for a fraction of the price.

Huh ?? i Paid 540.00 for my note 9 with trade in.... besides once you use a 4000 battery you cant go back!

Yeah I know so did I. But if they have a Note 5 or any other phone they can't get that deal of a price.

Yeas upgrade definitely the note 8 is really good but the note I will be damn good now you are getting better specs and features and it will age alittle better than the note 8 with those added features such as dual speakers and improved spen and software etc. Why get a cheaper note 8 when you can wait just a tad bit more and wait for more deals during black Friday for instance. Plus you can trade in your old device and get cash shaved off so ye get the note 9

One could argue if someone is Still rocking the Note 5 which is still a good phone I would argue they really don't care about the bleeding edge of the flagship market and the Note 8 would be perfect And by the time Black Friday rolls around you could probably get it for 500 bucks the note 8

You can grab the note 8 now for around 500-600 bucks without it even being on sale. At least here in finland

Save yourself some cash get a note 8.
Damn near all bells and whistles as a note 9. Depending where you get it anywhere from $400 to $300 cheaper

with s7 trade in (450) the note 9 is 540.00..

"Should I upgrade?" Damn skippy.

Will there be an article about whether I should upgrade from my Note 7?

I think you should keep it

Is your note 7 running Oreo cookie already?

Careful Andrew already wrote an article about you. LOL

I would've liked a camera comparison between the 2 devices

Question. I have a note 5 and love it still. It is an AT&T unlocked that I use on Tmobile. It says it is updated to Oreo, but mine is still on 6.0.1 and always says it is up to date when I check. How can I update it to more current software? Please help. I have a 2015 Galaxy J7 that even has 7.1 on it and I am confused.

Your AT&T phone won't do an OTA update unless you're on AT&T's network. You can try using a friend's SIM card who has AT&T, pop it in and check for updates. Then go back to your card. I ran into that when I recently tried out a couple of different prepaid carriers. My phone wouldn't update until I went to a carrier that used AT&T 's towers.

Just like Led said, At&t unlocked phones won't do OTA SW Updates if used with a non At&t SIM. I always used unlocked T Mobile and Sprint phones and will updates no match what SIM is in.
You can either go to a Best Buy to have the device updated on a Samsung Expert boot or have the ROM updated through Odin. I switched to the factory unlocked, bloatware free ROM on my Note 8 and couldn't be happier

I still have a Note 4, and for the most part I think it's pretty awesome. The thought of shelling out 1k for a phone when this one still works seems crazy. Plus my spouse still uses an s5 so it would be 2 new phones although his hasn't held up as well as mine. I think when I do get a new phone I'll have to let the stylus go to get something a little cheaper.

I still use my Note 4, but I know it's time. Even with Knox, it's a security nightmare waiting to happen due to lack of updates.

Note 7 FE is the way to go!

I also have the Note 4 since I bought it back in October 2014. No removable battery and only curved edges has made this a pretty easy choice not buy the Note 9. I can easily spend that money better on a higher end UHD TV, upgrade the CPU/motherboard and RAM on my PC. This is coming from a Note 4 user, the Note 9 simply made the choice for me like Samsung has done ever since they went for the pretty look over functionallity since the GS6. If Samsung ever considers making a phone similar to what made the Note 3 and 4 special, I'll be ready for an upgrade. The Note 9 is simply a GS9+ with a pen and small improvements.

Bishop_99- My sentiments EXACTLY. I love my Note 4. I still have a removable battery, SD Card slot (although they did put this back,) leatherette backing, but especially the IR blaster. I bought a used Smart TV without a remote. Without the IR blaster, I wouldn't be able to use it. All other features still work fine. I considered upgrading, but I'll just wait till next year. I agree with you...hopefully, they'll come out with a phone that equals or rivals the Note 4, then I'll upgrade. Until then, I'll keep what I've got, and even then, I'll keep my note 4 for back up. Without the ability to remove the battery to reet when there are issues, the company says, "Call customer support." Ummm, this is the o ly phone i have, without a working phone, how am I supposed to do that? Am I expected to drive across the city to go to a dealer every single time there's an issue with my phone?? I get the whole "water resistance" feature many people like, so either figure out how to have water resistance and removal battery, or give people two options...and keep the IR blaster, as well as top quality, scatch resistant screen. After four years, my phone still looks literally BRAND NEW. Thank you Samsung for a GREAT phone, and Otterox Box for a great case.

Give me that sweet 16:9 back.

I upgraded from the Note 5 to the 8 last September. Great move! The 8 runs a lot faster, smoother and has great storage capacity. The 5 was a very good phone for the most part but I had issues with the ones I had, original and warranty and extended warranty replacements. With the 8, zero issues from day one. If I had the 5 currently, I'd jump on the 9.

The article says that the Note 5 got Oreo earlier this year. To my knowledge, no one's actually ever gotten that update, and I thought it was later determined not to be happening?

This should have been for Note 4 users, Note 5 is a no brainer. Plus with Tmo, you get a 50% discount, so that's $500, a great deal. For us Note 4 users, we only get 25% off and we love having a removable battery, so that's that.

Note 4 is a 4 yr old. 25% off still seems a very good deal nonetheless

Should definitely not upgrade. Wait for the Note 10.

It's crazy, but I actually agree with this. Wait one more year since your phone is a dinosaur already

Can't Samsung just be considerate to bring 8.1 Oreo to this resilient N5 that stood its ground when the 7th note was bombing people!
It deserved long support despite the existence of the Note FE. For many Note lovers then, the Note 5 was the device to turn to. And Samsung never Considers that. The Nexus 6P from 2015 runs Oreo 🤥
Android Central Newsletter
Get the best of Android Central in in your inbox, every day!
Thank you for signing up to Android Central. You will receive a verification email shortly.
There was a problem. Please refresh the page and try again.