Samsung Galaxy Note 9 event set for August 9 in New York City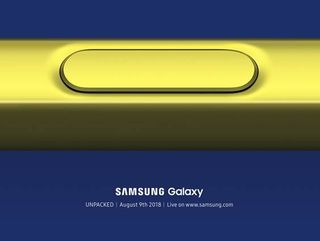 Well, it's official: the Galaxy Note 9 is coming on August 9, 2018. At least that's what we're expecting given the history of Samsung's announcement schedule and the leaks we've seen. The company has just sent out invitations to a Galaxy Unpacked event, taking place on August 9 in New York City — which aligns closely with previous Note announcements. The timing is a little earlier than last year, but this August 9 date was also previously rumored. The Note 8 was announced on August 23, while the Note 7 actually announced earlier, on August 2.
Samsung Galaxy Note 9 rumors: Release date, specs, price, and features!
In typical fashion the invitation has come long with a video to tease some parts of what the phone could be. This time, they're not highlighting the phone itself but instead the S Pen — it only takes a few times scrubbing through the short video to see multiple angles of it, including its button. But that bright gold color sure looks enticing ... and I'm sure some of you will find little details that we're missing.
Now that we have a date set, is the Note 9 hype in full effect? Do you have any better theories about what the image above is showing? Let's get this discussion going in the comments!
Andrew was an Executive Editor, U.S. at Android Central between 2012 and 2020.
Ooh, it's got a golden button . . 😉

Great !!! Surprising they sent an invite so early. Still more than a month to go. Edit: also that is a bigger bixby button 😂 jk

Not going to be do quick to jump on the Note this year. I'm gonna wait to see what LG is talking about this year, and also the a pixel 3.

The note was very underwhelming but after the note 7 devacle, an updated note was essential. I'm hoping this next one is more groundbreaking.

I want one, a 4000mamp battery. I've been waiting many moons for this. Plus all the premium features including the kitchen sink. For myself, if I'm going to spend the big bucks I would like all the toys!

All of the toys, for me, means the rumored 512 gigabyte monster which the rest of the world may see. Here, will we get (for the high price which we'll giddily pay) 128 gigs or even, dare I hope, the model with 256 gigs of native storage? Absent a minimum of 256 gigs and the battery of which you speak, available on Day One, I'll pass. I like getting caught up in the excitement for some 'toy' that's worthy of getting worked up about. I like tracking my new phone's movements through FedEx's shipping channels but if a greatly watered-down version of what eastern markets will see is foisted upon consumers in the US I'll pass.

Looks like a power or bixby button not the s pen.

It's the s-pen button, alright. I'm looking at my note 8 s-pen right now and it looks exactly like that. If it were a button on the phone you would see the screen or back of the phone. It's obviously a pen.

Probably confirms some of the rumors that the s-pen is going to receive some new superpowers this time around . . .

I still have a Note 5. Skipped the Note 7 fiasco and Note 8. Maybe 9 will be my lucky number.

To me it looks like the S-pen button on the Stylus, in yellow-gold. Much similar to Note 8 gold version stylus.

I know it won't happen, but I'd love them to ditch the curved screen on the note series, I hated it on the note 8 and was the single biggest reason I got rid of it.

Same here. Went back to the note 5. It's still a brilliant phone even today.

Buying day one. Can't wait

I still say this will be Samsung's most popular Note ever.

Not sure. I used to see loads of Note 4's but not so many Note 8's. We didn't get the Note 5 in the UK, or the Note 7 of course. I picked the Note 8 up a couple of months back when it went on sale and to be honest I have not been to impressed by the features of the SPen. Apart from signing documents and playing about with a bit of photo editing I cannot see me using the SPen all that much. I find the DeX feature much more useful and that is available on the S phones.

I think the large battery, updated camera and new S-pen software features will make the difference. The small batteries have been a sticking point for Note fans for awhile.

Looking forward to seeing what they do this year. Hopefully it won't quickly be an afterthought like the Note 8 was when the S9 was released, especially with the S10 not far behind. I'll be holding out for the Note 10. Hopefully that will be 5G compatible along with impressive specs we're currently seeing with the S9 plus...

Love my Notes can't wait to get this one!

they are going to turn the s pen into a bixby button/air mouse for the projector screen they are putting in

Ah, a yellow and gold mustard covered phone 😀

I have been a long time Note fan but I went from my Note 5 to the s8+, I think it maybe time to go back home!

What's interesting is that the end of the pen that shows on the bottom of the phone is a dark blue... That section is generally color-matched to the phone, correct?
Android Central Newsletter
Get the best of Android Central in in your inbox, every day!
Thank you for signing up to Android Central. You will receive a verification email shortly.
There was a problem. Please refresh the page and try again.