Samsung Galaxy Note 5 versus Note 4: What's the difference?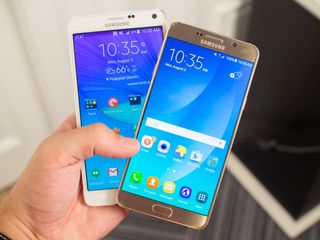 The Galaxy Note 5 clearly marks a new direction for Samsung in bringing the Galaxy Note series closer in line with the Galaxy S, and that means a pretty stark change compared to the Galaxy Note 4. Though the Note 5 retains the same basic shape and size, the materials and design have taken a huge leap forward. A new glass back and metal frame bring the phone in line with the Galaxy S6 in terms of looks, leaving behind the still plasticky Note 4.
2015 also brings us a Note with a sealed back that doesn't let you add storage or replace a battery, and the battery itself has dropped in size compared to last year. Things are different this time around, that's for sure — we're going to show you everything that's changed between the Galaxy Note 5 and Note 4.
A nice upgrade in hardware
After a noticeable divergence of design between the Galaxy S5 and Note 4 last year, the Note 5 has gone lockstep with the Galaxy S6 in looks. The same single metal frame wraps around the whole Note 5 for a new look and feel, and the back is now covered in glass instead of plastic. The metal is smoother and rounded compared to the Note 4's angular chamfered edges, and it flows perfectly into the glass back for a seamless transition. The placement of the buttons and ports remains, though, and the Note 5 picks up the one-touch fingerprint sensor that's much nicer than the swipe-style one on the Note 4.
Despite having the same screen size — 5.7-inches — as the Note 4, the Note 5 is actually smaller in every dimension thanks to the new sealed design. And when coupled with the new smoother edges and curved glass on the back, I found the Note 5 to actually be easier to handle and reach across than the previous version. The glass on the back is slick but no more so than the hard plastic on the Note 4, and the rounded edges make the design a net positive in terms of ergonomics.
Image 1 of 3
Naturally the S Pen is still here — it just wouldn't be a Note without it — but is better concealed. Rather than having the bottom of the S Pen exposed to yank out with a fingernail, there's a new clicking tip on the end of the S Pen that you press to eject it from its silo. It means the S Pen can sit flush in the bottom of the Note 5 when not in use, and whether you use it a lot or not that's a plus. Button aside, the S Pen itself isn't dramatically changed in looks, but Samsung says new hardware inside has decreased the latency between dragging the pen on the screen and the digital ink being spread.
Taking the loss of a removable battery and storage out of the equation, the Note 5 is a pretty big upgrade in hardware over the Note 4. It looks like an entirely new device whereas the Note 4 was a bit more of a continuation of old designs, and the ergonomic improvements are an added bonus. The Note 5 also gets extra points for the new S Pen and one-touch fingerprint scanner as well.
Comparing specs
Internally, the Note 5 has made solid improvements over the Note 4, though it's mostly just a bump to what's inside the Galaxy S6 already. An octa-core Exynos processor is now in every Note 5 model — compared to either the previous octa-core Exynos or quad-core Snapdragon 805 (depending on the region) last year — and Samsung has made the bump up to 4GB of RAM as well. The screen is the same great 5.7-inch QHD (2560x1440) Super AMOLED panel we expect from Samsung.
Hoping to compensate for the sealed 3000 mAh battery, Samsung has included new high-powered fast charging technology, which the company claims will charge up the Note 5 as fast as the Galaxy S6 currently. There's also built-in wireless charging, which supports both Qi and Powermat, in addition to wireless fast charging to give you a bigger boost when topping up without wires. Samsung has a new Qi wireless charger that supports the tech, and it also seems to be designed a bit better than the last model.
Samsung also has a couple advancements inside the Note 5 in terms of audio quality, with the phone now being able to play 24bit / 192kHz audio and also upscale MP3-quality files to the higher "UHQA" quality as well. There's also an audio quality bump for Bluetooth streaming, with support for 24bit / 96kHz quality if streaming to compatible devices like Samsung's latest Level headphones.
MORE: Galaxy Note 5, Note 4 and Note 3 specs compared
A slight software refresh
As covered in the more comprehensive Galaxy Note 5 hands-on, not a lot has changed in Samsung's software approach. After a serious streamlining of the experience on the Galaxy S6 I didn't expect too much of a change just six months later with the Note 5, and anyone who's familiar with the software on a late-model Galaxy updated to Android 5.1 will feel at home here.
There are a few more major changes when it comes to the S Pen, with a new interface for Air Command that matches what you'll find on the edge screen of the Galaxy S6 edge+ and S6 edge — there are larger icons to tap on, as well as the ability to add your own apps to the Air Command launcher. When not in use the Air Command interface collapses down to a small bubble — not unlike the pop-up window multitasking feature — making it easier to get back to with a single tap. There's also a new way to quickly take notes, with the blank screen becoming an active writing surface when you remove the S Pen while the screen is off.
S Pen aside there isn't too much to get acquainted with when comparing to an up-to-date Note 4, and that's alright. Those still using a Note 3 may be in for a tad bigger change, but even in that case you won't be thrown for a loop. This is the same Note experience anyone with a previous model will be comfortable with, but with a handful of solid improvements that any user would want.
Android Central Newsletter
Get instant access to breaking news, the hottest reviews, great deals and helpful tips
Andrew was an Executive Editor, U.S. at Android Central between 2012 and 2020.
I'll stick with my note 4 Posted via the Android Central App

Same here. I will be passing on the Note 5 for sure Posted via the Android Central App

Same here! Note 5 is all form over function.

It is a beautiful phone, but I'll take function and a battery that can get me through the day over having something so perty I want to put a cover over it anyway to keep it safe.

I don't get this comment. All of the reviews rave about function and battery life.

It's because those review are short sighted and likely shills for samsung. It's easy to have great battery life on a brand new non replaceable battery that will lose 10 to 20 percent of its capacity in a year. It's also easy to have great battery life whrn you don't have the phone loaded down with productivity software like Microsoft office, 2 Gmail accounts, calendar widgets, a CRM software, cloud sync software, etc. No amount of magic "screen off battery saving magic" crap they are spewing makes up for raw battery size, quality, and ability to replace with a fresh one.

Sticking with the Note 4, even though I've counted only 8 improvements. All except 3 (Wireless Fast Charging, 4GB RAM, and Fingerprint Sensor - Samsung Pay) are not worth it. I'm not buying new wireless charging pads just to take advantage of Wireless Fast Charging. LG G2
GSIII
Galaxy Note 4
(The Sprint Lover)

IR Blaster gone? Aren't you glad you still have all those wonderful remotes in that box in the closet? LG G2
GSIII
Galaxy Note 4
(The Sprint Lover)

Same here! Kinda figured I would... Posted via the Android Central App

Don't see how fast charge compensates for less mAh in the battery. If you are away from an outlet. My N6 is 3220, but vanilla android doesn't waste resources like my old samsung devices do. Wished people at the samsung event would have gone into settings and showed what the ram usage was while idling.

Me too. It seems like a minor upgrade from the note 4. On top of that, u can't add external memory and replace the battery. I love the note 4, but don't want the note 5. Are there any other good large phones coming out other than the note 5?

I believe LG has the LG G Pro 3 coming this fall. I have not read much about it as the Note has always been my go to "big" phone, but I'll be watching now. The Note 5 is nice but they definitely took away some features that I like to have. Posted via the Android Central App

IPhone s6+? Lol jk Sammy is going down with this s..t, at least with us power users. The note line took a turn for the worst. Guess I'm keeping my note 4 till the screen goes off lol. =p

Ditto. I thought the speakers were getting an upgrade? Posted via the Android Central App

I'll be surprised if anyone ever gets root on it. That, coupled with no replaceable battery and no expandable memory makes this just another I-phone clone. I had a note, note 2, 3, and 4... game over.

Hey man i want a very large screen phone
Does note 4 give thst large and wider screen??

Hey everybody, like my iGalaxy? =P

Well they going to lose customers now since they didn't listen to them. Posted via the Android Central App on my HTC Desire 610

Your statement of false is false. Posted via the Android Central App

i assume they still kept all the duplicate software

yea ill hold on to my note 4 since i have a iPhone 6 + already lol HOLY HELL Samsuck ! wtf have you done

Come on Verizon, bring on the 5.1.1 update. This Note 4 has to keep me happy for another year.

My wife just got her 5.1.1 update this morning from Verizon on Note 4. You should receive it soon! Posted via the Android Central App

Agreed, no need to get a 5 when the 4 will be discounted now.
Increased speed? Does it matter for the avg. user? Probably not.
Wireless charging? My 4 lasts more than a day and it has quick charge, plus I can get a spare battery for traveling or being out and about for extended periods of time.
The increased sound quality/MP3 playback ability? Not sure why the avg phone user would care.
New S-Pen features? I use mine sparingly but like having it - don't think added features would matter much.
New fingerprint scanner? I guess if everything starts needing this for verification and I suddenly start using my phone to pay instead of my credit cards, maybe I'd care. But that's unlikely
Size/weight? Negligible.
Smaller battery that can't be removed? Not a fan
No SD slot? Not a fan Painfully obvious too that they are trying to mimick the iPhone w/ the "S6 Edge Plus"

My Note 4 has wireless charging using the same back plate the phone came with, and it already comes with a nice size removable battery "I have 2 spares, that I can carry in my pocket", that I can swap a fresh one in 1 minute from boot down to boot up.
This Note 5 keynote was a complete failure, just by the crowds response to the features and non features should tell you everything you needed to know. Posted via the Android Central App

I know this is a little off topic but, just out of curiosity, what insert do you use for wireless charging. I am using one currently but I am always interested in comparing experiences. Thanks.

note 5 s pen can capture continuous screen shot, take a note without unlocking the phone..... can this done on note 4 (i know that originally it is not done but after up gradation or buying new stylo can it possible). can I use s pen on s6 edge +.... can any one give me the detail comparison of s pen of note 4 & 5...my mail id is basu.prasunkr@gmail.com

Believe it or not audio quality is very important to me and many others. That was the top reason to buy an iPhone 6/iPad Air 2 in a row. I also own the combo nexus 5/7, and as much as I like them, they are miles away in sound quality(headphone out). It's obvious what Samsung is trying to do, grab Apple customers.

"Ma, get the torch and pitchfork! Samsung stole my remvoable battery AND card slot!" All jokes side, I wish (maybe this will happen for the Note 6), they kept the SD slot. HTC and Sony have been able to keep it and seal their batteries so I don't see the issue why Sammy had to pull BOTH features. Well, the GF is up for a nice upgrade...she likes Samsung and her S4 is water damaged and needs to retire. She'll love the Qi support...I put her on to it and when her USB port got damaged, that's all she uses now. Gonna tell her to get the 64GB version...she didn't with the N7 (got the 16GB and has run out of space), so she'd better listen for the Note 5. It is a nice phone, I'd buy a Note 4 though if it were up to me. Approved by the Z3 Tablet Compact!

Keep us up to date on how she likes it. I'm thinking pretty hard myself of getting the Note 5 simply because I still have an s3! Still mulling a price reduced Note 4 tho. Posted via the Android Central App

no thanks. absolutely no reason to upgrade from the note 4 to this thing. good job samsung, doubt I'm buying your phones again lol Posted via the Android Central App

I will get the Note 5, Note 6, etc.....

No doubt Samsung appreciates your blind loyalty Posted via the Android Central App

Lol Posted via the Android Central App

You should probably stop assuming. I have TMobile so I can change to any phone I want at any time, Plus I rather use the phone in a real world setting, before making assumptions from specs on Paper. The S6 looked good on paper but had horrible battery life....

You said yourself you'll be getting the Note 6 and yet it obviously won't be announced for another year. That proves his point that you are blindly loyal which is the #1 thing about Apple fans that I cannot stomach. It's okay if you're that way, but own it and don't try to deny it when it's fact.

Why would that bother you? Posted via the Android Central App

I don't think it "bothers" him. I think he meant he couldn't "stomach" being that way himself. Posted via the Android Central App

Lol Posted via my Gift from God Note 4

Talk about going way off the mark here from the customer desired feature list! Sure they will sell these like crazy, but not to those users the Note series was built for in the first place. They again took out two of the best features of the phone and REDUCED the battery again, are you kidding me? Do they not look at the reviews of the mess the S6 created from this mistake, wow........

Some people just be like "the back is so pretty". Then buy it and put a plastic case on it. Posted via the Android Central App

I think the losses are more important than the gains.... - non-removable/replaceable Glass back is NOT an advantage.
- non-removable battery is NOT an advantage.
- no external SD card is NOT an advantage.
- clicking s-pen is a gimmick and adding a moving part to something that should be minimalist is problematic.
- curved edges? Who cares, with a case on it, it won't make a difference. According to Sammy, users want bigger screens in a smaller package. Well, I care about battery life too, data storage options, better RAM management (not more RAM). and less bloatware. So disappointing.

I love my Note 4, but it's always been Samsung's strategy to throw more ram at a device rather than make the ram you got work more efficiently.

You have no idea how much better our Note devices can be if Sammy just optimized RAM usage. I've got a Note 2 running CyanogenMod 12, and it multitasks way better than my stock Note 4 - that really shouldn't happen with you're talking about a device with 2gb of RAM vs. 3gb.

Samsung failed to understand that to make it " worthy" upgrade is to make it better than note 4. After reading the reviews, note 5 is a backward direction from note 4. I have note 3 and looking for a worthy upgrade. Not convinced note 5 is it. It would made sense not only add more Ram and hardware changes but bigger screen than the previous version of note series. Samsung competitors LG, HTC already broke 6 inch mark. Is there a reason why a company as Samsung cant make that big? As for removable battery and SD, it is still a " must have" figure on all phones. By using Wifi and GPS 24/7 does require enormous battery power. As for GPS always updates every step you go. shrinking battery without battery optimization is a big mistake there. One thing i have noticed that is missing in note 5 is no IR receiver which is one of the most important figure to control your smart devices at home, and TV's. That figure is one of the reasons that made note 3 very popular. I will not be upgrading until the next note 6 or better versions of note 5.

It's a HUGE FAIL, Samsung has lost touch with what people really want, wireless fast charging "really", sorry but I can't carry a fast wireless charger while on the go, and what's with the small battery. Also no expandable storage for a Note device is just wrong on all levels. The crowd did not seem very enthusiastic, this has been one if not the worst launches EVER of a flagship device. Posted via the Android Central App

I think they rushed this release to try and get a few more purchases, when in the end it will end up costing them.
If they could make the bezels smaller, why not use a 5.9" screen instead? That would be one saving grace to get more interest. Why try to be smaller than the Note 4? Is there a theme engine in this 5.1.1 build?

Well, samsung has done research on many foldable screens and paper like batteries but nothing comes into production.

This was an obvious move, anyone who didn't see this coming was delusional. Don't mind my S6 and it's sealed design but the Note series was supposed to be different. Posted via the Android Central App

What's the difference u ask? On the level between night and day, and that might be understating it Posted via the Android Central App

Note line is for power user. Power user usually have lots of things in their phone like pictures, videos, musics, etc. So, the lag of micro sd is a bad news. Sure they can get the 128 gb version but it cost a lot more. Also if the phone is broken, they will lose all the data.
In addition, power user also use their phone a LOT so having a smaller battery will give disadvantages Posted via the Android Central App

I agree. Except they may have fixed something to give better battery life. Remember the S5 only had a 2800 battery..

Yes but this is the same chipset and software that is inside the GS6 which has horrible battery life. I will get it anyway since I have a Quick Charger at home, in my car and a Quick Charge battery pack so I'm not worried about it personally although others will have a big problem with it. Posted via the Android Central App

Maybe but I rather wait to have it in hand to instead of going by whats on paper. No one knows what the battery life will be like until the actually use it daily....

Lol when did Samsung say the note line was for power users. They have never said that at all, not even once. Power users gravitated towards the note line. What you guys want is not what Samsung offers anymore. Simple get over it and find a different phone. SGS6

We will if that's what it takes. Posted via the Android Central App

Pay more and get less, what a deal - thanks Sammy. Looks like Sammy is following the ever popular, How to Eff Up Your Business, as popularized by HTC.

"Pay more, get less".... Is that why you have a picture of Bernie Sanders as your avatar. Lol "how to Eff up your business (or country)"

I'm keeping my LG G4, thank you very much. And I'll be recommending the 64GB Galaxy Note 4 instead.

Note 4 sales should go through the roof from people that were holding out for the Note 5. Samsung better fix its rectal cranial inversion problem, and make the Note 6 and S7 better than this. No SD + No RB = No Buy for me. Just make the chassis like the old phones, update the internals, and make TouchWiz smoother/reliable. I'm so sick of seeing "Unfortunately, TouchWiz has stopped" on my S5A. I hope MS comes out with a good Surface phone to compete....

Definitely a better design but with some unwanted compromises.

Hello note 5....nice meeting you....I'll keep my note 4...next please. Posted via the Android Central App

This is a downgrade from the Note 4 any way you slice it. The presentation was so awful I could barely stand to watch. There was no energy in the room at all. I'm glad my Note 4 is in mint condition because I definitely will not be "upgrading" to the Note 5. I never thought I'd see the day where technology goes backwards. Note 4/T-Mobile/AC App

Its gonna be funny seeing how the carriers stock this POS and what deals they will have to have to get people to buy in the volume they need. Posted via the Android Central App

You couldn't pay me to use the Note 5 over the Note 4. They needed to make a cleaner, more premium Samsung version of the LG G4. I can't see this selling very well. Posted via the Android Central App

FUCK. YOU. SAMSUNG. JUST FUCK YOU.
Okay, so right now I'm seriously happy with my Note 4, and even more so now. Samsung, I understand the non-removable battery, but 1st, you made the battery WORSE, and 2nd, you didn't keep expandable storage. Just... Why get rid of all the things that people loved you for... That's so stupid. I had the vision that the S and Note line would kind of be separate, but still together, as in the Notes are for power-hungries and business users, whereas the S line is for casual users. Man, Samsung, you ruined this. You ruined it. Posted from my Samsung Galaxy Note 4 with the official Android Central app for... Well... Android!

In 1 year, when my upgrade time comes, imma just get a new 4 (as my current one has a faulty USB port) Posted from my Samsung Galaxy Note 4 with the official Android Central app for... Well... Android!

Maybe the Note 6 will be better, after this one flops

Yeah I actually sent them a email describing what most people here have said. I have a Note Edge and its almost like apart of my body. I use it for almost everything it has and it is amazing. I was really looking forward to a note edge 2. They really fucked that up. Guess its on to LG now.

I remember the commercial where they poked fun at the Apple users that were babysitting their charging phones while Samsung users just popped in a spare battery and got back to life...do you remember that Samsung? Do you?

What a joke, I will be using my Note 3 until it is dead it seems.

You want to know the difference between Android and Apple fans? When a crappy Android device comes out, we can all admit it and move on to another option. When Apple screws the pooch they have no other options and so they just bend over and accept it and then try to talk up the other features as much as possible. "Well I got raped, but at least the guy had pretty blue eyes..."

LMFAO! I almost fell out of my chair!!! Good shit mane!

Biggest difference will be market availability.. Yeah good move samsung in thinking F@#k you Europe... Well i think a lot of European customers will think F@#k you samsung Posted via the Android Central App

I'm due for an upgrade, and I can't decide between a note 4 or note 5. I completely understand not upgrading from the note 4 to the 5, but I'll be upgrading from a galaxy s4. Sounds like the note 4 might be the way to go, but i would want it to last a couple of years....

I would go to the store and check them both out before I make that decision. People over exaggerate things on here so much....

How are people over-exaggerating their disappointment? That makes no sense. The Note 5 has the same chip-set as the S6 and a smaller battery, on top of 64gb of storage max. Sure, storage is faster. And, sure, battery size is only one metric of battery life, and one would want to test-drive the actual phone before passing judgement. However, people's initial impressions of the Note 5 are valid: it lacks quite a few amenities from the previous generation. That is a fact and far from an over-exaggeration. Posted via my Gift from God Note 4

You said it....test drive before passing judgement.....

Yeah, I don't disagree with that. You should always form your own opinion. But, I still think the initial criticisms being expressed here are valid. Posted via my Gift from God Note 4

That's exactly what I'm gonna do. I'm upgrading from a galaxy s3 so ANYTHING is an upgrade at this point! My wife runs the note 4 and lives it. Gonna test run them at Verizon once they have the note 5 in. Posted via the Android Central App

mate ive just upgraded to a note 4 from gs4 and let me tell you its the best move ive ever made. Faster by a mile the battery life at the end of the day is 64% with moderate use. Ive read all the supposed specs of the s5 before it was released but went for the note 4 anyway and I donr regret it, not one bit. think Samsung have blew it this time

Apparently I'm going to have to stick with my Note 4 whether I like it or not.
It's being said that the Note 5 isn't coming to the U.K...which actually feel like a kick in the nether reigions after being ab avid Note user since the Note 2...I'm bloody furious if this is true & Samsung aren't going to launch in the U.K!
Yes, I'll be able to buy one on line, but that isn't the point!
Anyway, I treated my Note 4 to a Plumb Red LED cover back in May, so that's going to have to do me for this year! Arghhh, I'm still bloody furoius.
Anyway, I like to be able to be in charge of wether or not I use cloud services or an SD card...I thought choice is what android was supposed to be all about?

You can buy the Note 4 in the UK. Sob. Posted via the Android Central App

Sticking with my note 4!!! The 4 is a solid phone. Yeah its got its buggy-ness with touch wiz but if it bugs you that much ROOT IT and install CM12 and call it a day. NO phone is perfect. I've seen iphones screw up I've seen stock android screen up *cough cough no multi-window cough cough * anyway... Note 4 ftw. Hopefully they get the Note 6 right . I doubt it, but one can hope right?

I own a note 4 and theres no way i can buy that device note 5 plus they have the same specs i love the processor of note 5 exynos octa 7 plus 4gb of ram but the the non removable battery and non exapndable micro sd card is a big shit on this device.. i hope they get back the removable battery and expansion msd card.. many buyers will demand of what i said .. its like igalaxy note 5

I know what samsung plans bring apple lovers to love there products so they improve the desisn to a new level thus giving up some so called missing specs on note 5

1 year on from my Note 4 - my original battery only makes it though to 14hrs....I was never one to take a charger to work - so I simply pop in my spare and hey presto! Juiced up for another 18+hrs....This is why I won't be upgrading...hopefully Note 6 will be a return to function over form. Posted via the Android Central App

My god, Samsung has lost the plot. I purchased 4 Notes until now. I will be skipping the Note 5 in favor of the Moto Style and the 6+s. 64gb of storage is NOT going to cut it, Samsung.

I think they got rid of the IR blaster, too! WTF. My GF has a Note 4 and loves the IR blaster, it works great. I haven't upgraded in three years because there haven't been any new models I like better than my old HTC Evo LTE which still works great. If the next HTC phone isn't impressive, I'll just get a Note 4 or something next year.

Actually Samsung knows what they are doing. They know that most of the people complaining about removable battery, SD card slot and other technical stuff are a very small minority. It's mostly us, rooters, tweakers, who are constantly on tech sites and forums, who know more about phones. The majority of the people who buy phones don't really care about these details. Make the phone look good and make a lot of noise about it and they'll buy it. So, when people say Samsung is going to lose its customers, it will actually be a very small fraction (the tech-savvy). For my part, I have the Note 3, rooted and running an excellent ROM. However I think it's time to upgrade. If I didn't care so much about the S PEN, I would just get the Motorola Pure Edition or wait to see what the next Turbo is going to be because I don't like the direction Samsung has taken the Note. At this point, I might get the Note 4 and wait next year to see if there will be a better note. Posted via Android Central App

Agreed, but remember that some Note 4 models have locked bootloaders that prevent rooting. This would be the at&t and Verizon models. If I'd have known this I wouldn't have stayed with att. I'd have gone to Sprint. Or maybe T-Mobile, then rooted, unlocked, and back to att. Not that att is any more special than either one of those, but whatever you like. Now I'm stick with a great Note 4 that I can't root. Maybe someday. ..

Motorola is so happy right now. Samsung investors, not so much.

I dont get why people want metal/glass back which get scratches and hot in your pocket and with less grip, to than buy and put a thick plastic/ruber/etc protector around it... People are blinded by sales talks, note4 plastic back is much better/more functional and gave users more control over their devise than all this metal/glass hype.

What an idiotic move by Sammy. This will kill their sales. This reminds of when MS revealed that the Xbox One wouldn't play used games and would have to always be on-line to work. An equally stupid business decision. Posted via the Android Central App

Samsung. Love you but the Note 5 is lame! Note 4 will go up in value. Pls fire marketing and restart. You can win but not this way.

Cap at 64GB decides it for me. Keeping my Note 4 at least until the new Moto launches. Hoping the Moto X Style Pure is bright enough to make the change away from Samsung.

Who cares what it's built from. 75% buyers will put a case on it anyway and you won't see the plastic or metal and glass for Christ sakes.

But it looks pretty in the store...

Oh well, seems I'll be holding on to my G2 another year.

Why move backwards? Every Samsung phone I've had has needed a new battery or a spare extra. And moveable memory cards...well that's convenience gone! I'll wait. Maybe the huge drop in sales will prompt something better for the Note 6. Disappointed!

Because this is actually the Note 4 Minus.

I am stay with my Note 4, the loss of these important features is just too much Posted via the Android Central App

I agree with people being annoyed with the lack of removable battery and SD card support. I will say what bothers me more is that Note 4 seems almost forgotten about by Samsung. I have a Note 4 and love the idea of being able just to pull the pen out and jot down a note real quick without having to turn the screen on. I would also love to be able to double tap the home button to launch the camera and have those software improvements that improve the camera. I would also love to be able to theme my phone. I like the Material theme I've seen for the S6. Since all these are software improvements I don't understand why they wouldn't try to bring them to the Note 4. Why not bring as many of the new software features to older Notes as you can? I get that they want people to upgrade and buy new hardware but why would I? Samsung doesn't seem like they can be bothered to do any of this with the Note 4, how do I know that they aren't going to do the same thing to Note 5?

They do that with every generation, because they want you to want those features, and buy the new phone. If they made your Note 4 have those features, you wouldn't want the Note 5 at all. I certainly don't want it....

I get that but it's not best idea. That's why I said that. The problem is instead of making a loyal customer who is going to buy Samsung when I'm ready to upgrade, it just makes me angry and going to look elsewhere for my next phone. Why would I buy another Samsung knowing that don't bother upgrading older hardware with whatever features they can? Posted via the Android Central App

Hello customers today we introduce the samsung fire phone.

I will keep my Note 3 ,there is no big changes

Whats the purpose of faster charges when after 18-20 months the charge will only hold for 2 hours ON STANDBY. The ability to change the battery increases the life of the phone, of which, Sammy has no interest in users doing any longer.

Def sticking with my N4, which was a lagging POS until I installed a custom ROM (ty FK!!!)
From my experience, all SamSUCK phones tend to lag/SUCK over time--mainly due to their brilliant UI touchwiz.
So it doesn't really matter what the next big thing is...bc the next big thing is still going to SUCK.
Most ppl don't need a new phone. What they need is a custom ROM, which is equivalent to getting a new phone (for FREE)

Upgrades????? More like downgrades,,,battery charges used to be instantaneous with a battery change, now you have to wait like an iPhone. No SD slot, another downgrade, again more like an iPhone. SAMSUNG, what have you done? Trying to make an better iPhone???? I'll keep my Note 4, very disappointed on the direction the Note line is heading..

Hi my note 4 users. Guys am so disppointed with the new note flagship. ..how do you remove away the sd card,reduce on the battery capacity and keep the same mp of camera. ......Samsung do something

I'm a Samsung Famboi & I think my new phone for the Fall will be the new Motorola X WTF they are calling it. Same screen size, better specs, memory card & it's $400 UNLOCKED? Hell, maybe an Asus? Screw Samsung & thier collusion with the carriers (make no mistake, it is, with VZW'S new horrible plan) and this launch. No way $900 for a phone EVER again. My S6 64 is nice, but not that nice. Posted via the Android Central App

The G4 is already better than this Note 5. Samsung has been reduced to a bit player.

AS being die hard Samsung fan, i am very deeply disappointed the direction the company going. The main reason for induction of Note line was supposed to be for power users, and providing bigger and better specs than the Galaxy S line. When Note 3 came out i was " Wow'ed" by the specs and radically new change. There's no reason why Samsung cant make even bigger phones. Keeping removable SD and Battery option should cost them that much. Moto X the new version is a good option however, Moto is known not to make the best Camera out there. and just found out the specs for new Moto X pure Edition has even less powerful than the note 5 and uses older SnapDragon 808 chipset, http://www.ibtimes.com/motorola-moto-x-pure-edition-aka-moto-x-style-rel...

Here goes..... Defenately going to pass on the Note 5 and here is why.... 1. The 4 and earlier had expandable memory the Note 5 does not. I use my phone for work purposes and school purposes a lot and I could easily switch out memory cards to keep my work, school, and personal files seperate saving and storing them. I could take the memory card out, pop it in my laptop and work there wether school, work, home, or for fun. So when I run out of memory, I am forced to delete things. This is not good. I even used a memory card for just my music so I don't have to keep adding and deletimg music based on the mood I was in. The glass back. This is a money deal as When I drop it once, the back may shatter and have to replace it. While at work, I am also very mobile and use the phone a lot for pics, calls from my workers, management, teachers and now there is a massive increase in potential damage. I am very safe with my phones as I have only broke one in the last 8 years but accidents happen. So now I must file a claim through my carrier and dish out $200 deductable when it breaks. This on top of a very expensive phone in the first place, it is just not worth buying. They made another "S-series" phone. The Note series is starting to resemble the Galaxy S series phones. Keep the phones different or do away with one of them. Why have two phones that are 90% or more the same with just a different name. You seem to be making a iPhone with the Note 5. Glass back, smaller battery, non expandable memory. These were the reasone I stayed away from the iPhones and I will continue to keep away from them but when it comes time for me to upgrade phones, the Note series or galaxy series will probably not be the way Iam going to go. Non removeable back cover. What do I do when the phone freezes up and I cannot do anythimg to restart it, power it down. It has happened on my sons iPhone and while this is better than the iPhone, what do you do? We had to wait until the battery ran itself dead which took roughly 22 hours before using the phone again. This WILL happen to the phone, maybe not mine but someones and what will they be able to do to use it again. Smaller battery? Well this is just plain crazy. With new apps that are starting to draw more & more power and apps that continously run and run. With my Note 4, I can switch it out with another but not now. With being as dependent on phones so much anymore, making a smaller battery is STUPID. Having a faster charger does not justify a smaller battery. I don't always have access to a charger and when my phone goes dead now, it becomes a massive paperweight. There are a lot of nice new features for the Note 5 but I am going to start looking for my next phone to purchase. I will be staying away from Samsung as in my personal opinion, Samsung is starting to go down hill. I see Samsung losing a lot of money with the new Note. After talk8ng to others about the above downfalls, there are many that will not be getting the new Note 5. Sorry Samsung but you can do better. So for now, I am onto bigger and better things.

I totally agree with you on the aspect of Samsung trying to make an android version of the iPhone...waiting on note 6

Agreed, I went for a note 4 2 weeks ago after hearing the note 5 will be sealed up with no expandable memory and believe me am I glad cause I love my note 4. the all over build is fine, the extra memory that I hadn't got my s4 is gr8, the screen quality is excellent but the battery life is whats impressed me most as with my old s4 I went through 2-3 batteries a day and now my N4 lasts me all day plus I always have the option to take a spare battery with me if required. Soooo glad I didn't get the n5 as the n4 is the best phone ive ever had by a mile.

I'm really disappointed at Samsung for realesing a note 5 with no micro SD,lame 3,000 battery, all the hype and nothing I just bought the note 4 at tmobile store and the rep offer me the note 5 for 699 with 150 dollar bundle and I said he'll no...yes I turn down the note 5 32gb in black I rather used my note 4 with 128gb SD card bigger battery I'm happy

In my opinion, the LG G4 is better than the Note 4. Note 4 becomes unbearably sluggish and the camera is slow as hell.

Late to the party... not much of one for Samsung this year. Note 5 is a serious disappointment. At least keep the SD slot. I'll keep my Note 4. All my friends that ask for recommendations are getting the LG G4 or G3. If I needed a new phone, it would be the G4. Samsung messed up. Posted via the Android Central App

The G4 is the best android phone on the market still. The new Moto may topple it, but I'm not convinced yet. Samsung has clearly written off 2015.

You could write a billion articles glorifying the note 5 you can't convince me to buy it...will stick with what I have and see what they offer when the note 6 comes out..some of us like the idea of walking with a spare battery rather than sitting or standing near a wall plug and we also love our SD cards and IR blaster.

No sir. I don't like it. Posted via the Android Central App

Samsung failed to understand that to make it " worthy" upgrade is to make it better than note 4. After reading the reviews, note 5 is a backward direction from note 4. I have note 3 and looking for a worthy upgrade. Not convinced note 5 is it. It would made sense not only add more Ram and hardware changes but bigger screen than the previous version of note series. Samsung competitors LG, HTC already broke 6 inch mark. Is there a reason why a company as Samsung cant make that big? As for removable battery and SD, it is still a " must have" figure on all phones. By using Wifi and GPS 24/7 does require enormous battery power. As for GPS always updates every step you go. shrinking battery without battery optimization is a big mistake there. One thing i have noticed that is missing in note 5 is no IR receiver which is one of the most important figure to control your smart devices at home, and TV's. That figure is one of the reasons that made note 3 very popular. I will not be upgrading until the next note 6 or better versions of note 5.

I stopped reading at sealed back. Move along folks nothing to see here! Posted via the Android Central App

Amazing Samsung Galaxy Note 5 Quick impressions For you
Must Read : http://droid-simplified.com/samsung-galaxy-note-5-review/

mmmm, have you not read any of these articles, a fancy metal sealed casing with a glass back that will probably have a case round it isn't gonna do

Who ever suggested that Samsung go the S6, iphone, route with no open back should be dragged out to the streets and beat like an old rug. Then fired.

LMAO Man I have heard some funny analogies on here. Good one. Sounds brutal but the picture it paints sums up most people's sentiments. They will hopefully take the beating thats coming and make the Note 6 return to form.

I knew Samsung will do this move, they had to do it. Thanks to the media, yeah the back is still plastic, not a premium design, feels cheap compared to iPhone. Now there You have it. A premium phone inside and out. But what about us? Customers, who wants the removable battery, SD card slot etc...? Those times are gone, so grab a note 4 now, because after the note 5 in stores, the note 4 will be more expensive, that's for sure.

Your at a party, and across the room you lock eyes with that beautiful/handsome specimen smiling back at you. You slowly cross the room, thinking about how much you enjoy looking at this person and feel you could just live out your days with them. THEN..........they open their mouth and start talking about themselves. You find out how shallow and mindless they really are compared to the last person you were involved with. They weren't quite the "arm candy" as this one could have been, and all they have to talk about is how pretty they are and how hard they work to keep their slim physique. But when the conversation evolves to other things, you quickly come to the realization of how much it means to you to have substance in your life instead of image. You gracefully find a way to end the conversation and rush back to the one that fufilled your every need. Lesson learned. Note 5, you had me at hello, then you opened your mouth and revealed how little you had to offer. What a shame.

Well said and well put. You need to write books. I could picture every word. Good stuff.

I'm going to have to step up and finally buy the Note 4. I have been waiting all year for the price to drop. It will be the last Samsung phone I own so it might as well be the best Note available.

do it right away as you wont regret it , I got mine last week and absolutely delighted would be an understatement

Outside of the upgraded touch sensor and supposed cut-down on lag between the s pen and digital ink on the screen being spread, I don't see any of the changes form the 4 to the 5 as improvements. Samsung obviously worried about cosmetics more than functionality. I work for AT&T and I GUARANTEE you that the Iphone 6s sales will trump the note 5 sales so drastically that you'll see a higher number in note 4 sales from people with a note 3 holding out. I love my note 4 and am so glad I got that instead of the Iphone 6 in anticipation for the note 5 to come out. Big fail. The note 6 better be AMAZING. WITH AN SD CARD SLOT!!!!!!!!!!

I've got the note 4 and it is still a powerhouse. Its fast, has a great screen, AND I CAN SWAP OUT THE BATTERY AND ADD EXTERNAL STORAGE. Im keeping the 4. The 5 is definitely NOT a significant upgrade. Besides, I will no longer do business with a company that ignores what their customers want . I could've lived with a sealed battery IF samsung put in a bigger, all-day battery(at least 4100 like it was rumored), but I definitely want my SD card slot back. When I get my next phone, Sammy had better revert back, or its so long.

No way. Will keep my note 4. High price for what? No change battery. Not a biggie. But external storage. THAT is a biggie!!!÷.

I don't get it....If Sammy is trying to be like Apple....Why do Apple people want batteries that don't change out or memory that don't change out. Common sense would tell me that Apple users would probably hate that the batteries or memory cant be changed out?

I haven't really done my homework on this topic, but, based on what others have written here, the note 5 sounds as if Samsung scrimped slightly.

Well I say probably the most retarded thing to ever do to a phone and that is seal the battery in and take away expandable memory like okay and can you push on it like a click pen and it pops out yeah how long until that thing fails and then your pens stuck in there and ok you yet another whole gig of RAM but not very practical if its not optimized try as well as the fact of Hey 3 gigs of ram was just fine on a 32 gig phone because it's expandable to 128 gigs by an external slot so being stuck with 32 or 64 gigs max does not seem very comparabl now being able to use the pinhole the phone to sleep that's kind of cool but you know I've only had my note for maybe 3-4 months now 5 at the most and I have been a big lg phone ever really like Samsung once I got the note 4 I'll figure out a way to keep this thing alive till I'm dead I've got a total part and replace motherboards and processors and whatnot myself to monster it out to be equivalent to phones that are in a come out 10 years from now rather do that than get stuck with some sealed up POS that I'll end up thrown against the wall just to get it open so I can replace the battery haha besides I went without a phone or any communication to the outside world for a solid month because I live out in the middle of nowhere just so I can get the note for had no way of communicating with anyone not even internet on a tablet or computer or anything set and talked to the walls until that month was up so I can have my note 4 and then what do i do I go and buy the Samsung gear 2 SmartWatch and then I get the oculus rift innovator developer edition goggles so like why would I bother upgrading to the 5 when it just seems like I polished up turd and yeah I don't even like Mac iPhones and iPads and iPods and what not like their special connections and blah blah blah blah sounds just like Adele you get a Dell computer you better put the parts in it otherwise it's not going to work properly and I think you like to get creative boost and add my own Frankenstein idealistic parts and see what kind of monster I can come up with hahaha well time for my educational reading so I can figure out how to design a couple apps for this oculus Gear VR from Samsung like an example Sony PlayStation's Ace Combat version of a flight simulator or how about a full blown call of duty black ops for when you look at your buddy who's got his BR headset on you guys are on the same server when you look at him he's got a different skin showing these lonely enemies I did you look at you you got your camel or what not near guns and literally run around and shoot each other even though you're not really running around or make it to where you could run around make a picture in picture that way you like it so much transparent you can actually see the outside world cuz oculus lets you you from the rear camera so and its 16 megapixel get off early good graphics so how fun would that be actually instead of sitting there areno run around in runnin and gunnin or sitting there waiting in sniping spawn trapping or whatever you do actually like run around and do you know like the whole Nintendo Wii in the PlayStation Move in the Xbox Kinect like let's get these lazy gamer kids off their butts and get him to exercise or whatever let's just give him a bunch of headsets and thrown in a field and say alright go to war just my thoughts you can make a chair that like actually responds to whatever you're doing with your oculus VR headset on and like while you're in the simulator Tilton you and rolling you and every pretty awesome too alright I'm rambling or make it like it is Jarvis world be the next 20 * about you to do is put it on and go to S 10 or whatever and then leave also needs can you just look at the keyboard and I'll send you can just start typing in the air cuz you really don't have to be touching anything as long as this where you're looking your I don't know ramblin again mama put it like snoop says G's up hoes down while note for words up in I know fives down and being sealed all the way around it's just bound to drown

I need a better way of doing talk to text because really loud tone deep voice and don't really annunciate you know I don't really like Jeff Gordon I'm more of the whole backwoods Boomhauer status and talking like I roll two words in the one then why not less energy out of me trying to tell somebody something when I could be using that energy elsewhere concurring with all you note 4 lovers and designing ideas brainstorming ideas 4 the app that everybody needs for the oculus VR haven't quite gotten to that number one hey that's a winner winner chicken dinner but sure most of you that read my comment I figured out what I was saying hopefully cuz I can barely figure it out and Im the ine who said all of it

Bought the Note 5 3 days after its release. I owned previous Notes, 2 & 3 and was disappointed with both those devices performance. Anyways after hearing positive feedback about the Note5's performance, I decided to give it another shot. Have to say I was happy the first few weeks with the performance. It's not as smooth as my HTC M8, but it's close. Sadly, after about 3 weeks I already started experience problems with the performance. All the sudden, at certain times the phone is either having troubles loading a website, or won't load at all. Gets about 3/4 of the way and stops, retry and nothing at all. Pull out my M8 and try the same website, in a instant it's loaded. Have to go back to T-Mobile and find out what's going on. Anyways I see many comments about the battery. I do have to say the battery is fantastic on the Note5. I am a heavy, heavy user, games, movies, YouTube, web browsing and this battery always has something left. And the speed of how fast it charges is ridiculously great. Very good camera and fantastic screen as well on the Note5. I am dissapointed that the s-pen no longer can cut out a paragraph or a certain picture on a webpage. That was one of my favorite features about owning a Note. Again as I said, performance is what's most important to me. I hope T-Mobile resolves this, or I'll have to look elsewhere for my bigger screen device, maybe give the iPhone 6s a shot. Have to use my M8 to leave this comment as I'm having troubles with this site on my Note5

Not sure how many people (other than me) use the IR blaster on my Note 4. Found it interesting how they put the IR blaster on the S6 this round, but removed it from the Note 5. Which phone is actually the flagship this iteration, the Note series or moving back to the S series? Maybe they'll get it right (again) next year when they go back to what worked in previous generations.

Samsung Galaxy Note 5 N920 32GB Black Factory Unlocked GSM
Black Gold White
Display: 5.7 inches 1440 x 2560 pixels (~518 ppi pixel density)
OS: Android OS, v5.1.1 (Lollipop)
Internal Memory: 32GB, 4 GB RAM
Camera: 16 MP, 5312 x 2988 pixels.
Video: 2160p@30fps
in Amzone Store
http://www.amazon.com/gp/product/B013WACF4S?ie=UTF8&camp=1789&creativeAS...

I Love Samsung not because of its design or its software but because of a wide range of app availability and that too is mostly free. If you are buying a new phone then do check this link out http://urbanblurbs.com/iphone-6-plus-vs-samsung-galaxy-note-4/
Android Central Newsletter
Get instant access to breaking news, the hottest reviews, great deals and helpful tips
Thank you for signing up to Android Central. You will receive a verification email shortly.
There was a problem. Please refresh the page and try again.