New Samsung 'DeX Pad' dock could launch with Galaxy S9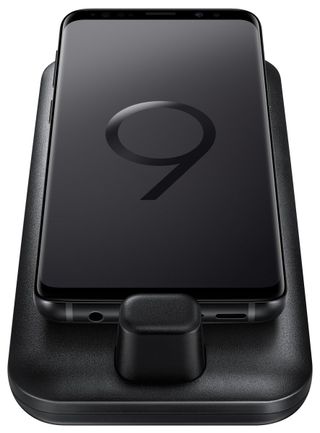 Samsung's attempt at turning your phone into a viable desktop computing solution debuted with the Galaxy S8 and the DeX Station. The next evolution, according to the latest leaks from @evleaks, is a new "DeX Pad" dock that will launch with the Galaxy S9.
The new DeX Pad is designed to hold the phone flat, rather than standing it up somewhat awkwardly. Not only would this new flat design be more compact for carrying around while still accommodating various phone sizes, but it also opens up the possibilities of using the phone's screen as a touch pad. With the phone's screen held down on the desktop to be used for the cursor, you'd only have to connect a keyboard and not a mouse.
You still have USB-C power, two USB-A ports and HDMI out for a display, and there seems to be a cooling vent system still as well.
Of course this isn't a unique idea. Different versions of the "phone is now your touchpad when docked" have been used with systems like Microsoft Continuum and Huawei's Mate 10 EMUI desktop solution. Razer is testing the waters even further with its Project Linda laptop that uses a phone in the place of the touchpad.
Samsung Galaxy S9: Rumors, Specs, Release Date, and More!
Regardless, it could only help DeX adoption, which is something that definitely hasn't caught on in the year or so since it was released. Even with the super-powerful Galaxy Note 8, launched just six months after DeX was first announced, the feature was hardly emphasized by Samsung. The use cases for having these docks and using your phone as a pseudo-desktop computer just haven't caught on at any real scale.
Andrew was an Executive Editor, U.S. at Android Central between 2012 and 2020.
This looks cool. I can't wait for them to release it

Prefer the phone up and not laid down

Then buy the station. This is not a successor. It's an option.

I will hold my reserve judgement, too many attempts at this so far and pretty much all of them failed, either they were cumbersome, wildly laggy, underpowered, or just flat out sucked when it came to actual productivity. Then there's things like the Atrium which was a colossal failure so the pendulum swings wide with these type of products. As a former product tester I've had my hands on so much potential stuff like this only to be let down.

The dex is fine for what it is. I enjoy using mine. It is a niche product for sure though. I hope that you can use this with a case. The dex can't be used with a case, and I had to get an extension cord.

The DEX can be used with all the official Samsung cases except for the rugged one.

Yep. Use my official samsung case with no issues at all on my dex.

True. I should have clarified, no case that protects the bottom of the phone works. A few of the Samsung cases work but they have an open bottom.

Yes, well not everyone likes bottomless cases.

I'm not sure which case you're referring to as "the rugged one", but when I plug my S8 with the S-View case into my DEX dock, I get an error message from DEX telliing me I can't use the S-View case with DEX. Seems to work OK otherwise.

Same here, had to get an extension to use. With that said, however, I think it is a very good start on using the phone as a PC. I started years ago with Continuum and DEX has been a nice improvement.

Keep iterating, I love where this is going.

i have a dex and like it but it would be so much better if teamviewer worked properly with a mouse.

I would buy a DeX, but not at the price they think it is worth. Price it cheaper and I'm fairly certain they would sell more.

Yup. Price is keeping me away.

That's why I love my Huawei Mate 10 Pro. I just use a £6 USB C to HDMI adapter.

There are alternatives that work as well for half the price

I bought one of the cheap dongles for $28 on Amazon, it's super small compared to the official Dex dock. It only has one USB 3.0 port, HDMI, and USB C in for power so only missing one USB A and ethernet port which I can live without. Oh and one of the big features mentioned in the article, using the phone as touchpad already works on my cheap knockoff adaptor! Biggest advantage to me is it's super small size, I can stick it in my pocket and use on the go with my battery pack.

Isn't this option still behind Continuum though? With Microsoft's option you could still use your phone for other things while using the monitor as a desktop solution. Can you do that with DeX?

No. The phone goes to sleep

No, but at the same time Dex has a proper taskbar, desktop shortcuts, system tray, resizeable windows and a relatively smooth performance. Continuum was half-baked and laggy. Everything was full screen, desktop was useless and taskbar was split into notification bar and navigation bar. It also would not let you open apps that were "not optimised for continuum", while dex allows you to open anything, but warns you about lack of optimisation.

Fair enough. I'd still like to be able to use the phone while docking it. That'd be cool. Never got a chance to use Continuum either.

Meh.. I'd rather use my Kangaroo Pro which looks like it's about the same size, doesn't tie up my phone and runs Windows 10. I'd like if they could make it run ChromeOS but I know Samsung likes to push their own stuff so I don't that'll happen.

I still really loved the Motorola Lapdock for the Atrix/Photon. It worked fairly well and even loaded up full desktop browsers and OpenOffice. And because it didn't need any big innards, the laptop portion was a hefty battery that charged the phone. There were just one or two update issues and those were never addressed or even fixed with a rooted phone. Heck, Motorola reneged on their promise to update the phone to ICS. It stayed stuck on Gingerbread from launch to death.

I agree. Need a Dex Book. A screen, a keyboard, a pad and a battery in the chassis of any Ultrabook with a builtin dock for the phone and viola a real computing solution. Dex is great but Samsung should consider aiming for laptop replacement not a desktop replacement.

The idea of Dex and this is cool. It's definitely a niche market, though.

Until the PixelDock drops. Then everyone will have one!

It will be the "Best Android dock you can buy" -- Andrew Martonik Speaking of which, I wonder when AC will publish "Best Android phone being the subject of a class action lawsuit"?

Lol! We all know superlative laden lists rule the internet...

Other phones can do this with a cable....for much much less....

Huawei Mate 10 Pro, Huawei Mate 10, Microsoft Lumia 950, Microsoft Lumia 950, Microsoft Lumia 950 XL, Alcatel Idol 4s, HP Elite X3

Name three relevant phones....

You must.luve under a rock if you think those aren't relevant.

Only the first two are relevant..the rest are junks from MS's failed pathetic OS

What Dov said. Also that isn't even counting the wireless solutions and casting.

Other phones can even cast the desktop to a screen wirelessly with no extra hardware at all.

I love the concept but really, why use it?
If I need a computer with me then it's way more logical to buy a laptop and use it at home as well as at work and school...who's carrying his screen and keyboard in order to use this? I have my note 8 and I didn't buy this because of its price but I want it as a toy, not as a productivity gadget.

Watch Easy Computer Solutions on YouTube. This guy runs his business on a Note with DeX.

For me it is interesting. I have a MacBook Pro for work, and I travel a lot. I also have an Asus Zenscreen that I can plug into my MacBook to have a 2nd screen in a hotel room. I could see me using Dex with my Zenscreen while in a hotel. Granted, seems like a pretty unique scenario

I winder why no one is talking about the headphone jack

This Dex model is an instant buy for me because my current model doesn't allow access to the headphone jack.

I think the limiting factor was the cost. A bunch of 3rd party Dex stations are in the under $50 price range. If the official Dex cost that much, would've sold more.

I'd rather see a laptop/portable variant similar to the Razer system. I have a Dex and use it semi-regularly with my monitor (ultra wide LG, which isn't fully supported unfortunately) and Logitech Marathon Moise and multi-device keyboard. I really enjoy the functionality, though overall it could use some polishing and better software support (I'd like to watch Netflix full screen). But I have a desktop already and it has a purpose and I don't think can ever be fully replaced. I see Dex as a great portable tool, for landing your phone to a desk when travelling, etc. And Dex could fill that role, but only if there is already a monitor, keyboard, and mouse. By the time you pack and haul those components, you would be better off buying a laptop instead. I think a well executed laptop phone dock by a big name like Samsung, that is priced right, could really go places (no pun intended).

The inefficiency of carrying so much gear around is exactly my point. But I can't see where you're going with the laptop variant...I mean, Razers "Linda" is cute but a laptop would still do the job and probably better.

A laptop might do the job better; but that is entirely dependent on what the "job" is. I think for a lot of people, a Linda or Mirabook style notebook would be perfect. It's utilizing the connection you already pay for, has a lot (or most) of your data already on it, and applications are installed in one place. If you're on a vacation for example, and you end up taking a bunch of photos at the beach or wherever, then you can go to your hotel room, tweak the photos on a larger display with a mouse and keyboard and share them right away without having to do file transfers or be limited to doing everything on a ~5" screen with touch input. The advantage Samsung could have is that they already have all the ingredients. They make the phones, they build laptops, they produce all types of displays, and they've already written and implemented the software. On top of that, they already have distribution networks, a strong retail presence and a name that is instantly recognized in probably every household in America (and probably everywhere else). They just need to throw those ingredient into the right pan and cook it up. These Superbook and Mirabook are crowd funded and I have my doubts if they will ever take off (which is why I haven't pledged yet) and Linda will be limited to Razer phones, as far as I know at the moment. Samsung could design, fund, produce and distribute in a fraction of the time it will take these other companies to get off the ground.

I agree. I think a reasonably priced dock in the from of an Ultrabook would be an excellent iteration for Dex. I appreciate the desktop paradigm and I think it has utility for a certain niche but I also think it has drawbacks. First, it is not portable. Second, it is not all-in-one. A "dock book" addresses those 2 and increases the possible customer base for Dex considerably. Imagine a Dex Dock built into something like a Zenbook chasis (I know that is Asus but hopefully you get my point).

I had a Zenbook once upon a time and absolutely loved the form factor. Samsung could call it a DexBook. :) I'm with you on the desktop paradigm. I do use my Dex semi-regularly at home, but if it were portable it would probably see daily use. There is a lot of potential, and Samsung could really deliver a good product.

Sorry but there is zero market demand for this. I could see it being a useful feature in the future, but right now no one cares about it, no one wants it, and there is no compelling use case for it.

Well thanks for speaking on everyone's behalf and deciding what we want or need. Please tell me what we should have in our next phones?

I was hoping he could tell me what I want for dinner tonight.

I'll be buying two, one for my girlfriend and one for myself.. you should also be able to run Photoshop and such on it like I do with crossover on my Chromebook! I'm so excited to get the Dex pad! One of the main things I'm looking forward to with the s9..

I hope the USB C Plug is much longer this time so we could use it with a bloody case on.
Also I'm sad to see that Ethernet port is no longer there.

So exciting! Nobody else is being as creative as Samsung is right now with their products! I think this is the next big thing in computers... What else would you rather have? Maybe an ugly notch and over hyped stickers? Lol I thought as much.. And as a photographer I'm really looking forward to the camera, that with the Dex are really the two main features I want! I'll be upgrading from the old S7, can't wait!

It's not as successful as it could be because a 'pseudo' desktop experience is retarded. We need phones with bigger storage, and a Microsoft deal to happen. We want android phones when mobile, and a full Windows experience when docked. The same for the IOS people... an Iphone that turns into a full MAC OS experience.

I like my DeX dock. While I prefer a mouse, I like this option.

Don't know about you, but same same but better? Sammy playing it safe and do what works with S8 with incremental updates.
Android Central Newsletter
Get the best of Android Central in in your inbox, every day!
Thank you for signing up to Android Central. You will receive a verification email shortly.
There was a problem. Please refresh the page and try again.