Poll: Has your Pixel 6 or Pixel 6 Pro experienced any problems recently?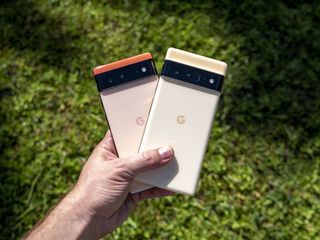 (Image credit: Nick Sutrich / Android Central)
The Pixel 6 bugs are pretty well-documented at this point. While the hardware is mostly great and a big improvement over previous Pixel models, the software experience has been pretty problematic for many Pixel 6 owners. That's a bummer, too, given how much Google hyped up the software side of things thanks to its new Tensor chipset powering the AI behind it all.
Of course, no phone is perfect. Even the best Android phones have seen their fair share of problems, especially following the Android 12 update. That said, some users don't seem to be experiencing issues as often as others. For example, Android Central staff members who use the Pixel 6 seem to have fewer problems than those with the Pixel 6 Pro.
We're wondering how this translates outside of our small test group. Do you own a Pixel 6 or Pixel 6 Pro? If so, have you experienced any of the major bugs?
Part of the discrepancy is that many users who downloaded the December update had significant network issues. But not everyone received the December update, particularly many U.S. Pixel 6 owners. So it led Google to halt the update until it could iron out the problems, which would be rolled out in a fix alongside the incoming January update.
Let us know in the comments which update your Pixel is on, whether it's from November, December, or the recent January 2022 patch that's become available for the devices.
A safer bet
Battery king
The Pixel 5a is one of the best ways to experience Android, thanks to its fast updates and long-lasting battery life. Plus, you'll be among the first to try out the latest features from Google before anyone else, including first dibs with Android 12L and Android 13.
Derrek is a long-time Nokia and LG fanboy who loves astronomy, videography, and sci-fi movies. When he's not working, he's most likely working out or smoldering at the camera.
I have the 6 I'm on the January 5 update as of the 14th. No problems, with update on 14th was the first time I had restarted the phone in 18 days. Most people that have problems are people that have problems with every device or people that expect ever device to operate the same. You have to learn your device not cause yourself problems.

Not quite the situation with the 6 and 6 pro, but ok 👍...

Exactly! If you don't have signal, just learn to have signal! If you tap a text field and the keyboard doesn't pop up, just alter your expectations to not include a keyboard! Gods I love an apologist lol.

LOL... gymnastics at their best!

Well i almost peed my pants before i read this comment. Now you owe me a new pair of underwear.

Let's not assume we don't know how to use our phones. I've been using Android since Froyo and have been using Pixels since their inception. My Pixel 6 is so irritating that I moved my sim back into my Pixel 5 and have been seriously thinking of selling it. I have no idea if the fingerprint sensor is good or not because the phone keeps locking itself and demands a pattern. The cause is known and remains unfixed, and while a couple of the 260+ people following the bug report say the January update fixed it, Google doesn't say so and it didn't fix it for me. Turn on smart lock and see how it goes for you. You may never have to use your fingerprint again.
https://issuetracker.google.com/issues/204539734 I did install the December update before they pulled it (no network problems) and yesterday installed the late January update and also the security update. I set the phone down for 20 minutes and it locked even though I was in my safe area and my connected Bluetooth device was a foot away. I only use the Pixel 6 now for software testing, I'm back to the 5 for daily use which works flawlessly. The 6 also has Bluetooth issues for me, it will connect to my Chromebook but the hub can't find it, and our smart door lock doesn't see it either. The 5 has zero issues with either of those. I'm a devoted Pixel lover and have never been so disappointed in Google. One of the users in the bug report has already put his Pixel 6 on Swappa. This particular bug renders the phone unusable.

Great phone, but has a lot of annoying bugs. A lot! I've had the 6 pro since launch and use it hours a day everyday and the bugs are annoying. I know everyone is screaming how bad the finger print scanner is and it is bad, but not the end of the world, although annoying when you want to open your phone quickly to show someone something or quickly do a task. I came from the OnePlus 8 pro and I'll never admit this to my wife because she got me the 6 pro for my bday, but I miss my blue OnePlus 8 pro. It was just snappier and never annoyed me.

The December update screwed with my cell signal. Updated to the January update, so far so good...

Than it's not just the pixels that have have signal issues after the last update, my S21 Ultra has signal issues as well.
Although today it's seems to have settled in abit. I guess i learned how to have a signal.

My issues are just the Bluetooth issues with the LDAC codec. Once those are fixed, then I'm as happy as can be with this device

hardware seems fine, other than perhaps the fingerprint reader is something they should have spent a few more cents on for a better sensor. software is mostly good. the parts that aren't mostly good are really bad--for example casting fails for me (on two separate P6Pros, where 5a, 4a5G, 4XL all cast fine).

Yes my Pixel 6 Pro has had problems mostly regarding software. Prior to yesterday's January update apps such as Twitter, Amazon, Nest were very very slow to load images. Finger print scanning was ok, but after the January update the loading of images have improved, including finger print scanning. Still not perfect nor as fast as my iPhone 13 Pro, but getting there hopefully.

I bought a pixel 6 pro on the first day of launch and till today I have had no problems. Ad a matter of fact it had been a delight to use. I have a house full of iphone users who work inn Apple and they are around by the look, the swiftness and the sounding camera quality.

No issue whatsoever with my day 1 pixel 6 Pro. I've pre-ordered the phone and got it 2 days earlier :)
Seeing so many issues other users experienced, I thought I was the lucky one. But now, seeing the result of this poll, it's clear that we, the ones without the issues, are the majority.

I have the 6 Pro on the January update now, but I never really perceived any major issues with the December update. I've had it since close to launch, and though I noticed slow fingerprint reading at the beginning, that seems to have been largely resolved. I'll still need to test out wireless charging again, but that seemed to have had a minor issue when I first obtained the Pixel Stand. I do note that I seemed to get an NFC read at a much longer distance than I expected while I was shopping earlier today, but not sure yet if that's a bug or feature.

I have the Pixel 6 pro. I had the December update and now the January update. I haven't had any issues. Love the Pixel 6 Pro.

Mine did do a random restart which made me check to see if there's an update. Sure enough, there was an update. Overall, very happy with my P6.

I have the P6P. Minor issues only - none of the connectivity or other major issues that others have been plagued by. The big Dec/Jan all at once patch seems to have fixed my small bugs, but I was fine with the phone prior to that and am still happy with it now.

I installed the December update right away after setup was finished on my Pixel 6 Pro and had no issues whatsoever.
Installed the January update and it's still all good.
Such an incredible phone, so fast, Wifi/5G is fast, and battery life is just unreal.

Not a good idea to have a poll like this! I do not own a Pixel and therefore I did not vote. However, how many biased people did vote who don't own a Pixel thereby skewing the results? LMAO

I have the 6 and I've had a few inconsistent stability issues. Nothing horrible, just annoying.
Just installed the update yesterday. So far it's been very good
Fingers crossed *

I have Pixel 6 Pro, husband has Pixel 6. Neither of us have had any problems. We didn't get the December update, but are now on the January update. Works great, served us very well taking lots of photos on a December trip out of the country.

I'm still on the November Security Update. No problems...

I have a 6 and haven't had issues until the January update ( never got the December ). My Bluetooth stopped working. I just noticed it while driving today. Phone connects and knows about my car stereo but audio only comes out of the phone. I tried forgetting and re-pairing with no improvement. I tried with another BT device (Bose speaker) with the exact same results. Waiting for online chat with Google support now.

Just used my new PIxel Pro 6 and the call sound quality is perfect EXCEPT the fact the phone randomly moves from Spearker to Bluetooth and Phone as I am speaking. I tried taking the case off, rebooting the phone,etc... HORRIBLY annoying for a 1,000 phone to do this.. Fix it!

I too am on the January 5, 2022 security update but my issue has been present since day one. My Pixel 6 will put itself in Do Not Disturb mode. No rhyme or reason, it just switches. I can't seem to find anything or anyone with the same problem.

I have the Pixel 6, which I purchased the last couple of days in October. I received the phone early in November, and it loaded the November update as soon as it was turned on. I did not receive the December update, nor did I sideload it, and I received the January update. I have not had a single problem with the phone before or after the January update, and I use the heck out of it.
Android Central Newsletter
Thank you for signing up to Android Central. You will receive a verification email shortly.
There was a problem. Please refresh the page and try again.