Poll: Are you reserving the Samsung Galaxy S22?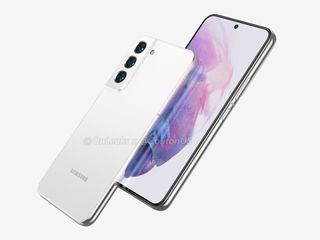 (Image credit: Steve McFly / Twitter)
Samsung is finally preparing to launch its next flagship smartphone series. The Galaxy S22 is set to launch in February during Samsung's next Galaxy Unpacked event. While there's no exact date yet outside of rumors, nor do we have any official specs, Samsung has already opened up reservations for anyone expecting to buy the phones.
Have you placed your reservation, or are you planning to?
During Samsung's announcement, the company's president and head of MX, Dr. TM Roh, teased what we can expect from the new series. In the process, he dropped plenty of hints that the Galaxy S22 Ultra would be a spiritual successor to the Galaxy Note 20.
He spoke about the history of the Galaxy Note series and told us that Samsung would introduce "the most noteworthy S series device" at the February launch.
While specs are unconfirmed, we are expecting the Galaxy S22 series to be powered by both the Snapdragon 8 Gen 1 and Exynos 2200, depending on the market. The S22 Ultra is said to feature a new design and built-in S Pen, unlike last year's Galaxy S21 Ultra, which had an optional S Pen that required a case to be held with the phone.
If you place your reservation for the phones on Samsung's website, you will be among the first to receive the phone when it launches. You will also receive a $50 Samsung credit which you can use on accessories and the like, plus other perks when preorders open.
In addition to the Galaxy S22, you can also sign up to reserve the upcoming flagship Galaxy Tab S8, which has also cropped up in several leaks. The Tab S8 Ultra is expected to feature a notched 14.6-inch display and may also be powered by the Snapdragon 8 Gen 1 chipset, which would make it one of the best Android tablets of the year.
Let us know below if you're placing a reservation and which device you plan to buy.
Get the Android Central Newsletter
Instant access to breaking news, the hottest reviews, great deals and helpful tips.
Derrek is a long-time Nokia and LG fanboy who loves astronomy, videography, and sci-fi movies. When he's not working, he's most likely working out or smoldering at the camera.
First thing yesterday! I'm excited to see the future of my beloved Note. I only hope that the S22 Ultra has expandable memory.

Can I get a "not an American" option? Also a hoya.

I sincerely hope this phone is a whirlwind success being a long time Note Aficionado. However, for heaven's sake, I hope also that the reviewing and hoopla surrounding it's release are more 'accurate' than the blustery faux accolades regarding the Pixel 6 Pro. While a decent phone, after months of use, it has it's real time faults that were 'brushed over' by a number of reviewers, save for a few, with quite a few problems that all of a sudden emerged upon the Pixel's release. The one glaring fault, for those who use cellular rather than Wifi, is the overriding amount of battery drain from the Mobile Network Standby, due to it's unbelievably weak modem. Hopefully Samsung, with all of their resources, will release a phone worthy of the Note pedigree and that the reviewers will be fair and accurate in their facts and opinions.

Pixel will always get a passover especially on AC.

It would be nice if these gadget bloggers would realize that they have zero impact on consumer choices and instead of trying to sell things with lies they instead write interesting things about tech. But, I guess it's the plague of the internet. It's "free" so the "writers" sells fake opinions.

AC used to do that...when it was run by people with a dorsal spine (Phil) and was not part of a mass media conglomerate.
Still, it has been worse. During Bader's tenure AC hit rock bottom. The guy was absolutely inept and a train-wreck. He was a tool and never managed to write anything worth reading, turning AC into a vehicle for his dumb opinions and questionable tastes, nothing more. Now AC is better but, just like any piece of media that gets bought by a big corporations, it's mostly a glorified propaganda machine to whomever pays the bills. That's why I normally only bother reading things written by Jerry or Ara. Those two have been consistent safe bets for a good article through the years...everything else, read at your own peril.

have to sadly agree. The site and podcasts have gone downhill since Phil left.

Correct, example, there is a header in every forum pointing to the Pixel 6 forum. Not advertising, at least not listed as advertising. Not sure why AC feels the need to be Google's love child. Pixels always get a pass on any issues. I will change my opinion if the forum header changes to point to the S22 forum on release of the S22.

I signed up for the plain ol' S22. But a reservation doesn't equal a purchase. I like the headphone jack and expandable storage of my S10. Samsung has their work cut out to convince me it's worth giving up those features to buy the S22.

I signed up as usual with Samsung early reservations but at this time I don't think I'm going to trade my Z Fold 3 unless it's a deal I just can't turn down I'll wait on the Z Fold 4 in August. I am happy enough with the fold 3 and also have a pixel 6 which is fine happy enough with both but I tell you what that note 10 plus and note 20 ultra both was so darn good I miss both.

Yes, but I'm not even considering buying unless there's a 1TB option.

I have the Fold 3 and will be buying this kind of phone going forward so the S22 product range does not interest me... Will definitely keeping an eye out for the Fold 4 or Fold 5 when these are released...

I agree. Bought a Fold 3 last month. Moved from a Note 10+. I don't see myself going back to a slab phone.

A53 is what I'm waiting on, other phone is too expensive for my budget.

I'm waiting for the next version of foldables. Not getting a new phone unless it folds.

I have a brain an a more feature-rich Galaxy S in my hands still.
I'm not touching this garbage with a 10 foot pole. This is just another flop in the making, exactly like the S20 and S21. Same sh*t, different name. Just like the fruit phone Samsung is desperately trying to copy.

So, got a 3.5 year old Note 9 and might be interested in another one. Does the 'new' Note come with pretty much on-time 4 years of OS upgrades like the iPhone a family member bought the same time I bought my Note? Oh, and I mean 4 years that don't include the OS upgrade that comes out the month I buy it and take delivery, too?

I believe the policy is 3 Major OS upgrades and 4 years of security patches.

Reserved but probably won't purchase one if the rumors of $1299 base 8gb/128gb is true. I realize this is an android website but that's a tough sell when the 128gb 13 pro max is $1099. Come on Samsung.

Will be interesting to see the prices. Last month I bought a brand new unlocked 512GB Fold 3 for $1099. I was able to get it several hundred $$ even cheaper by trading in my 3 year old phone. So my final price was a little over $800. I could have saved money if I had sold my phone privately, but saved time and avoided chance of fraud.

I'd get one, but my S10 has stuff that Samsung has discontinued -- MST payments, headphone jack, SD card -- and I'm not ready to give those up. (I could live without the headphone jack and the SD card, I suppose, but I still come across stores with non-NFC credit-card terminals.) So, I plan to muddle along with the S10 for a while longer. I'd be tempted to go with the Z-Flip 3, if it were a little cheaper and had a wallet big enough to hold a credit card and drivers license.

Yes, I reserved the Galaxy s22 Ultra. I like the foldable phones. They have great potential, but they're just not there yet for me. I'm looking forward to upgrading my Note 20 Ultra. Did you read that correctly? UPGRADE is the key word. If the rumors of 8 GB of RAM are true for a base model with the price of $1300, I will not consider that "upgrading". If true, that will be a no-go for me and I'll probably end up with something like the OnePlus 10 pro.

I love the Note series but I have the fold 3 so my eyes are on the Tab S8 Ultra wifi edition. My options are open if they are offering big trade in incentives on either ultra device...

Not interested im being a guinea pig for the SD8 Gen1. That aside there isn't enough of a change to anything else to make me even consider it.

I signed up because there is no commitment to purchase anything, and if I do decide to upgrade to a new S22 I may get some additional perks.

Since Samsung downgraded their designs years ago to locked in batteries, I do not buy flagship phones anymore. I used to buy 2 flagship phones regularly. And to date, I have actually not bought ANY phones without consumer replaceable batteries. Also, the micro SD card is absolutely required. When I buy a new phone, it will, regrettably, be a cheap one and with NO carrier warranty. I'll put an Otterbox case on it. When the battery burns out, I'll take it to a 3rd party repair shop to replace it. And if/when it breaks, I'll buy another cheap two of them, individually as they break. Since I can't replace/upgrade my battery anymore, I'll buy no more flagship phones, or warranties. Until this design policy of planned obsolescence is eliminated and the replaceable batteries (and micro SD cards) return due to the sustained and overwhelming consumer demand.

Nope. I just bought a Samsung A52s 5G and that will last me a couple of years.