Poll: Did you cancel your Pixel 6 order?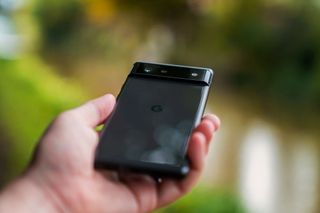 (Image credit: Alex Dobie / Android Central)
Many people have received their Pixel 6 devices, but the phones are still relatively hard to come by for some. Google has waitlists in place for those trying to snag a device, but you'd be hard-pressed to find them readily available. However, that may be for the best, as some people have reportedly canceled their orders in the wake of various bugs affecting the phones.
No phone is perfect, and even the best Android phones are not without flaws. The Pixel 6 and Pixel 6 Pro have only been on the market for a few weeks, but there seems to be problem after problem with the phones.
Among the first to crop up were display-related issues, with a weird flicker happening when pressing the power button while the device was turned off. Some users were also reporting a green tint on the display. Google quickly stated that the display flicker would be addressed with the December update.
Users have also reported problems with Google Assistant on the Pixel 6 ghost-calling people from their contacts list. Apparently, Google Tensor is so powerful that its AI prowess can tell when you want to call someone (insert sarcasm). While this could be attributed to a "butt dial," the issue would occur while the phone isn't even nearby, which can lead to some awkwardness.
More recently, there have been issues with the Pixel 6 fingerprint sensor being unreliable, which Google has attributed to its enhanced security. Still, some reports indicate that the sensor could be disabled if the Pixel 6 is fully discharged.
With the number of bugs seemingly plaguing the devices, it could be enough to scare some potential buyers away, at least until they're largely addressed and stock of the devices is replenished. However, if you're still considering buying one, you can always check out some of the best Black Friday Pixel phone deals.
Whether or not you canceled your order, let us know why in the comments.
Get the Android Central Newsletter
Instant access to breaking news, the hottest reviews, great deals and helpful tips.
Derrek is a long-time Nokia and LG fanboy who loves astronomy, videography, and sci-fi movies. When he's not working, he's most likely working out or smoldering at the camera.
I originally canceled my Pro order because the 256GB version was backordered. I settled for the 128GB version since it isn't my daily driver. After the latest updated it seems better, especially the finger print scanner (less unsuccessful login attempts). It's better, but not perfect. Some apps are a little glitchy.

Returning my regular 6. I was not impressed with it. Ordered the 5a instead. I've been more impressed with the a series of phones anyway.

Just received mine and oh boy did it take extra long to arrive past the original delivery date. I definitely had the feeling of "it's my Pixel and I want it now!" Looking forward to getting it set up.

First, not all are having problems. Yes, there are a lot of people reporting problems on this site (as well as other sites) but many are saying they are not having problems. The other thing people need to realize is that while there are complaints (and praises) here, this is a VERY SMALL number of the people who have received phones.
And generally, people come to a website to complain, not praise. I ordered two, 128gb and a 256gb wanting to figure out what I would actually need. Then i cancelled the 256gb and kept the order for the 128gb. End of Nov looks like it will be here. I have 15 days to decide to keep. If it has bugs that are not fixed by an update in that time period; it will be returned. Then, who knows? Sit and wait a few months to see if the problems are fixed, order a Samsung S21 Ultra (they will be going on some good sales just before the 22 is released); or wait for a 22 (depending on price). Many options, especially for someone sitting with a perfectly good 4XL that does not have any problems, including the so-called battery problem.

Ordered 6Pro 256 on launch day morning, arrived way late, within 24 hours display failed, RMA to Google which means I'm not in the back of the line to receive the replacement. :-(

Ordered the 6 right away which I wasn't planning to do - I was going to wait a few months but read so many good things I went for it. Tried Google Store and applied for financing but Synchrony jerked me around and they told me I'd be advised by MAIL and I didn't want to wait ten days to hear from them. I ended up getting approved but had already ordered from Amazon and had the phone in a week. Since I have the Amazon store card and I'm a Prime member I got a 5% credit on the price. I haven't fully switched yet from my 3aXL but I've used it without problems. Yes, the fingerprint sensor is slow at times but in general I think it works well. I'm happy with the 6.

Ordered mine on the 20th of October. It arrives December 15th. So hopefully all bugs are worked out by then.

I ordered Pixel Pro 6 256 Black on 10/28,arrived on Nov. 4th. I have enjoyed the phone,got the lastest update,pictures are great,phone has made couple ghost calls.. 😁

"this is a VERY SMALL number of the people who have received phones."
Interesting comment from another commenter...however it defeats the purpose of defending the phone(s) because if there have been few to receive them, then that means a rather large number are JUNK! Pixel pixie dust again!

I think the most objective way to determine the percentage of happy/unhappy users would be to Google search "Pixel 6 Pro review" and "Pixel 6 review" and look at the user ratings. As of a few minutes ago the 4 and 5 stars for both phones are more than the 1 to 3 stars. I'm not saying these are perfect phones, but the data at this point suggests most folks are happy.

Before I ordered I wanted to see them in person.
After seeing them at my local Best Buy I was very underwhelmed and decided not to get one. I'm saving up my pennies for getting Fold 3 (or the next version) as that device blew me away when I saw it in person.

If timing were such that I had a 3 or 4 year old phone that isn't updated anymore- I would consider the 6. I just updated my phone a year ago to an LGV60 ThinQ - granted LG has dropped out of the smartphone market but my phone is functioning perfectly and I hope I can run it without major issue for at least another 2 years. By the 3 year mark I always seem to start needing an update- I had two previous Androids (Samsung) that after less than 3 years had highly unreliable GPS and would drop GPS in the middle of driving which was really terrible. As long as my current phone is reliable I actually would be glad to keep it for 4 years/as long as I can Right now- I have only had it like 13/14 months and it's a perfectly well functioning phone - I cannot justify getting the 6 right now at all and won't. I like the LG well enough that if they had not dropped out of the market I bet I would have likely updated to the next version but since they did not- in the future , sure I might be up for a Pixel .

So that's a no. You didn't cancel an order for the pixel 6(pro).

Ordered the 6 and 6P. Not sure which one will keep and give one to friend. Setting up the 6. Feels great and looks cool. Reminds me how I felt with some old Nexus phones. 6P ship date is Nov to Jan so will see.

I cancelled the thought of ordering one

FedEx only delayed my delivery by a couple days so no I didn't cancel. So far none of the bugs mentioned in the article have plagued my Pro. The fingerprint sensor is a little slower than my 5 so when it fails it's usually because I didn't hold my finger that extra second longer. I do miss the old fingerprint scanner. It was just easier based on location. I hate that everyone is rushing for the in screen version. But I'm weird, I still my the qwerty keyboard... The battery life is fine but doesn't seem that much improved either. This might change with future updates. It's still meets my needs but a tiny but disappointed it wasn't better. The only bug I've encountered is my phone will occasionally overheat during a zoom call and shut down. It's random. Opened a trouble ticket. They may send me a new one, as it seems to be an isolated incident. I find out tomorrow. Otherwise, glad to be back on the bigger screen. My 5 was fine but don't miss it.

Cancelled the 6 pro 256 gig i had ordered. Delivery was around December 22.
Can't say i regret that i cancelled it.
Waiting for the beast to show up, S21 Ultra

Zero issues with my regular 6 other than the speakers are weak.

Google Store canceled my first order for me an hour later. Gee, thanks Google. They surely didn't realize how hard it was to place. (Long standing Google Store account, current credit card info, no reason for them to fail to verify something) My second and third 6 Pro orders arrived Nov 10/28 and 11/1. Buds arrived separately, about the same timeframe.

Not discounting those that have had issues, but want to say the P6 Pro has been great for me since delivered three weeks ago tomorrow. I did need to learn how to use the underscreen fp reader, but it works everytime for me. New phone models always have growing pains, even my wife's iphone 13 pro max was no exception. I for one am a satisfied customer and will definitely keep my device. P5 is already up for sale. J

Ordered both Pixel 6 and 6 Pro on Release Day. I look forward to the constant "the sky is falling" articles (like this one) from AC and AA on the Pixel. Good humor.