Google to fix Pixel 6 'residual light' flickering issue with December update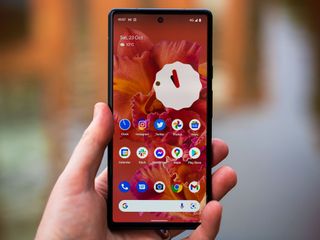 (Image credit: Alex Dobie / Android Central)
Update, Nov 1 (06:45 ET): A fix is incoming
What you need to know
A few Pixel 6 users are experiencing weird screen flickering issues.
The flickering happens when the power button is pressed while the phone is off.
Some owners are also complaining about a green tint on the screen.
Some customers who received their Pixel 6 and 6 Pro phones earlier this week have noticed a weird screen flicker problem on their phones.
According to complaints from owners on Reddit, the display flicker issue appears when pressing the power button while the phones are switched off. For now, It doesn't look like Google's best Android phones of 2021 exhibit the same behavior when they are turned on.
A few Pixel 6 and 6 Pro owners are also reporting a green tint on the display. While the flickering issue hasn't been reported on previous Pixel phones, some Pixel 5a and Pixel 4 XL devices were also affected by the green tint issue. Samsung's Galaxy S20 Ultra and OnePlus 8 owners experienced similar tint issues as well. In both cases, the issues were "fixed" by the manufacturers with a software update.
Since Google began shipping the Pixel 6 and 6 Pro pre-orders just a few days back, we'll have to wait a little longer to find out if these issues are widespread. In case the issues aren't limited to just a small number of Pixel 6 and 6 Pro units, Google will likely roll out a new software update to fix them very soon.
It isn't the first time that users are reporting issues with their new Pixel phones. Last year, early Pixel 5 owners started noticing gaps between the screen and body, which Google later said was a "normal part of the design." A small number of Pixel 5 users also experienced some volume level problems and a proximity sensor flicker bug.
The Pixel 4 series, on the other hand, was affected by battery discharge and random shutdown issues. Some Pixel 3 and 3 XL units were also affected by the random shutdown problem, while some other units suffered from EDL issues.
Update, Nov 1 (06:45 ET) ― Google says the issue will be fixed with the December update for the Pixel 6 series
Google has acknowledged the screen issue affecting some Pixel 6 and 6 Pro units on its Pixel Phone help page. The company says the issue will be fixed with a software update that will be rolled out to the two phones in December. Google has also confirmed that the flickering "does not represent an issue with the phone hardware. "
Android Central Newsletter
Get instant access to breaking news, the hottest reviews, great deals and helpful tips
Glad I didn't get one yet, bugs need to be worked out.

Flickering while the unit is off? Does that affect usage?

Can Google ever release a phone without some seemingly major defect?

Can any company? One reason why I would never purchase ANY phone from ANY company until it has been out and tested by the general public for at least three months.

Well, I don't know. Except for the Note 7, neither I nor my wife's "S" phones ever needed a software patch. And I always buy them when they come out. But every single Pixel iteration had some kind of problem, or more than one. So, I wouldn't say "every" company!

it wouldn't be a pixel without a defect on the first batch. looks like a hardware one but it's too soon to tell

My Pixel 6 Pro does not appear to have this issue either. I tried several times to get it to do it. Who finds these issues...lol. I have never sat there and pressed the power button repeatedly on any phone I have had while it was off. Why would you do that ?

How many times do people have to be told not to be early adopters of new tech? Oh... Right... Forums like Android Central pump up and hype new tech.

This site's audience is made up of early adopters. We know well the pain and the pleasure.

NOT AT ALL SURPRISED. THAT'S WHY I NEVER WENT BACK TO PIXEL. EXTREMELY OVERJOYED WITH MY S21 ULTRA

Or just wait for the "a" series to come out. Never had any problems with my 3a XL or 4a.

To be fair it doesn't seem that widespread and will be fixed soon.

hasn't even been a week.....
Android Central Newsletter
Get instant access to breaking news, the hottest reviews, great deals and helpful tips
Thank you for signing up to Android Central. You will receive a verification email shortly.
There was a problem. Please refresh the page and try again.