Samsung Galaxy S23 hands-on: More upgrades than meets the eye
After the Galaxy S22 shook things up, Samsung took a more subtle approach to upgrading the Galaxy S23, S23+, and S23 Ultra.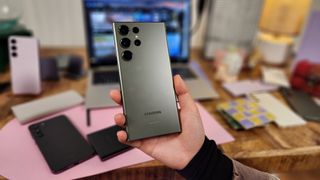 (Image credit: Michael Hicks / Android Central)
After spending months tracking down leaks and rumors surrounding the Samsung Galaxy S23 series, I had my chance to get a 2-hour hands-on with all three phones at the pop-up Galaxy Experience Space in San Francisco.
The Galaxy S23 phones strongly resemble the Galaxy S22 series that came before them, bringing back the iPhone-esque, flat-edged Galaxy S23 and S23+ and the Note-shaped Galaxy S23 Ultra. Anyone with the current generation can broadly picture how the Galaxy S23s will look and feel — but don't assume that means nothing has changed.
Samsung, like most smartphone brands, likes to distinguish one generation of phones from the next, giving its most loyal customers a new status symbol every year. So it gave the two smaller phones the S23 Ultra's striking, naked-sensor look, and all three phones share the same four color options.
Beyond their uniform look, Samsung made some small but necessary upgrades to all three phones, particularly the smaller Galaxy S23 and flagship Galaxy S23 Ultra. I can't speak to their performance with the limitations of my hands-on experience, but I did get a glimpse of several updates to the cameras and displays that I can share.
Want to know how the Galaxy S23 improves on the Galaxy S22, or whether the Galaxy S23+ or S23 Ultra justifies the extra cost? Let's run through all of the key differences I noticed in my brief time with all three phones.
Samsung Galaxy S23: Tweaked to near-perfection
I'll admit my personal bias upfront: I prefer powerful one-handed phones you can comfortably hold even with a case, like the Google Pixel 6a and iPhone 14 Pro. So I spent a solid chunk of time playing with the 6.1-inch Galaxy S23, the phone with the best value for most people.
Its design hasn't changed much from the Galaxy S22, bringing back the angular edges and flat aluminum back that made the last model look a lot like an iPhone. Some users, like our S22 reviewer Derrek Lee, find this design uncomfortable compared to the softer edges of the Galaxy S21, but the upside is how much easier it is to maintain a firm grip on wide edges. So it's a matter of preference, and (most likely) whatever Galaxy S23 case you choose will soften the grip for you anyways.
At 5.93oz or 168g, the Galaxy S23 is just 1g heavier than its predecessor. That's honestly one of the main perks of this device in my mind: so many other comparable 6.1-inch phones (like the 6a and 14 Pro mentioned above) weigh over 200g, while only the ASUS Zenfone 9 has a comparable lightweight feel to it. Outside of tiny budget Android phones, you'll rarely get a phone with powerful performance that doesn't weigh down your hand.
Image 1 of 3
Because I could only test the Galaxy S23 in a guarded basement area, I couldn't bring it outside to test the new 1,750-nit brightness, a 450-nit increase. Generally speaking, you'll only notice this HDR upgrade in direct sunlight, and the Galaxy S22 wasn't a slouch in this area. So all I can say is that its display is as pleasantly bright and colorful as ever, even if the quality has essentially remained unchanged since the Galaxy S21 dipped from QHD to FHD.
The more vital upgrade is that the Galaxy S23 has a 3,900mAh battery, 200mAh higher than the Galaxy S22, and just 100mAh lower than the S21. Last year, the Snapdragon 8 Gen 1 was supposed to deliver huge efficiency games, but it tended to overheat under pressure instead; Samsung likely thought it could shrink the battery and have Qualcomm make up the difference, but this backfired and gave us a really short-lived phone last year.
I didn't have the time or ability to properly test the Galaxy S23 battery to see how it compares. But so far, the Snapdragon 8 Gen 2 appears to deliver the battery efficiency that Qualcomm promised last year. Where the Galaxy S22 only had about 4 hours of screen time to give, I'm genuinely hopeful the Galaxy S23 can deliver at least 1 or 2 more hours...but it's still a small phone with a demanding display, so it likely isn't the all-day phone some people need.
As a final important point, if you're getting the Galaxy S23, you'll probably want the 256GB version, since it uses faster UFS 4.0 storage instead of UFS 3.1 on the 128GB version. Both the S23+ and S23 Ultra default to 256GB and also get the faster read/write speeds, but you can downgrade your experience with the base S23 without realizing it if you choose the cheapest option.
Samsung Galaxy S23+: The awkward middle child
I personally reviewed the Galaxy S22 Plus last year, praising it for striking the right balance between the short-lived Galaxy S22 and massive S22 Ultra. When I picked up the Galaxy S23+, my only real thought was, "Yep, that's the same phone!"
That's not strictly true, of course. Aside from the internal differences, both the S23+ and base S23 have unhoused camera sensors. the same design as the Galaxy S22 Ultra. We asked Samsung why it chose this route, and they said that they wanted to "showcase the universal, premium design in the S Series" and that feedback from "a lot of customers" convinced them to go this route.
They look pristine in these photos, and maybe the S22 Ultra's success proves that people like this unique look. But let me quote my colleague Nick Sutrich, who reviewed the Galaxy S22 Ultra and had a less-than-favorable view of the design:
The lenses "attract every little bit of dust, lint, and hair that your pockets can gather...It wouldn't be so bad if they were easy to clean off. As it stands, the only way I could remove all the dust was to wash the thing off, and usually, drying it reintroduced dust even if I used a microfiber cloth. It's maddening."
It's safe to say that this new look is more about aesthetics than a practical design choice. But if you get a case to shield your Galaxy S23+ lenses, you might not mind!
Image 1 of 5
Beyond the new camera lens design, the Galaxy S23+ is all about the word "bigger." It has twice the S23's storage, an extra 0.5 inches of display space, and 800mAh more battery capacity. You have a larger screen for gaming and more space for apps; and considering the Galaxy S22+ did a much better job than the S22 of lasting the full day with regular use, we can expect that the S23+ will be an all-day phone as well.
Does that mean people will buy the S23+, though? The S22+ didn't sell particularly well despite its advantages, and it's frustrating that a $1,000 phone only has 8GB of memory and FHD display. We hope the Snapdragon 8 Gen 2 will provide strong performance in spite of this; but plenty of great Android phones cost about the same but give you more memory and higher resolution. So we're concerned that the Galaxy S23+ will underperform like Apple's iPhone 14 Plus.
Samsung Galaxy S23 Ultra: All about the cameras
While the Galaxy S23 and S23+ got their mini-facelift, the Galaxy S23 Ultra looks quite similar to its predecessor in most respects, even matching its width, height, and thickness. Despite this, holding it in my hand, I noticed that the rumors about the S23 Ultra were true: its edges are slightly flatter, or thicker than the more thin-edged S22 Ultra.
On the one hand, this makes an already-thick phone slightly wider in practice, making the Galaxy S23 Ultra very ill-suited for people with small hands. But on the other hand, it's much less slippery than the Galaxy S22 Ultra. As someone who's not a fan of rounded edges, I found the S23 Ultra design to be a good compromise between curved and flat displays.
Image 1 of 6
Anyone familiar with the Ultra series knows how it beats the other Galaxy S phones, so I won't dwell on that. Instead, let's talk about the 200MP camera sensor. When you snap a photo, it combines 16 pixels into 1 pixel in poor lighting conditions — or just 4 pixels to 1 while indoors with decent light — compensating for any missing data and creating one high-quality 12MP photo.
Samsung is calling it its "Super Quad Pixel" mode, and it's particularly useful for nightography. I met with Joshua Cho, a Samsung EVP in charge of Camera R&D, who explained how the Galaxy S23 Ultra can create fully visible and vibrant photos in just 0.1 LUX (full moon) conditions, whereas the S22 Ultra couldn't do the same. And the capture speed for nighttime photos has been reduced from 2 seconds to 1 second.
The Galaxy S23 Ultra also has the capacity to film 8K video at 30FPS or HDR10+ at 60FPS for the first time, and it adds other new improvements like an OIS that's 2x more stable for taking moving videos.
Again, a closed-off studio wasn't the best environment to test many of these features properly, as Samsung told me I wasn't allowed to capture and save Galaxy S23 Ultra photos to see how they compare against other phones; you'll have to wait for the review for that. But I did get to test how the Ultra does in night mode in a "dark alley" set in the Galaxy Experience Space in San Francisco, and I was impressed with how well it captured light in those conditions.
I also had my photo taken by the Galaxy S23 Ultra and placed in a screen montage room, showing how incredibly high-resolution and professional photos from a 200MP camera sensor can appear.
Soon, I'll publish a more in-depth explainer on all the ways that the Galaxy S23 series' cameras have improved, as the cheaper models also received some improvements. But if you're looking for the best camera phone available, the Galaxy S23 Ultra will give the Pixel 7 Pro a serious run for its money.
Samsung Galaxy S23 cases and accessories
In addition to checking out the Galaxy S23 series, Samsung also had a number of cases and accessories on display for its new phones.
We've already collected and gathered some of the best Galaxy S23 cases based on samples and dummy S23 units sent to our homes, giving us a picture of which cases will best protect your investment. Generally speaking, I saw cases that matched the aesthetic and colors of the new phones and safely cradled the unprotected rear camera sensors.
I also got to see a wall of other Galaxy S23 accessories, though the Samsung rep told us many of them won't be available in North America due to licensing issues. In general, if you're looking at Galaxy S23 Ultra cases that'll make it even thicker, you may want to invest in a Popsocket that'll make it easier to hold.
We're guessing fewer people will invest in Galaxy S23 screen protectors because of the new crack- and scratch-resistant Victus 2 displays on all three phones. But they're still worth considering just in case!
One other interesting note: you can now buy replacement S Pens for the S23 Ultra, something that wasn't easily found for the S22 Ultra. You can even buy different colors if you want it to make a fashion statement.
Samsung Galaxy S23 vs. S23+ vs. S23 Ultra: What's the difference?
All three Galaxy phones share the same Snapdragon processor, AMOLED 2X displays, max brightness, ultrawide and selfie camera sensors, protection against water and scratches, cellular and Bluetooth connectivity, and colors. So where do they differ?
Aside from the size difference, the Galaxy S23 and S23+ are remarkably similar, so we'll start there. Both have FHD displays, 8GB of RAM, and identical camera sensors across the board. Unlike the Galaxy S22, which fell short in areas like brightness and Wi-Fi 6E support, the Galaxy S23 only lacks a couple of features: faster 45W charging and UWB. But its smaller battery means its 25W charging should be plenty fast enough in most cases, and ultra-wideband is only useful in niche circumstances. Also, the Galaxy S23+ starts at 256GB storage instead of the usual 128GB.
The bigger gap is between these phones and the Galaxy S23 Ultra, which has 12GB of RAM, a QHD LTPO display that has a wider refresh rate range, the new 200MP camera sensor, and the same double telephoto lenses with up to 100X Space Zoom that made the Galaxy S22 Ultra such a powerhouse for photography.
Swipe to scroll horizontally
| Category | Samsung Galaxy S23 | Samsung Galaxy S23+ | Samsung Galaxy S23 Ultra |
| --- | --- | --- | --- |
| Display | Flat 6.1-inch AMOLED (1,750 nits) | Flat 6.6-inch AMOLED (1,750 nits) | Curved 6.8-inch AMOLED (1,750 nits) |
| Resolution | FHD+ (425ppi) | FHD+ (393ppi) | QHD+ (500ppi) |
| Refresh rate | 120Hz (48-120); 240Hz touch sampling | 120Hz (48-120); 240Hz touch sampling | 120Hz (1-120); 240Hz touch sampling |
| Processor | Snapdragon 8 Gen 2 | Snapdragon 8 Gen 2 | Snapdragon 8 Gen 2 |
| Memory | 8GB RAM / 128GB, 256GB | 8GB RAM / 256GB, 512GB | 8GB RAM / 256GB, 12GB RAM / 512GB, 1TB |
| Camera 1 (Main) | 50MP (OIS), f1.8 | 50MP (OIS), f1.8 | 200MP (OIS), Laser Auto Focus (LAF), f1.7 |
| Camera 2 (Ultrawide) | 12MP, f2.2 | 12MP, f2.2 | 12MP, f2.2 |
| Camera 3 (Telephoto) | 10MP (OIS), f2.4 | 10MP (OIS), f2.4 | 10MP (OIS) 2PD, f2.4 |
| Camera 4 (Telephoto) | N/A | N/A | 10MP (OIS) 2PD, f4.9 |
| Selfie Camera | 12 MP (2PD AF), f2.2 | 12 MP (2PD AF), f2.2 | 12 MP (2PD AF), f2.2 |
| Battery | 3,900mAh | 4,700mAh | 5,000mAh |
| Charging | 25W (wired); 15W (wireless) | 45W; 15W (wireless) | 45W; 15W (wireless) |
| Protection | IP68; Gorilla Glass Victus 2; Armor Aluminum | IP68; Gorilla Glass Victus 2; Armor Aluminum | IP68; Gorilla Glass Victus 2; Armor Aluminum |
| Connectivity | Sub-6/ mmWave 5G; Wi-Fi 6E; Bluetooth 5.3 | Sub-6/ mmWave 5G; Wi-Fi 6E; Bluetooth 5.3; UWB | Sub-6/ mmWave 5G; Wi-Fi 6E; Bluetooth 5.3; UWB |
| Dimensions & weight | 2.79 x 5.76 x 0.3in, 5.93oz | 3.07 x 6.43 x 0.35in, 6.91oz | 3.07 x 6.43 x 0.35 in , 8.25oz |
| Colors | Phantom Black, Cream, Violet, Green | Phantom Black, Cream, Violet, Green | Phantom Black, Cream, Violet, Green |
You can see the full specs comparison between the three Galaxy S23 phones above. Given how similar the Galaxy S23 and S23+ are, I suspect the smaller and more affordable model will be especially popular, while the biggest Samsung Galaxy fans will jump to the Galaxy S23 Ultra for its epic 200MP camera sensor.
Where the Galaxy S23 beats the S22
In terms of how they compare against the Galaxy S22 series, the Galaxy S23 phones benefit from the newer Snapdragon 8 Gen 2 chipset. While I couldn't test the Galaxy S23 performance during my hands-on period, my colleague Harish Jonnalagadda has spent a month using another 8 Gen 2 phone and created a Snapdragon 8 Gen 2 vs. Gen 1 guide to compare the two.
To summarize, we saw about 50% improved performance in both single-core (1005 to 1474) and multi-core (3152 to 4760) benchmarks from the S22 Ultra to the recent iQOO 11. Take these benchmarks with a grain of salt, and we'll stress that the Galaxy S22 series is quite good for casual use; but the important difference is that the 8 Gen 2 with its improved Adreno GPU seems to be a powerhouse for gaming, as it "manages to deliver sustained performance without any throttling whatsoever."
So we can only hope to see a similar performance boost for the Galaxy S23 series, especially the Ultra. I can't test this just yet, but I spoke to a Samsung executive about throttling, and he assured me that the Galaxy S23 significantly reduces throttling and improves heat dissipation compared to the S22 series.
Other gaming phones from ASUS and other brands may eventually beat the S23 for raw power, but Samsung has the benefit of better software and cameras, making it a more well-rounded option for hardcore and casual gamers for playing their favorite Android games.
Interestingly, despite the fact that the Snapdragon 8 Gen 2 supports satellite connectivity, Samsung chose not to announce the feature for the S23 series. So that's one area where we expected a change but didn't see it.
Outside of performance, all three Galaxy S23 phones have the latest Gorilla Glass Victus 2 protection, rated to withstand one-meter falls to concrete or two-meter drops onto asphalt. It can withstand slightly stronger scratches and is significantly more crack-proof. Sorry, I didn't dare test that with Samsung's PR team watching me like hawks.
While most of the Galaxy S23 cameras remain unchanged, all three phones share a new 12MP selfie camera. That's a lower resolution than the 40MP selfie cam on the S22 Ultra, but it's an upgrade in other ways: it has Super HDR resolution for a wider dynamic range of colors, with AI object recognition that identifies and enhances the focus of specific objects like your facial features and produces a superior bokeh effect.
In terms of specifics, the Galaxy S23 beats the Galaxy S22 with a slightly larger battery, faster wi-fi performance, a brighter display, and other small intangibles. We've also been told that the Galaxy 8 Gen 2 is more battery-efficient than the Gen 1, which gives us hope that the Galaxy S23 could actually last across all-day use, something the S22 couldn't do.
The Galaxy S23+ vs. Galaxy S22+ doesn't have very many differences aside from the ones listed above, though the newer model does have twice the base storage (256GB).
Meanwhile, on the surface the Galaxy S23 Ultra and S22 Ultra look remarkably similar with unchanged display and battery specs, but the S23 Ultra is a little more comfortable to hold and the Snapdragon 8 Gen 2 should make it a better choice for gamers because it'll throttle and overheat less. Plus, of course, you have the new 200MP camera sensor that takes much better photos in low-light and selfie sensor with better color range.
Generally speaking, the Galaxy S23 series doesn't necessarily have a feature that screams "I need that" for anyone who owns the Galaxy S22 phone, but it does do enough to justify the annual upgrade. And for anyone with an older Galaxy phone, the Galaxy S23 should seriously tempt you more than the Galaxy S22 did.
The Galaxy S23 makes some significant improvements over the Galaxy S22 in performance, battery life, display brightness, wi-fi speeds, and camera quality, making it the small-yet-powerful Android phone to beat.
While the S23 and S23+ appear to be great phones in their own right, only the Galaxy S23 Ultra will have the high resolution, powerful memory, and epic 200MP camera sensor to justify being called a "flagship" device, and anyone looking for the best Android phone of 2023 will find a serious contender here.