Pelican Protector and Voyager cases for the Galaxy S6 and S6 edge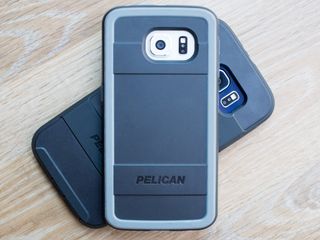 The Pelican name is associated with protecting valuables — particularly electronics and camera gear — against basically anything you can think of, and its Protector and Voyager phone cases bring that idea down to your Galaxy S6. The two cases each offer something different, but are both a step above any "average" cheap case you can throw on your phone.
Extra protection, a specialized look and a name that you can trust is what you get with Pelican cases — here's what they look like for the Galaxy S6 and S6 edge.
Pelican Protector
The Protector case is more of an "every day" case that's likely the most appealing to regular users — but that doesn't mean it won't cover your phone from plenty of punishment. There are models for both the Galaxy S6 and S6 edge (the latter shown here), but both are basically the same.
You get a hard plastic and rubber case that's flexible enough to fit around the phone without any complex parts, but is rather tough otherwise. The hard plastic back is surrounded by rubber to help it from sliding off of surfaces, and it's thick enough to keep the camera pod from touching a surface when you set it down. You'll find the same softer material around the sides to help you grip it, so you hopefully won't even need the extra protection from drops.
It definitely isn't the slimmest case out there, but the Pelican Protector isn't going to change how you can use your phone. You have full access to the headphone jack, USB port, IR port and both microphones, but the power and volume keys are covered and accessible by rubber buttons that lay on top of them.
Buy the Pelican Protector for Galaxy S6 edge (opens in new tab)
Buy the Pelican Protector for Galaxy S6 (opens in new tab)
At $40 (retailing around $30 nowadays) you have to want the extra protection and the Pelican brand name, but the Protector is a nice step up from your average protective case. Pelican doesn't sell them directly, but we see them available direct from AT&T for normal prices, and you may be able to find them at other big box stores as well.
Pelican Voyager
For those who need even more coverage, that's where the Voyager case comes in. Going head-to-head with the likes of OtterBox and LifeProof, Pelican's Voyager case is a hard plastic two-piece case that snaps securely around your Galaxy S6 (sorry, no GS6 edge model) that also comes with a scratchproof screen protector and multi-function holster.
The Pelican Voyager snaps on in two pieces, as it isn't flexible enough to fit around your phone. The back piece is a very hard plastic, with a rubber lining inside to cradle your phone, while the front piece is also hard plastic but coated in some rubberized material to help you grip it. The case connects so firmly that you need to use a key or coin (Pelican actually recommends this) in the corner to pry it apart — this thing isn't going to pop off if you drop your phone.
Adding to the protection are a scratchproof screen protector, which you can choose to install or not, and a rather large belt holster. The holster can hold the encased phone either screen-in for protection, or screen-out with the belt clip doubling as a kickstand for media watching. Even most of those who want this kind of phone protection probably won't want the belt holster, but you're not being charged much extra for it and it's completely optional.
This case is downright bulky, and there's no way to get around that. There's a sizable lip around the entire screen to protect it from accidental damage, and the edges about double the thickness of your otherwise svelte Galaxy S6. There are big covers over the ports on the bottom of the phone, with two that can flip down so you can access the headphone jack and USB port and a third that directs sound upward out of the speaker. The whole package is kind of unwieldy, and really shouldn't be considered unless you expect to really rough up your phone.
Buy Pelican Voyager with holster for Galaxy S6 (opens in new tab)
The Voyager is priced at $50 (available for about $40 now), so just $10 more than the Protector, and clearly offers more than a little extra protection for your phone. Again we see the Voyager model sold by AT&T, and you may have a shot at finding one at other carriers and big phone retailers.
Andrew was an Executive Editor, U.S. at Android Central between 2012 and 2020.
I'm still trying to figure out why anyone would go out and buy a svelte, well designed phone only to cover it up with one of these awful cases. I understand needing/wanting protection for it, but these go way too far. Posted via the Android Central App

I can see the use for those working in construction or have a very active lifestyle where a typical case just won't do it. You can protect phone when needed and enjoy the svelte look whenever you don't require much protection. The phone doesn't always have to be in a case.

Drop the S6 from 6ft onto some Asphalt and you'll change your mind. Also the protruding camera needs protection. Adding a protective case like this only let's you enjoy your phone more. Posted via Morse Code

I hope these two responses helped u figure it out? Lol Posted via the Android Central App

LoL Posted via Morse Code

Here's the ProGear Voyager in white for anyone interested. It'd look a lot better if my white S6 didn't have a carbon skin on it. http://imgur.com/a/Sz2G1

Does using a skin on the front prevent you from using a screen protector or did you lay the skin over the protector? Curious how that would work.

The slickwraps skin came with a plastic screen protector that is cut to fit exactly within the borders of the skin. I have seen others lay the skin over a tempered glass, but it tends to look funny.

May as well just get an S6 active. Posted via the LG G3

that OK, I prefer my phone to work anywhere I go.

I have the voyager on my s6 active currently. Just because the phone is durable doesn't mean it's indestructible.

Could they have designed anything uglier for such a beautiful phone? Take the Pelican Protector case, make it much thinner and remove the ugly ridges on the back, then we can talk.

I've got the Protector case on my s6 edge. Broke 2 1520 screens in a wallet style case so decided to go full out with this one. The case makes me forget how thin the phone actually is which is a minus for the case but on the flip side the case makes the phone feel better in my hand. No sharp edges and it is a secure "grippy" case so the chances of it slipping out of your hand is low. Another plus side is if you drop the phone while you have the case on and the phone breaks Pelican will replace it. *Active was not available when I got my s6 edge but I would still get the Edge over the active. More hard drive space as well as Gear VR compatibility.

Not true, Pelican will not replace your phone. The case itself has a lifetime guarantee. Posted via the Android Central App

The S6 is to thin and slippery so adding a pelican case will make it easier to handle. Posted via Morse Code

Not A Bad Looking Case . Guess I can't complain about the bulk cause I just but a battery pack case on my 32 gs6 gold edge now I have 55000 amps of juice Posted via the Android Central App

That's awesome Posted via Morse Code

Not to be that ass hole but I seriously doubt you got 55000 amps unless you have a case that doubles as a tazer. I would actually be interested if you did. Posted via the Android Central App

My bad 5600 amps . With all the extra Power got all excited

LoL Posted via Morse Code

Still way too high of a number lol (It's milliamp hours) Posted via the Android Central App

No not really my gs6 has 2600 amps and the battery pack has 3500 amps . And the battery pack doesn't kick in till phone's battery gets low love the extra juice Posted via the Android Central App

Wow, 2600 amps ! That might explain why some people complain their phone is getting warm. LOL

Right!! Posted via the Android Central App
Android Central Newsletter
Get the best of Android Central in in your inbox, every day!
Thank you for signing up to Android Central. You will receive a verification email shortly.
There was a problem. Please refresh the page and try again.