This is our first look at the ZTE Axon M foldable smartphone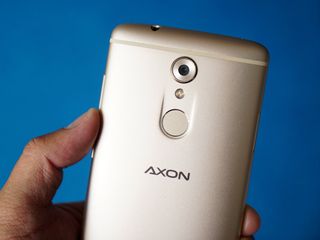 Since the launch of the first iPhone, smartphones have looked mostly the same. Sure, we have smaller bezels and modular attachments, but phones themselves still use the same touchscreen slate form factor. It looks like ZTE will be trying to mix that up soon.
Android Authority shared images of the upcoming phone, which will use a foldable form factor not seen since the days of the Kyocera Echo. The ZTE Axon M — previously known as the ZTE Axon Multy — will allegedly feature two 1080p displays, which will fold out to a total screen size of 6.8-inches.
As for internals, an earlier leak suggests the phone will feature a Qualcomm Snapdragon 820 processor, 4GB of RAM, 32GB of internal storage (no word about expandability) and a 3120 mAh battery. For one screen, that size battery sounds about average, but it may prove a bit too small for two. The Kyocera Echo had a similar problem, to the point that Sprint shipped that phone with a second battery.
Rather than have a separate rear and front camera, the device will feature a single 20-megapixel camera that pivots to face either direction. The phone will use Android's multitasking feature to let the user look at two applications at a time, one application on each screen. There are no hints toward which version of Android the phone will launch with, but if I were a betting man (and I am) I'd bet on Android 7.1 Nougat with ZTE's minimal touches on top. The device will allegedly be an AT&T exclusive priced at $650 and tie heavily into the carrier's DirecTV service (read: bloatware).
ZTE plans to hold a launch event on October 17 in New York to announce the phone. Are you interested in a foldable smartphone? Let us know down below!
Android Central Newsletter
Get instant access to breaking news, the hottest reviews, great deals and helpful tips
Meh. Let me know when u make axon 8

This. I mean what are they doing?

Are foldable phones going to be the new 3D TV?
The Next Big Thing, that isn't.

IF apple makes one, then literally everything you see will fold. Cars, Pencils, Phones, TV's, Plates, Forks, ect.

I hope this rings true for wireless charging.

Regarding charging, the typical LI (Love-Incinerating) type Batteries Replacing with far separated (+) & (-) poles, using a thin, flexible steel pole for improved figures, the current flows through a thin, pliable, low resistance polymer. This yields 75% less ce-efficient and, decreased size, yielding near 100%,Ma/Hr and Cooler running power source, and will fit the

- Continued- Phones, laptops, all everyday hardware. Charging able to work on your schedule, as they are 40% less in size, autoswitching from the discharged to fully charged via embedded battery circuit, and a thermal overload. Most would find time to charge within a near .140 Hour battery life expectancy period (per 2016 test data specific LG smartphones, combined with maximum drain apps running 24/7, using new, folding 2-3,000Ma/hr packs, fit dimension in previous battery holder ). If your device was not supplied with this, it will be able to be retrofitted, beginning of February 2018. Some solder-in. Yes, an EMF charger was developed specifically to charge these, no contact, just no further than 5 Feet away....

That would certainly fry Chuck McGill's brain.

Folding forks? You mean like campers have?

Oh man, you stole my brilliant idea that is a foldable plate...I was this close to being rich! 😑

Arms, clothes, poker players...

(Reply does nothing. Sigh)
Well my thought was that, not Apple, but Samsung is going to be soon pushing a folding phone, and it won't surprise me to see smaller companies following the leader.

There's another company out there gonna release a foldable phone before Samsung, I think. Yeah, follow the leader.

I took his comment as... follow the SALES leader.

I want to see whats Axon 8 looks like.. Bezel less display with latest specs with water resistant dual stereo speakers 4000 mah battery ir blaster wireless charging dual cameras min 16mp with 1.7 ap front 13mp wide angle with flash normal dual sim plus sd card slot with 128gb with 6gb ram dolby atmos sound hifi dac.....well it sounds too much but i would be happy with 80% of all this

I looked it except I like bezels

You forgot no capacity buttons.

I don't think they can fit these specs on the box, let alone, the phone... But I guess if we're gonna dream, we might as well dream big

I'm betting more on them doing an Axon 7 with an SD 835, Oreo and dual rear cameras. Also included, a hi fi DAC, dual front facing speakers and less than true flagship quality camera. I don't think they'll do any of 4000 mah battery, IR blaster, or wireless charging. It's slightly undersized non-removable batteries from all of the medium to large manufacturers from here on out. That is unless they are doing some sort of special model with compromised specs but that features a bigger battery as a focal point. It's like a cabal the manufacturers have entered into to ensure obsolescence. Plenty of people want a 20 percent thicker phone for 25 percent more battery life (or whatever the ratio would be), but no one is making it.

Sounds like you want the Huawei Mate 10 then

I wanna see this device look and function like the ones on WestWorld...then iam intrigued!

This. Recently went back through season one. I would love this.

Of all of the OEMs to do this, I wouldn't have guessed that ZTE would be the first with it, outside of patents and rumors.

Fair point, I haven't heard of this phone. I'll search it.

It it's done well...
If you can slide you finger from one screen to the other easily.
If there is a base Google API that lets app builders decide how to use the split screen. Decide how their Fragments work. Then it'd be kind of cool.

One day after Mate 10 announcement, hmm i want to see Axon 8

Who wants that? That's not a foldable display, thats just two screens separated by a hinge.

This didn't work before but hey at least it'll be interesting to look at. What I really wanna see is the Axon 8.

Interested to see how it will play out, kinda thinking ima buy it to play emulators 😎

ZTE stuck in the rat race. Either do it right or don't give us half *** gimmicky products. They should just stick to making good budget mid-range devices.

What a waste of a screen, that thing is going to be the true definition of a brick.

Excuse you....i think you meant "a dual-screen* brick", thank you very much

This isn't the foldable phone people think about. This is two displays connected with a hinge. When I see a foldable display I'll be impressed.

I'm not even sure there's going to be a mode to span the two screens with a single app. The M stands for 'Multitasking' - either because they thought it would be a good idea to have 2 screens for multitasking, or because they wanted to do a foldable 2-screen phone and couldn't figure out how to get Android to merge the screens into a single display. Whatever - if it's a well executed gimmick, it'll be a nice device for whoever wants it, and it'll get them some attention. If it stinks, well, back to the budget bin. I'd rather see an Axon 8 - or at least the announcement of one at the same time - so that they're guaranteed to remain relevant in the 'near flagship' category. Otherwise, this thing is a big risk.

It's a glorified flip phone.

So, the extra display needs to be twice as thick...?

But imagine how great movies will look when you open it up full size and have a huge black border straight through the middle

Unless Samsung releases a foldable phone that is all one screen, seamless, it will, like this ZTE phone, be a new addition to the inert waste garbage heap. With all due respect, the RAM, etc sounds more than adequate... But nobody, and I mean nobody, wants to look at any display that has seam. Past performance is indicative of future results.... And the last time this identical screen set up was marketed, it was a totall disaster.

Foldable...Bendable sounds good in concept, but as the saying goes - the Devil is in the details.

I cant wait for it, had a Mega 6.3 and have not been able to replace that big screen. ZTE is the perfect brand to bring it too. Great audio with more than adequate; speed, camera, and functionality at a low cost, its definitely on my Xmas list!

Bigger displays and smaller batteries? 🤔🤔 What are these OEMs really thinking about?

Increase sells for batteries and battery charges. Warehouses full of them. Lol idk

Welcome to the 21st Century, Flip Phone!

Had a Kyocera Echo...it held a lot of promise, but was just way ahead of Android's ability to truly deal with 2 screens...

Ive always thought a phone that folds open like a book with a strong protective cover fused together would be cool. I don't even need a second display just the cover. Altho I'd take a flippable 180° hinge idk..throw a lite version on the other display( if it had 2) maybe for always on display, notes, calendar, art.. whatever.

Why can't they put higher end components and specs on it, it's an interesting concept- but underpowered
Android Central Newsletter
Get instant access to breaking news, the hottest reviews, great deals and helpful tips
Thank you for signing up to Android Central. You will receive a verification email shortly.
There was a problem. Please refresh the page and try again.