This is our first look at the ZTE Axon M foldable smartphone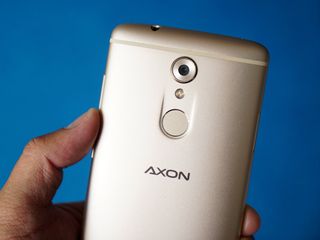 Since the launch of the first iPhone, smartphones have looked mostly the same. Sure, we have smaller bezels and modular attachments, but phones themselves still use the same touchscreen slate form factor. It looks like ZTE will be trying to mix that up soon.
Android Authority shared images of the upcoming phone, which will use a foldable form factor not seen since the days of the Kyocera Echo. The ZTE Axon M — previously known as the ZTE Axon Multy — will allegedly feature two 1080p displays, which will fold out to a total screen size of 6.8-inches.
As for internals, an earlier leak suggests the phone will feature a Qualcomm Snapdragon 820 processor, 4GB of RAM, 32GB of internal storage (no word about expandability) and a 3120 mAh battery. For one screen, that size battery sounds about average, but it may prove a bit too small for two. The Kyocera Echo had a similar problem, to the point that Sprint shipped that phone with a second battery.
Rather than have a separate rear and front camera, the device will feature a single 20-megapixel camera that pivots to face either direction. The phone will use Android's multitasking feature to let the user look at two applications at a time, one application on each screen. There are no hints toward which version of Android the phone will launch with, but if I were a betting man (and I am) I'd bet on Android 7.1 Nougat with ZTE's minimal touches on top. The device will allegedly be an AT&T exclusive priced at $650 and tie heavily into the carrier's DirecTV service (read: bloatware).
ZTE plans to hold a launch event on October 17 in New York to announce the phone. Are you interested in a foldable smartphone? Let us know down below!
Be an expert in 5 minutes
Get the latest news from Android Central, your trusted companion in the world of Android