OnePlus pulls the plug on the OxygenOS Open Beta program for the OnePlus 6 and 6T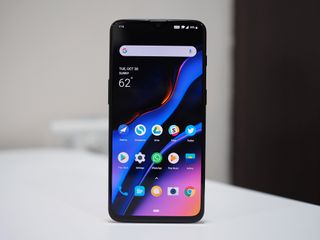 (Image credit: Harish Jonnalagadda / Android Central)
What you need to know
OnePlus is ending the open beta testing program for the OnePlus 6 and 6T phones.
OnePlus 6 and 6T users running OxygenOS Open Beta are recommended to roll back to the stable OxygenOS 10.3.2 build.
The last Open Beta build for the two phones was rolled out earlier this month.
OnePlus today announced that it is ending the OxygenOS Open Beta testing program for the OnePlus 6 and OnePlus 6T phones, after nearly two years. The company says it decided to end the beta testing program for the two phones to "prepare the addition of new devices to the program."
OxygenOS Open Beta 6, which was rolled out earlier this month, will be the last open beta build for the two phones. While it is disappointing that OnePlus 6 and 6T owners will no longer be able to try out new features before they arrive on the stable channel, the two phones will continue to receive stable OxygenOS updates with new features and security updates.
To help OnePlus 6 and 6T owners running the latest Open Beta 6 on their phones, OnePlus has released a special rollback build. The rollback build will install the latest stable OxygenOS 10.3.2 on your phone, which will ensure that you continue getting stable updates in the future.
It is important to note, however, that rolling back to OxygenOS 10.3.2 will wipe all the data on your phone. So before you install the rollback build, make sure you back up your data. The easiest way to back up and restore your data is to use the OnePlus Switch (opens in new tab) app. Once you have backed up your data, download the rollback package for your OnePlus 6 or 6T from the OnePlus Community forums (opens in new tab) and restore your data once the installation process is complete.
Won't be buying anymore OnePlus phones after my 6T. Or any android OEM who thinks their phones are worth $1000 bucks.

The One Plus 8 isn't 1000.

It is if you want to keep the same storage as a previous oneplus device

In that case get the 7t or 7 pro.

Why. They won't get updates long enough to make it worth it..

The OnePlus 7T and 7 Pro has at least 3 more years of software and security updates as is proven by the OnePlus 3T which got 3 OS updates.

I stopped after the 5. That's around the time OnePlus started losing their minds.

Agreed, the 5 was the last phone i bought from them, and their last phone that was worth buying.

I think OnePlus phones were still fairly priced until the OnePlus 8 series but in the UK at least the OnePlus 8 is still £600 for the base variant but the others are overpriced and of they get anymore expensive then I'll jus get a mid range phone as it doesn't matter to me as I'm going back to iPhone in the summer asy daily driver.

Just yesterday I upgraded my 6t to 7 pro since it was $450 with 256Gb of storage on Tmobile. Gonna get it unlocked and flash it to international version. I don't like the 8 series cause of the hole punch. The tech isn't exactly breakthrough... 90hz to 120hz is insignificant, 5G isn't everywhere, and it looks similar to my 7 pro.

I did the same thing around a month ago. Went from the 6t to the 7 pro. The 7pro is definitely more than enough without that disgusting hole in the top of my screen.

Just say that you don't want to buy a OnePlus phone because you could buy the regular 8 for $700.

You guys realize that most oem's phones and clean apple or more than $1,000 OnePlus is still the cheaper of most mid to high-end phones. The OnePlus 8 pro is only $1,000 with the highest configuration is 300 to $400 cheaper than Samsung phones

Let's be honest 90% of people don't need a top end cpu and over 12gb of ram. We could get by just fine with a mid range easily.. I'll be getting the mid range pixel atleast I'll get constant updates at a decent price..

I agree the prices are still fair for what they are offering. Everyone just wants OnePlus to release a true flagship for $400. That isn't going to happen features cost money. The only thing stopping me from getting a 8 series is that I'm broke, can't afford any new phone and I hate curved screens.

Just upgraded to a Galaxy S20 today from my OnePlus 6T. No worries

Why would anyone do that? The only phone were the high prices are iPhones for their long software support and superior app experience, iOS is like Marmite you either love it or hate it but I have fallen back in love with iOS and falling out if love with Android after over 2 years of using Android.

IOS isn't for me or for most people around here. It has its merits for people who aren't technically inclined, but you can do far more with an Android phone. I'd definitely take the S20 over an iPhone and I don't even like Samsung phones.

For the ridiculous prices of smartphones these days I'll only be willing to spend that on an iPhone, they simply offer better value with their unrivaled software support and that is just 1 of a few major reasons why I'm returning to iPhone after over 2 years away from Apple.
Android Central Newsletter
Thank you for signing up to Android Central. You will receive a verification email shortly.
There was a problem. Please refresh the page and try again.