OnePlus 6 review: The matter is settled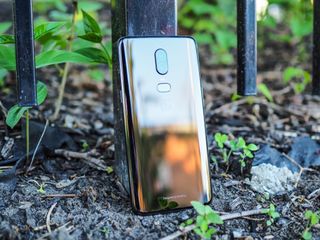 With OnePlus releasing a new phone every six months, it's safe to say that the OnePlus 6T, likely coming in November, will offer a few select upgrades to the company's tried-and-true formula — along with a modest price bump.
But if you're in the market for a phone right now, and don't want to spend more than you need to on a well-rounded Android experience — heck, smartphone experience in general — the OnePlus 6 is your absolute best option.
Whereas previous models had notable drawbacks, particularly around camera quality, OnePlus has seized on a confluence of factors to release a phone that has no major flaws, at a starting price few believed was possible.
About this review
I (Daniel Bader) am reviewing the OnePlus 6 after spending just over a week with the phone running on the Freedom Mobile LTE network in Toronto, Canada.
The phone shipped with build 512 but was updated to 513 shortly before the phone was announced on May 16. The model tested was the Mirror Black variant with 8GB of RAM and 128GB of storage.
The nitty gritty
Let's talk hardware
The OnePlus 6, despite sharing nearly identical dimensions with its all-metal predecessor, has gained a bit of thickness and a sizeable amount of weight, and that's owing to its Gorilla Glass 5 housing, a first for the OnePlus series. It looks better than any OnePlus phone to date, for sure, but it also looks quite a lot like quite a few other phones on the market right now, including the LG G7, Huawei P20 Pro and, increasingly, others.
Such is the price of maturity, and the OnePlus 6 wears it well. Yes, there's a notch on the 6.28-inch Optic AMOLED display, but the phone is no larger than the OnePlus 5T — OnePlus merely expanded the usable real estate. And while there are some software quirks associated with the notch, particularly in the now-truncated status bar, for the most part, it's not distracting, and the whole thing just works. The screen is good — bright and vibrant, with plenty of calibration options — but like Huawei's flagships, OnePlus continues to resist the urge to move to QHD.
Is that a problem? Not at all. Comparing the OnePlus 6's display to the current market leader, the Galaxy S9+, reveals no serious handicaps. Reds aren't quite as punchy, and the phone doesn't reach the same levels of brightness as Samsung's latest flagship, but in all but the brightest conditions, it won't matter. If you can handle the notch, and I implore you to get over it, you will love this screen.
Image 1 of 3
To accommodate a diminished set of antenna lines, the OnePlus-hardware-staple mute switch has been relocated to the right side of the phone. Given that the right-side power and left-side volume controls are in the same relative positions, this change isn't that important, but being right-handed I did find it easier to use. Lefties may not feel the same way. At the same time, the mute switch now works as it should, shuffling between ringer, vibrate and mute without interfering with Oreo's Do Not Disturb settings. That means if DND is enabled, the mute switch is largely useless — the phone cedes to the software — but that will be fixed in Android P.
Around back are where you'll find the biggest aesthetic changes to the OnePlus 6: not only has the dual camera shifted vertical, but the makeup of that second camera is a bit different, too. Actually, that's not quite true, but the intent of the second camera has changed, which we'll get to a bit later.
The rear fingerprint sensor, which was originally added to the OnePlus 5T, is now oblong and ever-so-slightly lower down on the phone, but I've come to use it less and less now that the phone's face recognition is so reliable. Frustratingly, OnePlus 6 lacks the option for a swipe gesture on the fingerprint sensor to bring down the notification shade, but given that it's available on the 5T, it's only a matter of time before OnePlus adds it.
The OnePlus 6 still has a headphone jack on the bottom, along with a single downward-facing speaker — loud, but not beefy — and USB-C port. And for better or worse (but mainly worse), it's got the same buzzy, overwrought vibration motor as its predecessor. After using the phone for well over a week, the low-quality vibration motor is my primary fault against the phone, and makes me less likely to use it in the long-run than, say, a Galaxy S9 or LG G7. At the same time, my colleague Alex Dobie, who has used the OnePlus 6 for the same length of time, finds no issue with the haptics, and even prefers them to more expensive phones, so your mileage may vary.
The lack of wireless charging galls a little, but not too much; worse is the exclusion of the USB Power Delivery standard in favor of OnePlus's proprietary (and admittedly faster) Dash Charge. It claims that wireless charging is a regression over fast wired charging, but the reliance on OnePlus's specific cables and AC adapters undermine that argument. I don't want to have to buy a second or third Dash Charger just to reach peak speeds in my office, bedroom, and car. At nearly $30 for just the car charger (opens in new tab), for instance, the decision may prove profitable for OnePlus, but it's decidedly customer-unfriendly.
As far as hardware goes, you're getting a lot for your money, but it's clear that OnePlus is still saving strategically, and it's the small things — screen resolution, haptics, speaker output, wireless charging — where its more expensive competition is taking the conversation.
The specifications you need
Power. Full.
Swipe to scroll horizontally
| Spec | OnePlus 6 |
| --- | --- |
| Screen | 6.28-inch OLED |
| SoC | Snapdragon 845 |
| RAM | 6/8GB |
| Storage | 64/128/256GB |
| Camera 1 | 16MP rear, ƒ/1.7, OIS |
| Camera 2 | 20MP rear, ƒ/1.7 |
| Battery | 3300mAh |
| Connectivity | Gigabit LTE, 27 LTE bands |
| Security | Fingerprint, face unlock |
| Dimensions | 155.7 x 75.4 x 7.75 mm |
| Weight | 177 grams |
| Colors | Mirror Black, Midnight Black, Silk White |
| Price | $529, $579, $679 |
As with all of OnePlus's updates, specs rule the show here. In addition to upgrading to 2018's staple flagship platform, the Qualcomm Snapdragon 845, OnePlus is for the first time offering a $629 256GB storage option to go along with 8GB of RAM.
The $529 base model still comes with 6GB of RAM and 64GB of storage, which should be more than enough for most people, but without expandable storage, many will likely choose to go with the $579 middle option, which pairs 8GB of RAM with 128GB of storage, and also comes in two additional colors — Midnight Black and, starting June 5, Silk White — to go along with the standard Mirror Black.
OnePlus 6 specs: More expensive, more swagger
(All three colors are gorgeous, by the way.)
Like I said before, aside from a few smaller omissions, it's really difficult to fault the company for any of its specification decisions here, especially if you're a number counter like many OnePlus customers are. This is the first OnePlus phone to reach gigabit speeds, thanks to Qualcomm's X16 baseband and the antenna density to support 4x4 MIMO. Unfortunately, despite having the CDMA and LTE bands to support Verizon's network, the phone is only certified to work on AT&T and T-Mobile in the U.S. Oh, well.
Using the phone on Canada's Freedom Mobile network, which is more akin to T-Mobile than AT&T, I consistently reached speeds of 50Mbps. Wi-Fi and Bluetooth were solid, as was GPS. I didn't make many phone calls, but the ones I made (over a 3G connection — Freedom doesn't support VoLTE) were loud and clear.
On the upside, the OnePlus 6 is unlocked and has two SIM slots, both of which can access LTE — a first for the OnePlus line.
The 3300mAh battery inside the OnePlus 6 is unchanged in capacity from the OnePlus 5 series, and is down slightly over the OnePlus 3 series, but the company says this one is the longest performer yet thanks to processor efficiencies and software improvements, and I've found that claim to be true. Indeed, the OnePlus 6 didn't quit on me before the end of the day even once during my testing period, and there are more than enough power-saving settings to extend the life of even the heaviest of users.
In particular, at night I found myself enabling OnePlus's excellent Reading Mode instead of the blue light-killing Night Mode, largely because the monochrome palette accomplishes the same thing and encourages me to read the many books I have waiting for me in the Kindle app rather than spend my evenings scrolling through Instagram. It's a win-win and, more importantly, a beautifully-implemented feature.
Finally, despite lacking an IP rating for water resistance, OnePlus claims that the OP6 can withstand a "standard" amount of water exposure in daily use. Basically, don't submerge it in the pool or expect it to survive a romp in the washing machine. But I decided to take my chances with the phone during a recent downpour — and I'm talking a severe thunderstorm, not a minor drizzle — by making a phone call and taking a few photos, and it held up well. It remains to be seen if, unlike IP-certified phones like the Galaxy S9 and Pixel 2, there will be any long-term damage from water exposure, but right now I'm happy it's still alive.
It's a good camera, Brent
Finally, a camera worth singing about
Every smartphone is only as good as its camera, and the OnePlus 6 makes some important changes to shore up that side of things. But to understand the OnePlus 6's camera setup, we have to go back to the OnePlus 5, where the dual-sensor combination took shape.
With the 5, OnePlus decided to follow Apple's and Samsung's lead by giving its second shooter a focal length double that of the primary, allowing both for "telephoto" shots and, more importantly, bokeh effects through its portrait mode. Like any feature borne of algorithms, OnePlus's portrait mode wasn't great at first but improved significantly through software updates. By the time we got the OnePlus 5T, the feature was reliable and, more importantly, fun.
But the 5T changed the core idea of the secondary camera, shooting for better low-light shots with a sensor that only kicked in under dark conditions. Unfortunately, it didn't work that well for such a task, and the OnePlus 5T maintained the company's reputation for below-average nighttime photography.
With the OnePlus 6, the company is taking a deliberately simple approach — one that's worked for Samsung, Apple, Huawei and many others. It's increasing the size of the main sensor — it's still 16 megapixels, but the individual pixel size has grown to 1.22 microns from 1.12 in the OnePlus 5 series — which, along with optical image stabilization (OIS) and a wide ƒ/1.7 lens, should make for much-improved low-light photography. (The IMX519 sensor found in the OnePlus 6 is brand new and other than the Oppo R15, which formed the basis for the OP6's design, it's yet to ship in volume.)
And the 20MP secondary sensor? Well, it's the same one used in the OnePlus 5T, but its sole purpose is to add depth information for the phone's much-improved portrait mode. No low-light tricks; no telephoto gimmicks.
Thankfully, that change paid off. The OnePlus 6 takes incredible photos in daylight, replete with to-die-for bokeh on stationary subjects and, thanks to the included optical stabilization, phenomenal action shots. I was able to capture clear photos of my always-moving dog, that, for one reason or another, more expensive phones can't get. That's mostly owing to OnePlus's algorithms, which have always been willing to go to maneuver from one extreme — super-fast shutter speeds — to another — grain-producing light sensitivity.
Image 1 of 6
The reason this approach doesn't backfire in 2018 the way it did in previous years is because OnePlus is finally working with hardware that can keep up with its software tuning.
Specifically, the newer, larger IMX519 sensor captures more light than on any previous OnePlus, and the Qualcomm Snapdragon 845's image signal processor is able to slice off some of that grain in low-light situations.