OnePlus 6 review: The matter is settled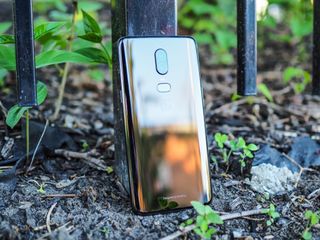 With OnePlus releasing a new phone every six months, it's safe to say that the OnePlus 6T, likely coming in November, will offer a few select upgrades to the company's tried-and-true formula — along with a modest price bump.
But if you're in the market for a phone right now, and don't want to spend more than you need to on a well-rounded Android experience — heck, smartphone experience in general — the OnePlus 6 is your absolute best option.
Whereas previous models had notable drawbacks, particularly around camera quality, OnePlus has seized on a confluence of factors to release a phone that has no major flaws, at a starting price few believed was possible.
About this review
I (Daniel Bader) am reviewing the OnePlus 6 after spending just over a week with the phone running on the Freedom Mobile LTE network in Toronto, Canada.
The phone shipped with build 512 but was updated to 513 shortly before the phone was announced on May 16. The model tested was the Mirror Black variant with 8GB of RAM and 128GB of storage.
The nitty gritty
Let's talk hardware
The OnePlus 6, despite sharing nearly identical dimensions with its all-metal predecessor, has gained a bit of thickness and a sizeable amount of weight, and that's owing to its Gorilla Glass 5 housing, a first for the OnePlus series. It looks better than any OnePlus phone to date, for sure, but it also looks quite a lot like quite a few other phones on the market right now, including the LG G7, Huawei P20 Pro and, increasingly, others.
Such is the price of maturity, and the OnePlus 6 wears it well. Yes, there's a notch on the 6.28-inch Optic AMOLED display, but the phone is no larger than the OnePlus 5T — OnePlus merely expanded the usable real estate. And while there are some software quirks associated with the notch, particularly in the now-truncated status bar, for the most part, it's not distracting, and the whole thing just works. The screen is good — bright and vibrant, with plenty of calibration options — but like Huawei's flagships, OnePlus continues to resist the urge to move to QHD.
Is that a problem? Not at all. Comparing the OnePlus 6's display to the current market leader, the Galaxy S9+, reveals no serious handicaps. Reds aren't quite as punchy, and the phone doesn't reach the same levels of brightness as Samsung's latest flagship, but in all but the brightest conditions, it won't matter. If you can handle the notch, and I implore you to get over it, you will love this screen.
To accommodate a diminished set of antenna lines, the OnePlus-hardware-staple mute switch has been relocated to the right side of the phone. Given that the right-side power and left-side volume controls are in the same relative positions, this change isn't that important, but being right-handed I did find it easier to use. Lefties may not feel the same way. At the same time, the mute switch now works as it should, shuffling between ringer, vibrate and mute without interfering with Oreo's Do Not Disturb settings. That means if DND is enabled, the mute switch is largely useless — the phone cedes to the software — but that will be fixed in Android P.
Around back are where you'll find the biggest aesthetic changes to the OnePlus 6: not only has the dual camera shifted vertical, but the makeup of that second camera is a bit different, too. Actually, that's not quite true, but the intent of the second camera has changed, which we'll get to a bit later.
The rear fingerprint sensor, which was originally added to the OnePlus 5T, is now oblong and ever-so-slightly lower down on the phone, but I've come to use it less and less now that the phone's face recognition is so reliable. Frustratingly, OnePlus 6 lacks the option for a swipe gesture on the fingerprint sensor to bring down the notification shade, but given that it's available on the 5T, it's only a matter of time before OnePlus adds it.
The OnePlus 6 still has a headphone jack on the bottom, along with a single downward-facing speaker — loud, but not beefy — and USB-C port. And for better or worse (but mainly worse), it's got the same buzzy, overwrought vibration motor as its predecessor. After using the phone for well over a week, the low-quality vibration motor is my primary fault against the phone, and makes me less likely to use it in the long-run than, say, a Galaxy S9 or LG G7. At the same time, my colleague Alex Dobie, who has used the OnePlus 6 for the same length of time, finds no issue with the haptics, and even prefers them to more expensive phones, so your mileage may vary.
The lack of wireless charging galls a little, but not too much; worse is the exclusion of the USB Power Delivery standard in favor of OnePlus's proprietary (and admittedly faster) Dash Charge. It claims that wireless charging is a regression over fast wired charging, but the reliance on OnePlus's specific cables and AC adapters undermine that argument. I don't want to have to buy a second or third Dash Charger just to reach peak speeds in my office, bedroom, and car. At nearly $30 for just the car charger (opens in new tab), for instance, the decision may prove profitable for OnePlus, but it's decidedly customer-unfriendly.
As far as hardware goes, you're getting a lot for your money, but it's clear that OnePlus is still saving strategically, and it's the small things — screen resolution, haptics, speaker output, wireless charging — where its more expensive competition is taking the conversation.
The specifications you need
Power. Full.
| Spec | OnePlus 6 |
| --- | --- |
| Screen | 6.28-inch OLED |
| SoC | Snapdragon 845 |
| RAM | 6/8GB |
| Storage | 64/128/256GB |
| Camera 1 | 16MP rear, ƒ/1.7, OIS |
| Camera 2 | 20MP rear, ƒ/1.7 |
| Battery | 3300mAh |
| Connectivity | Gigabit LTE, 27 LTE bands |
| Security | Fingerprint, face unlock |
| Dimensions | 155.7 x 75.4 x 7.75 mm |
| Weight | 177 grams |
| Colors | Mirror Black, Midnight Black, Silk White |
| Price | $529, $579, $679 |
As with all of OnePlus's updates, specs rule the show here. In addition to upgrading to 2018's staple flagship platform, the Qualcomm Snapdragon 845, OnePlus is for the first time offering a $629 256GB storage option to go along with 8GB of RAM.
The $529 base model still comes with 6GB of RAM and 64GB of storage, which should be more than enough for most people, but without expandable storage, many will likely choose to go with the $579 middle option, which pairs 8GB of RAM with 128GB of storage, and also comes in two additional colors — Midnight Black and, starting June 5, Silk White — to go along with the standard Mirror Black.
OnePlus 6 specs: More expensive, more swagger
(All three colors are gorgeous, by the way.)
Like I said before, aside from a few smaller omissions, it's really difficult to fault the company for any of its specification decisions here, especially if you're a number counter like many OnePlus customers are. This is the first OnePlus phone to reach gigabit speeds, thanks to Qualcomm's X16 baseband and the antenna density to support 4x4 MIMO. Unfortunately, despite having the CDMA and LTE bands to support Verizon's network, the phone is only certified to work on AT&T and T-Mobile in the U.S. Oh, well.
Using the phone on Canada's Freedom Mobile network, which is more akin to T-Mobile than AT&T, I consistently reached speeds of 50Mbps. Wi-Fi and Bluetooth were solid, as was GPS. I didn't make many phone calls, but the ones I made (over a 3G connection — Freedom doesn't support VoLTE) were loud and clear.
On the upside, the OnePlus 6 is unlocked and has two SIM slots, both of which can access LTE — a first for the OnePlus line.
The 3300mAh battery inside the OnePlus 6 is unchanged in capacity from the OnePlus 5 series, and is down slightly over the OnePlus 3 series, but the company says this one is the longest performer yet thanks to processor efficiencies and software improvements, and I've found that claim to be true. Indeed, the OnePlus 6 didn't quit on me before the end of the day even once during my testing period, and there are more than enough power-saving settings to extend the life of even the heaviest of users.
In particular, at night I found myself enabling OnePlus's excellent Reading Mode instead of the blue light-killing Night Mode, largely because the monochrome palette accomplishes the same thing and encourages me to read the many books I have waiting for me in the Kindle app rather than spend my evenings scrolling through Instagram. It's a win-win and, more importantly, a beautifully-implemented feature.
Finally, despite lacking an IP rating for water resistance, OnePlus claims that the OP6 can withstand a "standard" amount of water exposure in daily use. Basically, don't submerge it in the pool or expect it to survive a romp in the washing machine. But I decided to take my chances with the phone during a recent downpour — and I'm talking a severe thunderstorm, not a minor drizzle — by making a phone call and taking a few photos, and it held up well. It remains to be seen if, unlike IP-certified phones like the Galaxy S9 and Pixel 2, there will be any long-term damage from water exposure, but right now I'm happy it's still alive.
It's a good camera, Brent
Finally, a camera worth singing about
Every smartphone is only as good as its camera, and the OnePlus 6 makes some important changes to shore up that side of things. But to understand the OnePlus 6's camera setup, we have to go back to the OnePlus 5, where the dual-sensor combination took shape.
With the 5, OnePlus decided to follow Apple's and Samsung's lead by giving its second shooter a focal length double that of the primary, allowing both for "telephoto" shots and, more importantly, bokeh effects through its portrait mode. Like any feature borne of algorithms, OnePlus's portrait mode wasn't great at first but improved significantly through software updates. By the time we got the OnePlus 5T, the feature was reliable and, more importantly, fun.
But the 5T changed the core idea of the secondary camera, shooting for better low-light shots with a sensor that only kicked in under dark conditions. Unfortunately, it didn't work that well for such a task, and the OnePlus 5T maintained the company's reputation for below-average nighttime photography.
With the OnePlus 6, the company is taking a deliberately simple approach — one that's worked for Samsung, Apple, Huawei and many others. It's increasing the size of the main sensor — it's still 16 megapixels, but the individual pixel size has grown to 1.22 microns from 1.12 in the OnePlus 5 series — which, along with optical image stabilization (OIS) and a wide ƒ/1.7 lens, should make for much-improved low-light photography. (The IMX519 sensor found in the OnePlus 6 is brand new and other than the Oppo R15, which formed the basis for the OP6's design, it's yet to ship in volume.)
And the 20MP secondary sensor? Well, it's the same one used in the OnePlus 5T, but its sole purpose is to add depth information for the phone's much-improved portrait mode. No low-light tricks; no telephoto gimmicks.
Thankfully, that change paid off. The OnePlus 6 takes incredible photos in daylight, replete with to-die-for bokeh on stationary subjects and, thanks to the included optical stabilization, phenomenal action shots. I was able to capture clear photos of my always-moving dog, that, for one reason or another, more expensive phones can't get. That's mostly owing to OnePlus's algorithms, which have always been willing to go to maneuver from one extreme — super-fast shutter speeds — to another — grain-producing light sensitivity.
The reason this approach doesn't backfire in 2018 the way it did in previous years is because OnePlus is finally working with hardware that can keep up with its software tuning.
Specifically, the newer, larger IMX519 sensor captures more light than on any previous OnePlus, and the Qualcomm Snapdragon 845's image signal processor is able to slice off some of that grain in low-light situations.
Actually, let's talk night photography, because that's traditionally where OnePlus phones have struggled in the past. Recall the OnePlus 3 series: both phones had OIS, but were let down by the rest of the hardware. Here, not so much. In extreme low light, the OnePlus 6 still falls behind phones with larger sensors or wider apertures like the Huawei P20 Pro and Galaxy S9, but in situations one would consider "normal" night shots — a dimly-lit bar, or a street lit by a single overhead lamp — the phone is neck-and-neck with its more-expensive counterparts. It's a remarkable achievement, especially given how far behind the OnePlus 5T was in this area.
At the same time, OnePlus must also be commended for its camera software, which is just as easy-to-use and powerful as ever. The phone's various modes, from timelapse to slo-mo to the excellent Pro features, are a swipe away, while video and portrait are accessible in single taps.
That portrait mode suffers from the same edge detection problems as every other phone, from the Pixel 2 to the iPhone X and Galaxy S9+, but I'm pleased with how far OnePlus has come in just a year. It does better with people than, say, dogs or inanimate objects, which isn't shocking, but unless you're really pixel-peeping, you'll be happy to share the results on social media. OnePlus says it plans to make further improvements to the portrait mode in an upcoming update, in addition to bringing it to the selfie side, but at the time of writing, it's pretty great as-is.
On the front, we're looking at the same 16MP sensor as the last two generations, because if it ain't broke, don't fix it. (That selfie camera also enables the excellent and super-fast face unlock feature, which I use far more than the rear finger biometric.)
As for video, OnePlus outdid itself, choosing to focus on the fundamentals of the hardware than super slo-mo gimmicks like Samsung and Sony. Indeed, we have 4K video at 60fps (in addition to 30fps), which despite lacking the company's excellent electronic stabilization and being limited to 10-minute spurts, is absolutely gorgeous. Dropping to 4K at 30fps, or 1080p at either 30 or 60 frames per second, engages both electronic and optical stabilization, and it's a pleasure to look at. It's not quite as holy sh!t stable as the Pixel 2, but it's close.
Then there's the slow motion modes — 480fps at 720p and 240fps at 1080p — which are a joy to use and limited to a minute of real-time footage (translating to over 10 minutes of slo-mo video at 480fps). That's a lot of breathing room compared to the 0.3 seconds at 960fps on phones like the Galaxy S9 and Xperia XZ2, and much more practical. It's great to see OnePlus pushing the Snapdragon 845 as far as it will go while also making practical user experience decisions.
It can't be overstated how much of an impact a great camera has on using the OnePlus 6. I use every phone out there, which makes me more scrupulous than the average consumer. Saying that I would happily use the OnePlus 6 as my main camera — even without a second sensor that does anything besides enabling portrait mode — is high praise, and one that I don't offer lightly. It's not the best camera on the market — that honor is still reserved for the Huawei P20 Pro — but it's a remarkable one for the price.
OnePlus 6 cases
As it does with every phone, OnePlus has announced a bunch of first-party cases in a number of materials, colors, and levels of protection. From the simple red silicone to a new ultra-protective and grippy nylon bumper, there's something for everyone here.
These are the official OnePlus 6 cases you can buy at launch
Full of Oxygen
Software simplicity
I have very little to complain about when it comes to OnePlus's OxygenOS software. This is about as unadorned an Android 8.1 experience as you'll find today despite the addition of a few features that may have a considerable impact, or none at all, depending on the type of phone user you are.
If you've used a OnePlus phone over the past couple of years, you know what to expect. But what continues to surprise me is just how fluid and stable OxygenOS has become — we've seen examples of "stock" Android on devices like the Essential Phone that are more buggy than an ant hill. Using the OnePlus 6 has largely been problem-free, with no major app compatibility issues from the notch, nor the camera instability I experienced on the OnePlus 5 series.
I'm no fan of OnePlus's home screen "Shelf", which is where Google's Feed should be, but that's a minor nit to pick, especially given how easy it is to switch launchers. More importantly, OnePlus has shown considerable restraint in the number of features it's added to the software — you can count them on one hand, and they're all pretty useful.
The new Gaming Mode isn't something I'm going to use on a daily basis, but given the phone's inevitable owner demographic, the addition makes a lot of sense. OnePlus has optimized not just the loading speeds of the top 100 games in the Play Store (something about caching a portion of the game in memory upon install), but it's offering extensive and granular battery controls for those who don't want a PUBG session eating too much into their uptime. I particularly appreciate the optional "Network Boost" feature, which prioritizes a game's packets over those of other apps on the phone.
The only other major software addition isn't really new to the OP6: the iPhone X-like software gestures that debuted on the OnePlus 5T's Open Beta last year are now a standard, though opt-in, option for users to navigate the OS. I gave the gestures — swipe up from the bottom middle to go home, swipe up from the bottom left or right to go back — my best shot, but ironically they're better on the 5T because that phone has a larger chin, which positions the screen edge higher up. That means less traveling for the thumb and less awkwardness when typing.
I'm going to keep at it to see if I can grow used to the gestures because the additional screen real estate is wonderful, but at this point, I'll stick to the what I know and love.
Let's talk about updates, because despite OnePlus's improvements in this particular column, it's unclear how quickly the OnePlus 6 will receive Android P. The company can't be faulted for the cadence of its dot updates — bug fixes and minor feature additions — but given its participation in Google's nascent beta program, there's no excuse for a slow rollout of the final build.
The question is settled
Should you buy it? Yes!
If you're in the market for a OnePlus phone, it's likely because you get great value for your money. Starting at $529, the OnePlus 6 is a $30 bump from the 5T, which itself was a $30 jump from the 5, and so on. That's been OnePlus's strategy since its first device, the OnePlus One, was released for $299 in 2014 — slowly up the cost every generation, and improve just enough to justify it.
As for the colors, I got a chance to use all three, including the limited-edition Silk White, which debuts two weeks after the other two versions in just one configuration. And as much as I like the shiny, fingerprint-attractive Mirror Black version, and as comfortably familiar as is the matte-finish Midnight Black model, I'm hoping to get my hands on the Silk White at some point. The textured white back, coupled with subtle gold accents, is a sight to behold, and an even better phone to hold.
The Good
Great OLED display
Much-improved camera
Attractive design with high-quality materials
Top-notch specs
The price is right
Software is fast and fluid
Headphone jack
The Bad
Haptics aren't great
Software lacks a few niceties
Proprietary Dash Chargers are expensive
Wireless charging would have been nice
4.5 out of 5
The OnePlus 6 is a very good phone. It lacks a couple of features I enjoy on devices that cost considerably more — wireless charging and a high-quality vibration motor, to be specific — but there's very little else about it with which I can find fault. At $529, this is the best smartphone deal in town, and one of the best phones you can buy right now.
Daniel Bader was a former Android Central Editor-in-Chief and Executive Editor for iMore and Windows Central.
Happy to see the camera improvement is real, to be honest I'm astonished that they improved that much with only a 30 dollar price increase.

The price has crept too high.

No it has not. You're being cheap and naive to believe that an improved phone will not increase price....

I am neither, but thanks for your input lol.

You are naive. You're ******** about oneplus prices but fail to acknowledge others. Google, Samsung and Apple and even huawei have 1000 dollar ******* phones. Are you serious? Those phones crept too high without too serious of improvements.

Many people think the price of a lot of phones has gotten too high.
You don't have to name them all while mentioning a specific example.
Profit margins have grown so it's not always about the improvements.

Thank you for spelling you're correctly!

Finally this year I got a wireless charger for my S8 and wife's iPhone 8 and the OP6 exclude wireless charging??

No wireless charge, no other spec matters.

Why?
I'm struggling to see what wireless charging gives that a wired doesn't.
I know you have a pad instead of a USBC and can't use the phone while it's charging. I know it's a lot slower but these things are benefits I can live without.

This guy gets it! I've had wireless charging phones and see zero benefits over wired, plain and simple!

It is basically worthless. Most folks that gripe about things like Wireless charging are a very tiny minority of nerds. And with the notch on the OP6 being non-existent if disabled, anyone griping about it falls into that tiny minority of nerds as well. At least the ones that know it can be hidden and cry anyway.

I think people are creatures of habit... Some people are in the habit of using wireless charging, so that's what they do even though wired is better and has basically rendered wireless useless now.

It's worthless to you. To alot of other people it is something they want and use.

Agreed, I have it on my Galaxy S7 and stopped using it after the novelty wore off. I do know a few friends that really like it for their cars though, where the phone charges whilst in the magnetic car dock.

Agree, it's only real benefit I would see is if you have charging pads all over your house/car/office and it was just charging when you put it, well, anywhere.
For an extra bump in price it's not a deal breaker for me.
Im still going to wait for the 6t or next pixel before deciding....

I use wireless charging overnight to reduce stress on my phone's battery, and to provide me with an alarm clock. Combined with the always-on-display, I can always glance across the room and see the time and if I have any missed calls. It's also a boon if I get my phone wet but still need to charge it (like last night). I'm fully aware that wired charging is most certainly faster, and a full fledged USB Type-C port is fantastic, but for me wireless charging is a little simpler, a little faster, and has absolutely no cons. I don't need the fastest charging solution every time. My phone gets fantastic battery life, so I rarely need a quick top up. I just set my phone on my stand and I don't have to worry about it anymore.

Charging wirelessly saves wear and tear on the charging port.

Oh hush it people. Some people love wireless charging, get over it. It's so convenient. Just for the simple fact I can set my phone down on a pad at night instead of reaching down and grabbing a cord and plugging it in. People love convenience. Who cares if it's slower if it's charging over night.

I didn't know reaching for a cord and plugging in was so stressful. I think the human race just jumped the shark.

Very true. The best part of wireless technology is convenience!

The thing I fail to understand is why have an all glass phone & no wireless? Metal is so much more durable. Then why have a notch, most consumer's will probably hide it anyway?

RF passisivity. Glass = pass. Metal, like your head, blocks information passage.

Wireless lover here. Works whilst I sleep, where speed is not an issue. My partner has a different phone, can use the same charger. In fact I bought another identical one. I mocked wireless users, then, 5 or 6 years ago, I made the leap.

WHY? You are really just to damn slow! I'll tell you why the AUTHOR of this article is either a FANBOI or DELUSIONAL. 1. The screen is 6.2 with only 1080 x 2280 pixels, 19:9 ratio (~402 ppi density)
2 NO water certification really?
3. NO wireless charging? This is 2018!
4 Single speaker still? APPLE ANYONE? S9?
Dont give that crap these are more expensive phones the HTCs are less then 500 and
have stereo speakers and cost less. Heck last years U11 has a better screen , better
camera and is rated for water-proofing and look gorgeous.
Not only that a plethora of flagships and midrange are yet to come.
Price is not even that good . You can get an Iphones8+ for 699 and there are
numerous deals on the S9 IF you add a line....If you are into prepaid the samsung 8+ is
349.99 refurb 90 day warranty on Boost

CBarker, wireless charging is a convenience more than anything else. When I go to bed I just plop it down on the pad & away you go. Nighte night. Wake up, fully charged. While at work another pad and there both fast wireless work great. Some like, some don't but personally I love it, no screwing around with plugs.! Yes it's a tad slower but again very convenient!

I completely agree. And their stupid logic of adding wireless charging is a regression over fast cable charging... They are mutually exclusive! You can have fast cable charging and fast wireless charging, see the Galaxy S8 and S9! No Qi, no Deal.

Really wish it had wireless charging since the back of the phone is glass. Got to include it if car makers have wireless chargers in their new vehicles. If you're copying Apple's notch please also copy their wireless charging feature

Copying Apples wireless charging?
Think they were just about the last manufacturer to adopt it but yea copy Apple.

You miss Ricardo's' point.

That's why I love this site. Thanks for the review. It doesn't have wireless charging but its probably on the way, Possibly in the OnePlus 6t. But if you don't have to have wireless charging, and I don't, this phone checks all the right boxes.

Reading between the lines, the camera doesn't quite stack up to the Pixel 2. The only time the camera was compared to the Pixel 2 was a brief mention about it not being as stable in video mode......

At nearly half the price of the pixel 2 XL launch price and with a historically much lower depreciation of resale value I'm fairly certain a notch below the pixel 2 is just fine...

I can't believe people think this is going to go head to head with a device like the Pixel 2. OP is a much smaller company with less resources than google. Plus its considerably cheaper. Even I know the logic of why it wouldn't be. What OP6 seems to get you instead is a very solid camera experience.

it can tho. It can. stop underestimating a phone half a thousand dollars with the sd845

Half the price? 630 is half of 850? Edit: Fat-fingered that one, meant 530 but same message. The price also goes up to 680

It's so funny to me that this comparison is so important to people. They both take great photos. So one is 4% visibly better when directly comparing them side by side. Is that really worth paying 40% more? You only notice the difference when you directly compare them. Yet take the OnePlus or take the pixel, and you will be happy with both. Unless you are directly comparing them after every picture you take, a decision based on such a minute difference is lunacy.

I couldn't agree more. People pay $500 more for a phone JUST because of a slightly better camera when they're all really good now. It's completely insane.

People are obsessed with the camera these days. Smartphones have other great features too. For a regular user, the camera won't matter that much. If you into photography then better buy a DSLR. Oneplus 6 offers far more superior user-friendly experience than other phones with regular updates.

Everyone has different needs or wants when it comes to phones. Yes, a DSLR will provide better quality than any smartphone, but I'm not able to toss one in my pants pocket! I'd also argue that it's quicker to double press the power button to launch the camera while taking my phone out. Just because the camera isn't important to you doesn't mean it isn't for everyone.

Wrong. Time and Time again surveys show that all people care about is battery life and camera. The best camera is the one you have on you and people love taking pics these days.

Well yes, surveys do say that and then people vote with their wallets and buy phones that don't have decent battery life and the best camera - iPhones. As it happens all flagships have good cameras these days, OnePlus may not have the best camera on their phones but they are decent and will get the job done. The vast majority of people do not have two phones to compare side by side anyway.

Yet OEM's continue to make phones as thin as possible with insufficient batteries.

I agree . Quips like "a smartphone is only as good as it's camera" are absolute nonsense to me. This total obsession with camera quality is totally baffling to me. Smartphone cameras have been good enough since the Note 4 came. This and the "stock" Android agenda are the reasons why I don't buy phones based on reviews.

I have a Oneplus 5T and when asked by Oneplus what improvements I wanted to see the only one's I could think of where some waterproofing and a better low light camera.
Could of asked for a few milliseconds quicker performance I suppose or more pixels in the screen which I can't see.

I agree with this in daylight only. I remember my OnePlus X doing just fine with enough light. The problem is low light. When you start taking photos indoors or at dusk, this is when a better camera shines.

Because they already nixed the other great feature; removing the battery.

"If you can handle the notch, and I implore you to get over it, you will love this screen." I like Daniel's reviews, but this is the first time where I've completely disagreed with something he has said in a review. Like many out there, I am firmly opposed to the notch. It's not because all these notches we've seen lately mimic the notch on the vastly overpriced iPhone X, but because there is no reason for the notch to begin with. At least Apple's notch packs some stuff in the notch (e.g., FaceID) and that was the only way they could produce a near-bezeless phone (although I don't really understand the war on bezels either). The OnePlus 6 has nothing innovative or hi-tech in the notch, and hence, the notch is either a sign of laziness, complacency, or imitation for the sake of imitating. Let's not pretend that the notch is a good thing. It surely isn't a high point in cell phone design. It obliterates one of the best parts of Android (i.e., the status bar) and instead introduces a visual eyesore that breaks up the symmetry of the front of a phone just to add a couple hundred extra pixels (and no, LG isn't off the hook either with their stupid "second screen" moniker).

Android P will natively support the notch so it's not going away anytime soon. It's just a phone who cares.

If you were OCD you'd REALLY care.

Yeah, I was having a great read until that part. AC slowly trying to convince people that the notch is fine because there is a real possibility that the Pixel 3 might get one.

Not sure how iPhone get a pass on their notch. Yes they also have face id sensors and mic at the front of the phone but it's much bigger.
When blacked out it looks like a bezel but with status bar left and right of the camera ect.

Bec the iPhone X is actually an edge to edge design unlike all these wannabe copycats that still have a bottom bezel. And the reason why the notch is so big on the iPhone X is from all that extra cameras and sensors it has compared to the rest.

Yes the X is a wonderful example of form over function and removing the FPS for a less efficient system was brilliant.
But my point is the camera, proximity sensor amd mic have to go somewhere.
Just because the X has some new tech doesn't change that.

I initially didn't like the notch, but now I think there is a reason for it. Designers sometimes tend to go for Symmetrical design. The notch serve another purpose which is the Screen to Body Ratio. Think about it, you wouldn't like front facing camera to the right or left of the screen, then a blank then the headset. It would look funny. So the fix is to put the camera closer to the headset speaker and have a notch to look symmetrical.

I'm still rocking solid with my note 8.😀

I'm too invested in wireless charging now to go back.

If dash charging worked with a 6-foot cable, it would be nice - but I'll probably stick with my Pixel 2 XL for now. (Yes, I know it's not really aimed at current Pixel 2 XL owners).

It may not be aimed at them, but it's just about got me. I really like my pixel 2 xl, especially the camera. Pretty much the camera and speakers from the pixel are the only thing making me actually give it a good thought about switching to the OP6. If those two factors weren't in the equation on the pixel, I would have already bought a OP6 and sold this thing. I really enjoyed the experience of my OP3 and would love to go back.

For the first time ever, the oneplus is available in offline stores in india and I was able to check one out over the weekend.And my first reaction was "thank god, I didn't have enough money last month to buy a S9" The build quality and the screen were excellent and gorgeous respectively. The only thing holding me back is the lack of visible after-sales service (the only 1 is 10-15kms away) Apart from that this is a compelling package and shouldn't be overlooked simply because it has a "budget" tag.

You think the OnePlus 6 has a better screen than the Galaxy S9? I honestly think this 1+6 is just a 1+5T with very slight improvements. I had the 5T and it was a beast as far as performance. Camera is little less than average. The 5T I purchased was the Lava Red 128GB & 8 GB RAM for $530. I ended up returning it and got a New Pixel XL for $325. I think that's a better and smarter purchase. If you want the best phone for the money, then I would strongly suggest looking at the Pixel XL or Pixel 2 XL. You can pick up a brand new Pixel 2 XL for $570 if you search around

Do you guys realize that Xiaomi is about to obliterate this with the new Mi 8 that is set for a stupendous price of ~ 450$.
Also and perhaps even more significantly, the current Xiaomi flagship Mi Mix 2S is absolutely competitive in specs and price, yet has the best design(no notch, best screen to body ratio) and build(cheramic) on the market!

Would look at this if available in UK.
Good phones from what ive read but these also have compromises and doubt the camera will be as good.

The camera? https://www.dxomark.com/xiaomi-mi-mix-2s-chinese-gem/

I've read other reviews that claim it's low light performance is not as good as some others. Look good to me though.
Still waiting for a DxOmark score for the 6 but rumours of 100+.
No doubt a worthy alternative and maybe a better buy for some but not sure the Mi 8 will obliterate the Oneplus phone.

It will in terms of value. The loud general narrative is still that the 1+ is the One, pun intended, top specced phone for the buck. But Xiaomi will offer the same specs for $450!

It would be about the same price in UK.

$450 is a good first offer, but they're going to need to pay me quite a bit more than that to use MIUI.

Typical elitist comment of someone who is actually clueless.
Most people who are experienced in MIUI love it. And prefer over the stock android.

Well that there is just a lie.

Haha no it's not. For example, many users (like myself, and most Chinese smartphone addicts) will not settle for a 6" phone that doesn't have one handed mode. And that's just one thing.

Or you could use the app store and download one of many one handed mode apps.

You can't be serious..
If you are, show me ONE such app please that isn't complete crap.

Your idea of crap and mine might be very different.
But there are lots to choose from.
I'm sure if there was a market a xiaomi one hand mode app would be available.
If there isn't it kind of tells you all you need to know.

You are embarrassing your self with clear ignorance.
Xiaomi, Samsung, Huawei, Oppo, etc.. ALL have one handed modes in their Android builds.
Combined, they sell at least 100 times more phones (not kidding) than any brand with stock or stock-like Android build.
Let that sink in before you speak utter nonsense about market needs. Now again, show me ONE one handed mode app that actually works fine.
Or just admit that you had no argument to begin with.
"Lots to choose from". That's just an outright laughable statement. XDA community has been working on such app for stock android for a long time yet it is still poor on top of the root requirement.

Unlike you I have actually tried many of the phones you mentioned as well as many others from HTC, LG and Google.
I don't need a one handed mode even on a 6 inch phone but "one handed mode premium" seemed to work as well as Samsung's offering. In my experience any good feature finds its way into the wild if there is a demand.
No need to get personal my needs are different to yours, we are both happy with our choices and life goes on.

That's true, except for the fact your previous posts were all false ..and that the one app you finally mentioned is (I'm actually laughing right now) has a 3.4 average score out of EIGHTEEN reviews. And it needs root.(I'm actually laughing again). Anyway, the lack of one handed mode is simply a big miss on a phone with a 6.3" diagonal. That's just a fact.
I have a Note 8 and one hand mode gesture is simply an integral part of my daily usage.

Well it's the only one I have tried.
Why didn't you like it?
I'm quite happy to discuss the prose and cons of different systems.
And am always willing to learn.
Had a S7 with one hand mode ( never used it) but next phone could well be the Note 9 and might use it rather than the Nova launcher solution. What's the advantage?

If you need a "one handed mode" the phone is far too big.

And you seems to be the only one who actually cares///

"480fps at 720p and 240fps at 1080p — which are a joy to use and limited to a minute of real-time footage (translating to over 10 minutes of slo-mo video at 480fps). That's a lot of breathing room compared to the 0.3 seconds at 960fps on phones like the Galaxy S9 and Xperia XZ2, and much more practical." What is the point of this comparison? Both of the phones you disparage here are also able to film in 480 fps at 720p and 240 fps at 1080p – I even think that the XZ2 can shoot in 1080p at 480 fps.
And that's without any form of time limit, unlike the OnePlus 6. If you don't like 960 fps slow-mo, just stick to unlimited slow-mo, on these phones...

Great review, thanks Daniel. Particularly useful to have more coverage of the photo quality side of things, which has been absent from most reviews I've read so far. Currently on Galaxy S7 so really looking forward to switching to this to get closer to stock firmware, faster updates and better battery life!

Which Color is Good Mirror Black or Midnight Black

Sounds good, albeit too expensive , i rather pay more and get P20 Pro, as it really stands out from the crowd. As i have the Mate 9, there is zero reasons to upgrade to any 2018 phone.

I fancy a P20 Pro but it is over £300 more expensive.
Agree no reason to upgrade in 2018.
I always get tempted though.

I'm warming to the OnePlus 6 but I'm still gonna get the Pixel 2 XL as I care about being first in line for updates and while I like Oxygen OS, I like Google's version more and don't trust OnePlus.

I thought the 5T was even better than the Pixel 2XL honestly, pound for pound. If you can't get past trust, well that is your issue. But being first in line for updates is probably the most overrated "feature" you can have, since so many times the updates break something that was working just great.

In all honesty I would swap my 5T for a Pixel 2XL. (If I was guaranteed a good one.) but they are starting to look expensive.

The camera thing is weird... Maybe I'm in the vast minority not caring about portrait mode. But it seems either way the second camera is mostly aesthetic. What a waste of resources.

Yep, must of run out of money.
Using up old lenses and sensors maybe.
No point having two cameras just for portrait mode.

Notch, no thanks. That's the reason I cancelled my iPhone X order after seeing it in person. It was annoying to look at, your eyes will always be drawn to it.

That's the point of the hide feature. You don't have to see it.

Apologies, will reread article. Missed that part. Cheers...

So the Dash charger is required for all charging, or just for fast charging?

Just for fast charging.
Normal chargers work fine just a bit slower.

Thanks. I'm curious about this device, but I don't want to replace all of my cables and chargers. Sitting on a dock overnight will be fine. Quick charging when needed is rare for me.

Exactly what I do. Rarely use the quick charger.
Still faster than wireless too.

How is One plus with their updates. I haven't owned one since the OG model. I wanted to wait on the Axon 9 but I have my doubts that phone will ever see the day of light. I've been using the Essential since it's cheaper but outside of the updates it's a pretty boring phone.

They've been pretty fast. Currently on the OP5 running Oreo 8.1 with the April security patch. Android P scheduled for later this year (after it's released), but OnePlus releases beta builds a couple of months early if you want to test/play.

I like the price, 529.00. The 845 processer. Oxygen OS, dash charging, a headphone jack. Things I don't like, the notch, no micro s/d, no ip rating for water resistance, no stereo speakers, no hi fi DAC. It's just not my cup of tea, but if your looking to save $$, this is it. No CDMA, no Verizon or Sprint, that's a whole lot of potential customers!

Awesome review guys! I especially loved Alex's video. That scene in the middle where he gets that notification asking "Where is the OP6 review!" was inspired!

I'm looking forward to getting mine tomorrow from O2. Just one thing I'm finding very annoying reading reviews on this device and similar that don't offer wireless charging. The reviewers state wireless charging like it's a must yet when Microsoft/Nokia brought it out everyone thought it was a gimmick and laughed at it. I have had wireless charging since Microsoft/Nokia released it and loved it had 8 pads around the house if I need to charge just put it down. Not a gimmick but a great feature. Now Apple and Samsung have released it in the device it's now like a must have thing on reviews of devices. I'm sure alot of reviewers were hates of Microsoft/Nokia tech yet here they are wanting it. The word sheep comes to mind. Have to say been there got the t-shirt still wearing the t-shirt years ago.

I love to take shots of my kids at the pool so, this phone although I love it is out for me. I think...

No manufacturer adds water damage to their warranties.
Don't know why they don't trust the IP rating?

If only there was wireless charging..... Why OP no wireless charging??? I wait to see what the OP 6T, Pixel 3, and Mate 20 offer.

Or I can hope OP makes a wireless charging case for the OP 6.

Good phone, but the price is too high. I'd just opt for an S9. In addition to having a notch and a chin simultaneously. In general, I'm not a fan of a nonstandard aspect ratio, and Samsung's 18.5:9, OP's 19:9,and Google's 18:9 don't help standardize the once ubiquitous 16:9 aspect ratio.

Can't wait to discover the new ways OnePlus abuses its customer base with this one. Will it be a "randomly" turning on microphone? Let's start a pool.

No IP68, no wireless charging, no thanks.

i can bear with the absence of wireless charging but not the IP rating

The Notch is hideous and I prefer the metal back of op5t. If you can live without a warranty op5t is still available on Amazon from NGP store seller. A little better camera and a glass back and a notch. No thanks I'd personally rather have op5t.

Daniel, can you check the Widevine level implemented on the OP6 for Netflix and Amazon High quality playback.

A phone that delivers an ugly notch and a low resolution screen.

I always wait a few months when new devices are released. Especially the ones with a lot of hype. Let the masses go through any problems there might be. Only once did I purchase a device the day of release and I later regretted it. Things such as battery life, software bugs, and hardware bugs are more important to me than notches, wireless charging and aesthetic appearance.

I don't get the gripes over wireless charging, who cares? Wireless charging is a novelty, why anyone would base a decision to buy on this is beyond me. Also, the notch, the stupid notch. For the life of me I can't understand why manufacturers are going with this design. It's clear that people don't like it, no matter how often Android Central says "get used to it". What happened to designing a product that the consumer actually wants? The majority of Android users don't like it, and the fact these phones are giving us the option to "hide" it, recognizes that. I don't get the "screen real estate" angle either. During full screen videos? Games? The notch seems so pointless to me. It's limiting the notification area? It's ugly (personal opinion), and it seems like a blatant iPhone rip off idea (even if Essential did it first). I mean, I don't know as though it would stop me from buying my next phone, but damn, I'd just rather have the larger bezels. Listen to what the consumer wants and just drop the stupid notch.

I'm pretty sure from what I've read a lot of people don't understand the notch.
They seem to think it's been added to the phone rather than 2/3 of the top bezel being removed.
Due to this manufacturers are given the option of blacking out this area to look like a bezel again.
They can still claim an increase in screen to body % and the phone will be no different to a bezeled phone in use.
As a lot of people who have actually used one of these phones say. It's nether good or bad it's just there.
Certainly no reason to buy or not buy a phone.

I can tell you after watching MKBH blind camera test video not once did I pick OP6 image. In fact most of the time it came in dead last. I guess if you just looked at it one its own sure, they have improved it. It still can't compete with the big boys. The Pixel,Samsung/iPhone were still the top 3 picks for image/video quality. The notch is a useless copy of iPhone for no other than to copy it. The glass back. Why bother if you don't put wireless charging. Might as well gone with something that is actually 'premium' feel like metal or ceramic. LG still has it right IMO for the second camera as a wide angle.

Not seen the blind test but doesn't surprise me.
Totally agree about stupid glass back and no point 2nd camera.
Notch just hide it and forget.
Still for £500 maybe worth a look for some.
Fast, excellent UI and well built.

Just did the blind test.
I picked the Pixel 2XL in all but one picture.
Was hoping to get a P20 Pro or Note 9 next.
Might have to look at the Pixel 3 as well.

With this blind test i found this phone quite good, at n4 after the pixel xl2, the iphone X and the S9 respectively! The Huawei, which is supposedly the best photophone according to this article and dxomark was imo the « worst » of the bunch and the only one i found some pictures to be disappointing

No Verizon = DOA. For me anyway.

Been really happy with my OnePlus. If you buy the One Plus 6, here is a link for $20 credit towards accessories-
https://www.androidcentral.com/e?link=https%3A%2F%2Fwww.anrdoezrs.net%2F...

So getting a 30$ increase at each generation for the same proposition compared to the competition at the time is not an issue?

Is the camera capable of telephoto zoom as I've read conflicting reviews?

What do consumer's want most, save a dollar. Next is the best performance for cheap. Well, the op6 has both. The price is very reasonable & the performance is one of the best. Throw in Oxygen OS & dash charging plus a decent camera & display. My prediction they will sell boatloads, notch or no notch. As long as you can hide it who cares! Probably the best 529.00 your gonna spend on the 845processer. Yikes!

Wireless charging is not that important when this smartphone charges pretty fast via wired... what was much needed in my opinion is that IP67/68 water resistance certification, specially on a smartphone with a glass back.

Daniel, where did you find the 8GB, 128 GB storage for only $579? The Oneplus website has it listed at $769.

Just got this phone today, love how it physically fits into my hand. Fast processing and much cleaner Android OS than Samsung. It has a decent display, maybe not as good as my Note 8 but respectable. It is a Qi wireless charging away from just about perfect for me. I am happy I made the the move.

What's the wallpaper? The one with the road in it, in the second picture I think.

Help! I can spend my same $550 on this phone OR a galaxy s8+. I'm confused as there are plus and neg to both. ... Suggestions?

Rocking the OP5T an excellent phone as well. Along with my Note 8 I'm good for awhile.
OP getting better and better every year.

OnePlus may make great phones, I never got to try one to find out. But I can tell you their customer service is terrible – or at least, their communication with the customer they are servicing is terrible. I personally will not do business with this company again. I purchased a OnePlus phone, and paid for priority shipping. They used FedEx, who lost the package. So, I requested a refund. The way customer service works at OnePlus, you can't speak with anyone. It is all conducted over email. I kept saying via email, "the package never got delivered, please give me a refund." They kept replying "our investigative team is researching this." And that was it – no more detail, nobody else to ask what was going on. After two weeks I had enough, and asked my credit card company to reverse the charge.

when i purchased this phone i was impressed with the speed of the phone and how it performed. Since the last update the blue tooth in my 2 vehicles no longer works. i have contacted the company and they told me it is a wide spread issue and they are working to correct the issue, its now over 3 weeks with no solution in sight. i have done everything they asked and followed all of their lengthy instructions to no avail. DO NOT waste your money on a 650 phone that has minimal support. i requested to return this 6 month phone and was told they have a 15 day return policy. please spend your money wisely and purchase another product
Android Central Newsletter
Get the best of Android Central in in your inbox, every day!
Thank you for signing up to Android Central. You will receive a verification email shortly.
There was a problem. Please refresh the page and try again.