OnePlus 6T has an in-display fingerprint sensor and is coming to T-Mobile for $549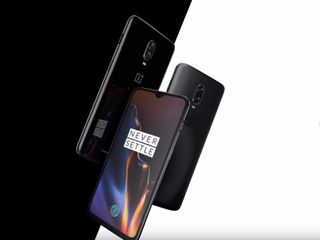 At its announcement event in New York City today, OnePlus officially unveiled the OnePlus 6T. The 6T is a subtle refinement over the OnePlus 6 from earlier this year, but there are a few key differences that make it stick out from its predecessor.
From a design point of view, the 6T looks a lot like the 6. It's made out of glass, has an aluminum frame, and a large display around front with a notch at the top. The notch this time around is quite a bit smaller and uses the waterdrop style we've seen on a few other handsets, and when compared to something like the Pixel 3 XL, looks downright tiny.
While the back of the 6T looks very familiar, it doesn't have a fingerprint sensor on the back like the 6 did. That's because OnePlus has moved the sensor underneath the display so that it can offer the same functionality without needing a sensor cutout on the back. In fact, this makes the 6T the first phone in the U.S. to ship with this technology.
In order to make room for the in-display sensor, however, OnePlus did have to remove the 3.5mm headphone jack. This makes the 6T the first phone from OnePlus to ship without the headphone jack, and for long-time OnePlus fans, that's going to sting quite a bit.
Other specs for the phone include the Snapdragon 845, up to 8GB of RAM, 128 - 256GB of storage, and a 3,700 mAh battery. You'll also find Android 9 Pie running on the 6T out of the box with OxygenOS layered on top.
In addition to OnePlus's official website, the 6T will also be sold both online and in-stores at T-Mobile. OnePlus has confirmed that sales will begin November 1 with a starting price of $549. For that price, you'll get 6GB of RAM and 128GB of storage. Alternatively, you can upgrade to 8GB + 128GB or 8GB + 256GB for $579 and $629, respectively.
Do you plan on getting the OnePlus 6T?
Get the Android Central Newsletter
Instant access to breaking news, the hottest reviews, great deals and helpful tips.
Joe Maring was a Senior Editor for Android Central between 2017 and 2021. You can reach him on Twitter at @JoeMaring1.
My OG Pixel XL is getting a bit long in the tooth, and I'm very tempted to pick one of these up.

Good price and T-Mobile availability is huge for people who are hell bent to buy only from crappy carriers. Just kidding I know there are valid reasons to buy from carriers 😁 Worried about in display fingerprint sensor honestly since on the Huawei phone it got mixed reviews from Alex Dobbie. Tempted to pick one up from OnePlus directly in Mirror black. I'll see :)

I will be definitely adding the 128gb version with 8gb of ram OnePlus6T to my rotation as a backup to my industry leading #Note9 November 9th.

I would consider it if it had wireless charging. It doesn't, so I won't. Many do not care about wireless charging, but it is important to me.

We all have a specific needs in a phone, mine above all is battery life. What about wireless charging in so important? Just curious as that is a feature that doesn't even register with me.

Mostly traveling. I travel quite a bit for work and I have wireless charging in my vehicles. It is nice to just put the phone on the charger and not need cables. It stays charged and is fully charged when I get where I am going. It is also nice at night to just put it on the charger.

There is no such thing as wireless charging!
Instead of plugging a cable in the phone, there is cable in the "docking station" a.k.a. charging pad.
Docking stations for USB-C are available... so.

No headphone jack and an in-display fingerprint reader that may or may not be all that reliable...almost feels like a downgrade. I was perfectly fine with it being on the back, especially if that means keeping our friend Jack.

I don't think they got rid of the headphone jack for the in-display fpr. Removing the jack allowed them to have a bigger battery.

You assume the in-display fingerprint reader is bad?
Well if you read more reviews from people that hate it, you probably gonna hate it , too.
Just like the notch you know... *sigh* humans...

Safe to assume it is NOT compatible with Project Fi?

My JBL Bluetooth headphones started smoking and melted today... Missing that headphone jack right about now on my Pixel 2 xl lmao. Sucks to see yet another brand abandon it.

Shít dude... Lithium batteries are scary... Especially ones you shove in your face holes...

Use the dongle. Not complicated

The dongle I received with my phone stopped working after a few months, and I don't want to have to keep buying new ones. Plus I often watch videos or listen to music while my phone is charging, so a dongle would ruin that for me. Not so simple I'm afraid...

Actually, it's quite simple. I have one of these, and it works perfectly: https://www.amazon.com/gp/product/B07FCZY1ZB/?tag=hawk-future-20&ascsubt...

Buying from T-Mobile will come with tax, but will buying from OnePlus directly? I know it didn't used to but I am not sure if selling through TMo will have any impact on that.

You have to charge sales tax if you have some kind operating entity in that particular state. And no OnePlus won't charge sales tax if you buy directly from their website which is a better option anyway than buying from carriers.

That's what I figured, thanks!

I've never had used a OnePlus phone... How fast do the updates come?

Faster than my Note 9. They're decently speedy

Every month for stable, every 2 weeks for beta.

I'll have to check out the 6T the next time I'm at T-Mobile. I like the small notch more than others. And I prefer front fingerprint sensors, so hopefully the in-display tech works well and gains popularity.

Yes. It will replace my original Pixel XL.
The Pixel XL 3 is an offending piece of crap hardware!
I'll go either for this or for the Huawei Mate 20x. I'm not finally "settled" on which of those two I'm going to get.