Oliv. Magnetic Mounts review: Refined design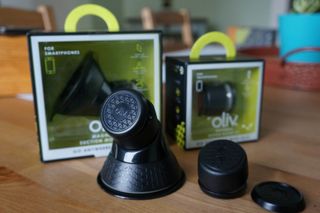 I've had a growing number of car mounting systems come across my desk for testing purposes, so I've developed a keen eye for determining which are worth writing about and which bring nothing new to the space. When considering a new car mount, my three main considerations are: ease of installation, ease of use, and multi-use scenarios.
ProClip sent me a couple of its new Oliv. Magnetic Mounts for consideration — the Oliv. Magnetic Button Mount ($29.99) and Oliv. Magnetic Suction Cup Mount ($39.99). The magnets used here are strong enough to hold your device securely yet safe to use with your devices. They won't wipe your credit cards or affect the compass tech in your phone.
One of the more interesting parts of the design here is how modular each mount is. For the magnetic button mount, you only adhere a minimalist disc to your dash which you can use to directly mount your phone, or add in the included swivel mount so you can position your phone exactly the way you want. Oliv. also offers a vent mount if you don't want to stick something to your dash.
But it's the suction mount that really stole my attention — it's by far the easiest suction mount I've ever used. Simply place it onto a smooth surface and twist the textured ring around the base and voila! The mount is secured. Want to move it or re-adjust it? Simply twist it the other way and it pops right off. No adhesives and no weird clips. It works elegantly.
And while the packaging showcases the mount as a windshield accessory, you could also use this for mounting your phone anywhere in your home or office — use it as a desktop stand for your phone, or stick it on your kitchen counter while you cook. I love it because its so easy to relocate without much fuss or mess.
The elephant in the room, as is the case with all of these magnetic mounting systems, is the requirement of sticking a little metal plate onto the back of your phone. It's understandable that not too many people love that look. The Oliv backplate is a bit bulkier than other options I've looked at, too, meaning you won't be able to slip it behind a case. My recommendation would be to instead slap it onto the back of a case, so you're not adhering it straight to the back of your phone (although the plates it won't stick to a silicone case). Each mount includes two metal plates, with two-packs available for $8 if you share your car with multiple people.
Included in the documentation is a list of other mounting options that will flesh out the Oliv magnetic ecosystem, including a bike mount clip that uses the same magnets. The bike mount is not currently listed on the Oliv site, but would be a compelling reason to buy into this mounting system and justify adding the metal plate to the back of your phone.
Car mounts are designed to keep your phone out of your hands while you're behind the wheel. Be sure to check your local laws regarding car mounts and whether windshield mounts are banned by state laws before buying and always keep your eyes focused on the road ahead.
Android Central Newsletter
Get instant access to breaking news, the hottest reviews, great deals and helpful tips
Marc Lagace was an Apps and Games Editor at Android Central between 2016 and 2020. You can reach out to him on Twitter [@spacelagace.
As you mention, the thing that always gets me is the metal backplate for the phone itself. I realize there's not any way around that for a magnetic mount. Do these backplates interfere with Qi Charging or NFC payments? I have issues with one of my 3 Qi chargers where I assume the case thickness is already close to the limit. You also mention it doesn't interfere with compass... which has also been a fear of mine for magnetic mounts. Anyone know the implications of using a magnet that close to your phone for so long on the internal compass?

I've been using a magnetic mount on my Note 8 since I've had it. I slip the metal plate between my phone and case and have had no issues with any interference, using Samsung Pay or NFC, wireless charging, etc. I think every phone probably has a "sweet spot" to place the metal plate where it won't cause issues. My question would be can I use the same metal plate I've been using for this mount? If not, I'd probably pass especially because the article states their own metal plates are thick.

You can use the any plate....

I have used magnetic mounts in the past, and love the convenience. But the metal plate you have to stick to the back of your phone interferes with wireless charging on my phones. And this Olive system is just plain ugly. Scoshe magnetic mounts just need a thin metal plate, not a big ugly wart that interferes with holding the phone. I miss my old LG G3, with it's removable back, that let me put the metal plate inside the phone, where it wasn't ugly and didn't interfere with wireless charging. In may respect, today's phones have gone backwards in terms of usability.
Android Central Newsletter
Get instant access to breaking news, the hottest reviews, great deals and helpful tips
Thank you for signing up to Android Central. You will receive a verification email shortly.
There was a problem. Please refresh the page and try again.