Microsoft teases possible launch date of a successor to the X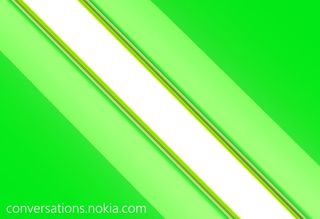 Microsoft Mobile has published a small teaser article on the old Nokia Conversations blog, revealing a countdown for June 24th. Not giving much away, the company teases that "summer brings out our inner glow... stay tuned to Conversations to find out what we've got in store". We're not entirely sure what the company will announce, but since it's green (similar to teasers for the Nokia X) and we're not expecting a new Windows Phone just yet, it's possible we'll see an X2.
We previously looked at why the Nokia X is not only bad for Android, but Windows Phone and Nokia (now Microsoft Mobile) too. That said, read through our in-depth review of the Nokia X, if you're interested in the family of Android smartphones. Be sure to check back in three days to see what Nokia plans to announce. Would you be interested in an X2? Let us know your thoughts in the comments.
Source: Nokia Conversations
Get the Android Central Newsletter
Instant access to breaking news, the hottest reviews, great deals and helpful tips.
I wish Nokia would just make a full fledged Android device. Enough with the rubbish... Minimal skin on top of the OS, together with some mind blowing hardware and I'm sold!!!
Posted via the Android Central App on my Nexus 5

Nokia will make one. They can start making devices again after next year. They have already released a launcher for Android. I bet they will have an Android device as soon as they are allowed to start selling phones again.

That just isn't true and is a naive comment, but understandable.

How many of these did they sell? Couldn't be that many. Posted via Android Central App

You'll be surprised. It's quire popular in emerging markets. If it wasn't why would they release it in the first place?

well if u believe conspiracy theories ( I dabble :-) ) then that would lead u to believe that they only released it to make android look bad and sway people in emerging markets to microsoft mobile. Possibly not true, but to be honest the phone is garbage compared to the likes of Motos lower end devices. Hopefully they make this one better... but who knows

That is an interesting theory. The phone, from the reviews and videos I've seen, looks like utter crap. The UI looks so ugly and unappealing. With the Moto G and E, why would anyone buy one of these horrible devices? Posted via Android Central App

So this is Microsoft Mobile and not Nokia. This is getting more and more confusing. There is still Nokia that makes maps and networks and has (almost) nothing to do with Microsoft.

With Rich it's useless. He's been corrected on WPCentral over this over and over and over and he refuses to learn. It's just bad journalism.

To be fair the Conversations blog is still hosted in Nokia domain and is filled with references to Nokia. So some of the blame goes to Microsoft.

That's because Microsoft is running it for a while. As they still have Nokia-branded phones they still do the marketing for those phones using the Nokia brand. Whoever this announcement doesn't have any Nokia branding attached to it. Not only that, Rich it's a WPCentral writer. He should know the difference between Nokia and Microsoft Mobile by now.

Doesn't MS still have the name( Nokia) rights to current Nokia products until 2016 though? Then the Nokia-brand name rights revert back to the still-independent Nokia mother-company.

No. Microsoft has a 10 year license to use the Nokia brand on S30 and S40 based phones (dumbphones and Asha phones). They have the right to use the Nokia brand for MARKETING of current Nokia phones until 2016 (since they have the current Nokia Lumia line to sell and their 2014 flagship, the 930, still comes under the Nokia branding as it's Nokia's last phone). However Microsoft doesn't have any more rights over the Nokia branding. No future Lumia devices will carry the Nokia brand and it's uncertain if the X line will carry it.

This is NOT NOKIA people. This is Microsoft Mobile. You mustn't rely too much on what Rich Edmonds writes since he STILL has not grasped the difference between Nokia and Microsoft Mobile.

This among other reasons are why I'm about to ditch the Android Central (& others in their suite) as one of my go to places for Android themed sources for news. They've really lowered the bar a lot in the last month or so.

Didn't this phone release just 3 or 4 months ago. Why would a successor already be announced?

When I saw X I got excited about the new moto X, but was disappointed pretty quickly :-( Posted via Android Central App