Nexus 7 Guidebook available for free in Google Play Books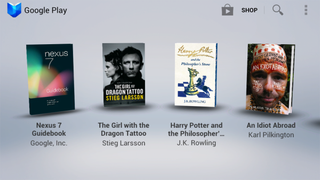 Read enough about the Google Nexus 7 yet? Just in case you haven't, and you need some light reading while waiting for your shiny new Nexus 7 to arrive, Google's got you covered. Downloadable for free, as we speak, is the official Nexus 7 Guidebook from Google.
OK, so it's basically an instruction manual. But, there's a couple of really nice sections in there. There's a chunk on the new Google Now service -- and how to disable it -- and another section centered on the new notifications area in Jelly Bean. It's free, and worth a read just for these two sections alone. To grab yourself a copy, fire up Google Play Books and go get it.
Download: Google Nexus 7 Guidebook (opens in new tab)
I grabbed this earlier today looking for an answer to this question but it doesn't list the exact spec. What kind of audio and video file formats will this Nexus 7 natively support? e.g. can I play FLAC audio or MKV videos on it?

It's not available in France. :(

Steve yeah the Nexus should handle 720p mkv files my Xoom which uses the same OS does, you just need either the Dice player or MX player apps. I've never used flac but found this link that says Google music now supports it: http://forum.xda-developers.com/showthread.php?t=1100706

Excellent. Thanks for the info. How does the 720p look on the 1280/800 resolution? Black bars? Expands to fill the entire screen?

Thanks so much for the info - this is very helpful.

You have to have a Google Wallet account even though the download is "free".
Android Central Newsletter
Get the best of Android Central in in your inbox, every day!
Thank you for signing up to Android Central. You will receive a verification email shortly.
There was a problem. Please refresh the page and try again.