New Pixel Buds update resolves audio cutouts, but it's not the fix you've been waiting for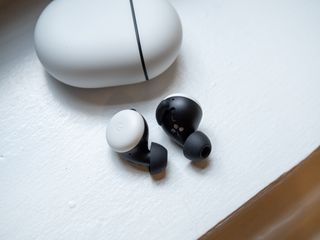 (Image credit: Andrew Martonik / Android Central)
What you need to know
Google is rolling out a new firmware update for the Pixel Buds.
The latest firmware update v552 brings a fix for audio cutouts every 1 minute 50 seconds of audio playback experienced by some users.
It, however, does not fix the random cutouts that many Pixel Buds owners are experiencing.
Google rolled out the first feature drop for the second-generation Pixel Buds last month, making one of the best true wireless earbuds on the market even better. The update added quite a few new features, including sharing detection, bass boost, and transcribe mode. The Pixel Buds are now receiving a new firmware update to fix an audio cutout issue reported by some owners.
A small number of Pixel Buds had reported that their Pixel Buds were cutting out after every 1 minute 50 seconds of audio playback. Google has identified the bug causing the issue and is rolling out a fix in the latest firmware update v552. Unfortunately, however, Google is yet to address the more widespread connectivity issue that many Pixel Buds owners continue to experience. Google had acknowledged the issues in June this year and promised to include a fix in the first feature drop for the true wireless earbuds.
As long as you have automatic updates enabled, you will not have to manually install it on your Pixel Buds. To verify if you have the latest firmware installed on your Pixel Buds, head over to Settings > More settings > Firmware update in the Pixel Buds app on your phone.
Google Pixel Buds
Google's second-gen Pixel Buds are among the best true wireless earbuds you can buy right now. They sound great, offer excellent call quality, and support wireless charging.
I'm baffled that 1) Google is still selling this product, where the main functionality is broken, and 2) that I continue to see reviews recommending them.

Totally. Buds that cut off audio and the article ends with one of the best. If it's one of the best, there must be a lot of really bad wireless ear buds.

Google has become another Microsoft releasing hardware without properly testing them. They need to stick with Software and improving it.

I have not experienced any of these issues with mine. They have worked great since I got them back in May. Based on my experience I would highly recommend them. Like all products, some people experience issues others don't.

I've had these since the previous 2 firmwares and I haven't experienced any of these issues. I'm about to install the new firmware to see how it fares.

Had issues with 2 sets of these with drop outs. Each if those in two different phones. With 552's update, problem is GONE.
Android Central Newsletter
Get the best of Android Central in in your inbox, every day!
Thank you for signing up to Android Central. You will receive a verification email shortly.
There was a problem. Please refresh the page and try again.