Some Motorola Xoom LTE upgrades have a quick turnaround, bring a new OTA, and make things zoom-ier.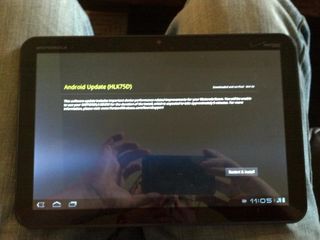 Quite a few of you guys have sent your 3G Motorola Xoom's off to get the LTE upgrade, and we're hearing good things all around. If you've sent yours off, expect to receive a small OTA update to HLK75D when it returns (packed full of performance-related improvements per the notification, just like the Wifi models) if you haven't already received it, and of course expect some fast-as-heck data speeds. Turn around time seems to be good -- we're hearing it averages about a week -- and so far (knock on wood) we haven't heard a single horror story or tale of misfortune.
Motorola and Verizon may have taken longer than anyone would have liked -- and we are hearing the occasional story about delays for the retrofit -- but it looks like they are making good on their promises. Hit the break for two more pictures that are sure to make any Xoom owner smile.
More: Motorola Xoom Forums; Thanks Chris and Jon for the pics!
Android Central Newsletter
Get instant access to breaking news, the hottest reviews, great deals and helpful tips
Senior Editor — Google Ecosystem
Jerry is an amateur woodworker and struggling shade tree mechanic. There's nothing he can't take apart, but many things he can't reassemble. You'll find him writing and speaking his loud opinion on Android Central and occasionally on Twitter.
I sent mine back as soon as I was allowed and still have not gotten it back. I did receive an email today though: "Dear xxxxxxx, We wanted to let you know that we are still in the process of completing your upgrade. We apologize for the delay and will send you an additional notification once the device has shipped early this week. Sincerely, Motorola Mobility Customer Services" Ughhhhhhh

I got the same email letter. Also I put in for the request when it was first opened up to us. Took them a few days to get the box mailed to me, then I shipped the next day first thing.

"Hearing the occasional story about delays for the retrofit" Really??? Were you to take a look at the 49 page thread near the top of the Xoom forum, you would see that it appears to be more than an "occasional story". http://forums.androidcentral.com/motorola-xoom/115191-i-got-my-xoom-upgr... Start there and keep reading. This morning more than an occasional number are reporting receiving an email from Moto saying the upgrade has been delayed. When they call Moto (I know because I did) Moto is unable to provide a date when the Xooms will be returned to the customer, although I was told that it will be shipped "hopefully by 10/14". They received it on 10/5.

Wow, 7mbit is slow for LTE. Would think they were on 3G with those kinds of speeds... I'm STILL waiting on my Xoom, sent it in on the 3rd, got there on the 4th, today is the 5th business day. I got an email last night saying it was delayed, then again around 1:45am got another email saying it was shipped. Check my tracking info it says it was shipped on the 5th(it's said the RMA was processed on the 5th since the 5th), but no FedEx tracking number. Called Moto this morning and they said to disregard the email saying it shipped, that they have no record of it shipping... Great. The Xoom was my only data device, I had moved to a dumb phone, but I put my Moto Droid back on for the time being and it's driving me insane. My Droid is so damned crappy I want to throw it against the wall.

We sent in the Xoom the day after we got notification. It was shipped on A friday and we rec'd it back the followinf Thursday. They also included a standard charging dock for free (normally $49.99) because the upgrade took too long.

Motorola SUCKS on this right now. Their system says my XOOM shipped on 10/5/11 but there's no FedEx tracking number. I called and they said it's "delayed" and I will hopefully get it between 10/10 and 10/14. They even sent me a "Satisfaction Survey" today as if I had received it back...I haven't and hopefully someone reads my responses to the survey.

The SAME thing happened to me except that I did get a tracking number that read "shipped on October 6, 2011, overnight delivery." But when I called customer service, they said it hadn't shipped yet. I too received a "Satisfaction Survey" and filled it out, dissatisfied to almost all survey questions. This is ridiculous. First, they take forever to announce the upgrade, then they take forever to upgrade the thing when you do send it in. Then, when I call customer service, no one knows what the hell is going on except to say, it was delayed for some reason. How long? "I don't know." I'm never buying moto again.

I hate to say I'm glad to hear others are receiving the same disheartening emails that I am from Moto. At least I feel more comfortable that it is not just mine that is being held up. My RMA was processed on the 6th but still no ship notification. All I am getting is the apologetic email from Moto for the additional delay. Hard to believe that people who shipped theirs out days after I did already have them back. Has anyone ever heard of FIFO?

I'm on the phone with Motorola now, I received shipment confirmation last Thursday the 6th with FedEx tracking #and was expecting it at work Friday. Then late Friday the 7th I received email to disregard last email and the upgrade was still in process. Guy on phone just pulled it up, saying next week? Then corrected himself and said it was shipping this week, so it seems like it's complete but waiting to be picked up by FedEx is what he said.

Mine also says the RMA was processed on the 6th, but I got the infamous email last night saying sorry for the delay, we'll be shiping it later this week... WTF - Verizon or MOTO need to give me something to make this whole fiasco right. I was debating getting the Bionic or waiting for the Prime; It's no question now, I'll never buy MOTO again. And to the earlier post that said MOTO included a dock for free due to the wait - If you read the page when you signed up for your upgrade, it stated that there were a limited number of docks to be given away while supplies lasted... First I was tricked into believing that the upgrade would be back in March or maybe April, and then I fell for the "5 business days" line. I wish any other US network was as good as Verizon because I would switch. I went through the same lies with the promised FROYO update to my Fascinate that also took 6 months...

Looking for a semi horror story... Sent Xoom in got it back in 6 days...
When I got my Xoom back I noticed a place on the screen I tried to clean to no avail. The smudge is under the glass and is driving me nuts. Called moto and now I gotta send it back in again! I am very dissatisfied with Moto but I do like my Xoom... not looking forward to another week without it...

I sent mine in at about 11am on September 30, it was finished on the 5th. Fedex tracking said I'd get it on the 7th before 10:30am. At about 3:30, Fedex tracking said it was destroyed at customers request. Called Motorola, and they could not tell me what the hold up was, or when I'd get it.

Motorola signed for my Xoom this past Thursday at 9:35am from Fedex and I've been checking all weekend and try have yet to even put it into there RMA Tracking System so that I can see the status of my device...IT's not even showing as received . I called Friday and they keep giving me the run around. Saying they have put my device in escalation status to get it updated, and yet as of today, they have had it for 3 days, and I don't even know if they've even looked at it, let a loan replaced the 3G for 4G...!!! 5 days is coming in two days, WTH part of the Game is this... At this point I just want My Xoom back! I don't even care about this upgrade anymore... This is some straight up BS....

So....it's not just me then. :) A lot of us have been posting about this in the forum and it's not been a pleasant experience so far. Sorry, Moto, but, this doesn't inspire confidence one bit. Looks to me like they're shipping out completed Xooms every Tuesday, so, those of us who had ours finished last Wednesday (10/5) are not going to get them back until this Wednesday at the earliest. Monday (10/3) to Wednesday (10/12)....not overly quick. The biggest problem has been the lack of information and/or inaccurate information. The "tracking" site is a mess. Doesn't look like they were prepared for the upgrade.

Boy are you off base. There are more negitive comments than positive. Here look at this detail on just mine. Note the date shipped just got off the phone with Moto, and they tell me they have not shipped it and it will not be shipped until the 12th. There own email stated 5 days from the date I gave it to Fedex for the return trip. Give them one extra day, well, I should have had it back tomorrow. Also note no Fedex tracking number... so not shipped. But no one wants to write bad things about Moto.........
Ticket Opened
09/29/2011
Device Received
10/04/2011
RMA Processed
10/05/2011
Device Shipped
10/05/2011
Tracking Number Shipping Carrier
FEDEX-Federal Express Sim Number
891###################

Well the signed for my Xoom from Fedex on the 5th, I called and Moto says they have it. But in there RMA tracking this is what it still says, as of this morning... I'm calling this morning and telling them to send mine back, I don't care about the upgrade anymore. So this morning they added two steps, yet they skipped receiving it in their system. Funny...
Ticket Opened
09/30/2011 Device Received RMA Processed
10/11/2011
Device Shipped Tracking Number Shipping Carrier Sim Number
8914############

Mine is the same way. Received on the 4th, processed on the 6th and still no shipping info. Wed, 10/12/11 will be 6 business days. I really doubt that I will have it back by the 12th. Im so super pissed.

What a joke...the zoom clearly wasnt ready for release.

People please!!! Think for a second.... If everyone sends their Xoom's to Motorola at the same time, that would mean that Moto would have to process and install 100,000+ LTE modems in 5 to 6 days... MOTOROLA is not capable of an AMAZING feat like that. Chill out for a week or two.

I did get my Xoom back today. It appears that the post I saw somewhere saying that they are shipping out on Tuesdays was accurate. It is testing at 6mbps upload and 13mbps download. And motorola threw in the dock for free with a note apoligizing for the long wait to finally give us LTE. All in all, I am happy with the experience; not to mention the blazing speed...

+1, just got mine this morning now. Taking lunchtime to reload everything, I shipped last Monday they recieved it Tuesday and I got it 5-6 business days later. Not bad, also got FREE standard dock. Other than the email they sent last week stating it had already shipped but didn't, I'm very happy. Another dock to add to my accessories if I do sell it one day. LTE ready is a plus! Wonder if I should add some service and make sure it has 4G? Thanks Moto!

I sent mine out on the 5th of Oct and it should be in tomorrow by 10:30 am according to fedex.

I shipped mine on the 12th and it's on a fedex truck half way back to me already with my delivery date being Monday (17th) by 1030am. If it is so Im overall pleased. I hope it doesn't show any damage tho
Android Central Newsletter
Get instant access to breaking news, the hottest reviews, great deals and helpful tips
Thank you for signing up to Android Central. You will receive a verification email shortly.
There was a problem. Please refresh the page and try again.