Motorola RAZR's hinge 'breaks' after just 27,000 folds in CNET durability test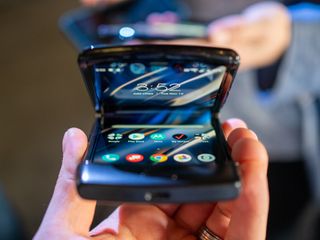 (Image credit: Daniel Bader / Android Central)
What you need to know
The Motorola RAZR's hinge "broke" after 27,000 folds in a durability test conducted by CNET.
The goal of the test was to see if the phone could hold up to being folded 100,000 times.
Last year, CNET conducted a similar test, where the Galaxy Fold managed to hit nearly 120,000 folds.
Soon after the pre-order launch of the RAZR in the U.S. last month, Motorola released several videos on YouTube for potential owners, telling them how they should care for the foldable phone's screen. Now, a torture test conducted by CNET suggests it isn't just the phone's fragile screen that RAZR owners need to worry about.
Motorola's foldable was put to the test by CNET in what was supposed to be a 12-hour live show. However, after just four hours of testing, the folks at CNET noticed that the RAZR was having trouble closing all the way. The phone's hinge became "very stiff", which meant the phone couldn't be folded any more after around 27,000 folds.
Last year, CNET had put the Samsung Galaxy Fold's folding mechanism to the test using the same FoldBot machine borrowed from SquareTrade. The Galaxy Fold was able to survive nearly 120,000 folds before it got damaged.
CNET's findings are certainly not very surprising. In his initial review of the Motorola RAZR, our very own Nirave Gondhia pointed out that the phone's screen feels more fragile than the Galaxy Fold's, and the hinge makes an audible creak while folding. Motorola has also officially confirmed that bumps and lumps on the phone's screen are "normal."
Motorola RAZR
While it doesn't offer great value for money, Motorola's RAZR is undoubtedly a great-looking foldable phone that can fold into a compact package thanks to its clamshell design.
This is what he said about the Galaxy Fold. I'm awaiting his review of the Galaxy Z Flip. https://youtu.be/vO4_2Hl9BkA

This test from start to finish failed to impress. They had no idea how to turn the phone on. They had no idea how to line up the phone, leading to misaligned slaps. It was just sloppy from start to finish.

Still too early to tell but this just reinforces that folding phones aren't going to be mainstream for quite some time. I'm perfectly happy with the current tech, especially since I don't have to worry about breaking in everyday usage, thank you very much.

That test is unrealistic, no one will open and close their phone constantly causing the hinge to heat up and wear.

As someone has pointed out closing an opening the phone that quickly will cause the metal to literally heat up and become brittle. Also that machine was smacking the phone together so hard I'm surprised the screen didn't break let alone just the hinge! Lastly who's gonna be mashing their phone open and close like that, Bigfoot? Here's a link to the 4 hour test to illustrate what I mean about the brutality of the test. Ridiculous. https://youtu.be/HVOb9mgAgdU
Android Central Newsletter
Thank you for signing up to Android Central. You will receive a verification email shortly.
There was a problem. Please refresh the page and try again.