Motorola preparing Photon 4G update, looking for test participants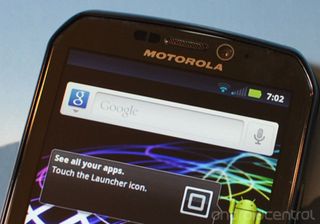 Motorola Photon 4G owners haven't had a whole lot of updates come across for their device though, that may be all the more reason Motorola is seeking out participants for their latest soak test. As posted today, Motorola is looking for some fine folks to help out with the process:
At this point, it's hard to say what the update will be exactly considering Motorola hasn't exactly been pumping out those ICS updates but it's an update and updates are good for everyone. You can hit the Android Central forums link below to discuss it some more or head on over to the source link to get yourself hopefully signed up for the update. Remember, only 1,000 slots are open.
Source: Motorola (opens in new tab), via: Android Central Forums Thanks, SandersJC64!
Given the recent rash of moto GB updates, paired with the photon not being slated for ICS until 3rd quarter, plus with 2.3.5 GB engineering update that was leaked (1080 recording, EAS changes) that USC has already been running ... I'm going to put my money on this not being ICS.

What is the incentive for people to do this? Especially on a bootloader encrypted phone that you cannot flash back to a working condition? Or are there other methods of ensuring you don't ruin your phone? I would imagine this update would wipe out any known root methods so wouldn't you be screwed if something goes wrong? Edit- upon further review it seems the bootloader has been unlocked so maybe there is a ay to protect yourself?

Well, look at it this way.... First they do their soak tests
Then they solicit volunteers
Then they roll it out Wouldn't you really rather have all manufacturers do it this way? Your level of involvement can be what ever you are comfortable with. As long as there is a way back to safe ground, I think its a great way to go.

A day late and and a dollar short! I got tired of waiting and went with the Sprint GNex. Will activate the Photon if this turns out to be ICS, and then deactivate and reactivate my GNex.

Why? Can't you get ICS while on wifi? Why all the jumping back and forth?

Signed up for this last night. Decided to keep my Photon stock since I can mod my Nexus S a lot easier. Plus the MoPho is pretty damn solid out of the box.

It's not for ICS just for same tweaks. Don't be expect for ICS

I'd love to give this a shot...

I would like to participate.

They need to stop pissing around and just give us ICS I rooted my photon and out ICS on it and it ran better then any phone I have ever had but had to unroot cuz I messed up my screen but still ICS on these phones runs better then the 4s I phone

I will participate in the testing

I would like to try the update

How do you sign up for it. I honestly want the ics
Android Central Newsletter
Thank you for signing up to Android Central. You will receive a verification email shortly.
There was a problem. Please refresh the page and try again.