Motorola has the best Android software that no one talks about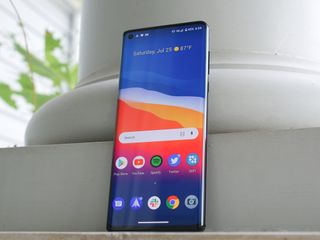 (Image credit: Joe Maring / Android Central)
The world of Android is vast and ever-changing. Not only does Google give us a bundle of new goodies to play with every year, but lots of companies also tweak and customize the platform to add new design elements, features, and more. This is why we have things like One UI from Samsung, OnePlus's OxygenOS, and so on.
Thanks to the nature of my job here at Android Central (and long before as a nerdy teenager that just had a passion for the platform), I've been privileged to play around with almost every take on Android that exists. There are some that I love, ones I'm indifferent on, and others I simply can't stand. Among all of these various Android interfaces, one that continually sticks out to me as something special is Motorola's.
Motorola's Android software tends to take a back burner to some of the other options out there, and if you ask me, that's a darn shame. Given that Motorola is quickly starting to find its footing again in the flagship space, I wanted to take some time today to explain exactly why I enjoy Motorola's software so much and why it's one of the best ways to experience Android.
Source: Android Central
Let's start with the overall design/aesthetic, which is virtually identical to what you'd on a Google Pixel phone. While "stock Android" doesn't really exist in 2020 the way it did a few years ago, this is what I think of when I imagine a clean and unadulterated version of the operating system. Whether you want to call it "Google's Android" or the "Pixel Theme," I think this is the most visually-pleasing flavor of Android currently available.
Design is obviously a highly subjective thing, but for my personal taste, this is the best Android looks in 2020. It's easy on the eyes, everything is laid out nicely, and it just looks like Android as Google intends it to be. Another big reason why Motorola's software looks so darn good is the fact that it isn't bogged down by unnecessary bloatware, which is something you can't say for companies like Samsung and LG.
Pick up any modern Motorola phone, and you won't find any duplicate apps of any kind. Google Messages is used as the default texting app, Google Photos is the only pre-installed gallery app, Google Phone is the dialer app, etc. Rather than go out of its way to re-create services that already exist, Motorola just lets Google do what it does best. The end result is a phone that feels lightweight, user-friendly, and isn't caught in the middle of an ongoing services feud. When you take that kind of software and place it on a phone like the Motorola Edge (opens in new tab) or Edge+ (opens in new tab), you get something that feels every bit as snappy and responsive as a Pixel 4 (opens in new tab).
Mimicking Google is one thing, but that's not all Motorola does. Instead, it takes that near-perfect formula and builds upon it in ways that are genuinely useful.
Similar to all Motorola phones having that super-clean aesthetic, they also ship with a pre-installed "Moto" app. It's one of the few custom apps Motorola includes (the others being FM Radio and Device Help), and it's where you find all of the custom software features the company has become so well known for over the years. Some of these are more useful to me than others, but the fact that everything is all accessible in this one location rather than strewn about confusingly through the settings makes the whole execution so much better.
Part of the app houses Moto Actions, which are various gestures you can do to perform certain actions on your phone. Hands down, the two most convenient are Quick Capture and Fast Flashlight. These are the gestures that we've had since the days of the Moto X, allowing you to twist the phone to open the camera app and chop it to enable the flashlight.
They're certainly nothing new or groundbreaking in 2020, but they continue to be two of the most convenient (and fun) gestures I've ever encountered on a phone. Another favorite of mine is Screenshot Toolkit, which allows you to quickly edit, share, and trigger a scrolling screenshot whenever you take one (something Google still hasn't figured out how to add to Android as a system-wide feature).
I'd also be remiss to talk about Motorola software without mentioning Peek Display (formerly known as Moto Display). Peek Display lights up part of your phone when you tap the screen or when a new notification comes in, showing you the time, date, remaining battery, and icons for all of your current notifications.
What makes Peek Display especially useful is the fact that you can press and hold on those notification icons to see a preview of them, and in some cases, take action (such as archiving an email or replying to a text message). Whenever I'm testing out a Motorola phone, Peek Display makes it incredibly easy to manage notifications throughout the day without having to pick up the device and turn on the entire screen. I just tap the notification, action on it however I want, and move on.
There are newer features Motorola's added to further flesh out its software package, one of which is Moto Gametime. It's similar to other gaming modes we've seen from competing companies, allowing you to block notifications/calls and add extra trigger buttons to the phone when Motorola detects you're playing a game. Add that together with the recent Styles suite for changing your phone's font, accent color, app icon shape, and home screen layout, and there's something for everyone.
That's really what makes Moto software so special to me. On the surface, it's an incredibly clean and lightweight Android skin that doesn't confuse the user with endless features and customizations. If you do want to take your experience up a notch, however, there are plenty of tools available to you through that Moto app. Just about all of them are genuinely useful, and the fact that they're tucked away so neatly doesn't make them feel intrusive in any way.
It's a balance that's difficult to strike, but it's one that Motorola does consistently well with all of its phones. There is a conversation to be had about Motorola's stance on software updates, but when looking at the general user experience of using and interacting with a phone on a day-to-day basis, few do it as well as Motorola.
Lots to like
(opens in new tab)
An excellent way to experience everything Moto
There are a lot of phones running Motorola's custom software package, but one of the best ways to experience it is through the Motorola Edge. Positioned as Motorola's value flagship of 2020, the Edge delivers a gorgeous AMOLED display with a 90Hz refresh rate, speedy performance, and long-lasting battery life — all with one of the best software interfaces on the market.
Android Central Newsletter
Get instant access to breaking news, the hottest reviews, great deals and helpful tips
Joe Maring was a Senior Editor for Android Central between 2017 and 2021. You can reach him on Twitter at @JoeMaring1.
Moto lost all the goodwill on software when they stopped updating their phones. The stock experience comes in two parts: 1. Good UX, 2. fast updates.

Yep! I will never buy another Motorola nor Samsung phone nor any android phone that doesn't provide a minimum of 3 Android updates. And said updates need to be out within 60 days. So, for me it's either pixel or if I want a true flagship than back to Apple.

I think that's a little too harsh. OnePlus doesn't quite make those standards but they are pretty good. 3 major OS updates please regular security patches are good for me. If Samsung upped it to 3 major versions of Android they'd be ok too. They are pretty regular with the security updates.

yes, well, then you'll never have another Android phone again! So, enjoy your Apple or Pixel, but the Pixels are missing SD card storage capability; and NO AUDIO JACK! So, in my book, Pixels are crippled from the start - and fail.

4a has audio jack and 128GB storage is not too bad for price.

I have been using Motorola phones since the original Droid. Still the best software experience and that is the big differentiator now when almost all hardware is the same.

Those were the days. Those original Droids sold me on slide-out keyboards; slide or die. I still feel that the first two Droids presented the best on those nightstand docks out of every phone I've ever been privileged to own. Nothing for me has come close to replicating the texture and substance of that experience.

Exactly! Motorola policy regarding updates is very disappointing. I got a Z2 Force in 2017 and despite its robust hardware (Snapdragon 835 + 6GB RAM), Motorola cut the update off for this model. The last update was in 2019 April, just 20 months after its release. I understand the platform segregation is a challange for the manufacturer, but it isn't a consumer issue. Less than 2 years of lifetime is unacceptable. Just to compare, iPhone 6 that was released more than 6 years ago can be updated to the latest version of iOS.

If Moto would get after it with the timely patches upgrades then they'd really have something. I mean they're not the only one guilty of slow rollouts of patches and upgrades, but when others are slapping skins, bloatware and crapware on their devices that you can't uninstall, a clean build of Android would really be a selling point. It's why I've purchased three Motos for myself and one for a parent...

Having good softeare isn't enough to make up for Motorola's poor updates policies and software support means plus Oxygen OS is better than both Motorola and Google's software anyway and iOS is better than every Android skin to me anyway and only 4 days till I say goodbye to Android central and to my OnePlus 7T as my daily driver and hello to my real home with iPhone with the iPhone 11 Pro Max.

Then wyd here new isheep. Ios is wack. Amd restricted. You are a traitor. Apple is a monopoly that locks you up on its Ecosystem

I just don't care enough for Android, never have, never will, I realized I don't customise my phone beyond setup and don't care for the complicated and gimmicky features or unoptimised apps, poor software support and lacking ecosystem within Android, I've always preferred how apps are optimised on iOS and the whole iPhone experience is better suited to my needs, Android cannot compete with the app experience and quality along with the fast and smoother performance thanks to Apple making both the software and the hardware which allows Apple to fine tune iOS for deep integration with the hardware which Android will never match along with iPhones being more secure than Android, especially now with Face ID which Android cannot compete with. The truth is I've always been more comfortable with iPhone and iPad over Android which is too complicated.

Maybe when they decide to stop cheaping out and running 32 bit Android on a 64 bit SoC

It's boring because they've had the same we experience since the original Moto X.

Love Moto phones. After switching to pixel for 2 years after Z series was stagnant, build quality and battery are my main focus. Software should be updated faster from Moto though.

Motorola is a subsidiary of Lenovo, which is a Hong Kong-based multinational technology company. So how long before trump bans it?

That would be soon!!! hahaha.

Deservedly so with their crappy track record of security and platform updates. They suck and deserve not be talked about.

Yeah I rather enjoyed Moto Actions when I had the Moto G6 Plus. They had the flip the phone to silence notifications before Android baked it in I believe. But I didn't enjoy Motorola dragging their feet on updates and fixes. Why I moved to a Pixel 3a, updates like night and day.

I think OxygenOS is still better. And Honestly if you want that virtual Pixel interface just get a real Pixel and you'll actually get updates. When you screw up software updates that's it, game over in my book. Motorola needs to pull a surprise 180 on software update before I even look on their direction again.

Wrong. Who says nobody talks about Motorola's Android software? Maybe the writer of this article just figured it out but plenty of users and media have written and spoken about Moto phones and the Android software on them for a few years now. I know have. I love it. I have been buying their phones for a few years now and love the slickness and speed of Android which is a near stock experience on the Moto line of phones. I have had four Moto Es and one Moto G. Also, love the long battery life though it appears in the new Moto E they have gone cheap on the battery life.

Never had Moto, til 4 days ago. As a new Moto user(heavy into rooting, customizing), it has some weak points. Most notably, tap(or double tap) to sleep, and expanding, swiping desktop folders. You don't have many choices, as far as navigation goes too. It's either Moto's, or 10's way, or no way(I use FNG, superior to these, and a step below Xposed edge). No adjustment of edge length detection. Moto actions, seem to be a joke, for me, they need to loosen up , and open up the obvious. Good hardware though, and anybody wondering, it's a edge 5g.

I have had at least 5 phones made by Motorola; and I love the software that HelloMoto installs. It is simple, intuitive, and love the fact that no bloatware is evident on the home screen. You pass your hand over the screen and the time, battery status, and a few other items show up. I miss the one where the fingerprint reader was on the right edge of the phone....i don't care for the phones with the fingerprint reader on the back...not EZ if you have small hands.
They do need to update the versions more quickly, as it is very close to native Android. So, why not update the software quicker?

Moto is really bad on software updates. I've brought an Moto Z2 force and I got an update from 7.1 to 8.0 but no 9.0 I understand that they are stingy on updates for their entry level models, but on their premium models too? Come on.

The only stockish experience I enjoy is OxygenOs, this looks too barebone... Like AOSP from years ago. I personally like visual elements that OEMs are starting to introduce like Xiaomi with MIUI 12 (that although clearly take inspiration from IOS look nice). Phones can more than handle these visual elements now and with the introduction with 90-120hz displays it would be nice to see OEMs offering something visually different to stock Android, with smooth animations and transparent cues throughout the OS. Stock Android needs a visual refresh imo.

Locked bootloaders and pathetically slow updates, if at all. Never looking at another Moto again. It's Pixel, OnePlus and Nokia only for me.

I've had multiple Moto phones and yes, the software is great. However, the cameras are not and in fact mediocre at best and regrettably I've switched (to LG currently) and the Edge camera reviews aren't great for a flagship

Totally agree. After using Samsung Galaxies for three years I ended up using a humble G7 Power and I was pleasantly surprised. Motorola has fine-tuned the Android OS better than any other phone maker. Motorola's attention to small details in a thoughtful way really adds up to a better OS experience. I'm on the Pixel 4 now and I miss the Moto. I only left Moto for the superior Pixel camera.

Is this phone Chinese made/owned?

Depends on how you view Hong Kong.

Writing from my G5 that after some 4 years got a blurry screen so I'm switching for a G8 power. I had Nexus 4/5/6p but then I moved to Moto for the lighter Android interface.

I've had 4 smartphones so far. iPhone 3GS, Moto E2, Moto G4 and Motorola One. Except for the iPhone (which was a gift after the previous owner bought something else), all were bought new at about launch time. That being said, I really like Motorola's system and I like how consistent it has been. Almost no lag during their normal lifetime, which brings me to the next point. About the updates, I actually think it is a good thing they don't upgrade too much. For instance, this Motorola One came with Android 8 I think and has Android 10 now, but I don't think it would be smart to bring 11 into it because it would probably make it slow for most users. My Moto E2 got very slow after Android 7 and that's why I moved on to a new one. If it stayed in Android 6, maybe it would stay as my main phone for longer. But I still use the Moto E2 as my main app guinea pig (I'm a developer and have been using Android 7 as the minimum version for my apps). The Moto G4 is still being used as my dad's main phone. Also, it is made in my country, Brazil, so no importation taxes which are usually absurd around here. I think the cost-benefit relation for Motorola products is one of the best in the market if not the best, so my next phone will probably be another Motorola. But this one feels like it will survive a couple more years before I actually need a new one.

My wife is on her 3rd incarnation of Moto G, its clean and simple and works for her. I had Moto Z Play and then Moto Z2 Play that was a decent phone in its own right, except for software updates. This one was on the "promised" Android 9.0 list. Oh sure- they'll say we updated Z2 Play to Pie, but devil is in the details. My phone is a Retail version here in the US purchased from Motorola. Its software channel is RETUS. Motorola will not update this channel to Android 9. Google Pixel 4a - here I come. I'm done with Motorola.

So is HMD having Pixel-like UI with their Nokia phones and they even update their phones just like Google does it with its line of mobile phones (2 years of major and 3 of security updates), maybe just not as quick. The only problem is the lineup is not that good and the lack of proper high mid range and flagship is hurting HMD a lot now. I still kind of think they are underappreciated.
Android Central Newsletter
Get instant access to breaking news, the hottest reviews, great deals and helpful tips
Thank you for signing up to Android Central. You will receive a verification email shortly.
There was a problem. Please refresh the page and try again.