Motorola Atrix HD LTE now available from Bell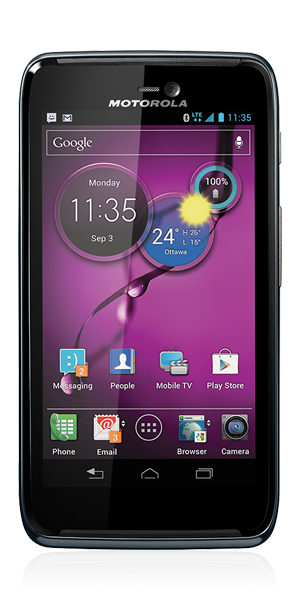 After having recently launched the Motorola Atrix HD in the U.S. on AT&T, Motorola has teamed up with Bell to bring the phone to Canadian customers The Motorola Atrix HD LTE as it shall be known as is now available for purchase on Bell. If you're looking to pick one up, Bell has set the price at a low $50 when agreeing to a new three-year contract. However, you can expect to pay over $600 if you're looking to get one without any carrier deals. If this one is on your wish list, you'll want to read our initial hands-on review and check out the specs first to ensure you get a better idea of what you're looking at. If you're mind is made up already, you'll find the Bell link below.
More Info: Bell
why is there so much room below the screen?? you could put in a whole set of capacitive buttons. it seems like the move to software keys is just reducing screen real-estate.

It's so there's room for the AT&T logo which isn't there :)

See when it's when ppl like you point stuff out like that...makes me look at it every time I see a phone now lol. damn you!

ok, well how bout this one- Why do the icons in the dock have text under them? it makes it look a *little* off.

Looks better than the Razr imo. I'm sure if they designed it a little better they could have shortened it a bit and kept the same screen size.

I have this Motorola smartphone and i am impressed with how much Motorola has improved since 2010. It's an amazing phone.

Since I'm on Sprint, this is making me take a really long hard look at the Photon Q.

Did they fix the TERRIBLE battery issues with this phone yet? An otherwise great phone from what I've read. Having a battery that lasts literally half as long as other phones is a bad thing.
Android Central Newsletter
Get the best of Android Central in in your inbox, every day!
Thank you for signing up to Android Central. You will receive a verification email shortly.
There was a problem. Please refresh the page and try again.