Moto Z Droid Edition + Moto Z Force Droid Edition specs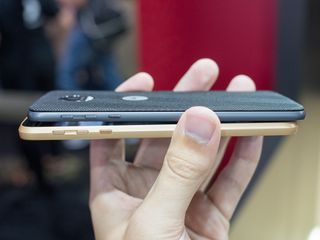 Moto and Verizon have taken the wraps off their latest round of Droid handsets, bringing two new models to market on the U.S.'s biggest network. Both Droids bring top-level internals to the table, but there are a few significant differences to note. The regular Moto Z Droid Edition packs a 13-megapixel OIS camera and a 2,600mAh battery, while the Moto Z Force Droid Edition (gasp) ups the camera to 21 megapixels and the battery to an ample 3,500mAh. And as the name suggests, Force owners will also benefit from Moto's ShatterShield technology to protect from drops and scrapes.
Full specs can be found below.
Moto Z Droid family specs
Swipe to scroll horizontally
Category
Moto Z Droid Edition
Moto Z Force Droid Edition
Operating system
Android 6.0.1
Android 6.0.1
Processor
Qualcomm® Snapdragon™ 820 processor
Qualcomm® Snapdragon™ 820 processor
Screen
5.5-inch Quad HD (2560x1440)
5.5-inch Quad HD (2560x1440)
Shatterproof
RAM
4GB
4GB
Storage
32/64GB
32/64GB
Expandability
MicroSD up to 2 TB
MicroSD up to 2 TB
Rear Camera
13MP, OIS, ƒ/1.8, 1.12um pixels
21MP, OIS, ƒ/1.8, 1.12um pixels
Front camera
5MP, f/2.2, front-facing flash
5MP, f/2.2, front-facing flash
Connectivity
USB-C
USB-C
Water resistance
Water-repellent coating
Water-repellent coating
Fingerprint
One-touch fingerprint sensor
One-touch fingerprint sensor
Battery
2600 mAh
Turbo Charging
8 hours of power in 15 minutes
3500 mAh
Turbo Charging
15 hours of battery life in 15 minutes
Colors
black/lunar gray and white/fine gold
black/lunar gray
Moto Mods support
Yes
Yes
Dimensions
153.3 x 75.3 x 5.19 mm
155.9 x 75.8 x 6.99 mm
Weight
136g
163g
Alex was with Android Central for over a decade, producing written and video content for the site, and served as global Executive Editor from 2016 to 2022.
The Force would be the one I would pick, personally. Not just for Shattershield, but also for its really large 3,500mAh battery. Makes the 2,600mAh unit on the normal Moto Z look small. TBH, it's actually better than what I thought it would be. Still think they should've stuck with the design and size of the 2014 Moto X, though, since that thing was an absolute beauty.

3500 is pretty good on my S7E. I'd still like bigger tho. If I use my phone hard I can still kill it before the end of the day. But like today I've been really busy at work so I'm 8 hours 51 minutes off battery, 1 hour 52m SoT, 66% battery left.

Unlike your S7, you can add one of those Power Pack Mods and get more than 3500 mah on the Moto Z. Posted via the Android Central App

Is it true one doesn't have a headphone Jack? Are they trying to be Palm? Posted via the Android Central App

They're going to move "forward" and use the USB-C port for future headphones. Apparently they're giving you an adapter but if you don't like the idea, this phone obviously isn't for you. Posted via the Android Central App

They won't be the only one. Posted via the Android Central App on the Moto X Pure Edition

Too big. Ugly camera (though it is on the back so not quite as big of a deal). Too bad they didn't make a good successor to the original Moto X. Other than the extra battery (which isn't necessary if you put a large enough battery in the phone) the whole modular thing is still very niche and won't really catch on I don't think.

Once they went 5.7 in last year's Moto X, you know they weren't going to make a direct successor to the first gen Moto X.

Shame its not more waterproof. Had a friend buy the droid turbo 2 cause his kid threw his last one. Not even 3 months later the kid threw the turbo 2 in the toilet and he was pissed. Yes kids will find ways to destroy things, yes I know about the water nanocoating, still if samsung and sony could do it why can't Lenomoto.

I could not agree more. As someone who is only on the market for a phone now because my Trubo 1 got water damanged, a waterproof phone almost seems like a necessity. All my friends who own a Galaxy S7 can't brag enough about how it's waterproof. How is it Moto isn't doing this with all their phones? I saw a comment by them regarding the Moto G and why it's not waterproof and they asid it's because waterproofing adds some bulk and their polling didn't indicate that people thought it was important. God damn it.

Which one is which?? They all look the same??

The orange stripe has JBL on it, so that would be the speaker. Posted via the Android Central App

Sorry I meant from the one with the Force and one without it. lol

Ah, I see Posted via the Android Central App

The Force screen has been a god send for me. I work in rail maintenance, and the amount of abuse my phone gets has seen off many a phone. Not this one though. Posted via the Android Central App

I pray that the Force version is also available unlocked and works on Verizon, though it's doubtful that will happen.If so, that thing's gonna be a beast.

Rumor has it that the unlocked ones won't work on Verizon.

Verizon Moto by Lenovo Moto Z Droid Force Edition.... DING DING DING WE HAVE A NEW CHAMPION! Move over Acer liquid zest plus, there's a new worst phone name ever. Posted via the Android Central App

Try saying that 3 times fast Posted via the Android Central App

I love the thinness of them. The camera hump doesn't bother me. ( I had the hideous Droid X). I keep my phones on chargers out of habit, so small battery is no big deal. Vanilla Android is a must. The only thing I don't like about them is the huge bottom bezel.

Gotta happen some day, and no good reason it shouldn't be now. Posted via the Android Central App

Wow, no headphone jack... I thought the phone was bad before even knowing that.

I just wanna know if it's amoled or lcd. Posted via the Android Central App

Z Force will almost certainly be P-OLED like the previous gen Force.

Oooo good to know. Posted via the Android Central App

you forgot to add bloat to the spec list.

Does it still have the other standard moto features? like Active Display, twist for cam and chop for flashlight? I've become so used to those features I find it hard to imagine myself with another phone. If it doesn't have those features, I might see myself with the S7, especially with the BOGO.

Yes. There's even a new one-handed mode. Posted via the Android Central App on the Moto X Pure Edition

How many SIM card slots? Posted via Bacon on CM13 (6.0.1)

I am keeping my MOTO X Pure Edition, still running perfectly.

Specs seem great but the phone doesn't look that great. Posted via the Android Central App

What is the fixation on making phones thin? Who in the real world wants this? Makes them uncomfortable to hold, more likely to b dropped etc. And limits battery size. Dont get it. Posted via the Android Central App

I would actually love to buy the force, for it's bigger battery and even more battery with the battery module. Just stick it on and you'll have another half a day of heavy usage Posted from outer space on my Moto X Style
Android Central Newsletter
Thank you for signing up to Android Central. You will receive a verification email shortly.
There was a problem. Please refresh the page and try again.